End Of The Petrodollar: Saudi Arabia Threatens To Dump $700b In Treasuries If Blamed For 9/11
Interest-Rates
/
US Bonds
Apr 20, 2016 - 08:40 AM GMT


Every day a new major piece of news comes out showing a system that is on the verge of collapse… and a planned shift to a new global order. In the last two weeks alone, all of this has occurred:
The largest leak in history, the Panama Papers, was made public on April 4th, 2016.

The next day the US Treasury, coincidentally, cancelled the Pfizer/Allergan merger and declared that any mergers done for tax benefit would be all but squashed with little chance of approval by the overlords in DC.

The Prime Minister of Iceland resigned after widespread anger over allegations his family attempted to hide millions in offshore accounts. Keep in mind that Iceland was the only country to go after the banksters after the 2008 financial collapse and actually jailed more than 50. Some banksters were released the very same day.

Within days the Ukraine President departed: Arseniy Yatseyuk officially resigned on April 10th.

Meanwhile Wikileaks published the transcript of a teleconference that took place on March 19, 2016 between the IMF officials managing the Greek debt crisis – Poul Thomsen, the head of the IMF's European Department, and Delia Velkouleskou, the IMF Mission Chief for Greece talked about the salutary effects of a Greek "event" that would concentrate minds and lead to a further resolution of the crisis.

On April 11th, the Federal Reserve held two emergency meetings including a meeting with Obama with speculation that it was to do with a banking crisis.

On April 11th, the former IMF Chief Economist admitted that

Japan is now in the final "end game"

.

On April 12th, a letter from the Federal Reserve to

JP Morgan Chase

was issued stating that it had concerns that the collapse of JP Morgan could bring down the entire US economy.

The next day, the head of the World Bank made a statement that the Panama Papers show that "tax cheats" are causing world poverty and Christine Lagarde of the IMF said that this shows we need to bring in a global taxation system.

Then on April 15th, the G20 announced that it was going to "crack down" on "tax haven" corporations.
Phew. The globalists have been busy!
The latest piece came in the last few days when, all of a sudden, the "28 pages" of classified documents on "who did" 9/11 were said to soon be released. We've said for a decade that the US government's official story on 9/11 is the craziest conspiracy theory every hatched… and they are about to add a new twist to it. One that I predicted and wrote about in the January issue of TDV to subscribers:
"Remember the 28 pages of classified documents that numerous US representatives who read it said that it implicates Saudi Arabia in 9/11? While likely mostly untrue, I expect at the opportune time it will be released as a guise for an invasion and never-ending war and occupation of Saudi Arabia, further destabilizing the entire Middle East."
Now appears to be the "opportune time" and the House of Saud is not to happy about them being set-up to be the fall guy.
They have threatened to dump their $700 billion in US Treasuries if they are implicated.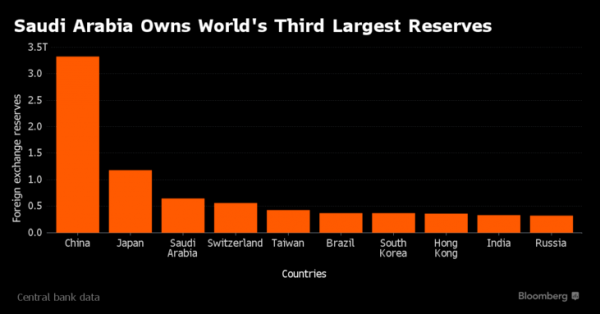 Purely coincidentally, I'm sure, Barack O'Bomber will be driving in on his aptly named limo, "The Beast" to Saudi Arabia this week to likely work out a deal on behalf of his bosses which salvages a few of the Saudis who will sell out the country to the globalists in exchange for favors.
This is also a continuance of the planned destruction of the US dollar, or petrodollar, which will make way for the new SDR global currency.
By the time the banksters get through with the US, Britain and Europe, there will be little left of the prosperity and wealth that once was. It is already happening. Much of Europe is already bankrupt and the same can be said for the US. It is hard to ruin large countries with hundreds of millions of people but that is what has happened.
People think this sort of ruin is in a sense natural or an outcome of a bad system, but in reality it has taken a lot of work to get here. Years and years of war, poverty, booms and busts – always the determined vision of the end result, which is Western poverty.
We should ponder what a sale of $700 billion in Treasuries would do to the markets, on the off chance that they are allowed to do so (if Saudi Arabia is classified as a terrorist state their assets will be frozen and stolen almost certainly).
A quick sale of $700 billion in Treasuries would pound the stock market, the bond market and the US dollar. For this reason it may be allowed to an extent because the globalists are trying to crash the world economy by this fall in order to usher in the SDR world currency when they implement, THE DAY BEFORE the end of the Jubilee year, on October 1st, the addition of the Chinese Yuan to the basket.
Of course, the House of Saud is doing what it can to forestall what is looming in front of them. First they started several wars on behest of the globalists to see if that would appease them. Now they realize the noose is coming down around them and the Saudi Kingdom has taken to issuing threats. It threatened to sell of fUS$700 billion of dollar assets, presumably destabilizing the dollar and ending what is left of the petrodollar regime.
It threatened to sell because the sheiks have realized that the globalists are quite willing to see them fall. Once you get in bed with the globalists they will always use you and then destroy you. Just ask Saddam Hussein or Muammar Gaddafi, both apparently CIA assets before the CIA changed its mind.
The globalists are certainly willing to blame 9/11 on them (better them than themselves, the true culprits), a state of affairs that would have been amazing only 15 short years ago. Then the US government did what it could to spirit the bin Laden family out of the US and to protect the Kingdom from 9/11 accusations. But now Riyadh is expendable along with the dollar.
IN THIS JUBILEE YEAR, RIYADH IS HEADED DOWN AND OUT
Perhaps the House of Saud can survive in some form but it will be without the pact that has sustained them for so long.
When Henry Kissinger came to Saudi Arabia in 1971, he had instructions for the Kingdom: It would only accept dollars for oil, and the US would back its decision with military might. And thus the petrodollar was created – a reserve currency that allowed the US to print tens of trillions, and even hundreds of trillions, with the understanding that other countries would have to hold dollars if they wanted to buy oil.
No matter what happens regarding this latest series of threats and counter-threats, Riyadh is in an exceedingly bad position that is getting worse. It will go down with the dollar and likely end up being yet another US military base from which to surround Iran, their next target.
From there World War III can commence and leave the world so devastated that people will beg for the globalists to save them. Problem-Action-Solution.
The solution, just like WWI and WWII which were similarly contrived (or did you really believe the whole world went into the most brutal war in history because an Archduke was killed?) will be a new global order with a new currency and one central bank, the IMF and the BIS to rule them all and a new global tax system that tracks every transaction to make sure you can't make any mistakes on paying your global tax.
Of course, it might not turn out that way. Anything could happen. But that's where they want it to go and they are running, not walking, to put all the pieces in place right now.
HOW TO PREPARE
Have you heard this analysis anywhere else? Probably not. Most people have not connected all the dots yet, or at all, and think all of this is just a series of random events. Or, like many big name analysts, they tell me quietly, off the record, that they know I am right but say they are too scared to speak the truth for fear of repercussions.
In the meantime, we are making huge profits being 1… well, maybe 10 steps, ahead of the crowd.
TDV's gold stock portfolio, under the command of seasoned and highly respected analyst, Ed Bugos, is up some 60% since the start of this year alone.
One of his mining picks, Sabina was up 40% just yesterday, in one day alone, and 100 percent since he recommended it in late February. His top six gold picks are up an astounding average of 225% for the year. And this compares to an average gain of 11% for the HUI (gold bugs index), or 31% in the gold junior averages in the same time period.
I wish I could provide you with Ed's entire portfolio but most of his content appears exclusively in the Premium TDV newsletter along with special reports and updates that keep investors up to date on his most promising research. This allows our readers the best possible opportunity to profit alongside Ed as his picks reap rewards in this powerful, new gold market that no one is talking about… yet.
Also in our April issue to subscribers issued just hours ago, I released high level information that I can't even write about publicly because it very well might cause mass pandemonium in Germany, and throughout the EU. Yes, it's "that bad." I only released it in the newsletter because I feel I have a duty to our subscribers to let them know what I know within timely parameters.
If you want to benefit from Ed's picks or see any of our other analysis and investment suggestions, including my analysis of the current Saudi crisis, you can subscribe HEREfor our just produced April issue.
And to understand what's going on in this terrible Jubilee Year, and how you can protect yourself, please watch my latest video HERE. And then read our White Paper on how to survive and profit during Jubilee Year 2016 HERE.
Anarcho-Capitalist. Libertarian. Freedom fighter against mankind's two biggest enemies, the State and the Central Banks. Jeff Berwick is the founder of The Dollar Vigilante, CEO of TDV Media & Services and host of the popular video podcast, Anarchast. Jeff is a prominent speaker at many of the world's freedom, investment and gold conferences as well as regularly in the media.
© 2016 Copyright Jeff Berwick - All Rights Reserved Disclaimer: The above is a matter of opinion provided for general information purposes only and is not intended as investment advice. Information and analysis above are derived from sources and utilising methods believed to be reliable, but we cannot accept responsibility for any losses you may incur as a result of this analysis. Individuals should consult with their personal financial advisors.
© 2005-2019 http://www.MarketOracle.co.uk - The Market Oracle is a FREE Daily Financial Markets Analysis & Forecasting online publication.

Only logged in users are allowed to post comments.
Register/ Log in