Case Shiller Futures Suggest 2010 US Housing Market Bottom
Housing-Market
/
US Housing
Jun 25, 2008 - 09:38 AM GMT


The April S&P/Case-Shiller Home Price Indices are now out.
The index shows show annual declines in the prices of existing single family homes across the United States continued to worsen in April 2008, with all 20 MSAs now posting annual declines, 13 of which are posting record low annual declines, and 10 of which are in double-digits.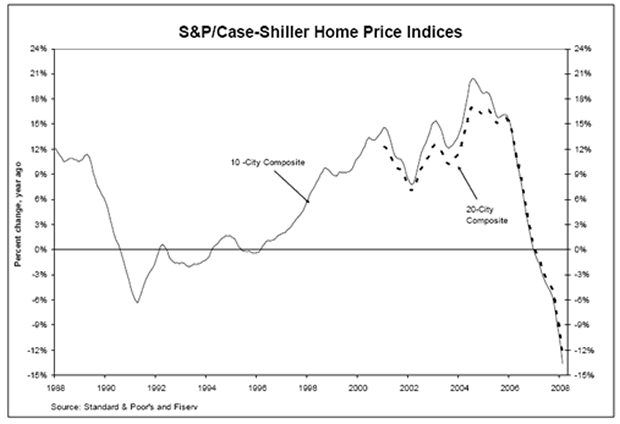 The 10-City Composite posted a new record low of -16.3%, and the 20-City Composite recorded a record low of -15.3%. All 20 MSAs are now showing declines with Charlotte, the last holdout during the 2007/early 2008 period, now reporting an annual decline of 0.1%. Calculated Risk has charts of Los Angeles and Minneapolis in his report
Case-Shiller: Tiered Home Price Indices
.
The following chart was produced by "TC" who has been monitoring C.A.R. data, DQNews data, and Case-Shiller Data. Let's take a look.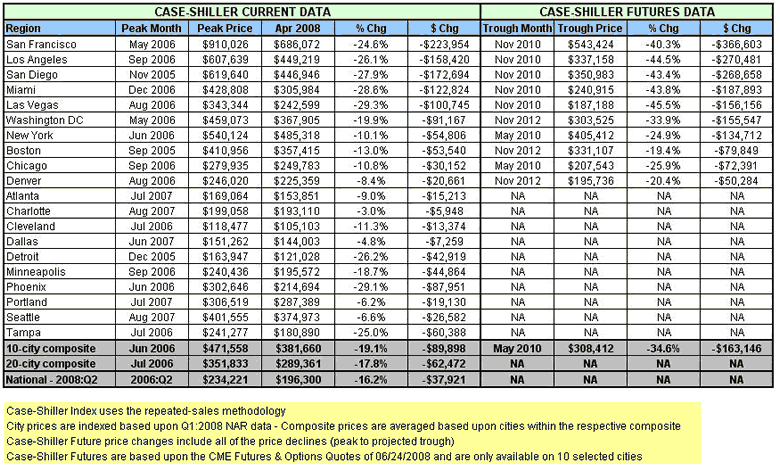 "TC" writes:
Mish, it's TC here and it's now been 2 months since I last provided you with a Case-Shiller update. Here is the latest data based upon the today's futures market and today's Case-Shiller data release.
As you've now seen in the media press releases, prices have continued lower and we're now back to late 2003/early 2004 prices in many areas. What you may not hear in the media however is the pure dollar amounts of the losses (e.g. $270k in LA) and that the futures market is increasingly making a bet that mid to late 2010 will mark the housing bottom.
This is in stark contrast to the bets of just 4 months ago when a bottom forecast for 2013. An interesting fact about this market timing change is that projected percentage decline has not changed. In other words the futures market is pricing in an identical magnitude loss, but just for it to happen much faster. Click here for the
previous chart from TC
, from two months ago. That chart is suggesting a November 2012 bottom.
The futures might be suggesting a 2010 bottom but I am doubting it. This recession will be much longer and much more severe than most thinks. See
Case for an "L" Shaped Recession
.
Unemployment is going to soar and unemployment will keep climbing for as long as a year after the recession ends. Unemployment is typically a lagging indicator. And unemployed people are not going to be buying many houses.
There is a strong possibility of a multi-dip recession as well. In other words, in and out of recession for a number of years. This is what happened in Japan. That is my forecast actually, but for lack of a better word I am calling that an "L".
I am sticking with 2012 for reasons outlined in
When Will Housing Bottom?
and
Housing Bottom Nowhere in Sight
.
However, much will depend on how fast banks can unload REOs, how fast rising unemployment adds news REOs, whether Congress does something insane like nationalize Fannie Mae, and many other factors that can change the nature and shape of the housing bottom.
By Mike "Mish" Shedlock
http://globaleconomicanalysis.blogspot.com
Click Here To Scroll Thru My Recent Post List
Mike Shedlock / Mish is a registered investment advisor representative for SitkaPacific Capital Management . Sitka Pacific is an asset management firm whose goal is strong performance and low volatility, regardless of market direction.

Visit Sitka Pacific's Account Management Page to learn more about wealth management and capital preservation strategies of Sitka Pacific.
I do weekly podcasts every Thursday on HoweStreet and a brief 7 minute segment on Saturday on CKNW AM 980 in Vancouver.

When not writing about stocks or the economy I spends a great deal of time on photography and in the garden. I have over 80 magazine and book cover credits. Some of my Wisconsin and gardening images can be seen at MichaelShedlock.com .
© 2008 Mike Shedlock, All Rights Reserved
© 2005-2019 http://www.MarketOracle.co.uk - The Market Oracle is a FREE Daily Financial Markets Analysis & Forecasting online publication.
Comments
Paul Check
26 Jun 08, 01:19
Futures do NOT predict a decline that long, necessarily


You are completely misunderstanding the meaning of the futures prices.

The futures do not necessarily indicate a bottom in 2010 (the bottom could be much sooner, for example). Because houses have a very high imputed dividend (ie the "rent" you are getting relative to the risk free rate), forward/futures prices are lower than spot prices under a cost of carry arbitrage. A futures price is not actually what the market expects the price to be in the future. It just means that if you want to lock in the price of a house in the future but forego the benefits of owning a home (in the form of rent) that is how much you have to pay. It makes sense that the futures price is lower than the spot price, since while you're waiting for the futures contract to mature you are missing out on the rent. Because the rental rate is generally higher than the risk free rate (ie the cost of carry is negative), the result is a backwardated futures curve.

Moreover, because the underlying assets (ie the houses) are not shortable, reverse cash and carry arbitrage is not possible and hence the futures price will be even lower than fair value under the cash and carry arbitrage pricing.



Gary Lucido
24 Jul 08, 20:14
Case Shiller Futures Meaningless


Actually, I recently opened a futures account for the explicit purpose of buying some of those 2010 contracts. I have bids out there for days now that have not been hit and in many cases they are higher than the original settlement price. Basically this market has no liquidity so those prices are meaningless. I could raise them all tomorrow by raising my bids and in all likelihood no one would hit them.



John Gouley
12 Oct 09, 19:36
Home Values


Good evening...any chance of an updated home value chart of Case Shiller current data and Case Shiller future data?




Only logged in users are allowed to post comments.
Register/ Log in