Proposal for a Depreciating US Housing Market Environment
Housing-Market
/
US Housing
Feb 24, 2008 - 12:20 PM GMT

Being "upside down" is the term for when a borrower owes more on a car than the car is worth. Cars have always been a depreciating asset, but real estate has not been viewed in the same way. That is about to change.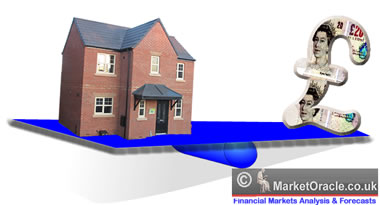 Today's
New York Times
describes how falling home prices are affecting sellers who are not only taking a loss on their home, but have to bring cash to closing to cover their shortfall. The housing market has become stagnant as inventories of homes for sale continue to rise, but homeowners and banks are unwilling to sell at a deep discount.
Some members of Congress, such as House Financial Services Committee Chairman Barney Frank and Senate Banking Committee Chairman Christopher Dodd, have called for the federal government to buy certain mortgages. A plan by John M. Reich, the director of the Office of Thrift Supervision (regulates the S&Ls), would allow a "negative amortization certificate" lien to be put on the home.
My interpretation is that the plan could only be financially viable if investors bought the lien certificate at a deep discount on the anticipation that real estate values will at least modestly rise. Since I believe that is unlikely to occur, the more likely outcome of Reich's plan would be to essentially put real estate in a "lockdown" mode. No buyer will come to close unless all liens are removed (or the title insurer is willing to exempt the lien). In a depreciating asset environment, lenders would have to give certificate lien holders a financial incentive to allow the property to close unencumbered at a lower price.

Banks are becoming more vocal with their own proposals. Credit Suisse (CS) is complaining that the Federal Housing Administration's FHA Secure program to exchange subprime mortgages to a federally guaranteed fixed rate offers little help. The Swiss bank has held meetings with the FHA, proposing that borrowers who have made at least six mortgage payments should qualify. Bank of America (BAC) which will have even greater mortgage exposure after it acquires Countrywide Financial (CFC), proposes "to create a new federal agency that would buy vast quantities of delinquent mortgages at a deep discount and replace them with fixed-rate federally guaranteed loans."

The federal government should not be purchasing mortgages. A more viable solution would be for the government to guarantee mortgages after the home has been substantially reduced to a value level that leaves little financial risk . In order for this to happen, lenders would have to be willing to accept that their writedowns are real .
By http://www.wallstreetweather.net
Wall Street Weather examines current and future trends that influence the economy, financial markets, and politics - all from a totally unique and entertaining perspective.
Disclaimer: The opinions expressed above are not intended to be taken as investment advice. It is to be taken as opinion only and I encourage you to complete your own due diligence when making an investment decision.
© 2005-2019 http://www.MarketOracle.co.uk - The Market Oracle is a FREE Daily Financial Markets Analysis & Forecasting online publication.
Comments
John
24 Feb 08, 18:04
Keep the government out


The government should stay out of this. Why prop up the value of grossly inflated real estate? That's not a good use of taxpayer money.

Nope, let the banks fail if they must. Let the stupid people who paid too much go back to renting. Get on with life and let the chips fall where they may.



Larry
26 Feb 08, 12:54
Keep the government out


There is a considerable amount of opinion that the system is broken and needs to be fixed. What needs to be "fixed" is not the system but enforcement of long held mortgage lending principles. The lenders and the borrowers in the subprime market are totally at fault. They alone need to suffer the "correction" the system is applying because their greed caused them to play with the system in the first place.




Only logged in users are allowed to post comments.
Register/ Log in