Forget The Gold Price!
Commodities
/
Gold & Silver
Jul 09, 2007 - 03:12 PM GMT

Let's get back to the subject of gold stocks…when do you buy and when do you sell? The million dollar question.
You know I am tired with such a preoccupied absorption of the gold price. Now I don't want to be a hypocrite here because I know I myself often get excited watching gold move higher. That is our natural human reaction to be excited about something climbing, whether it's a possum or a squirrel climbing high into an oak tree. But it is also natural to have a desire for truth and come to an understanding of what matters most when we are talking about making money.
Is there skepticism in this market? Yes there is.
Yet, making money in gold stocks is a very profitable venture with gold remaining above 400 per ounce. I personally could live with gold staying within its present range for years because I know there are companies producing phenomenal profits. And I do not believe the fundamentals are going to allow gold to sink below 400 per ounce any time soon. So is the gold price presently over 400 per ounce? You bet it is. Is significant money being made now in this market? You better believe it. But I cannot take you by the hand and take you to your broker. Those are personal decisions you will have to make on your own.
Look around you and see the gold, uranium and other natural resource stocks that are doing well and study these successful ones. Those companies that are quality exploration, development and / or production companies are going to climb higher in any kind of gold environment because they are in the act of building a resource base
and are currently undervalued. Yes, they are proving through active ongoing drilling programs just what size their deposit is and if the deposit continues to grow so too does the stock price.
Probably, the most exciting natural resource is uranium. It still appears to have great wind beneath its feet.
"Uranium in 2008: $255/lb. Is Just the Beginning" "The recent record prices for uranium are only the beginning. The growing nuclear industry will ensure the demand for yellowcake. And by next year, we're going to see uranium break over $255 a pound." "…our global energy situation is about to make a monumental change. Peak oil is looming on the doorstep (many experts argue it's already here). Don't forget our daily addiction to 85 million barrels of oil. We'll have to make that up when the oil stops flowing." Click
These are the babies you need to be scouring for because my friend they are out there, but no one is going to hold you up by your pants straps and make you find them. You want to really make money in this market? Then get off your tail and start reading. Start subscribing to numerous publications that will share with you their knowledge on a regular consistent basis.
I repeat that the natural resource sector is made up of the best writers, commentators and analysts that you will find anywhere. Many of these analysts have appeared in Barron's and the Wall Street Journal. This is still some what of a secluded market but you too can run with the sheeple if you will learn to shut your mouth and start to listen to these extremely talented and skilled individuals.
David, "I don't think people get how close we are to an economic meltdown if rates spike higher. Bernanke does. When gold, a non-incoming producing asset, gets real competition in the form of a positive interest rate offered on deposits, then it's time to scale back on the speculative gold positions and even hedge positions, but while money on deposit is LOSING value? I don't think so. Nominal rates don't matter. Real rates do. That's why gold kept rising in the face of a nominal double digit Fed funds rate in the late 70's and early 1980's. Volcker turned real rates positive and that was the coup de gras for that bull market." Thanks for your column. TW, Tryon, NC, Practically your neighbor.
Men like Gerbino, Casey, Ralston, Buckler, van Eeden, Murphy, Bishop, Hommel, Taylor, Dines, Krelin, Wiegard, Daughty, Willie, Coffin, Droke, Scultz, Schiff, Moriarty, Fleckenstein, Morgan, Doody, Appels, Embry, Grandich, Hamilton , Puplava, Roffy, Sinclair, Veneroso, Tice, Lundin. Do you know who these guys are? Do you recognize even three names on this list? And these are just scratching the surface as there are many, many more worth listening to and whose advice is worth following.
But this is what I mean when I say you have got to take the time to study this market and follow the brains who are experts in their fields of study. I say all this because so many investors purchase one single little company, one little egg in their basket and they wonder why they are not making money.
Sol Palha - "It would be a prudent time to start looking into gold stocks that are extremely oversold now. Intuition becomes increasingly valuable in the new information society precisely because there is so much data." Click
This game is about averaging. I know you might not like this word but by averaging I am referring to achieving success and having the ability to repeat that success multiple times. And for those shares that perform poorly your gains are balanced out because of the winners in your portfolio that have climbed 300% or higher multiples. Averaging. And that averaging is accomplished by spreading your risks between established excellent plays that are worthy of speculation.
Yes, you will have losers, but those losers will be negated by those that will climb to the moon and above. Is there money presently being made in gold, uranium, silver, copper and other natural resource shares? Go ask these men and they will be happy to share that knowledge with you. And don't be afraid if what you might want to learn may cost you a couple of dollars. I have been on this earth long enough to learn that achieving anything worth while in this life requires a great deal of hard work, our time and yes, our money.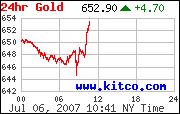 Anyway, regardless of your over absorption of the gold price does the following price action look like a bull market in remission? Give me a break.
You are not going to become an expert over night, but you can learn to take excellent advice and weigh that advice among numerous other expert individuals. If the advice is sound then others are also going to agree. Again, I say your objective is to make money in natural resource mining stocks and not just sit around watching the gold price every day.
Do you want to spend your time crying and pouting like a baby over spilled milk?
Or do you want to start acting like a grown up and concentrate where the money is – resource & gold mining stocks. Excuse me for being harsh, but I am up to my ears with complaints by those who are missing profits because their eyes are fixated on the fluctuating gold price. Let it. I care not a whit as long as I can continue to purchase quality mining stocks and see them go up often multiple times in value. As I have said before this speculation game belongs to big boys and not couch potatoes and librarians.
Am I questioning the precise correlation between the price of gold and the price of a corresponding gold mining stock? Yes, I am. A gold executive generally fixtures in very much lower gold prices to determine his profit margin. So in reality the gold producer has calculated conservative profits figuring on a very much lower gold price than what presently exits in the markets. So one way to look at the gold price is to sincerely realize that forever how long the gold price rests above 400 an ounce we are looking at a very flexible and profitable range of substantial profits.
Gold Letter's 10 best performing stocks are up over 2,000% and GL's top 55 performing stocks are up over 500%. Close to 90% of all Gold Letter's recommendations since inception in January, 2003 are up over 250%. GL charts are computer generated and updated every hour while markets are open.
Click here to order Gold Letter
"…there is a convergence of global events that will have profound implications for our world. The effects of the convergence are just now beginning to manifest themselves in our country." Doug Tjaden, Traditions of Men
By David Vaughn
Gold Letter, Inc.
David4054@charter.net
The publisher and its affiliates, officers, directors and owner may actively trade in investments discussed in this newsletter. They may have positions in the securities recommended and may increase or decrease such positions without notice. The publisher is not a registered investment advisor. Subscribers should not view this publication as offering personalized legal, tax, accounting or investment-related advice. The news and editorial viewpoints, and other information on the investments discussed herein are obtained from sources deemed reliable, but their accuracy is not guaranteed. © Copyright 2007, Gold Letter Inc.
© 2005-2019 http://www.MarketOracle.co.uk - The Market Oracle is a FREE Daily Financial Markets Analysis & Forecasting online publication.

Only logged in users are allowed to post comments.
Register/ Log in