Category: Resources Investing
The analysis published under this category are as follows.

Thursday, April 24, 2008

The most powerful stories in fiction, as well as in investing, have always been simple: love, hate and war for the former; demand, supply and basic needs for the latter. And no story fits the bill better than food and agriculture, for which demand is ever present.
Read full article...

Read full article...
---

Saturday, April 19, 2008

All the Johnny-come-latelies are finally waking up to some of the things I've been warning you about — and helping you profit from — for years now ...
For example, the world's deepening water crisis, which I brought to the surface way back in August 2005, even being one of the first, if not the first analyst to coin the term "blue gold."
Read full article...

Read full article...
---

Saturday, April 19, 2008

The "true grit" of the American investor was on display today as earnings from JP Morgan and Coca-Cola buttressed earnings from Intel, and the tech sector lead all of the indexes higher in today's commendable rally as a result. Never mind endlessly exploding oil prices, a beige book report which confirms the further deterioration of the economy across much of the nation, and a housing report that shows that new starts have plunged to the lowest level in 17 years.
Read full article...

Read full article...
---

Wednesday, April 09, 2008

Sean Brodrick writes: The last few weeks have been the roller coaster ride from hell for commodities, an up-and-down whirlwind that has left many traders feeling turned inside-out.
But I think there are strong signs that a commodity correction may be coming to a close. If you're not long yet, you might want to consider putting some money to work.
Read full article...

Read full article...
---

Saturday, March 22, 2008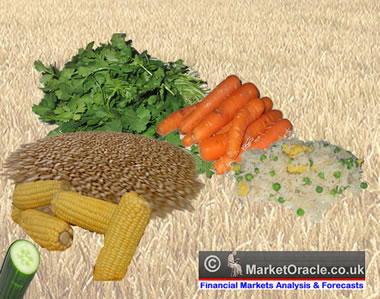 Take a deep breath. The rout may be over. It may not be. This is a time when commodities investors have seen their mettle tested once again. This is nothing new. As recently as June 2006, we saw the price of silver drop precipitously from nearly $14.50 an ounce to under $10; a drop of nearly 35%. Granted, this most recent correction may not be over yet, but so far, it has only claimed damage in the area of 19%. These types of corrections are perfectly normal in the commodity markets and given what we've been seeing in the equity markets, should not be at all surprising. That's the bad news. The good news is that there is once again a tremendous opportunity to pick up both bullion and related stocks at fire sale prices.
Read full article...

Read full article...
---

Friday, March 21, 2008

Larry Edelson writes: Is it wild and wooly out there or what? The onslaught of nightmarish news about the U.S. economy has hit financial markets around the world like a Category 5 hurricane.
Wild, short-term swings in the markets can often be confusing. But through it all, the major trends remain firmly intact:
Read full article...

Read full article...
---

Thursday, March 13, 2008

The US Dollar DX index has hit my 72 target on this latest leg of its breakdown. The news is all wretched. Iran , Nigeria , and even tiny Vietnam are rebelling against the crippled buck. The Persian Gulf Arab nations are trying to find a graceful way to detach from their devastating US$ peg that has wrought horrendous price inflation to the region. The end of the defacto PetroDollar standard will be the biggest external event concerning the US Dollar this year, while the failure of prime Exploding ARMs will be the biggest internal event. The prime adjustable mortgages of unique detonation design and typical amplified destructive leverage are due to explode this summer, sure to change the false label promoted. The current bank problems originated with subprime mortgages, but they have extended inroads into primes and now have begun to enter commercial avenues.
Read full article...

Read full article...
---

Wednesday, March 05, 2008

Sean Brodrick writes: In 2007, gold prices shot up 36.6% ... crude oil prices rocketed higher by 70.8%... and agriculture prices — corn, wheat, soybeans and more — soared to new records.
And they just continue to surge in 2008! This week, gold, oil, coal, corn and soybeans all hit new all-time highs, and many other commodities marched higher.
Read full article...

Read full article...
---

Wednesday, March 05, 2008

Tony Sagami writes: Even though August is a long way off, I have been very busy preparing to travel to the 2008 Olympic Games in Beijing. And while every trip takes preparation, this cross-continent journey is taking more planning than usual!
I shouldn't complain though. After all, my preparation pales in comparison to the planning being done by the International Olympic Committee and the Chinese government.
Read full article...

Read full article...
---

Wednesday, March 05, 2008

Oil, gold, and the agricultural commodities are experiencing some serious selling pressure for a change, as reflected by the charts through Tuesday. First let's have a look at the DBA (Proshares Agricultural Commodity, ETF).
Read full article...

Read full article...
---

Tuesday, March 04, 2008

Martin Weiss writes: After last week's bombardment of news reports, anyone who still thinks the U.S. economy is not sinking rapidly into recession is either trying to push a biased agenda or living on another planet.
The dire reality:
Read full article...

Read full article...
---

Monday, March 03, 2008

"With credit and equity out of favour, investment managers ride the commodities price boom...International investment managers have dived into the commodity market to exploit sharp price rises across the board, leaving behind the troubled credit and equity markets to focus on the China-India boom story... 'The other thing (is the) hedge funds and the commodity trade advisors who can go long and short' said Citi's global head of commodities Alan Heap. 'They are covering their short positions very aggressively and that is fuelling the fire as well, particularly for copper."
Scott Murdoch, The Australian Feb 23-24, 2008.
Read full article...

Read full article...
---

Thursday, February 21, 2008

Larry Edelson writes: Today I'm going to review seven of my favorite Asian natural resource stocks, which I believe are in bargain territory right now.
But first, a recap is in order. Last week I told you how the U.S. economy was melting down and headed toward a bad case of withdrawal from its debt-addicted lifestyle of the last two decades.
Read full article...

Read full article...
---

Monday, February 18, 2008
Merv's Non Edible Futures Indices maintains strong multi-year uptrend.
Read full article...

Read full article...
---

Tuesday, February 05, 2008

This sector holds the most promise for those who practice simple "Buy and Hold" strategies. The wind is at the back of these markets for the next decade or more as the "Crack up Boom" combines forces with the Austrian economies of the emerging world. Three billion people are emerging into broad new middle classes, on the bid and are sitting on trillions and trillions of IOU's called G7 currencies.
Supply constrained, demand lead
bull markets are front and center in these sectors. Combine this with the breakdown in the definition of money as a "store of value" and explosive moves are on the horizon.The emerging world has no external debt to speak of and ton's of savings in the bank. They may not be the mindless consumers of the welfare states but their domestic consumption of all commodities, raw materials and metals is growing and will continue to do so at a decent and sustainable pace.
Read full article...

Read full article...
---

Friday, February 01, 2008

The financial markets are always exhilarating. And as a student of the markets, I've learned over the years that their dynamics leave no room for boredom. Whether bull, bear, or monotonous grind in either direction, there is always something new and exciting going on.
Astute investors and speculators are able to make money no matter what direction the markets are moving. But for the average investor, it is usually live by the bull and die by the bear. And for those investors positioned to grow their capital in headline stock indices, in flat or down-trending markets there is wailing and gnashing of teeth.
Read full article...

Read full article...
---

Tuesday, January 15, 2008

Martin Weiss. and Rudy Martin write: I've been going back and forth to South America almost every year since I was six years old.
My first trip was in 1952 on Moore-McCormack's SS Brasil and took us about eight days. My last trip was two weeks ago on Brazil's TAM Airlines and took us about eight hours.
Read full article...

Read full article...
---

Friday, January 04, 2008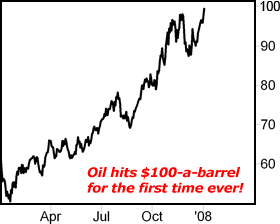 Larry Edelson here. Already, in just the first trading day of the year, crude oil broke through the $100-a-barrel mark for the first time ever! Meanwhile, gold rose above $860 an ounce, flirting with a new all-time high!
Are these signs of more upside ahead? I sure think so! And today I want to tell you why.
The subject is simply too big to cover in one issue, but here's an overview of what I see in the coming year. Let's start with three important forces that will affect the markets in 2008 ...
Read full article...

Read full article...
---

Thursday, January 03, 2008

"A trend in motion, will stay in motion, until some major outside force, knocks it off its course." After gyrating within a sideways trading range over the past 18-months, the "Commodity Super Cycle," measured by the Dow Jones-AIG Commodity Index, (DJCI), resumed its upward course in the second half or 2007. Led by the agricultural, energy, and precious metal sectors, the DJCI closed at an all-time high.
According to famed hedge-fund trader Jimmy Rogers, the 20th century has seen three secular bull-markets in commodities from 1906-1923, and from 1933-1955, and 1968-1982, spanning an average of 15-years. The current bull market for the DJCI is now six-years old, and Mr Rodgers thinks the "Commodity Super Cycle" has many more years to run, albeit with some nasty corrections along the way.
Read full article...

Read full article...
---

Friday, December 28, 2007

A New Ballgame - Summary and Conclusions
Almost unanimously, the indicator charts are signalling the imminent emergence of a new ballgame. Commodities in general, and oil and gold in particular have already broken up, whilst the Industrial Equity Indices and the US Dollar are showing nail biting indecision.
Read full article...

Read full article...
---