Sociopaths Lacking Intellectual Capacity Bashing Banks
Politics
/
Credit Crisis 2009
Feb 13, 2009 - 06:44 AM GMT


The whole thing is ridiculous, all of it. I listened to Geithner release his "plan" to unfreeze lending markets. I watched some of the charades on Capital Hill involving the bank CEOs and their testimony. Lastly, I saw the vote and reaction of politicians on the most recent bit of financial socialism. What a mess…


If Congress wanted to do something meaningful, they would pass legislation banning themselves from speaking in front of the mass media. Their ignorance embarrasses our nation. It's possibly just me, but the politicking and sociopathic behavior of our nation's policy makers has been taken to new heights. Combine that with general mediocrity, standard lack of intelligence, and a growing disconnect of the problems faced by our nation, and you get today's Congress. Throw them all in front of millions of viewers on cable television and you get scenes like this one: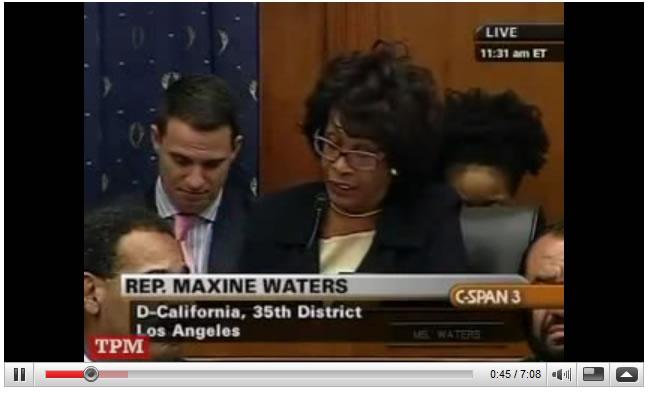 Being blunt, I don't know who's more incompetent, Representative Maxine Waters, or the people of California 's 35 th district who elected her. I was especially embarrassed of the system when Waters called into question underwriting fees paid under the FDIC guaranteed lending program. The conversation went something like this:
Struggling to put sentences together, Waters asked why fees were collected to "accept TARP money."
Lewis replied, "I don't know what you're talking about." (very comical)
Vikram Pandit ATTEMPTED to bail Waters out by better explaining what she was trying to say. He then tried to explain the process of underwriting debt issued in the FDIC guaranteed lending program.
Waters obviously lacks the basic intelligence, or the drive to do the due diligence necessary to understand what Pandit was talking about. She completely ignored Pandit's response and restated her initial thesis without any claims to support it. Waters disregarded Pandit's explanation of securitization so she could most likely be perceived as taking the hard line against the bank CEOs. It worked.
Headlines have already popped up like the one on AOL Money, "Waters Grilling Corrupt CEOs."…Waters wins. By ignoring Vikram Pandit, and logic altogether, Waters was able to make a claim, have the debunking of her claim reasoned and explained, ignore the reasoning, restate her initial claim, and make headlines. This is how sociopathic behavior works. Maxine Waters never cared about the issues behind securitization feed associated with TARP money. She obviously didn't do the due diligence required to understand the basic fundamentals. Waters simply picked an issue that would result in her being perceived as someone who will take a hard line against bank CEOs.
Sociopath or Chief of State?
Obviously Waters is just one of many when it comes to sociopathic politicians. Look at the Chief of State in his first couple weeks of being president. What has Obama done? He has put a cap/freeze on public servants pay, pledged to close Guantanamo Bay , and limited access of lobbyists. These are all window sill issues. Think about it like this. When you drive by a house, all you see is what's on the window without knowing what's going on inside. A window sill issue is something that draws attention while diverting it from other areas. Yes, Obama has brought change to these issues, but they do absolutely nothing to help with the number one problem facing this country.
Didn't the overwhelming percentage of Americans vote with the economy as their driving issue? Economically, all Obama has done is extend Bush's policies (cut taxes and raise spending) while claiming to do otherwise. You want change? Get somebody in office who foresaw this crisis. These are the people who understand where its going. Nassim Taleb, author of the Black Swan, mentions this notion in this fantastic clip with fellow bear Nouriel Roubini.
(In the clip, notice how the CNBC reporters truly lack the intellectual capacity to understand a nation whose growth is not based upon debt creation. It's a foreign concept to blind Keynesians.)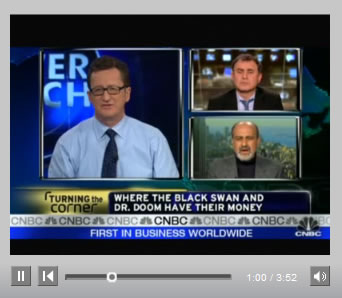 By Nicholas Jones
Analyst, Oxbury Research
Nick has spent several years researching and preparing for the ripsaws in today's commodities markets. Through independent research on commodities markets and free-market macroeconomics, he brings a worldy understanding to all who participate in this particular financial climate.
Oxbury Research originally formed as an underground investment club, Oxbury Publishing is comprised of a wide variety of Wall Street professionals - from equity analysts to futures floor traders – all independent thinkers and all capital market veterans.
Copyright © 2009 Oxbury Research - All Rights Reserved
Disclaimer: The above is a matter of opinion provided for general information purposes only and is not intended as investment advice. Information and analysis above are derived from sources and utilising methods believed to be reliable, but we cannot accept responsibility for any losses you may incur as a result of this analysis. Individuals should consult with their personal financial advisors.
© 2005-2019 http://www.MarketOracle.co.uk - The Market Oracle is a FREE Daily Financial Markets Analysis & Forecasting online publication.
Comments
sean
16 Feb 09, 19:01
the sociopaths are the banksters and their apologists


How much did Goldman and JPM-Chase pay for this article.




Only logged in users are allowed to post comments.
Register/ Log in