Stock Market Patterns Suggest More Upside
Stock-Markets
/
US Stock Markets
Nov 29, 2008 - 11:04 AM GMT

I'll keep things brief tonight as the holiday shortened week didn't do much to change my outlook from Wednesday. What appears to be setting up is the exact opposite of what was happening in the down trend for several months. The 60's would flash amazingly strong positive divergences along with very oversold conditions and the market could barely rally. The 60's are now very overbought with some strong negative divergences out there but it's not mattering.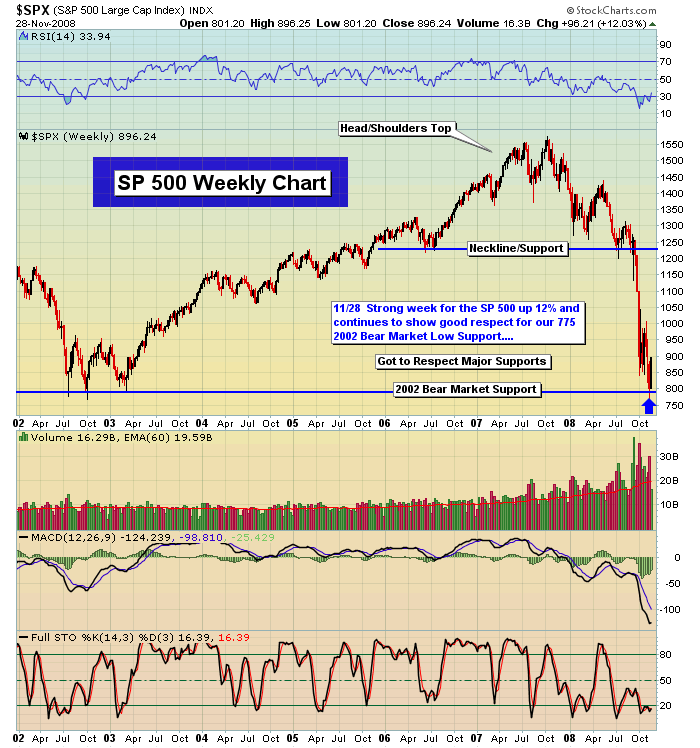 The market is working through the overbought and through the negatives and it's working its way higher. It really does look as the counter trend rally is now under way. No amount of bad news along with what I just spoke about is mattering to this market. It's getting that head down look to it. As if nothing can get in its way. The chart of gold alone had a massive negative divergence on the 60's. The type you rarely see without a very strong pullback. Add overbought. There are many sectors that look like this. Look at the tlt. Massive negative divergences in place and yet it broke out today. It just doesn't seem to matter.
We may have to get aggressively long early next week for what looks like an extended period of overall upside to come. Not every day. you know the drill. Overall it looks higher and we should participate. we'll have to watch Monday early on. Being so overbought on the short term time frames will hopefully give us a pullback early but we can't count on that. It would be best as it would help unwind those oscillators but it just may be a gap up and out scenario. If it does gap up without selling first we will wait for a quick pullback to participate. There was one continued headache. The bifurcation on the Nas. That sector is lagging so badly. The Dow up 102 and the Nas up 3. Not good. The Nas needs to lead and it does so occasionally but today was nasty. Aapl and rimm along with Goog and Bidu, the leaders, displaying poor action at best. It doesn't mean they won't get their act together and lead next week early on but they need to get going.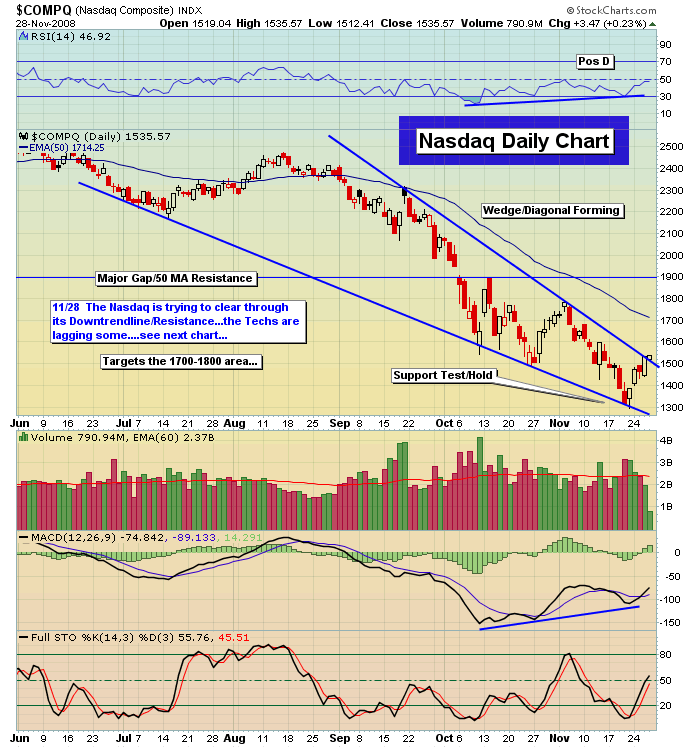 Also, you could say today was end of month buying and folks wanted low beta, low p/e stocks and that's a real red flag for a continued rally as folk should want risk, not safety, when it's time to rally harder. So there are real red flags but the overall patterns and especially those daily charts, do look good for more upside over the short to medium term.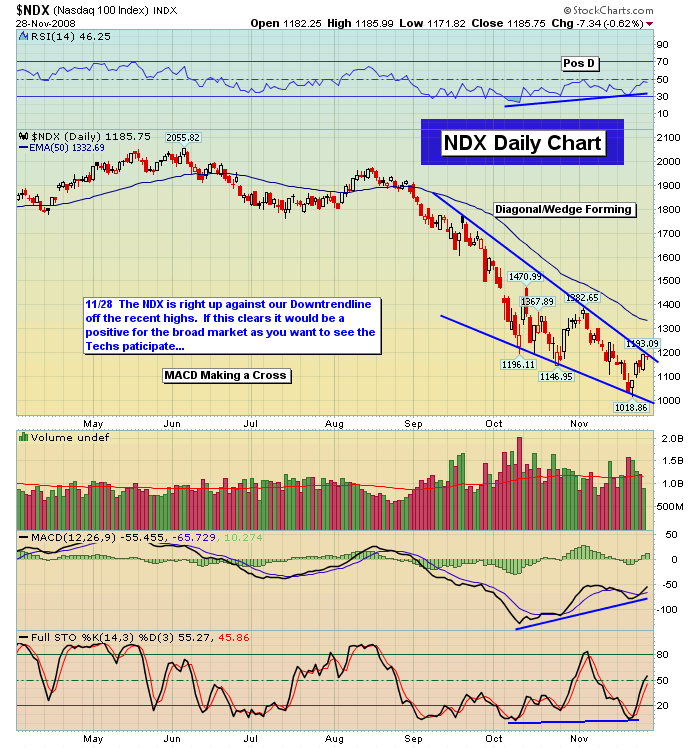 The advance decline line was strong today and thus we can say that although the leaders didn't lead, the majority of stocks did and that does counter the lack of leadership to some degree. Not completely but to some degree for sure. You can't take anything from the lighter volume today as it was only a half day and a retail day at that as the big money was on vacation. This is why Monday is so important. When the big boys and girls come back, will they ignore the red flags discussed and break things out for a nice ride higher or will they just move things right back down. We're guessing higher as I stated but we have to be sure before getting too involved on the long side. Internals are improving for sure.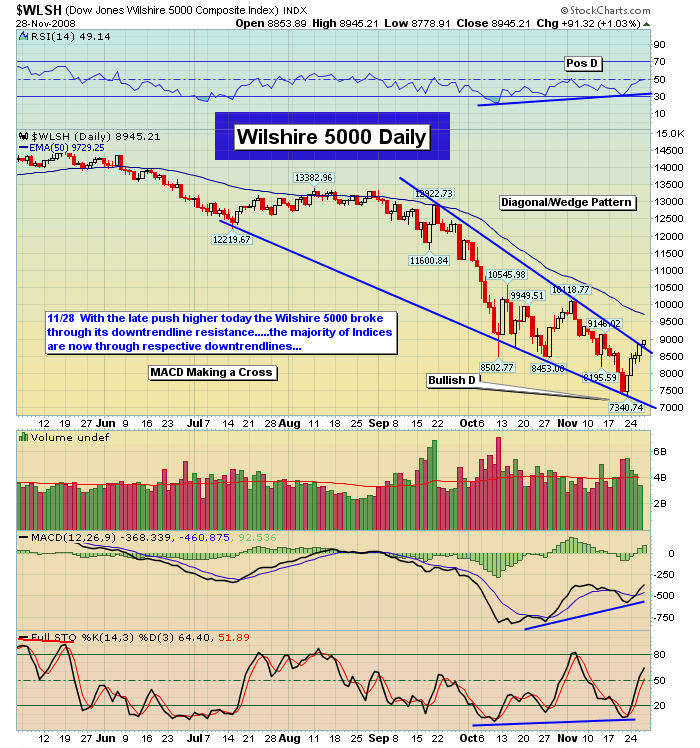 Less and less stocks were making new lows as the markets retested their old lows. That's usually a sign that a more sustained rally is dead ahead because fewer stocks are participating downward. The less stocks that are breaking down again, the less likely it will be that the bears will have the ammunition necessary to take us lower overall. It's not that things are improving fundamentally. they're not for sure but all bear markets, even the very worst of them, have bear market rallies to unwind extreme levels of oversold and compressed oscillators. This appears to be what's setting up here. Nothing for sure but we'll know a lot better early on this coming Monday.
Enjoy the weekend. Enjoy life with a child if you get the chance.
Peace Jack
By Jack Steiman
Jack Steiman is author of SwingTradeOnline.com ( www.swingtradeonline.com ). Former columnist for TheStreet.com, Jack is renowned for calling major shifts in the market, including the market bottom in mid-2002 and the market top in October 2007.
Sign up for a Free 30-Day Trial to SwingTradeOnline.com!
© 2008 SwingTradeOnline.com
Mr. Steiman's commentaries and index analysis represent his own opinions and should not be relied upon for purposes of effecting securities transactions or other investing strategies, nor should they be construed as an offer or solicitation of an offer to sell or buy any security. You should not interpret Mr. Steiman's opinions as constituting investment advice. Trades mentioned on the site are hypothetical, not actual, positions.
© 2005-2019 http://www.MarketOracle.co.uk - The Market Oracle is a FREE Daily Financial Markets Analysis & Forecasting online publication.

Only logged in users are allowed to post comments.
Register/ Log in