U.S. Dollar Rallies Due to Global Destruction of Fiat Currencies
Currencies
/
Fiat Currency
Nov 14, 2008 - 10:43 AM GMT


While at first glance it might appear that this missive would be about global equity markets, such is not the case. However, it might as well be. With bad economic news rolling off the presses daily, equity markets have taken quite a tumble recently albeit in much quieter a fashion than in late September and early October. It is a pretty good bet that the combination of 516,000 first time unemployment claims this past week coupled with a 2.8% drop in retail sales in October won't help matters much.


Rather, it is worthwhile to focus on the US Dollar and it's current reprieve from the clutches of oblivion. Make no mistake about it though. This is not so much a Dollar rally as it is other Central Banks staging a global game of one-upsmanship. Disinflationary forces are sneaking into economies around the world and nobody wants to be Japan circa 1992-2008. Despite perma-low interest rates, the Japanese economy has been stuck in a rut for almost 2 decades. Or has it? Despite all its problems, Japan has managed to be one of our biggest creditors, owning roughly $586 Billion in Treasury bonds as of August 2008. Ironically, we can be happy the Japanese have had the 'problems' they have or else the party would have ended long ago.
Almost immediately after last Friday's jobs report, the markets rallied on the notion that the Fed would cut interest rates at its next meeting. Folks, we're already at 1%. How much lower can they really go? Frankly, it doesn't matter. There is no longer any doubt that yields across the full spectrum of US Bills, Notes, and Bonds are negative. So they might as well take them to nothing. Not to be outdone, Mervyn King, head of the Bank of England emphatically pronounced that BOE was prepared to cut interest rates to 0% to save their economy. I guess Mr. King has his own fleet of helicopters ready to save the English from deflation much in the same way our beloved Ben has envisioned. You can't make this stuff up. And it isn't just the two of them. The ECB has cut rates as have the Bank of Canada and Australia as well. Even the Chinese have gotten into stimulus mode and their growth is still around 9% on an annual basis!
From a purely technical standpoint, the Dollar's rally is already on borrowed time. It is important to understand that the overwhelming majority of the rally has been driven by the ongoing global liquidation and triggering of credit default swaps and other OTC derivatives (See Chart). This has created a dream scenario for anyone wanting to purchase real assets. Oil has been reduced to $55/barrel, gold to the low $700's, and Silver to single digits. The situation is similar across the full spectrum of tangible assets.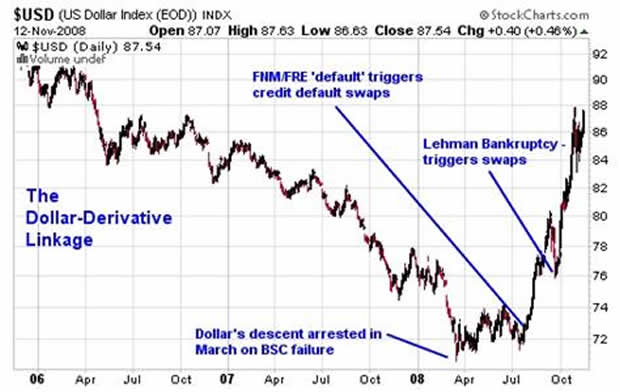 To help stem the bleeding from OTC derivatives, the Fed has been in the lending business for nearly the past year. The recent numbers have been astounding. The Fed has been lending at a rate of over one-half Trillion per week for the past month or so. Keep in mind this is above and beyond the commitments of the Treasury. The Congress has had no say in this lending activity at all not to mention the American people. Worst of all, no one really knows who is getting what. So much for transparency.
With trillions of fresh cash pumped into the banking system just looking for a place to go it is a matter of when not if in terms of this liquidity causing problems. There are more hand grenades still in the Treasury market where the Fed is going to be forced to further monetize debt by buying US Treasury bonds directly. The foreign money hasn't been there the past two months, and the Treasury is going to have a truckload of new bonds to sell if it hopes to fund the bailouts it has already committed to plus the ones that are going to be demanded moving forward.
Under the direct monetization of debt, the Fed will hand the Treasury fresh Dollars which the Treasury will use to fund government bailouts and other largesse. This money will end up in the financial markets, bank balance sheets, economic stimulus packages and the like. Despite jumping on the bully pulpit and putting up the appearance that he wants the banks to lend the bailout money, Henry Paulson wants them to do anything but. A release into the economy of that magnitude would cause an immediate hyperinflation. Instead, Secy Paulson will try to manage how the money moves throughout the economy. This endeavor will be an epic failure and will likely result in dislocations such as shortages of goods and credit – most likely both as well as surpluses of labor, durable goods and production capacity. We're already seeing some of these dislocations emerge.
Recessions don't guarantee falling prices
The notion that consumer prices have to fall because of a recession is pure nonsense. This argument is rooted in fantasy and demonstrates a total lack of understanding of how money works. The more money that is made available, the higher nominal prices will go – regardless of economic growth. We have already gotten one stimulus so far in 2008. It is a good bet another will be in place for the critical holiday shopping season.
A shopping hiatus during this holiday season will be catastrophic. If you think the number of Chapter 11 filings is high now, wait until after 1/1/2009. In a $13 Trillion economy, 70% of which is consumer spending a mere 10% cutback in consumer spending (we're more than a quarter of the way there just in October) will amount to nearly a Trillion dollars yanked from the US economy or a 7% contraction in GDP. And that is just the result of a 10% cutback by consumers. These are the unintended consequences of building an economy on consumption. We've already got the recession. When the fresh fiat created to fatten bank balance sheets and lubricate credit markets works its way to Main Street, we'll have rising consumer prices as well.
How does all this play into the Dollar? Quite simply, in the absence of tangible backing, a currency is backed by economic activity or perhaps implicitly by natural resources as in the case of Canada, Australia, and Russia. US economic growth is fading fast, and as for the full faith and credit of the US Government? Enough said. While there is no official measure of the full faith and credit aspect, the willingness of foreigners to buy debt is a pretty good proxy. And during the past two months, foreigners have been less than inspired to take on more US Government debt. In short, there is no fundamental reason whatsoever for the Dollar to gain value. The current situation is an opportunity to get real. Get real assets and buckle your seatbelts because the currencies of the world are about to play a good old-fashioned game of meet me at the bottom. Lucky for us Gold won't be participating in the game.
By Andy Sutton
http://www.my2centsonline.com
Andy Sutton holds a MBA with Honors in Economics from Moravian College and is a member of Omicron Delta Epsilon International Honor Society in Economics. His firm, Sutton & Associates, LLC currently provides financial planning services to a growing book of clients using a conservative approach aimed at accumulating high quality, income producing assets while providing protection against a falling dollar. For more information visit www.suttonfinance.net
© 2005-2019 http://www.MarketOracle.co.uk - The Market Oracle is a FREE Daily Financial Markets Analysis & Forecasting online publication.

Only logged in users are allowed to post comments.
Register/ Log in