How Much Does Hail Damage Devalue a Car?
Personal_Finance
/
Motoring
Aug 26, 2020 - 05:20 PM GMT

Owning a car has its fair share of challenges, including suffering hail damages.
If you live in an area susceptible to hailstorms, take precautions to keep off your car from hail damage. If the worst happens and the car is hit, take the necessary steps.
Hailstorms wreak havoc on a sleek car forcing the owner to incur repair costs they hadn't planned for. Since nature's behavior is inevitable, it pays to prepare for the worst in case disaster strikes.
A hail junk car not only devalues, but also loses the factory look it had before. So, buying a car with hail damage requires having details about the car first.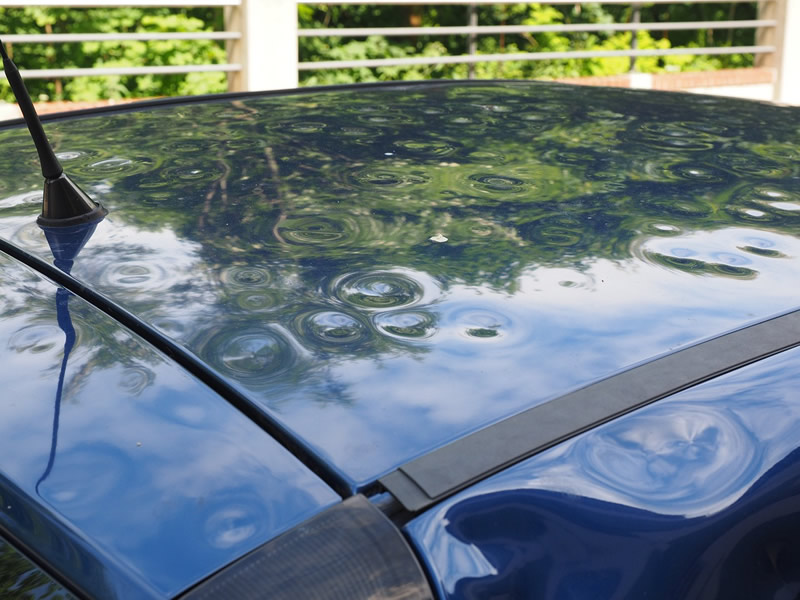 For instance, reviewing its records helps in making an informed decision.
What Makes Dealers Sell Cars with Hail Damage?
Sometimes it might prove expensive to repair a hail less than perfect car. If, for instance, the cost of repair exceeds the market value, dealers must think of a way out. In that case, you may need to sell your junked car to a trusted company like Damaged cars.
Selling hail-damaged cars is a profitable venture for the dealers. After a hailstorm hits, many car owners get rid of their less than perfect cars.
Dealers use this opportunity to repair the cars at minimum costs, after which they resell them. That's how selling hail damage cars is lucrative.
How to Evaluate Hail Damage on a Car
Immediately a car becomes a victim of a hailstorm, take it to a professional mechanic for assessment. It will be evaluated on the parts affected and how serious the dents are. If the windows are broken, that means there are traces of water inside the car.
The mechanic shop will assess all this for you to gauge whether the car is totaled or not.
Hail Dent Repairs
There's not an exact amount for repairing hail dents since the intensity of the damage determines this.
Nevertheless, it takes an average of $2,500 to repair hail dents, which means it can be higher or less. For instance, an older car might be totaled if the costs are beyond the asking price.
Also, new cars with hail dents might not cost as much. The model of the car, alongside the impact of the dents, determines the cost of repair too.
Broken windscreens, dents on the car roof, spoilt windshields and trim pieces means that was serious damage. Estimating a whopping $10,000 is not wrong math.
Smaller dents cost a measly $30 to $45, for medium dents, the cost is $45 to $55 while more serious ones go for $75 each.
Hacks to Prevent Hail Damage on Your Car
A damaged car is the last thing you want to deal with. Therefore, take all the necessary safety precautions to ensure a hailstorm never hits it.
First, take note of the weather patterns, especially if you live in areas prone to hailstorms. The only way out is to never drive out during a hailstorm.
So, if weather forecasts predict hailstorms, you better let your car have some rest. Better still, cover your car with blankets if you don't have an enclosed garage.
However, look for a safe place (such as an overpass or a bridge), to at least protect your car from hail storm hits.
Having an insurance cover is the best action in preventing your car from hail damage. If a hailstorm hits and your car gets badly impacted, contact your insurance provider immediately.
Provided your deductible is in line with your insurance provider's policy, claim the cover.
However, do so fast to avoid other issues and possibly competition from other car owners, who the hail befell too.
DIY Ideas for Repairing Hail Damage
Your car became a victim to a hailstorm, though the dents don't seem so deep. Try to repair it yourself. There are a few methods to help with that;
Drive the Car to a Sunny Place and Park there
This hack applies since too much heat from the sun expands the metal. In doing so, the small dents might slowly go away.
However, if the dents remain intact after several days, don't insist. The fact remains they won't go away, so, seeking professional help should be your next step.
Use Tools from a Repair Kit
There's a hail damage repair kit used to repair the dents. It involves either manually pulling the dent, or using adhesive glue on the paint to extract the dent.
To use this method, be ready to invest $50 to $150 for the repair kit in your local auto online store. Similar to other hacks, this method works only if the car has shallow dents.
What Insurance Cover Will Apply to Hail Damage?
You don't want to risk not insuring your car against such hazards as hail damage, accidents, or theft.
For hail damage, comprehensive insurance cover applies. You don't have to bear the impact of hail damage alone, so insure the car against it as early as now.
Reasons Why the Car Dealer Doesn't Repair all Car Dents
If the car was severely damaged, the dealer might find it expensive to repair it. Incurring costs greater than market cost is a loss.
Some car dealers are tricky, so they sell the car at a throw-away price. They use this as a convincing strategy, the more reason to be buyer beware.
Who wants a cheaper car only to realize it has so much repair costs?
Do banks Finance Hail-damaged Cars?
No, banks won't finance hail damage cars. Their depreciation rate is so high that the bank doesn't want to lend money to an already junked car.
The same case applies to other loan companies who deem it insecure about loaning a less than perfect car.
Conclusion
You should always ensure your car is safe from hail damage. On the other hand, life happens, and a hailstorm might get the car unprepared. In this scenario, notify your insurance provider for coverage.
Also, take safety precautions in consideration of potential damage to your car. For instance, purchasing a carport goes a long way in preventing hail damage to your car.
By Steve Barker
© 2020 Copyright Steve Barker - All Rights Reserved
Disclaimer: The above is a matter of opinion provided for general information purposes only and is not intended as investment advice. Information and analysis above are derived from sources and utilising methods believed to be reliable, but we cannot accept responsibility for any losses you may incur as a result of this analysis. Individuals should consult with their personal financial advisors.
© 2005-2019 http://www.MarketOracle.co.uk - The Market Oracle is a FREE Daily Financial Markets Analysis & Forecasting online publication.

Only logged in users are allowed to post comments.
Register/ Log in