Central Bank Gold Sales Coming to an End?
Commodities
/
Gold & Silver
Oct 03, 2008 - 04:33 PM GMT


In the week ending 26th September 2008, the final week of the fourth year of the Central Bank Gold Agreement, two Eurosystem central banks sold less than 1 tonne of gold to complete the fourth year's sales. This makes a total for the year at around 345.5 tonnes of gold sold by the signatories.


The three previous years totals were as follows; year one at 437.2 tonnes, year two at 333.2 tonnes, and year three at 325.8 tonnes. So what will the final year of the Agreement bring? The 'ceiling' placed on gold sales for each year of the Agreement was 500 tonnes, a level never intended to be a target figure of sales, but rather act simply as a limit. This limit was never met, nor will it ever be.
Germany and Switzerland
Last week, two of the signatories have made announcements on future sales.
Firstly, the Swiss National Bank announced in June 2007 that it had concluded the sale of 250 tonnes of gold, and said it had no plans for any further gold sales . It also said its total gold holdings were now at 1,040 tonnes, adding that it planned for no further reduction. In addition, the Swiss National Bank said it would sell 250 tonnes of gold by September 2009, as it decided that due to the rise in the gold price, its gold reserves were too high. It took up the option to sell gold from one of the signatories that relinquished this option.

Secondly, the Bundesbank said it would sell no gold apart from 6.5 tonnes to the German finance ministry, as previously agreed upon. "The remaining sales quota will be offered in its entirety to other central banks taking part in the gold agreement," said the Bundesbank. Under the terms of a five-year deal between 15 European central banks, the Bundesbank was given an option to sell 120 tonnes of gold a year but has consistently offered its quota to other institutions and sold only enough bullion to mint coins [around 5 tonnes a year]. The Bundesbank holds 3,400 tonnes of gold.
These two statements confirm that two of Europe's largest holders of gold will not be selling any significant quantities of gold in the next year. France has been a seller of gold, but we believe, not a satisfied one. There are clear signs of this as the weekly sales of gold in the last few months have been so low that France will not reach the quantity it intended to sell. It still has around 133 tonnes of gold left out of the 600 tonnes it announced it would sell at the commencement of the Agreement. It appears that they made a large sale of between 25 and 30 tonnes a few weeks ago, but the drop to current levels was at a level that would have completed Switzerland's sales only . So, the question hangs in the air, have they stopped selling? With Sarkozy now President and clearly underwhelmed by the financial disasters in the States and now Europe, he is likely to not want to see France's 'crown jewels' sold off for more U.S. dollars.
European Central Bank Sales?
The E.C.B. announced at the beginning of the Agreement that they would only sell 235 tonnes, which they have already completed. However, these sales have normally gone through early in the year of the Agreement, starting on the 27th September of each year agreement year. Once they have sold, the E.C.B. confirmed in the media what they have sold and whether they will sell more or not. There is nothing to prevent them from repeating this again this year in the absence of Germany and increasing their sales above the announced 235 tonnes.
Remaining Sellers?
This leaves only three Central Banks that have been active sellers in the final year of the Agreement. All that remains of the sales targets they announced at the commencement of the Agreement are [around]:
1) France
133.5 tonnes
2) Sweden
15.7 tonnes
3) Netherlands
9.0 tonnes
TOTAL
158.2 tonnes
This is less than half the level of sales we have seen in the fourth year of the agreement. If France has stopped selling, then only 24.7 tonnes of sales remain from the signatory Central Banks over the next 12 months.
If this is the case, then it is not enough to have an affect on the gold price at all, unless the sales by France are conducted in large amounts and are dropped onto the market during opportune times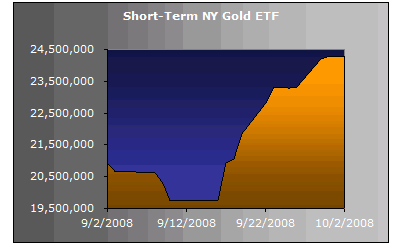 [when the gold price is running up?].
Volumes bought by gold Exchange Traded Funds
To get a better market perspective, look at the amounts of gold bought by shareholders through the gold Exchange Trade Funds over the last three weeks. These amounts reached 145 tonnes, with 32 tonnes bought overnight in one amount twice in that period. We do expect this demand to continue in the face of a decaying global financial system, irrespective of the $700 billion Paulson's Package.
Available to Subscribers only – subscribe through www.GoldForecaster.com

By Julian D. W. Phillips
Gold-Authentic Money
Copyright 2008 Authentic Money. All Rights Reserved.
Julian Phillips - was receiving his qualifications to join the London Stock Exchange. He was already deeply immersed in the currency turmoil engulfing world in 1970 and the Institutional Gold Markets, and writing for magazines such as "Accountancy" and the "International Currency Review" He still writes for the ICR.
What is Gold-Authentic Money all about ? Our business is GOLD! Whether it be trends, charts, reports or other factors that have bearing on the price of gold, our aim is to enable you to understand and profit from the Gold Market.
Disclaimer - This document is not and should not be construed as an offer to sell or the solicitation of an offer to purchase or subscribe for any investment. Gold-Authentic Money / Julian D. W. Phillips, have based this document on information obtained from sources it believes to be reliable but which it has not independently verified; Gold-Authentic Money / Julian D. W. Phillips make no guarantee, representation or warranty and accepts no responsibility or liability as to its accuracy or completeness. Expressions of opinion are those of Gold-Authentic Money / Julian D. W. Phillips only and are subject to change without notice.
© 2005-2019 http://www.MarketOracle.co.uk - The Market Oracle is a FREE Daily Financial Markets Analysis & Forecasting online publication.

Only logged in users are allowed to post comments.
Register/ Log in