5 Unavoidable Tips for Creating a Perfect Office Culture
Companies
/
SME
Apr 30, 2019 - 11:52 AM GMT

There are many ways to achieve a happy, productive workforce. From offering training and opportunities for career advancement to nurturing talent and rewarding passion, many businesses are aware of some of the most effective methods for promoting motivation and ensuring employee engagement. However, there is one other aspect that we can't afford to overlook: the importance of a great office culture.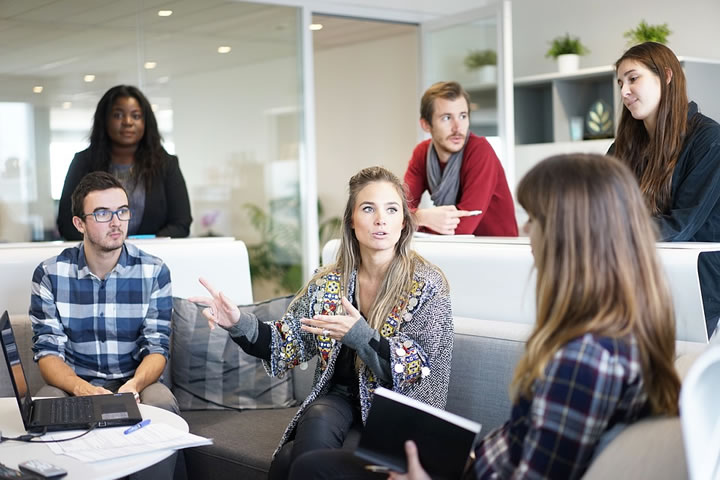 The Importance of Stable Office Culture
Many research studies have looked at the impact that a strong, stable office culture has on both employees and on the business itself. While these studies may have been undertaken at different times, and in different ways, the majority all come to the same conclusion: that businesses that have a strong office culture outperform those that don't. The question is: why does office culture have this effect?
It's really quite simple. Employees that feel happy, satisfied, supported, and comfortable in the workplace will naturally feel more engaged with their work, and more inspired to get the job done. These employees are also less likely to up and leave. It has been reported that the UK economy loses £23.6 billion a year as a result of poor company culture and remarkably high rates of staff turnover.
So how can you create the perfect office culture?
What is the 'Perfect' Office Culture?
Before we look at the 'how', we need to consider the 'what'. What is the perfect office culture? The truth is that it doesn't exist; there is no such thing. What works for one business may not work for another. Instead, it's about creating the perfect office culture for you, for your employees, and for your business.
However, even though there's no 'one size fits all' when it comes to the perfect office culture, there are some ways that all businesses can help to mould their culture to find something that suits them.
Here are 5 'must-do's' when it comes to creating the perfect office culture for you:
1. Create a Sense of Belonging
If your organisational structure sees your workforce divided into separate teams — development, finance, marketing, and support, for example — overall business processes will naturally be quite fragmented. This is completely normal, but the concern is that with each team being focused only on their specific area, it becomes challenging for them to see the bigger picture. A software developer, for example, may not see the huge effects that their code changes make to the ways their client operates.
While the organisational structure is often essential, it is also important to ensure that your employees understand where they fit in terms of helping the business achieve its goals. Try to create a sense of belonging, finding ways for all teams to feel as though they are working together. It may sound silly, but implementing a uniform policy can be useful here. Use a Simon Jersey discount code to pick up a wide range of clothing that's suitable for all your staff, including your office staff, receptionists, and cleaners.
2. Encourage Contribution
Following on from the tip above on creating a sense of belonging, there is another way that this can be achieved: through encouraging your employees to take a more active role in the future of the business. While not all suggestions may be suitable, simply being open to new ideas and listening to the thoughts of your employees can help them to become more involved and more invested in the business as a whole, rather than simply being invested in their own role. Encourage them to speak up and share.
The question is: How? There are actually many different ways to collect ideas from your employees and promote the idea of collaboration and contribution. If you schedule regular staff meetings, ensure that the minutes are amended to include time for employees to share their thoughts. Similarly, frequent brainstorming meetings — held in a relaxed and informal environment where staff feels comfortable — can be useful. And if time isn't on your side, a suggestion box in the office is the next best thing!
3. Offer the Right Training
Many businesses offer some sort of training for their employees, whether it's an internal induction, on-site training, or off-site training or e-learning. Training is a great way to build a strong office culture as it places focus on personal development rather than simply labour, but it's important to remember that not all training was created equal. In fact, by offering the wrong sort of training — training that isn't suitable for your employees — it can be more difficult to create a culture that works for your business.
So what exactly is the 'right' type of training? Well, like with the 'perfect' office culture, there's no 'one size fits all'. The most important aspect to consider is whether that training will prove to be valuable to the employee. A speedy one-day training course, for example, isn't going to stick, and making learning stick is an essential aspect of creating a strong office culture. Try to find training courses that will directly benefit your employees, helping them to learn, to extend their knowledge, and build their careers.
4. Promote Interaction
When there are tight deadlines to be made, seeing interactions happening between employees that don't appear to be directly related to the task at hand can sometimes be frustrating. However, in terms of building that perfect office culture, these interactions are absolutely essential. Peer-to-peer sharing is one of the most overlooked aspects of great company culture, and it's one that businesses should be actively trying to promote. This is especially true for lively, high energy interactions relating to business.
The trick to promoting beneficial and valuable interactions in the workplace is to provide employees with the tools they need to share, communicate, and collaborate. This could be scheduling regular meetings for knowledge sharing, installing and using communications tools that allow for real-time collaboration such as VoIP or messaging systems, or even encouraging after work social events to enable interactions in a more relaxed and laid-back environment where employees feel more at ease with their colleagues.
5. Be Available
While we all want to be happy and satisfied at work, there will come a time when an employee may have some concerns or questions about their duties, their role, or their place within the company. It's completely normal. The secret to properly handling these situations is to create a strong office culture in which employees feel that they are able to share and express these concerns and work to identify suitable solutions. You can achieve this by being available to your employees and listening to them.
An 'open door' policy can work for some businesses, although it won't necessarily work for others. If this wouldn't work for you, look into alternative ways that you can make yourself available to your employees when needed. Perhaps look to universities for inspiration, who often implement 'office hours'; certain hours of the day when you're available to chat. Or ensure that there are strong communications channels between you and your staff, such as phone, email, text, VoIP, instant message, or anything else.
More Than Pizza and Ping Pong
Ever since Google hit the headlines for its 'out there' offices filled with games tables and sleep pods, there has been a lot of focus on the concept that building the perfect office culture relies on giving out freebies and adding mood lighting to the office. However, research shows that there is more to creating a strong stable culture than just physical surroundings. Studies have found that prioritising career opportunities, fostering employee wellbeing, and being aware of different personality types are all much more important than free pizza lunches and a game of ping pong when it comes to a great culture.
By Andrea Boffo
© 2019 Copyright Andrea Boffo - All Rights Reserved
Disclaimer: The above is a matter of opinion provided for general information purposes only and is not intended as investment advice. Information and analysis above are derived from sources and utilising methods believed to be reliable, but we cannot accept responsibility for any losses you may incur as a result of this analysis. Individuals should consult with their personal financial advisors.
© 2005-2019 http://www.MarketOracle.co.uk - The Market Oracle is a FREE Daily Financial Markets Analysis & Forecasting online publication.

Only logged in users are allowed to post comments.
Register/ Log in