"This is for Tommy Robinson" Shouts Knife Wielding White Supremacist Terrorist in London
Politics
/
UK Politics
Mar 18, 2019 - 02:32 AM GMT

UKIP's embrace of Tommy Robinson has fuelled one of Britain's foremost hate preacher to reach a broad audience many of whom have been radicalised into committing acts of violence, thank fully nothing on the scale of last weeks New Zealand terror attack. However, copy cat attacks are taking place right across the UK that Britains' tough gun laws have prevented resulting in carnage on anywhere near the same scale as that witnessed in New Zealand.
One such attack that is being widely reported on by the mainstream media was in London on Saturday near Heathrow airport where a white male after an near hour of hurling racist and white supremacist abuse on the street at passers by including "death to all muslims","I want to kill muslims", and "this is for Tommy Robinson" as reported on by witnesses, eventually went and stabbed an asian teenager in a nearby Tesco car park.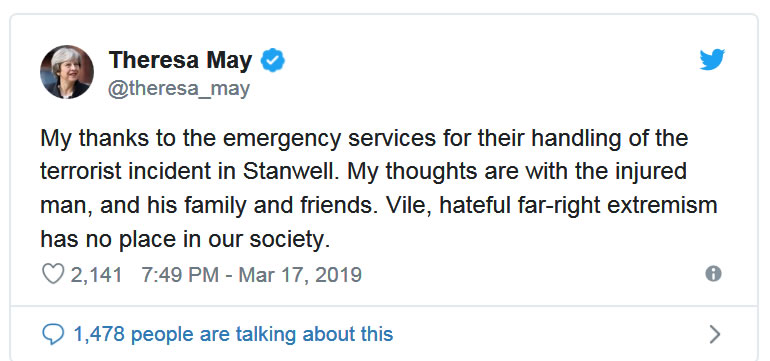 Home Secretary Sajid Javid commented "We must stand together as a society and reject the terrorists and extremists who seek to divide us.
"Now's the moment for us all to challenge the hatred, ignorance and violence they peddle and stand up for the kind of country we are and want to be. A welcoming, tolerant, proudly diverse country that draws strength and prosperity from that diversity."
"As Home Secretary I'm determined that every individual and community should feel safe to live their lives. To any communities who are feeling vulnerable and under threat I say we are with you. You benefit our country, you are part of our country, part of us."

The far rights near total takeover of UKIP, the party that played a pivotal role in delivering a LEAVE victory at the June 2016 EU Referendum under Nigel Farage's leadership. Which given the collapse in electoral support from a high of 18% of the vote to today's polls barely registering 5% support ensures that should there be a 2nd EU referendum then there is virtually ZERO chance that LEAVE would win a new vote. Even if Nigel Farage manages to get his new BrExit party of the ground.
As today's UKIP's primary objective is no longer for the UK to LEAVE the EU but to perpetuate and magnify hatred of all things muslim, that even resulted in UKIPS former leader Nigel Farage resigning membership of the party in the wake of its growing obsession with Islamophobia, increasingly embracing right wing extremist ideologies most notable of whom or Tommy Robinson (fake name) and Katie Hopkins, as UKIP continues to trend towards becoming BNP 2.0. Which soon becomes apparent when visiting any of the popular UKIP facebook groups, that UKIP / BNP 2.0 is no longer a party focused on the UK leaving the EU but rather in disseminating hatred of muslims with many similar tropes posted as found at the heart of the right wing extremist terrorist's so called manifesto focused on the 'Great Replacement'.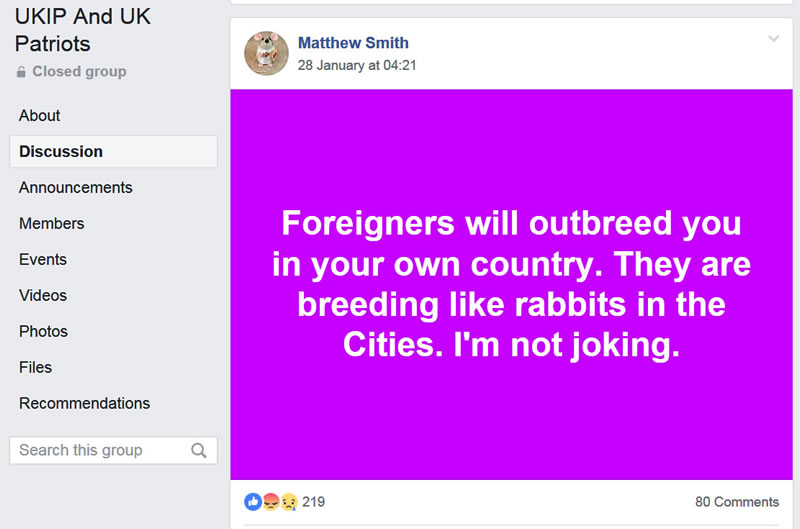 Apparently UKIP / BNP 2.0 have a particular hatred of London's Lord Mayor, Saddique Khan and Labour front bencher Diane Abbot.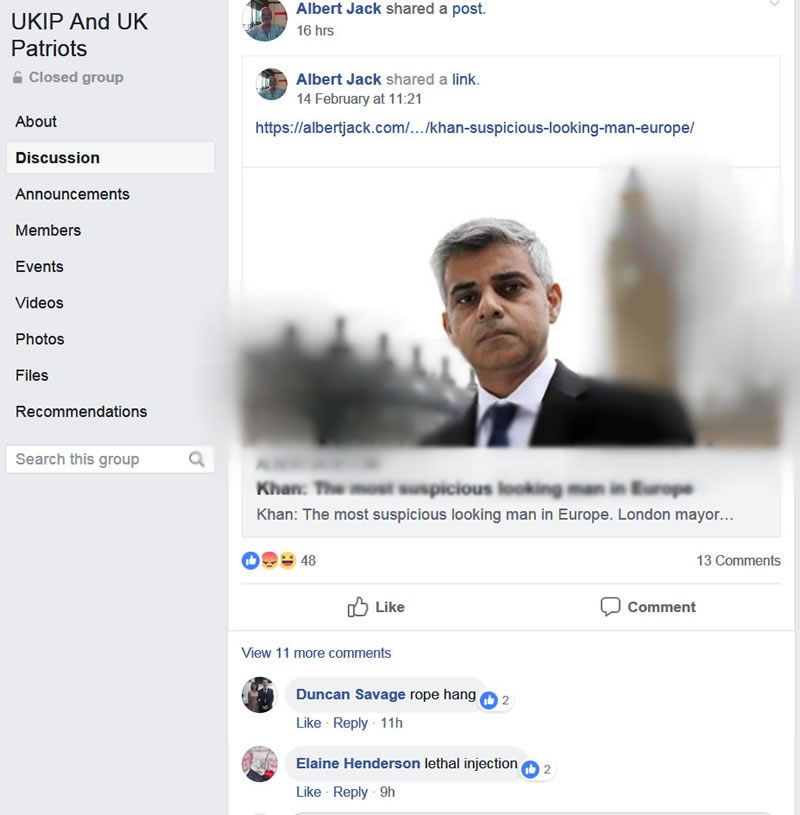 Typical of what gets posted about Dianne Abbott several times per day!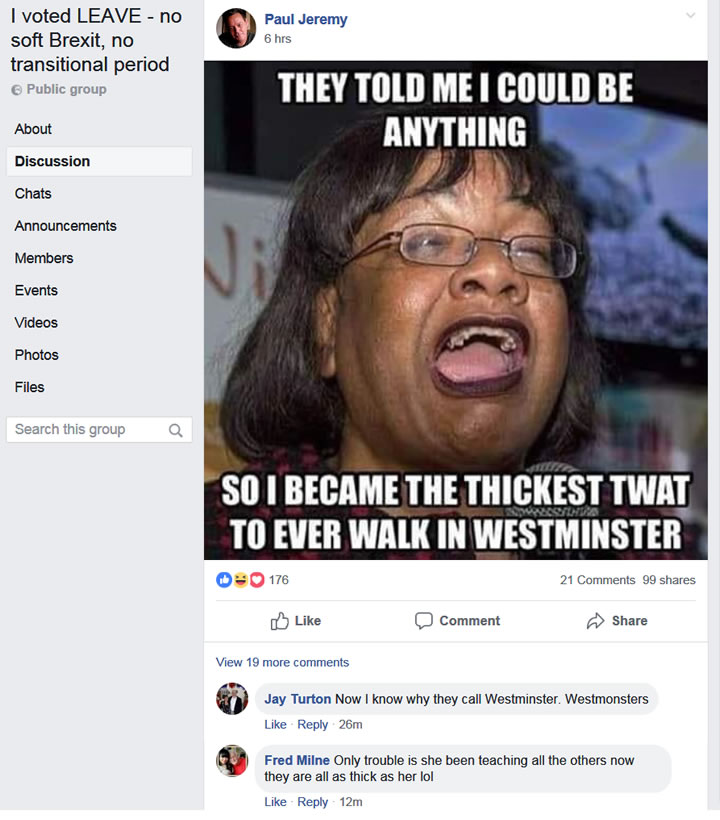 Again espousing very similar tropes as the New Zealand terrorist.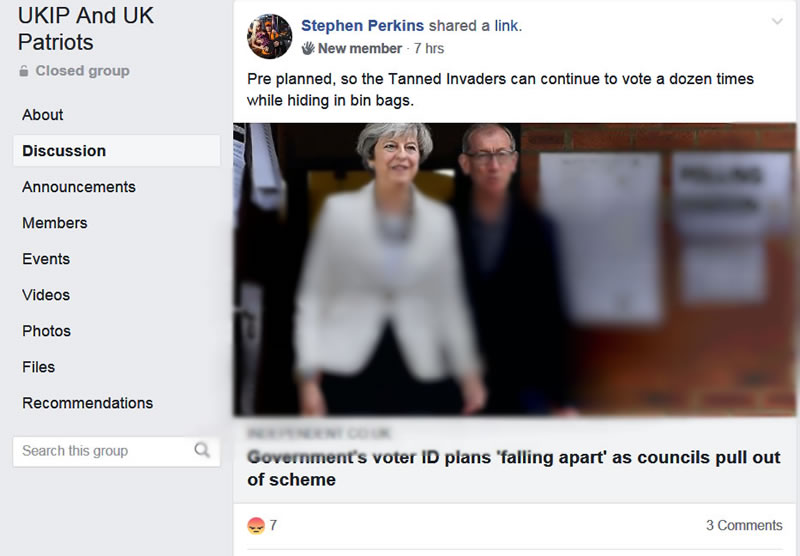 And even going so far as to encourage blaming the victims of the New Zealand terror attack.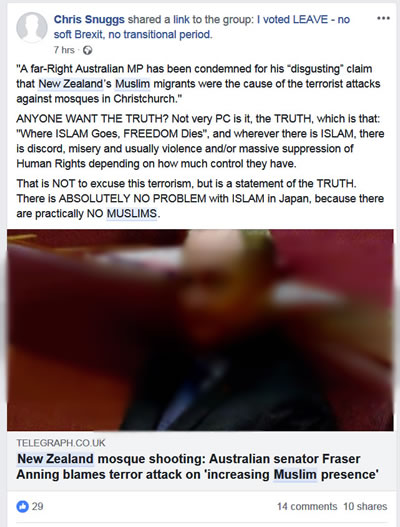 With a guy in Oldham Manchester crossing the line and actually heaping racist praise on the terrorist who was promptly arrested for by Manchester Police. We have deliberately blurred the whole of his post so as to avoid the spread of his hate speech amongst like minded individuals.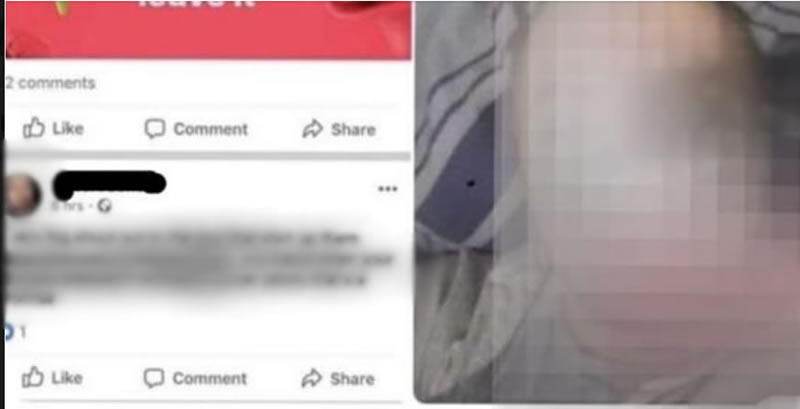 However, the consequences of the transformation of UKIP into BNP 2.0 in that it would now be near impossible for LEAVE to win a Second EU Referendum which appears to be the most probable outcome out of Britain's ongoing BrExit chaos.
And given UKIP's embrace of Tommy Robinson then I would not be surprised if he becomes UKIP's next leader or at the least represents UKIP / BNP 2.0 as a prospective parliamentary candidate at the next general election, though I am sure electoral law dictates that people cannot stand for parliament under a false name.
Whilst if UKIP has any shred of decency in respect of wanting to honour the result of the June 2016 Referendum, then they should complete their name change to BNP 2.0 so as to allow Nigel Farage's BrExit party a better chance at rebuilding an effective electoral base in attempts at winning a 2nd EU referendum.
By John York
Copyright © 2005-2019 Marketoracle.co.uk (Market Oracle Ltd). All rights reserved.
© 2005-2019 http://www.MarketOracle.co.uk - The Market Oracle is a FREE Daily Financial Markets Analysis & Forecasting online publication.

Only logged in users are allowed to post comments.
Register/ Log in