China's Struggle for Market Economy Status
Politics
/
Global Economy
Dec 09, 2017 - 03:37 PM GMT


Recently, the Trump administration joined the EU and rejected the view that under the WTO terms China should have graduated last year to market-economy status. Now Trump is using Obama's accession legacy to undermine world trade.

The accession debacle intensified a year ago, when then president-elect Trump stated categorically in Iowa that "China is not a market economy."

In the prior months, Trump had pledged to beat back the Trans-Pacific Partnership TPP (which he buried on his inaugural day), undo the North-American Free Trade Agreement NAFTA (whose fifth round of talks ended recently in simmering friction), and impose huge tariffs on China and rewrite the rules of world trade - in which the accession mess could prove a milestone.


However, the credit for the trade ploy to influence the World Trade Organization (WTO) belongs to President Obama.
Toward the end of the post-1945 trading order

Toward the end of his presidency, Obama opened a trade case against China. Officially, litigation was launched at the WTO to target illegal subsidies, which China used to support its aluminum industry, or so the US claimed.

In public, Obama accused China for using low-interest state bank loans, cheap electricity and government subsidies, which would contribute to global overcapacity in aluminum and steel. But in reality, the administration's move handed over a systemic case to Trump, who pledged to confront China – a case that would be supported by US allies in Europe and Japan, which remained in secular stagnation.

Yet, Machiavellian designs fare poorly at times of rapid, disruptive change. Instead of using the WTO as a strategic hammer against China's alleged violations, Trump sees world trade organization as a strategic target that should be buried along with the TPP.

The collapse of the TPP and the potential downfall of the NAFTA precipitate new trade conflicts with Mexico and Canada, but also with all economies that have a major trade surplus with the US, including key NATO allies, Germany and Japan.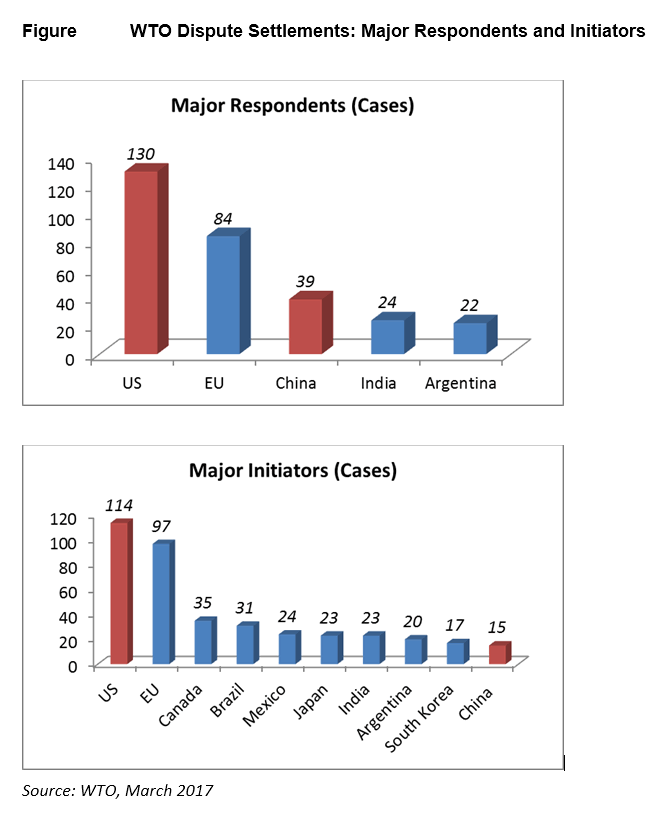 The MESS mess

The path to potential trade wars was paved over a year ago when the US, the EU and Japan realized that it would soon become harder to blame China for trade violations. Indeed, the key issue in the market-economy status (MES) debacle is the effort of the key WTO members to continue to rely on methods resulting in overstated tariffs against Chinese goods.

When China joined the WTO on December 11, 2001, it was written into the agreement that member states could treat China as a "non-market economy." Due to the size of its economy, government intervention and state-owned enterprises, advanced economies argued that Chinese domestic price comparisons would be ignored and "constructed values" used to gain a "true picture" of the economy.

For years, those surrogate figures permitted wide discretion and manipulation of price data, which was used as basis for anti-dumping charges; that is, tariffs up to 40% higher than normal anti-dumping duties. In his campaign trail, Trump relied precisely on such figures when he promised he would introduce 45% tariffs against Chinese products.

Indeed, things changed as the deadline began to loom in late 2016. Now it was argued that in the WTO agreement there was an "escape clause." The latter was conveniently "discovered" a decade and half after the agreement, but only months before its expiration. It would justify advanced economies to continue to treat China as a non-market economy. To them, it was manna from heaven.
WTO's "reinterpretation"

Of course, the reinterpretation made absolutely no sense in light of the previous US administrations. Until recently, US presidents (Bill Clinton, George W. Bush), US Trade Representatives (Charlene Barshefsky), Secretaries of Commerce (Gary Locke) and key administration figures repeatedly affirmed that the non-MES methodology would expire in due time – by December 12, 2016.

In reality, the change came with the Obama administration in 2012 when the US Trade Representative reversed the official position and affirmed the new reinterpretation, even though such a reinterpretation by the EU was contradicted only months before the 2011 WTO Appellate Body decision.

Why the change?

In Washington, the new approach emerged amid the Obama pivot to Asia, which had been developed by then-Secretary of State Hillary Clinton. While the strategic goal of the pivot was to strengthen the US security alliances in Asia, the economic objective was to contain China's rise and influence in the region. In this scenario, the reinterpretation of the WTO clause and the use of trade cases served to foster the WTO against China.

Nevertheless, the plant crashed with Trump's election triumph, his war against the post-1945 trading regime and America's eroding security and economic alliances.
Quest for trade unipolarity

After the global crisis, China has opted for market-oriented structural reforms. If the size of the public sector is measured on the basis of general government revenue as share of GDP, the Eurozone average (from France's 56% to Germany's 45%) remains today far higher than that of the US (44%) and twice as large as that of China (24%).

Indeed, by late 2016 when Washington and Brussels refused China's market economy status, more than 80 countries had already recognized that status, including BRIC economies, such as Russia and Brazil, but also advanced economies, like Switzerland, Singapore, Australia and New Zealand. In contrast, the Obama and Trump administrations' arguments against China's MES remain similar to those that were unsuccessfully used against the Asian Infrastructure Investment Bank (AIIB).

Typically, the key countries that still regard China as a non-market economy feature the US, its NAFTA partners (Canada, Mexico) and security allies (EU, Japan), along with India. But this opposition may be fuelled more by geopolitics than economics.

In particular, the Trump administration's new stance is very visible at the WTO. As it is preparing for the de facto demise of the post-1945 trading regime, whose main architect was Washington, it has targeted the WTO's dispute function, deploys greater muscle on its complaints about the appeals process and has resorted to technicalities to block the filling of vacancies on the WTO's appellate body.

Distressingly, some officials in Geneva see it all as an effort to collapse the WTO's dispute system, which restrains the kind of unilateral trade action that Trump would prefer. By 2017, the US had defended 130 cases and China nearly 40 before the WTO. Yet, China had applied only 15 times to initiate a dispute before the WTO, whereas the corresponding figure for the US is almost 10 times higher (Figure).
Anything goes

In early December, David Malpass, US Treasury's undersecretary of international affairs, rebuked China for not being tough enough over North Korea's nuclear program and for backsliding on market-oriented reforms. He urged China to recognize that the US is looking at "two goals at the same time" in both national security and its trade agenda.

But what does North Korea have to do with China's market economy status? Pretty much nothing.

As the original WTO accession agreement has been replaced with politically convenient reinterpretations, anything goes. It does not add to credibility that Malpass, who became notorious for his optimistic subprime projections right before international turmoil, is former chief economist of Bear & Stearns whose default contributed to the world crisis in 2008.

It is difficult to avoid the impression that Washington's WTO "reinterpretation" violates the accession agreement that China signed in good faith. In Beijing, such views are seen as flawed, unfair and wrong. Internationally, they would seem to erode America's credibility as a responsible international stakeholder.

Left unrestrained, such unipolar actions could pave way to a major global trading crisis as the US Tariff Act did in the 1930s - except that now the consequences of the ensuing global depression would be far worse.
Dr Steinbock is the founder of the Difference Group and has served as the research director at the India, China, and America Institute (USA) and a visiting fellow at the Shanghai Institutes for International Studies (China) and the EU Center (Singapore). For more information, see http://www.differencegroup.net/
© 2017 Copyright Dan Steinbock - All Rights Reserved
Disclaimer: The above is a matter of opinion provided for general information purposes only and is not intended as investment advice. Information and analysis above are derived from sources and utilising methods believed to be reliable, but we cannot accept responsibility for any losses you may incur as a result of this analysis. Individuals should consult with their personal financial advisors.
© 2005-2019 http://www.MarketOracle.co.uk - The Market Oracle is a FREE Daily Financial Markets Analysis & Forecasting online publication.

Only logged in users are allowed to post comments.
Register/ Log in