Psychology of Financial Markets Conspiracy Theories
Stock-Markets
/
Market Manipulation
Aug 29, 2008 - 09:20 AM GMT

In recent posts I have taken a look at various conspiracy theories on the rise of the dollar, the shortage of silver, and the manipulation of gold. Here is a synopsis. (Warning, some of these are very lengthy)

I discussed US dollar manipulation claims in


In
The Great Gold, Silver Conspiracy Explained
I took a look at many manipulation claims in the gold and silver market, notably the COT report, large short activity, trader concentration, and other so called "Smoking Guns".
In
Jon Nadler, Senior Analyst Kitco, Chimes In On The Precious Metals Conspiracy
I noted that one conspiracy theory about gold lease rates that blew sky high when the alleged manipulation was actually a bad data feed on lease rates.
Occam's Razor
I am a big fan of Occam's Razor which states "All other things being equal, the simplest solution is the best." In other words, when multiple competing theories are equal in other respects, the principle recommends selecting the theory that introduces the fewest assumptions and postulates the fewest entities.
Competing Theories
Theory 1:
The US government, foreign governments, central banks, various broker-dealers, and a consortium of 10 large US banks are all acting together in some massive conspiracy to suppress the price of precious metals for 15 years running, and not a single insider has stepped up to expose the fraud even though housing fraud stories from insiders are being disclosed at a rapid pace, and government, CIA, and other intelligence leaks have been running rampant throughout that entire timeframe.
Theory 2:
There was huge selling by over-leveraged hedge funds in response to fundamental changes in regards to the US dollar vs. the Euro.
Silver Monthly Chart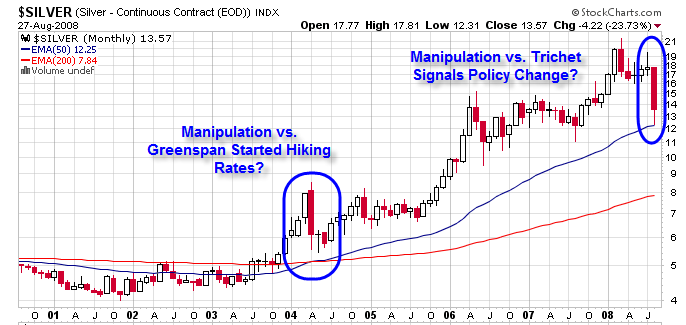 Simple logic would dictate that nothing ever goes straight up or straight down. There are always pullbacks in any bull market. Interestingly, one of the arguments for manipulation was based on how fast silver fell compared to the moving averages. On a monthly chart one can see that silver was miles above the monthly moving averages and did no more than fall back to it.
Conspiracy Theory Psychology
This post is not about rebutting theory number one (it has been adequately trounced already). Rather, this post about why someone might be inclined to believe Theory #1 vs. Theory number 2 when simple logic and Occam's Razor would suggest otherwise. Let's start with the question "Who benefits from conspiracy theories?"
Who Benefits From Conspiracy Theories?
The answer is those promoting the conspiracy theory as well as the faithful follows. In this case, those promoting the idea that gold or silver is never over-priced and is therefore the best investment in the world no matter how far or how fast the investment had run are the primary beneficiaries.
We saw the similar thinking in the dot-com bubble in 2000. Back then it was called "
The Gorilla Game
". No price was too high to be paid for a "gorilla".
Those fervently holding beliefs that no price is too high have a psychological need to rationalize losses and/or explain pullbacks. No logical argument about dollars, interest rates, or even consolidations can possibly be sufficient to explain to a "true believer" how or why whatever it is he is promoting is falling in price.
Disciples need to address the faithful flock whenever price action does not go their way. The best way to achieve this is to scream manipulation as loud as one can whenever anything goes wrong. This gives rise to various Plunge Protection Team (PPT) theories where every tick of data is argued over. It also spawns rationalizations such as theory number 1 above.
Anyone holding an alternate theory (no matter how rational) is shouted down, sent nasty emails, publicly ridiculed and the like.
The faithful followers benefit as well. They listened to the disciples and they want to know what is happening and why. They do not want to hear they made a mistake or they chose the wrong person to follow, or they were over-leveraged. Instead they want to hear they were right. This is particularly true for the relatively new faithful such as those who bought silver at $20 when it's now at $13.
The way to convince oneself that one is right is simple: Blame the boogeyman. Doing so relieves all psychological pressure associated with admitting one is simply wrong.
Conspiracy Theories Are Sexy
Also note that conspiracy theories are sexy. People like the mysterious. It gives creative minds something to think about and discuss at parties. "I made a mistake" is so boring compared to discussions of who and how and just what is behind the PPT attempting to rally stocks and suppress the price of gold and silver. One can discuss the latter for hours on end while the former is over in 15 seconds to 2 minutes flat.
Who needs the latter at a party? In this case a "party" can be a perpetual discussion in cyberspace on the internet. Fun stuff indeed.
Are There Conspiracies And Manipulations?
Of course there are conspiracies and manipulations. I have listed many of them.
Blatant Manipulations
Term Auction Facility TAF
Primary Dealer Credit Facility (PFCF)
Term Securities Lending Facility (TSLF)
SEC rule changes options expiration week
Selective enforcement of naked shorting rules
Discount window changes in options expiration week
Shotgun marriages arranged by the Fed
The bailout of JPMorgan / Bear Stearns
If people want to rant about something they should be ranting about those. However, support for the above actions is overwhelming because people view the above as supportive of the stock market up. When it comes to conspiracy theory psychology, no one sees the manipulation or conspiracy when the manipulation is done on their behalf.

Planned Conspiracy To Prop Up The Dollar

No doubt conspiracy theorists will be all over this headline in the Guardian: US, Europe, Japan planned March dollar rescue .
The United States, Europe and Japan had planned to intervene and rescue a weak U.S. dollar in March, business newspaper Nikkei reported on Wednesday. Officials from the U.S. Treasury Department, Japan's Finance Ministry, and the European Central Bank reportedly drew up a currency contingency plan to be undertaken over the March 15-16 weekend, Nikkei reported, citing sources familiar with the situation. The monetary officials also agreed on a framework for coordinating dollar-buying intervention, the report said.

No coordinated intervention took place, however, as the dollar began recovering shortly after U.S. authorities brokered the buyout of Bear Stearns by JPMorgan Chase & Co. Is that a conspiracy? Of course it is. And I do not doubt it for a second. But also notice how quickly it came to light! More importantly, had the plan actually been executed people would have been convinced the government manipulated the dollar higher. Ha!

We now can clearly see just how shortsighted that theory would have been. The simple truth is that history now shows the dollar was ready to rally on its own accord.

Such is the nature of why it sometimes appears that manipulations work. The reality is manipulations never work, except in the extreme short term. They only appear to work if the government manipulators are lucky enough to get their timing exactly right, by accident, just as the event they wanted to cause was going to happen anyway!

Following is another conspiracy story that came quickly into light.

Bear Stearns Case Study

Bear Stearns is an interesting vase study in Conspiracy Theory Psychology.

There are still all sorts of rumors still flying around about options manipulations, naked shorting, and rumor mongering that did in Bear Stearns. It's ridiculous. What did in Bear Stearns was massive over-leverage in highly illiquid real estate securities that came to matter at exactly the wrong time.

Ironically there was a Bear Stearns conspiracy, but that conspiracy was not to sink Bear Stearns as everyone believes, but rather to blatantly interfere in the free markets to prop it up. The Fed, the Treasury, and various banks were all openly involved in the conspiracy, and the Fed was willing to break all sorts of rules to get a deal done.

If one looks close enough the shotgun marriage between Bear Stearns and JPMorhan, the proper conclusion is that the marriage was arranged not to bail out Bear Stearns but rather JPMorgan. The reason is that JPMorgan was the counterparty of much of Bear Stearns' debt. JPMorgan was also a counterparty to credit default swaps bet on the demise of the Bear.

Thus, Bear Stearns is an example of an outright conspiracy, with public perception twisted a complete 180 degrees from reality! The Bears Stearns manipulation happened in plain sight and people still got it wrong as to what happened and why.

Indeed, most conspiracies and manipulations, including every item in the list above, happen in broad daylight in full view of the public, and with public support. They are not even viewed as conspiracies. On the other hand, the most talked about conspiracies, notably the manipulation of gold and silver, are nothing but self-serving hype.

In summation, when things are going well people have a psychological need to take credit for their own ingeniousness. And when things are going poorly, people have a psychological need to blame manipulators, conspiracies, naked shorts, or in simple terms, the boogeyman.

So, people take credit for everything that goes right, regardless of how lucky they might have been, while absolving themselves of blame for everything that goes wrong, no matter how convoluted a theory it takes to do so.

Such is the nature of Conspiracy Theory Psychology.
By Mike "Mish" Shedlock
http://globaleconomicanalysis.blogspot.com
Click Here To Scroll Thru My Recent Post List
Mike Shedlock / Mish is a registered investment advisor representative for SitkaPacific Capital Management . Sitka Pacific is an asset management firm whose goal is strong performance and low volatility, regardless of market direction.

Visit Sitka Pacific's Account Management Page to learn more about wealth management and capital preservation strategies of Sitka Pacific.
I do weekly podcasts every Thursday on HoweStreet and a brief 7 minute segment on Saturday on CKNW AM 980 in Vancouver.

When not writing about stocks or the economy I spends a great deal of time on photography and in the garden. I have over 80 magazine and book cover credits. Some of my Wisconsin and gardening images can be seen at MichaelShedlock.com .
© 2008 Mike Shedlock, All Rights Reserved
© 2005-2019 http://www.MarketOracle.co.uk - The Market Oracle is a FREE Daily Financial Markets Analysis & Forecasting online publication.
Comments
chestergimli
01 Sep 08, 09:41
People manipulate everything


People try to manipulate things. But the problem is, if they try to manipulate one thing, that thing doesn't agree with another bunch of manipulators. What some economic groups try to manipulate to their advantage may hurt another economic group so they fight back. Money, bonds, credit, derivatives are just things. They have no brains. Their trajectory in the economic system is determined by human meddling. That is why I say that people manipulate everything.



X
07 Oct 08, 16:32
new conspiracy theory


The government has intentionally driven down the markets. Social Security is not properly funded and there is no money to bail it out as the baby boomers continue to retire. The only way to stop it was to tank the markets, thus those who rely on nest egg supplements to social security will either die or have to put off retirement for several years until the market rebounds. This buys social security some time and lowers the amount it needs to pay out.



Dawson Lodge
12 Oct 08, 00:35
conspiracy


good stuff! yeah it's a conspiracy.

A conspiracy to make money, or save

money. The big players (market makers)

have conspired to create a trading

environment for their purposes.

If small speculators get crushed

from time to time, they didn't have

their risk management adjusted to

avoid being stepped on by elephants.

I question the propriety of banks

trading huge blocks of silver

for speculation, but I doubt if

they have any motivation other

than foolish greed. I have my

account at First PorkBelly

Bank of Chicago. Who needs

silver anyway?



hungry
27 Dec 09, 11:31
Was it all planned for population controls ??????


Subject: will the FDIC fail and was it all by design ??????

If the Health care bill Fails will America lose its justifiable dollar value due to the unfunded Obligations currently without a way forward ??? Is this why the Rush to Pass any Bill ?????? Is it to allow for the printing of more Dollar bills to fund the economy while we wait for the health care to enact in 5 years ???

http://www.sovereignsociety.com/Portals/0/landing/FDICBankrupt_report.pdf

Or was it all a ....

Economy crisis by design for population control ??? http://www.timesonline.co.uk/tol/news/world/us_and_americas/article6350303.ece , Bilderberg wants Population to stay under 8.5 billion

http://www.chinadaily.com.cn/china/2009-12/10/content_9151129.htm Cap and Trade all about Population Control .

Did this Trade policy cause the depression we are in today ????? by Not demanding Asian nations currencies rise in value while they consolidated production of durable wealth creation which feeds a growing labor pool , and instead allowed the Asian nations to Fix their currency value and Suck all wealth and Job creation ways from the Developed and Prospering nations of the USA and Europe ???? Ross Perot said this would happen in 1991 ; http://www.thenation.com/doc/20011231/greider

The High Cost of the China-WTO Deal - was this the plan flaw designed to bring down a sound dollar policy and crash the worlds economies to bring change to how population controls are implemented ???

Administration's own analysis suggests spiraling deficits, job losses

by Robert E. Scott http://www.epi.org/publications/entry/issuebriefs_ib137/

India Food Prices Climb 19.95%, the Most in 11 Years (Update3) Share Business

By Kartik Goyal and Manish Modi http://www.bloomberg.com/apps/news?pid=20601091&sid=aqM3bqeJME1U

This is a set of Research Links that form an Opinion , and it will take some time to read but the theory is worth considering as the path to economic recovery will effect and be effected by this whichever way it goes . Its fundamental is keyed around the Future of Population Growth in the world , and why Wages have been in decline over the past 15 years of Free Trade and no demands on currency balances and their effects on sound money when different valued currencies trade in the same market places , under supply-side fundamental growth ; http://www.statemaster.com/encyclopedia/Gresham%27s-law this key fundamental was left out of the Designs of the WTO FREE Trade agreements of the 1990s , that Reagan so masterfully had balance trade accomplished but was altered for a purpose that I go into great detail in these links that all are an opinion that I think is to effect a certain outcome for a perceived threat of unsustainable world population growth viewed by the elites as the reason why consolidation of wealth was started by this past 15 years of a flawed Trade policy that would lead to the economic crisis we have today . This was by design to trick the steeple into thinking the Government would be their salvation , once the capitulation happened , but this also would give the Government the Platform which to speak of a failed Capital System which Government can resolve with sweeping reforms that would give away Constitutional Rights to effect a new way forward that we are currently on with Cap and Trade and Health Care .

In reading the 3 Key Threats to economic recovery , I think a 4 th very Important fundamental that never gets attention is ............the working class consumer wage levels , and their relationship to sustainable growth . Wage growth has not been the driver of economic growth in the US and Europe over the coarse of the WTO Free Trade agreement in 1994-5 , and have rather been on the decline while credit was used as a replacement to this declining fundamental thats seen an overall average wage decline as the service sector was all thats been left to generate incomes from . The primary wealth creation is and always will be a durable production , and to find ways to appreciate a more diversified set of fundamentals in durable classes has got to be stimulated in a way that allows for innovation to drive Quality and not just the cheapest place to produce durable products , as this is a devaluation process that has led the world to a overall decline and redistribution of wealth and consolidation of durable production to the lowest cost area in the world , all while this transition was happening and volume durable production was consolidating , the currencies of Asia should have been rising but they were not , because of manipulation , and until this changes , the recovery will continue to have to be fed by Government deficits .

Here are some talking points , and until a return to some balance in currencies can be achieved , I think the next phase is Hyper Inflation from the Asian Country of Origin labels , because they now have total control of all majority Rare Earths and this tends to suggest they will place a risk price on their durable going forward to offset the decline in trade currencies they deal with .........and the decline will persist as long as working class wages are low and declining because the working class are the same people who economists call consumers that drive economic growth , as you know .

the case for Hyper Inflation

http://goldnews.bullionvault.com/files/Towards_Hyperinflation.pdf

more abuse of the USD ; Fannie, Freddie CEOs Get Pay Deals Of Up To $6M

CHINA: 'The world does not have Money to buy more US Treasuries'...

http://www.shanghaidaily.com/article/print.asp?id=423054

How China Might Buy More Gold Than America Owns

http://www.businessinsider.com/china-gold-23-12-2009

http://imagehost.vendio.com/preview/cc/ccmautomotive/BanksBorrowingFromFED.png

the total debt in the USA ;

http://www.usdebtclock.org/

http://whatisthatwhistlingsound.blogspot.com/2009/11/economic-advent.html

But was it all by design , to gain control of a growing population the elites feel is unmanageable if left to be free to drive markets and wealth freely through the expansion of the supply-side market concepts , as is described here by our top Agronomist ; http://en.wikipedia.org/wiki/Norman_Borlaug

The future of global farming and food supply .

The High Cost of the China-WTO Deal - was this the plan flaw designed to bring down a sound dollar policy and crash the worlds economies to bring change to how population controls are implemented ???

Administration's own analysis suggests spiraling deficits, job losses

by Robert E. Scott http://www.epi.org/publications/entry/issuebriefs_ib137/

after reading this WTO analysis , and the list of players in this Trade Policy that facilitated the process of International Wealth Consolidation , all part of the process of Rules for Radicals and the Communist Manifesto , see these links ; www.nytimes.com/2008/12/19/us/politics/w19clinton.html

voices.washingtonpost.com/.../2008/12/clinton_donor_list.html

, read the link below , you needed an economic crisis to make change happen as is suggested in this read ;

http://www.cuttingedge.org/NEWS/n1315.cfm - there are examples here of how to bring change to a Free People to implement population controls through the control of wealth here ;

Rules for Radicals ;

http://vcn.bc.ca/citizens-handbook/rules.html

http://www.libertyzone.com/Communist-Manifesto-Planks.html

And these 2 reads are the elements of the design to first break the circulation of wealth to then bring about a way to control through fear the will of a Free People ;

Fake Gold created by Politicians , all part of the plan to kill Capitalism and wealth creations of the Free World . http://www.popsci.com/diy/article/2008-03/how-make-convincing-fake-gold-bars

more on fake gold http://www.the-boondocks.org/forum/index.php?t=msg&th=26739&start=0

And the Giant Sucking Sound Ross Perot talked about in the 1992 Presidential Campaign , http://www.thenation.com/doc/20011231/greider , has come home to roost , and its not just the USA its every country that cannot compete with the way that Asian Countries manipulate their currencies lower than the Trade partners that are Higher , which is a direct example of " Gresham's Law of the 14 th Century , http://www.statemaster.com/encyclopedia/Gresham%27s-law , which you should argue with economic gurus that , without a counter balancing measure to deal with different valued currencies, like how tariff law revalues a product par to the post of calls currency value , so the currency is not undermined of its value , and defeats its support of its working peoples ability to be competitive , " When 2 different valued currencies trade in the same markets , the Lower valued currency will drive the higher down and out of circulation " , so by what is said in that valuing currencies in terms of Commodity values , the currencies of China and the USA should be way closer in value than they have been over the past 15 years of WTO trade , because Commodities are traded in par valued international markets .

So to consider that before we had the WTO trade agreement of 1994-5 , we had Balanced Trade deficits and a sound dollar , and a healthy Manufacturing base in the USA , the very support structure for wealth creation , that then feeds the secondary markets and infrastructures , a debate on how we can use a Bid Concept for all forms of Imported goods , like if we take the effective cost of what it would cost to manufacture a product in a given nation , and the price of raw materials is based off the international Commodities price indexes , so that the value to produce in one country is equal to or is reflective in what kinds of trade agreements can be made to keep all trade nations currencies sound should be the way in which a price for a product should be arrived at , as well as our domestic needs should be the new economy fundamental we seek in our Country , to go with this health care renovation .

ASIA SHOULD CONSIDER THIS PATH ……..

Maybe the re-establishment of the old Bretton Woods would be a direction all International trade partners could debate as a direction of Re structure , http://www.statemaster.com/encyclopedia/Bretton-Woods-Conference .

The Current Trade agreement is lacking sound currency terms so our living wages can maintain cost of living increases to keep up with the inflation , which is just the way its been since the beginning of economic societies so this needs to be debated .

It is possible that a new Brettonwoods Accord could include this type of direction to return to a sound international trade basket of currencies that all nation agree too .

http://www.commodityonline.com/news/Fiat-currencies-out-gold--silver-the-new-currencies-24132-3-1.html

But if you consider these reads you might think that to control the wealth of the world might be a bit more by design for a certain outcome ..........

The holdings of the SPDR fund increased by 65 Tonnes today, and increased Friday over Thursday, last; Bullion Vault.com in London shows no private selling of gold; none. It was a mini-bubble it's having a mini-pop; you never know what kind of news event will occur in the world; but baring large events; the Gold price should bounce real close to $1,000; timeline around the second week of January. I don't see that there's any difference between $1,000 and 1,050$ for a medium term investor, that's where it started getting frothy so that's where it should correct to; whats driving the uncertainty .... the future of Population growth and how to accommodate it is a real possibility , if you read what Out top Cereal Grains breeder said not so long ago ;

And consider these activities and ask yourself if supply-side growth was understood by the Policy makers as limitless they would have the will to set in motion a way to grow these deficits neutral without creating Negative Prosperity Policies that limit wealth creation and reduce Quality of Life that will bend the Life expectancy Curve on the later end of a human life like what will happen with shifting Medicare funds away from the elderly by design , to gain control of a growing population the elites feel is unmanageable if left to be free to drive markets and wealth freely through the expansion of the supply-side market concepts , as is described here by our top Agronomist ; http://en.wikipedia.org/wiki/Norman_Borlaug

The future of global farming and food supply .

The Global Elites have lost the supply-side economic will to continue to grow the worlds population by growing the supply of its needs .

IT all Boils down to POPULATION CONTROLS , Cap and Trade and Health Care are designed to limit Quality of Life , and that will in turn limit length of Life because the top echelons have lost their will to believe the world can sustain the rate of population growth ; read here .... http://www.sdearthtimes.com/et0401/et0401s4.html

http://en.wikipedia.org/wiki/Zero_population_growth

http://www.timesonline.co.uk/tol/news/world/us_and_americas/article6350303.ece , Bilderberg wants Population to stay under 8.5 billion

http://www.chinadaily.com.cn/china/2009-12/10/content_9151129.htm Cap and Trade all about Population Control .

Climate Changers are believers in Population Controls , http://zombietime.com/john_holdren_and_harrison_brown/ , , http://zombietime.com/john_holdren/ , http://www.aim.org/aim-report/obama-czar-favors-planetary-regime/

Kathleen Sebelius Health and Human Services secretary

http://en.wikipedia.org/wiki/List_of_Bilderberg_participants

Obamas whole cabinet is on this list , along with Federal Reserve gang members

is also a Bilderberg member , and Bilderberg is calling for a reduction of population , so how much you want to bet Bliderberg is writing a lot of the health care bill ???????

THE NEW WORLD DISORDER

Secret billionaire club seeks population control

Gates, Rockefeller, Turner, Oprah, Buffett, Soros, Bloomberg attend meeting

http://www.wnd.com/index.php?fa=PAGE.view&pageId=99105

The total debt in the USA , this was growing for decades while the American people were not made aware of it , why ???? because to let this cause a crisis by not designing a way to reverse it is to control the wealth of a people and their freedom ;

http://www.usdebtclock.org/

http://whatisthatwhistlingsound.blogspot.com/2009/11/economic-advent.html , throw in a little grain disease like this stuff ; Ug99 , http://www.uncommonwisdomdaily.com/why-food-prices-are-set-to-surge-4-1299 , and squeeze the supply and we got the formula for hyper inflation with a Growing Population thats the target of regulators and why we see these types of issues ;

http://www.sdearthtimes.com/et0401/et0401s4.html

http://en.wikipedia.org/wiki/Zero_population_growth

http://www.timesonline.co.uk/tol/news/world/us_and_americas/article6350303.ece Bilderberg to set population controls at 8 billion worldwide

http://www.chinadaily.com.cn/china/2009-12/10/content_9151129.htm Cap and Trade summit says Population controls Key to aggrements .

Text of H.R. 645: National Emergency Centers Establishment Act ;

why are we doing this ???????????????????????

http://www.govtrack.us/congress/billtext.xpd?bill=h111-645

and it plays right into this ;

http://www.endgamethemovie.com/index.html

http://www.silverbearcafe.com/private/12.09/noose.html

China is passing Inflated prices on our Imported goods too. And this will only get worse as they become less and less involved in buying US Treasuries , and rising prices on goods more and more to off set this devaluation process .

This is a warning of whats to come from the Finished products China will be delivering into the markets and this will effect profits for the equities... Commodities will be the fundamental growth sectors for future growth as retail sectors will grapple with these inflation increases and the consumer is still without incomes that can sustain higher prices , so rationing will be a self imposed prophesy .

double-digit growth in June fueled by government stimulus programs and spiking in November to more than 19%.

http://www.purchasing.com/article/441397-China_forecasts_11_growth_in_2010_industrial_production.php

China is paying $107/ton to import iron ore

http://www.purchasing.com/article/441042-China_is_paying_107_ton_to_import_iron_ore.php?rssid=20270

I want to point out the yearly DZZ chart here and say that it shows us that the fundamentals for deficit spending , the continuation , and noting of Chinas Inflation data at 19 % with a fundamental increase next year on rare earths that go into flat screen and tech related stocks is being shown in this chart , and why the trend in shorts are leaving the independent investor for the hard assets and the exposure for the Commercial trades is getting critical mass stages , they are going to get pushed into filling their own orders ;

http://app.quotemedia.com/quotetools/getChart?chscale=1y&webmasterId=91022&snap=true&symbol=DZZ&chtype=AreaChart&chwid=284&chhig=150&chfill=ee0066CC&chfill2=110066CC&chln=0066CC&chmrg=0&chfrmon=false&chton=some

And then throw in a little carry trade on the dollar , that uses zero interest dollars to fund trade that can take advantage of Oil related stocks once Iran invaded and took over the Iraqi oil field , and how do we not know that these same kind of Dollar carry trade are not funneled out and back into the COMEX from foreign entities that are then buying short positions on commodities that can effect a market in one region while creating a predictable one in another ?????

Credit Suisse Caught Allowing Iranian "Rogue Players" Secret Access to US Dollars -- (Daily Reckoning)

The US government already had to crack down on one Swiss bank, UBS, fining it $780 million earlier this year for illegally aiding American citizens in evading their taxes. Now, it's Credit Suisse in the crosshairs for helping clients in Iran, Libya, Sudan, and other countries perform illegal transactions.

Read more...

http://www.thetradingreport.com/2009/12/17/credit-suisse-caught-allowing-iranian-%E2%80%9Crogue-players%E2%80%9D-secret-access-to-us-dollars/

India Food Prices Climb 19.95%, the Most in 11 Years (Update3) Share Business

By Kartik Goyal and Manish Modi http://www.bloomberg.com/apps/news?pid=20601091&sid=aqM3bqeJME1U

Dec. 17 (Bloomberg) -- India's wholesale food prices rose at the fastest pace in eleven years, making it more likely that the central bank will raise borrowing costs to curb inflation.

An index of food articles compiled by the commerce ministry increased 19.95 percent in the week ended Dec. 5 from a year earlier, following a 19.05 percent gain in the previous week. A measure of fuel and electricity prices rose 3.95 percent, the ministry said in a statement in New Delhi today.

Policy makers in Asia have started to exit monetary stimulus as the global economic recovery causes the focus to shift from reviving growth to fighting inflation. Australia and Vietnam have already begun raising interest rates as inflation accelerates across Asia, with China's consumer prices rising for the first time in 10 months in November.

"When growth is subdued, inflation can be ignored," said Sonal Varma, a Mumbai-based economist at Nomura Holdings Inc., Japan's largest brokerage. "However, with both growth and inflation surprising on the upside, we believe that a policy action is imminent."

India's economy expanded 7.9 percent in the three months to Sept. 30 from a year earlier, the fastest pace in 1 1/2 years, giving policy makers room to shift their focus to soaring food inflation that threatens to undermine the popularity of Prime Minister Manmohan Singh. Singh got re-elected this year on promises to alleviate poverty in a nation where about 800 million people live on less than $2 a day.

Parliament Disruption

Opposition lawmakers yesterday accused the government of being ineffective in tackling soaring food prices and disrupted parliament, forcing the speaker of the lower house to adjourn for the day.

A panel of Indian lawmakers said in a report presented to parliament today that the government "failed to intervene" in a timely manner to address this "burning issue." The standing committee of finance demanded a probe into the surge in sugar prices and suggested developing a mechanism to provide food items directly to consumers to overcome hoarding.

The central bank may tighten monetary policy to help contain a spillover from food-price inflation after gauging prices in December, Chakravarthy Rangarajan, economic adviser to the prime minister, said Dec. 15. The Reserve Bank of India is scheduled to review interest rates on Jan. 29.

Inflation is accelerating across Asia as the region emerges from the worst global recession since World War II. Consumer prices in Pakistan rose 10.51 percent in November from a year earlier and Sri Lanka's inflation quickened to a six-month high.

Action Needed

India's inflation is accelerating as the weakest monsoon since 1972 and floods in some parts of the country hurt farm output and caused shortages. Varma expects inflation to accelerate to 8 percent by March 31, more than the central bank's 6.5 percent estimate.

Reserve Bank Governor Duvvuri Subbarao said last week that action may be needed to stabilize inflation expectations if food-price increases persist for "a long time." The central bank could reduce liquidity or raise policy rates, Rangarajan said Dec. 15.

Benchmark 10-year bond yields were unchanged at 7.68 percent after the food price report, according to the central bank's trading system.

Potato prices more than doubled in the week ended Dec. 5 from a year earlier, vegetable costs climbed 41.09 percent, the price of pulses rose 40.1 and wheat gained 13.9 percent, today's report showed.

Policy Tightening

Subbarao started to withdraw India's monetary stimulus in October by ordering lenders to put a greater proportion of deposits in government bonds, even as he kept the reverse repurchase rate unchanged at 3.25 percent since April.

"Rising inflation tends to immediately fuel expectations of policy tightening," said Siddhartha Sanyal, an economist at Edelweiss Capital Ltd. in Mumbai. "Irrespective of whether RBI touches first the repurchase rate or the cash reserve ratio, it will try to ensure that the impact on lending rates is not much," to protect growth.

India releases weekly inflation data for wholesale food and fuel prices and an aggregate monthly wholesale index, which rose 4.78 percent in November, the most in 10 months.

Population control called key to deal ,

http://www.chinadaily.com.cn/china/2009-12/10/content_9151129.htm

Why Not take this approach to the issue of Population growth with this as a Logical will that can be a path into the future long term , Certainly we can spend resources on advancing our visions here on earth that can lead to positive advancements in these fields , like more space telescopes like the Hubble and advancing the science behind these areas .

If the Government is worrying about over Population of the Earth , and have these Czars Looking into ways to Reduce Population , why don't they take a Pro Active Life approach to the Problem and start a Real Serious Space program , like this .......

http://www.astrobio.net/pressrelease/3080/lunar-gardening

http://www.paragonsdc.com/paragon_news_09.php

This seems to be a more Proactive solution to the problem , making the case for True Progressive Innovation and Prosperity to come " For All Living Things " !!!

I would rather Die trying to use my will to live that God bestowed in our souls and Imagination , than Die because someone said it was time to for lack of the will to believe in the hope of Gods will to be an ever lasting life !!!

World population is a challenge , not a problem , and the intelligent will meet the demands of a growing population .

We can plan for the future , create opportunities that can take the human race into space , like these suggestions here , we can make our needs and with these types of creations chart expeditions to find new worlds , thats what man has done for centuries , and with the Technologies today , the efforts can be successful ;

http://www.youtube.com/user/SilentRunningMovie

http://www.b2science.org/visitor-tours.html , this Tucson facility is astronomical in the science of sustainable life elements in space .

http://themis.asu.edu/

www.spacex.com/

And this Robert Branson Mission , www.virgingalactic.com , isn't it and Inspiration filled with Hope , that we should appropriate funding for more than a Global Cap and Trade thats only going to cause unrest to the point of all out worldwide civil war ??

Progress is an Inspiration of the Imagination , not the demise of a worry with no plan of favorable outcome for the benefit of all , we must ask is it to much to wonder that once a persons struggles are met with brilliance , do we become so complacent of our own paths that took us to great Quality of life , that we lose sight of the struggle that everyone is faced with , and that these journeys we all deserve a shot at Quality in life as the result , and to demise that chance with worry over a challenge does no one in humanity the justice of all that has been and will be ????

In simpler words before we just lay down and die from over population growth , we should at least die trying to find more human needs in space and here on earth .

Also the abilities to build additional food growing facilities is a real possibility too , like this , www.verticalfarm.com , and together with desalinated water treatment plants using ocean waters will allow us plenty of time to start on the journey of creating more space in space .

The path towards Peace , we saw what was after WW2 and the expansion of Resources and supply of Human needs , which made up the Brettonwoods accords which at that time was implemented to rebuild lives and we need this again , http://www.statemaster.com/encyclopedia/Bretton-Woods-Conference , only for a New kind of Mission , don't you think ?? The thoughts that promote lifes future as sustainable and mans ability to imagine the ways forward should be chosen as the effort we take .




Only logged in users are allowed to post comments.
Register/ Log in