Gold Heading for a Lower Low?
Commodities
/
Gold & Silver
Aug 28, 2008 - 07:33 AM GMT

"Bull or bear, call it what you will, the fate of precious metals seems to rest with the U.S. and European economies and the extent to which the monetary base will have to be inflated to prevent a deflationary spiral. The rally off the July 15 lows in stocks has shown the market tends to overreact in these situations. And in this case, the cause for the selloff is rather tenuous at best, and based on some uncertain assumptions." ~ Precious Points: Bye-bye Bull? August 15, 2008


Precious metals staged an impressive bounce last week in a broad-based commodity rally and corresponding decline in the dollar against the euro. The chart below shows a confluence of support in addition to a trendline off the summer '06 lows. Silver was at a similar location. In fact, just about every aspect of the dollar versus commodity trade had reached firm support or resistance by the end of last week. So a bounce was due.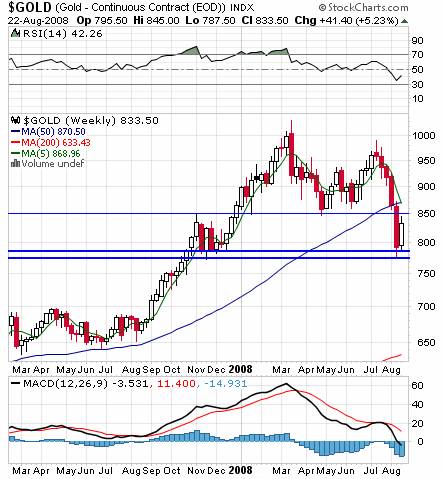 But even though last week's update was replete with reasons why the selloff in precious metals is very likely to reverse and the bull market resume sometime in the not-too-distant future, that isn't necessarily to say a bottom is now in place. In Elliott wave terms, last week's rally could very well have been a 4 of C consolidation before the final lows. And there is some technical evidence to support this idea.
Both gold and silver failed to take out a key support/resistance level just above Friday's closing levels. Neither managed to have their rallies confirmed by MACD, which actually widened negatively in both cases. And, whereas gold is poised for a bearish crossover over the 50-week sma over the 5-, silver has already done it. Both gold and silver remain well below their 5-week moving averages. If this is the beginning of a new leg to the bull market, there's still lots of work to do before we have anything approaching confirmation.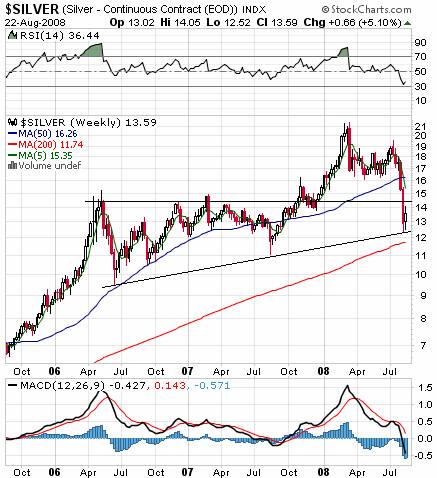 Readers who lightened up on their precious metals positions this year and who started legging back in last week, will probably wind up with a profitable position in time. And assuming physical positions are long term propositions, one more opportunity to buy at washout lows might actually be appreciated. If that's the case, silver could have a $10-handle before the selling is done; gold could go under $700. But just as we don't have confirmation of a bottom, there's nothing to suggest such a deep new leg down is necessary either, unless, perhaps the financial industry and the economy are suddenly and miraculously saved. On the contrary, anecdotal evidence concerning tight physical supplies of precious metals suggests such a washout is probably unlikely. What short term traders should be most concerned about then, is a retest or slight poke below the last lows. If that were to occur and a significant reversal to follow, we'd be a lot closer to sounding the all clear.
Despite the summer doldrums, TTC has been quite busy since we closed our doors to new retail membership and paused the regular free weekly updates. But coming soon, and for a limited time only, TTC will reopen for new members while space is available. Beginning Saturday August 30 until September 8, or until available spaces are filled, TTC will be accepting new members.
Because we take the quality of our service very seriously, we strictly limit membership and work to develop members' trading skills. Having noticed an improvement in our current membership, most of which are professional, institutional traders, we will accept a limited number of new retail members for one week only. TTC does not issue trade signals because we teach you how to trade. We don't spoon feed you because we teach you how to take care of yourself. So, whether you're a novice trader who wants to get better, or a more experienced pro that's wants to share what they've learned and go to an even higher level in multiple markets and timeframes, TTC is the place for you. Stay tuned for further updates with information on how to join.
by Joe Nicholson (oroborean)
This update is provided as general information and is not an investment recommendation. TTC accepts no liability whatsoever for any losses resulting from action taken based on the contents of its charts,, commentaries, or price data. Securities and commodities markets involve inherent risk and not all positions are suitable for each individual. Check with your licensed financial advisor or broker prior to taking any action.
© 2005-2019 http://www.MarketOracle.co.uk - The Market Oracle is a FREE Daily Financial Markets Analysis & Forecasting online publication.

Only logged in users are allowed to post comments.
Register/ Log in