Understanding true money, Pound Sterling must make another historic low, Euro and Gold outlook!
Currencies
/
British Pound
Jun 22, 2017 - 05:27 AM GMT

Our future is endless possibility only limited by our imagination.... our future reality depends on our choices and actions of today!
In December of 2012 MAP Wave Analysis confirmed a long term bull market which is not yet over!
In February 2016 MAP Wave Analysis projected the low in gold is not yet in.
In April 2016 MAP Wave Analysis projected BREXIT will not be achieved and Pound Sterling must make a new historic low. The BREXIT vote narrowly won, but as most are beginning to realise just over a year later that it was a scam and there will never be a break from Europe. Just the rate and commitments of the UK with the EU army are evidence that any "exit agreement" will not return sovereignty to the UK.
Everything on this system is purely based on confidence and nothing more! If you want to survive you need to understand it is purely a box of confidence tricks not based in truth, and hence you need to understand the rules of the game!
Money is most likely the biggest change needed to our belief systems which have resulted from our social conditioning (largely the public education system and main stream media) and is the 2nd biggest lie sold in the history of humanity since the days of the flood, and hence must be understood in truth to be able to move to a peaceful future for humanity.....
The basis can be found in A suggested transition summary.
As usual it is a matter of bull"£$t baffles brains. If money represents anything it is an accounting unit of labour hours that we use to trade for things we cannot make or do ourselves!
The following is the logical conclusion based upon my presentation on law.
If you do not believe those simple truths and how they apply to you there is absolutely no point in reading further until you open your mind to observation, reason and logic.

If you have faith in those simple truths this will help develop your belief in them as you understand the information to formulate your opinion based on truth and fact.

Once you accept those simple truths this will be a step to get to crating heaven on earth.
STATEMENT OF FACT - global assets and who owns them
For the production of goods and services we need natural resources and labour.

Natural resources are provided by the creator who or what ever a person believes that to be is irrelevant!.

Mental and physical labour transforms raw materials into equipment and technology required for goods we desire.

We are all born with equal authority under creation - no one has a contract or proof other than this,

Hence we have equal authority over all creation,

Hence we each own an equal share of` global natural resources,

THE LOOSER'S OF CHANGE RESULTING FROM THESE FACTS - Those which are protected by privilege.

THE WINNERS OF CHANGE RESULTING THESE FACTS - Everyone
STATEMENT OF FACT - What is money?
Hence the only value humans add to the supply of goods and services is KNOWLEDGE (Technology) and LABOUR,

Hence physical and mental labour is the only thing that money can represent.

Hence "money" is purely an accounting unit of the peoples contribution to the social good created as and when that human input is made.

THE LOOSER'S OF CHANGE RESULTING FROM THESE FACTS - Those which are protected by privilege.

THE WINNERS OF CHANGE RESULTING THESE FACTS - Everyone.
STATEMENT OF FACT
This is confirmed openly by the Bank of England where it clearly states you create money when you take out a loan or mortgage in their Quarterly Bulletin 2014 Q1.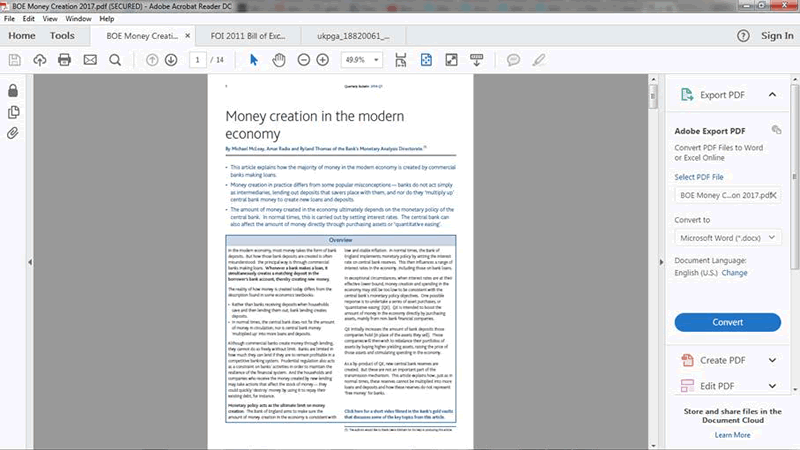 THEY TELL YOU THAT YOU ARE THE SOURCE OF CREATION OF THE MONEY THEY LOAN YOU..... ON THE FRONT PAGE AND EVEN HAVE BOLDED IT!!!! (hidden in plain sight for all you conspiracy buffs - like it all is!!!!)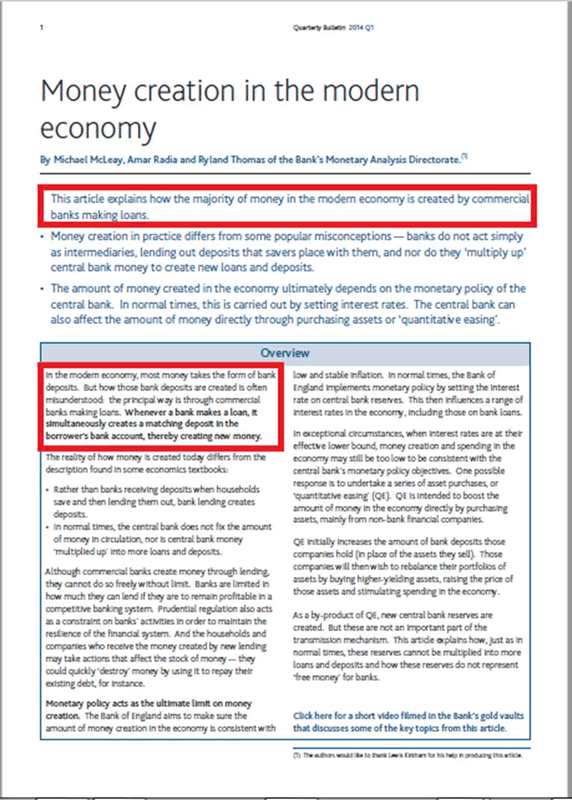 They go on to tell you in the second paragraph that what "some" (find me one that is factually correct!) economics text books teach is incorrect....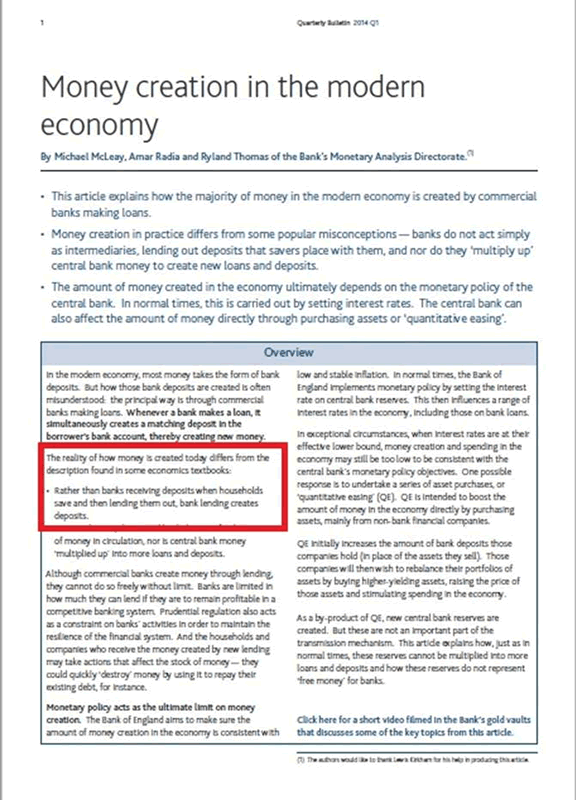 OPINION
The rest of the document is the bull£$it baffling brains and is absolute garbage based on opinions. The proof is the 2007 banking crisis - they have no idea what they are doing beyond enslaving you through your belief system.
The first question these fact should raise is ...... How did I create this money?
The second question these fact should raise is...... If I created the money then why am I paying interest on my creation???
STATEMENT OF FACT
To answer the first question of how do you create the money we need to look into the legal system.... This FOI confirms the status of the legislation as at 12 August 2011 explains the "Acts" (they even tell you it is not the law but merely an act! In different countries they may be called statutes, bills, presidential order etc.... again hidden in plain sight! NB - they know this is unlawful and as you can only hold a human liable they ensure no name on this FOI - Always only contract with named people as they can be held personally liable for their unlawful actions and cannot hide behind the corporate veil!).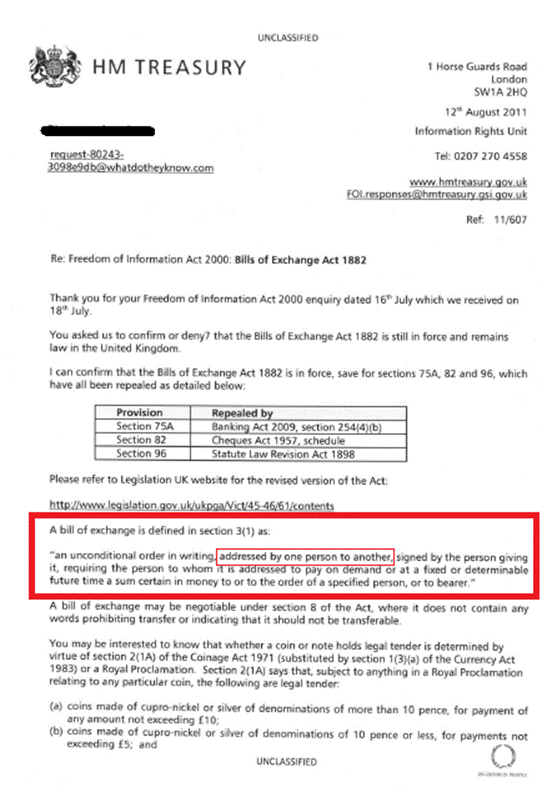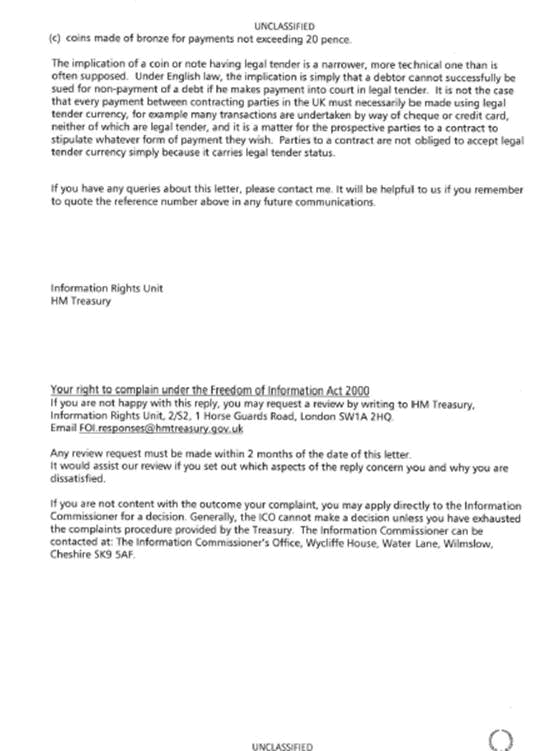 So your "loan agreement" is a Bill of Exchange (which they happened to forget to tell you making the contract unlawful!) that is creating the "Asset Entry" in the banks accounts as described above in the first paragraph.
Then they "create the money out of thin air" in your account which again they tell as as shown above and you using a plenty bullS£$t baffles brains on page 3 they confirm this fact pictorially.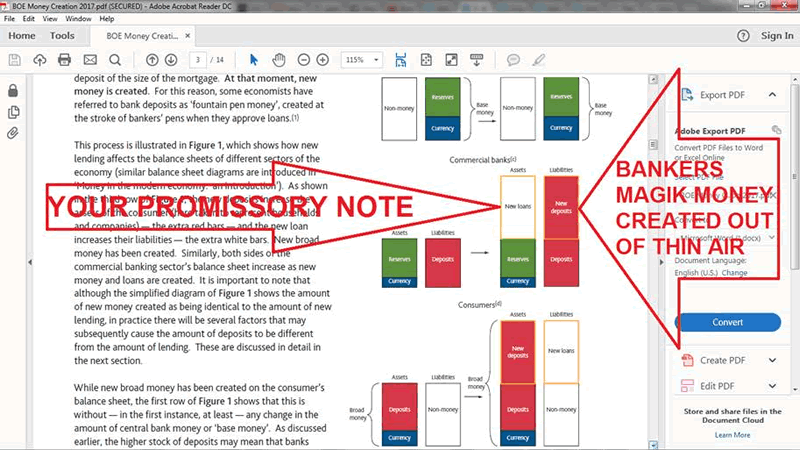 OPINION
So this leads to the second question.... If I created the money then why am I paying interest on my creation??? Any man would not pay another with the fruits of his labour if they knew they were actually creating the money that the bank was "lending" them. At best you would just pay a charge for holding an account of what you still need to pay based on your promissory note which is a service!
So how do they get away with it? They justify it to themselves as they told you wrap it in loads of BS so no one bothers to investigate the truth, and it is our own fault if we don't complain and they call that tacit "consent". However their justification is proof that they knowingly are causing harm which is unlawful (see presentation on law).
INFLATION - THE STEALTH THEFT OF SAVINGS!
We are all told "inflation" is good. Can anyone please explain to me the truth behind this.
If I work and want to save for something in the future why would I want my savings to become worthless (be able to buy fewer things in the future than today) in the future?
The "truth" behind this is that it transfers wealth from the savers to those who live on credit as future payments are worth less than payments today. So if you live on borrowings (loans of any sort) it would be the cheapest way of doing so. HOWEVER your interest payments far outweigh the "inflation" rate, so it goes straight back to the question in the above paragraph! Unfortunately because of the next topic most are manipulated into debt resulting from the legalised theft resulting in some people being more equal than others and having the privilege of creating money out of thin air as was explained in earlier.
PRIVATE CONTROL OF MONEY! THEFT THROUGH MONOPOLY OF THE MONEY SUPPLY!
The mechanism is simple and I will start with a statement that many believe is the source of the problem.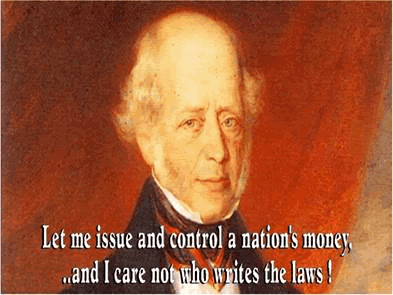 I do not blame him. Mayer Amschel Rothschild is attributed to this quote and accurate or not it is true. It is in public and the people did nothing about it!
What has happened is actions knowingly caused harm and as explained in the law presentation the self justification of "hiding in plain sight" is unlawful as detailed in the Knowingly causing harm = UNLAWFUL CONTRACT presentation.
Basically the way the scam works is generate division by any means by financing extremists ... get people polarised and fighting one another (the issue is irrelevant religion, race, colour sexuality, political views - but essentially you with us or against us - anything to start a fight. Privately (not in public eye otherwise they would see the scam) give money to both sides to fight for the belief systems you have instigated in the first place. Keep it going for as long as possible to indebt both sides as deeply as possible. Eventually you can no longer keep the fighting going and they will make peace. As both sides owe you the money they borrowed from you one of the conditions of your kind hearted support for their cause is as you are now broke you let them "control" the money supply as you have so adequately proved you are incapable of doing this yourself!
Such a simple scam by Generating a problem that creates the chaos until the people are ready to accept your solution!
If you don't succumb to their justification and solution they follow a simple procedure...
dethrone you from your power by humiliation of your supporters .....
If that does not work threats to you and your loved ones......
If that does not work find another bunch of thugs.....
This lead us to a later family member's statement....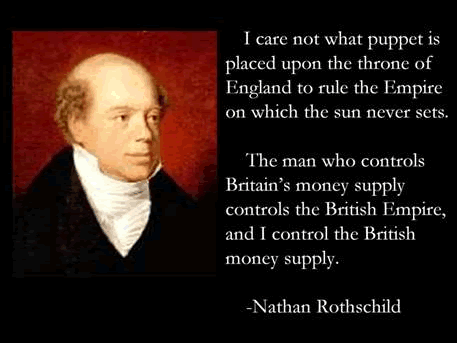 And then the same scam is run on the rest of the people..... create demand by creating division.... you are a no one if you don't have an iPhone whatever..... we can loan you the money..... when you can't pay back they threaten you with stealing your possessions through the courts they own.... and eventually they steal your possessions by sending the bailiffs and police around who they also own! Same scam!!!
Tools they use for the scam
Inflation - rising house prices makes you feel good....
Low interest rates get you to borrow when you feel good.......
Once enough profit potential raise interest rates.....
Steal property as described in the scam above.....
Rinse and repeat every few years!
I have a few personal opinions on how a peaceful transition to the rule of law might be managed..... BUT restate with what I started....
Our future is endless possibility only limited by our imagination.... our future reality depends on our choices and actions of today!
Together we create the future we want..... BE THE CHANGE YOU WANT TO SEE!
GOLD OUTLOOK AND FINAL LOW
August is the decision point for gold, and to complete a 5 wave correction it will break down to final lows in 2018, ideally around £900 in May, and can be as late as October around $800.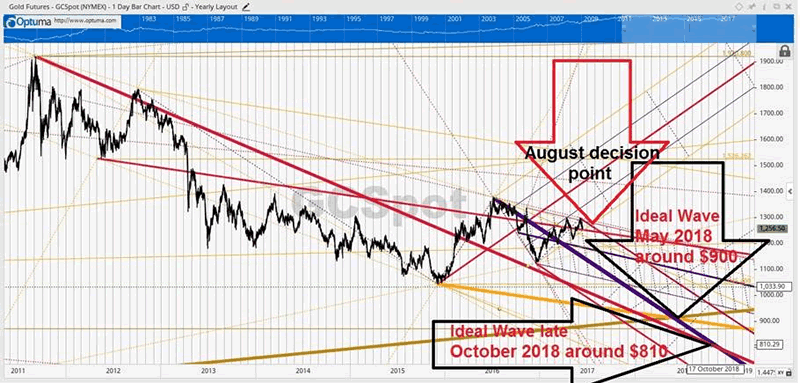 EURO OUTLOOK AND ELECTION HIGH
The Euro has run into resistance and faces cyclical and pivotal resistance from 1.14 to 1.15. It needs to make one more high before the collapse starts and the looks like will result from the German elections going the NWO way!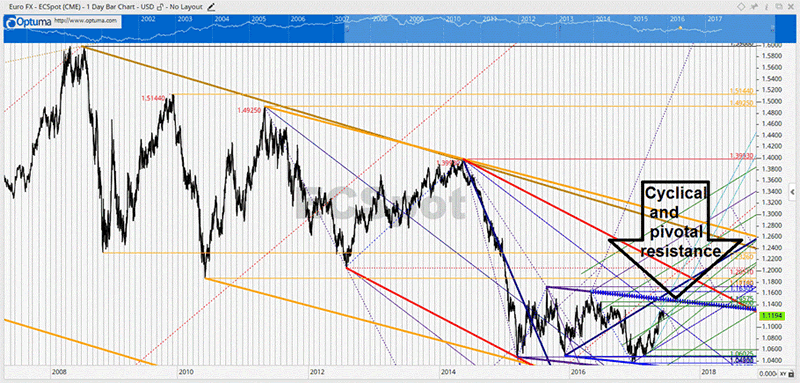 Looking in more detail the Euro should retrace to the sky blue dotted MLL before it continues up to the final high which is projected to be in by late August / early September around a max of 1.149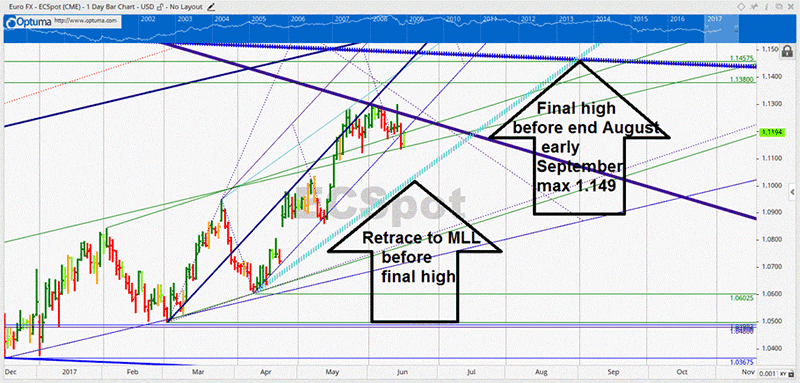 By using MAP Wave Analysis (MWA) you confirm that you are personally responsible for any and every decision you make based on any content found on this site.
For other articles published click here
© 2017 Copyright Marc Horn - All Rights Reserved
Disclaimer: This is an paid advertorial. The above is a matter of opinion provided for general information purposes only and is not intended as investment advice. Information and analysis above are derived from sources and utilising methods believed to be reliable, but we cannot accept responsibility for any losses you may incur as a result of this analysis. Individuals should consult with their personal financial advisors.
© 2005-2019 http://www.MarketOracle.co.uk - The Market Oracle is a FREE Daily Financial Markets Analysis & Forecasting online publication.

Only logged in users are allowed to post comments.
Register/ Log in