Tread carefully with low rate high fee mortgage loan combinations
Personal_Finance
/
Mortgages
Mar 23, 2007 - 12:47 PM GMT

Julia Harris, mortgage analyst at moneyfacts.co.uk – the money search engine comments: "During the last month we have witnessed the continuing trend for lenders to launch low rate high fee mortgages. But as fees rocket skywards, is there still a place in the market for low rate high fee products? And who benefits from these deals?
"The trend just highlights how some lenders and consumers are still keen to focus on interest rate, not the whole package. It is worrying that consumers may be duped into these deals, thinking they are getting the best possible rate, without realising the financial impact of such a large fee.
"Where these high fees become most costly is when they are added to the loan, effectively increasing the amount borrowed and pushing up the monthly payment.
"The table below shows examples of two year fixed rate low rate high fee deals launched in the last few weeks:

"Lenders have adopted two types of high fee mortgage products. The first and fairest is a flat fee, which can range up to £2,499 in some cases. The second, and potentially largest, is percentage fees, which now extend up to 3.5% of the mortgage advance.
"So how do these low rate high fee deals really compare with a moneyfacts.co.uk best buy deal?
"We have calculated the true cost1 of the above mortgage deals based on a typical first time buyer, home mover loan and also for a larger loan of £250K.
"When comparing these deals to one of the moneyfacts.co.uk best buy products, it is clear that any borrower, arranging an average mortgage of £110K or £130K would be better off with the Cheshire BS deal at 5.24%, even though it has an interest rate of between 0.25% and 1.25% higher than the low rate high fee deals shown above.
"However, when it comes to larger loans, the high flat fee options from Stroud and Swindon BS and Bradford and Bingley are marginally more competitive, while the percentage deals continue to be very uncompetitive.
"Take the Northern Rock deal, the lowest rate in our table at 3.99%. Assuming the same fee of 3.5%, the rate would need to be 2.9% to make this deal comparable with that of Cheshire BS. Or to put it another way, the 3.5% fee payable would equate to the equivalent rate of 6.47%. That's the equivalent to an extra 2.48%.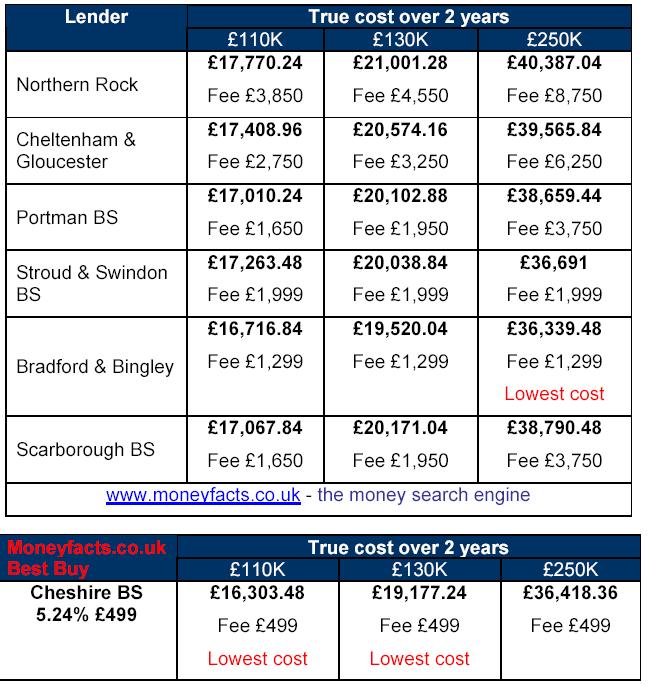 "So unless the interest rate or loan advance is very low, percentage fees will usually remain uncompetitive. If a borrower is eligible for a large mortgage, there should be no more or no less work involved in arranging the loan, no matter what size. So how to lenders justify this upward scale of fees?
The fee, now known by many different names used to be commonly known as an arrangement fee and was supposed to cover the work involved in administering the loan, which was a more or less fixed cost, not dependent on the size of the mortgage advance. Some lenders have moved away from the term 'arrangement fee' and use alternatives such as product fee and in essence use the fee to offset the lower rate.
"Percentage fees may become competitive on very small mortgage advances, but be aware that some lenders impose minimum lending limits which can make this unachievable.
"Large flat fees can be competitive for the right consumer, but they are generally only cost effective to a niche market – those borrowing above average amounts. So make sure you do your maths and calculate if the rate is low enough to offset the cost of the upfront fee.
"Many of us will now switch our mortgage provider once the deal has expired, but having to pay upfront fees running into four figures every two, three or five years (not to mention exit fees) could make switching providers a costly move. If consumers are deterred from switching providers, this could dampen demand for new products and result in a less competitive market."
By Julia Harris,
http://www.Moneyfacts.co.uk
1 Based on rate and fee and includes two year's repayments on a 25 year capital & repayment mortgage.. True cost does not include incentives or valuation fess.
© 2005-2019 http://www.MarketOracle.co.uk - The Market Oracle is a FREE Daily Financial Markets Analysis & Forecasting online publication.
Comments
John
02 Apr 09, 18:45
mortgages


I agree with Julia, that lenders are trying to attract customers by offering low rates with higher fees. Customers should be careful and should ask for a true cost.




Only logged in users are allowed to post comments.
Register/ Log in