Stock Market Counter Trend Rally Heading for Consolidation
Stock-Markets
/
US Stock Markets
Aug 10, 2008 - 05:26 PM GMT

Current Position of the Market
Long-term trend - The Dow Jones Industrials may be deviating from their typical decennial pattern in an election year. Important cycles going into the Fall could be the reason for this, but one also has to consider the possibility that the downward pressure from the 120-yr cycle, which is due to make its low in 2012-2014, has begun to take effect and that October 2007 was the top of the bull market. This is not yet confirmed and remains a low probability.


SPX: Intermediate trend - It is possible that the intermediate term correction was completed at 1201. More likely, this is only a counter-trend rally which may be near an end.
Analysis of the short-term trend is done on a daily basis with the help of hourly charts. It is an important adjunct to the analysis of daily and weekly charts which determines the course of longer market trends.
Daily market analysis of the short term trend is reserved for subscribers. If you would like to sign up for a FREE 4-week trial period of daily comments, please let me know at ajg@cybertrails.com .
Overview:
The "stock market" is currently a disjointed mix of indices. Since the July 15th low, the NASDAQ composite and the Russell 2000 have been the strongest, and the New York Composite has had the weakest rally. On Friday, its price was only at a 23% retracement level of its decline from May 19th.
What the indices all have in common is that they are getting overbought and may be in need of a correction. The poor quality of breadth and the relatively low volume in this rally are proof of the underlying lack of demand for stocks. Next week will be critical in determining the course of the short-term trend. If we cannot extend the move which started on Friday morning, the market is at risk of making a reversal which will lead to additional consolidation and perhaps new lows in the weakest indices over the next few weeks.
The drop in oil prices appears to have been primarily responsible for the rally in stocks. Crude is down 20% since its high of July 11. It has done this without much of a rally, and its momentum indicators are not only very oversold, but are beginning to show some positive divergence. In other words, oil is nearly ready to reverse direction and, if oil weakness was the principal factor behind stocks rallying, it stands to reason that they will come back down as oil begins to move back up.
Fortunately, the sentiment indicators are not in a very bearish position and if we get a pull-back, it is more likely to be additional base-building than a severe decline.
What's ahead?
Chart pattern and momentum:
From the 1201 low on 8/15 the SPX had an initial sharp rally which drove it to a high of 1291.17. Last Friday, it finally managed to close above that level, at 1296.32. In spite of the weak upside trend, the daily momentum oscillator has become overbought and the A/D indicator (below) has been decelerating more and more on each rally, and is increasing its negative divergence to price.
It looks as if a reversal is near to correct the overbought condition, but this may not necessarily lead to new lows in this index. It could simply expand the base for another try at the upside a little later on.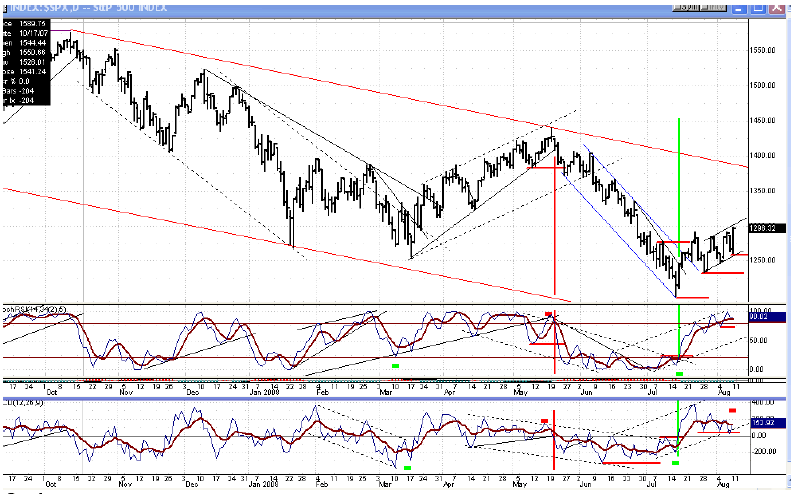 Cycles
The current intermediate correction has been brought about by the 2-yr and 6-yr cycles. The 2-yr cycle may have made its low in July and it is providing some mild buoyancy for the market. The 6-year cycle is due in the Fall and should keep prices in an intermediate correction until then.
The 6-week cycle probably made its low on Friday, causing another good short rally which was helped by another drop in the price of oil.
The 10-week cycle is due in about 2 weeks. It may keep prices under pressure over the short term.
Projections:
The move down from 1440 still has an unfilled projection to 1180 or below. The rally from 1201 barely reached a .382 retracement on Friday. It may not go much higher without additional consolidation. A 50% normal retracement would take it to 1320. Anything less has to be considered weak.
Besides using simple retracement Fibonacci percentages, various projections for the current rally range from 1297 to 1305 depending on whether they were taken from the 1248 low, or last Friday's low of 1263. Since we reached 1297.85 on Friday, we could have a little more to go in the leg which started on that day, but the condition of the hourly indicators do not allow for much more unless Monday turns out to be a very strong day.
Breadth
This is a comparison of the NYSE and Nasdaq Summation indices (courtesy of StockCharts)
At the March low, the Nasdaq breadth was weaker than the NYSE's. At the July low, the inverse was true, and the Nasdaq breadth index continued to be a little stronger than the NYSE's during the recovery. This is a slight positive for the overall market, but there will have to be much more improvement in both before we can be assured that the intermediate correction has come to an end and that we are ready to resume to long-term uptrend.
The daily breadth oscillators of both indices have remained positive for over three weeks, but they are losing momentum and appear ready to return below the zero line.
Market Leaders and Sentiment
Here is a 3-year graph of the NDX/SPX ratio (courtesy of StockCharts) which ended up the week at an all-time high with the Nasdaq 100 continuing to be one of the strongest indices. Until this changes, I am not concerned that a major decline lies ahead of us.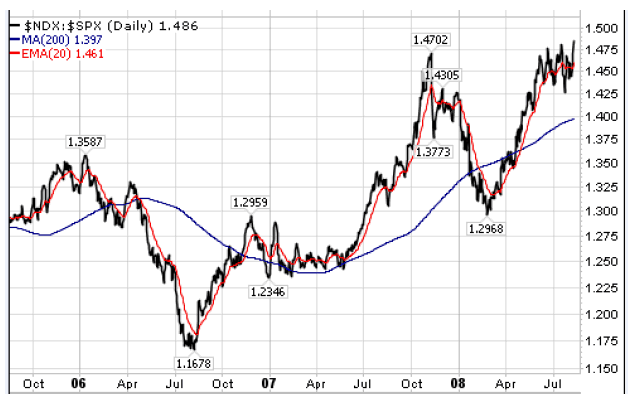 The short-term sentiment indicators are getting bearish for the market and confirm what I see as the need for additional consolidation, but the longer term indicators are still bullish. Here again, no sign of major weakness directly ahead.
Summary
The 6-year cycle which is due to bottom in the Fall continues to weigh on the averages and makes it likely that the correction will continue until then.
The short-term trend which began at 1201 may be topping out. The sentiment indicators are not forecasting major weakness directly ahead but rather additional consolidation.
The following are examples of unsolicited subscriber comments:
What is most impressive about your service is that you provide constant communication with your subscribers. I would highly recommend your service to traders. D.A.
Andre, you did it again! Like reading the book before watching the movie. B.F.
I would like to thank you so much for all your updates/newsletters. As I am mostly a short-term trader, your work has been so helpful to me as I know exactly when to get in and out of positions. I am so glad I decided to subscribe to Turning Points… Please rest assured that I shall continue to be with Turning Points for a long time to come. Thanks once again! D.P.
But don't take their word for it! Find out for yourself with a FREE 4-week trial. Send an email to ajg@cybertrails.com .
By Andre Gratian
MarketTurningPoints.com
A market advisory service should be evaluated on the basis of its forecasting accuracy and cost. At $25.00 per month, this service is probably the best all-around value. Two areas of analysis that are unmatched anywhere else -- cycles (from 2.5-wk to 18-years and longer) and accurate, coordinated Point & Figure and Fibonacci projections -- are combined with other methodologies to bring you weekly reports and frequent daily updates.
"By the Law of Periodical Repetition, everything which has happened once must happen again, and again, and again -- and not capriciously, but at regular periods, and each thing in its own period, not another's, and each obeying its own law … The same Nature which delights in periodical repetition in the sky is the Nature which orders the affairs of the earth. Let us not underrate the value of that hint." -- Mark Twain
You may also want to visit the Market Turning Points website to familiarize yourself with my philosophy and strategy.www.marketurningpoints.com
Disclaimer - The above comments about the financial markets are based purely on what I consider to be sound technical analysis principles uncompromised by fundamental considerations. They represent my own opinion and are not meant to be construed as trading or investment advice, but are offered as an analytical point of view which might be of interest to those who follow stock market cycles and technical analysis.
© 2005-2019 http://www.MarketOracle.co.uk - The Market Oracle is a FREE Daily Financial Markets Analysis & Forecasting online publication.

Only logged in users are allowed to post comments.
Register/ Log in