Brexit II: Is Donald Trump a False Flag?
ElectionOracle
/
US Presidential Election 2016
Oct 27, 2016 - 12:29 PM GMT

I saw a video of Michael Moore promoting Donald Trump today and I wondered what was happening.
The Cleveland Indians and Chicago Cubs are in the World Series… and now Michael Moore, the democratic shill who glossed over 9/11 on behalf of the elites is supporting Donald Trump?
What is going on!
Michael Moore's impassioned speech on Trump honed in on one thing, "We have the power through the vote!"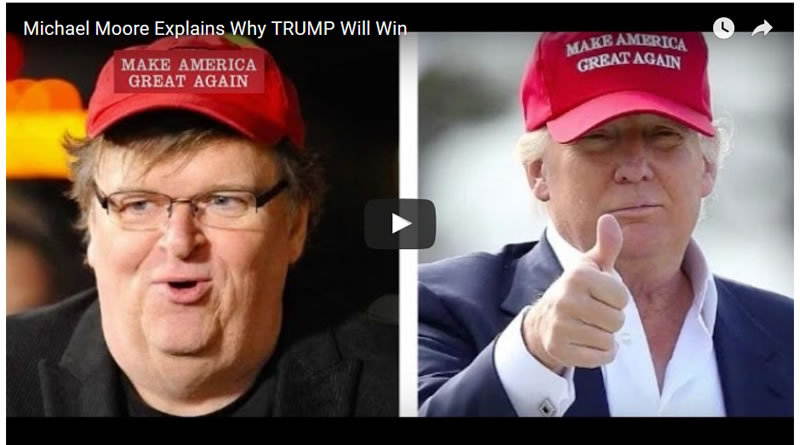 It was then that I thought, They are going to give the illusion of choice, like they did with Brexit.
What has happened since Brexit, really? Nothing! They now say, "maybe by 2019 we'll think about doing it…" while the British pound gets smashed and worldwide stock markets had their biggest drop in history the day after Brexit.
They want you to know that your "choice" comes with consequences. Yes, you have the "choice" to Brexit, but if you do, things will go badly for you… and, on top of that, nothing at all will change.
Is this their plan with Trump?
We've talked as recently as yesterday about how Trump is in the "big club", the one we ain't in, and is a globalist Jesuit.
But, no one knows that. He is seen as an outsider. Anti-establishment! He's Barack O'Bomber's "Hope and Change" for white people.
And it could turn out exactly the same as with Barack Obama: Horror and Corruption instead of Hope and Change.
Trump may be selected (not elected) just to make sure people understand that those at the top have the right plan for us.
How will we know? Well … not long after Trump's ascension, the world will start going to hell as we have forecast.
Chaos will strike with a vengeance and people won't even see them coming. Instead they'll be ecstatic over a Trump victory.
"We won!" they'll say, and they'll keep it up as disasters start to unfold.
You see, Trump will prove no panacea, anymore than Brexit. Wars in the Middle East will escalate. There may not be direct nuclear war with Russia, which will be seen as a positive (even though it's all planned by the same people).
Trump might change the Chairman of the Federal Reserve, to show he means business, but then the new Chairman will be no better or even worse than the old one. (Anything else is impossible, for the Fed is always a disaster.)
And the elites will continue to trigger disasters.
Maybe the stock market will lose thousands of points, destabilizing governments and corporations around the world.
Banks will make serial crashes. Bail-ins will rape investors.
China will implode. Derivatives, in their trillions, will come undone.
All the things we have been forecasting will take place. A lot of them they can control, after all, through controlling central banks and money production.
They will be pleased to do this, as they are pleased to do anything evil. The boot will stamp on a human face for eternity (or until people realize the only answer is to get rid of government and central banks completely).
The alternative, of course, is a Hillary win.
In that case, people will get even more discouraged – and ultimately a good deal more angry sooner rather than later. It will actually be worse. There will be civil unrest, martial law and more war than you can even dream of.
If you understand what is really going on, as I outlined in my book, Shemitah Trends, it's all obvious.
Most will get hurt in the coming years as people keep thinking, like they did with Nobel Peace Prize winner, Barack O'Bomber (who hasn't had one day of peace in his entire presidency), that change – real change – is coming. Trump will make America great again, they'll say, as they report to the FEMA camps.
Trump's given plenty of indications that his regime would be an authoritarian one in any case. The war on drugs will heighten, the police state will surge and the "global" economy will plunge. People's painful, little prosperity will be blown up.
But you're reading this blog. And thus you already understand what we've accurately forecast in the past two years via Shemitah and Jubilee Year occurrences.
As a result, you've have a chance to prosper, having seen what is coming and having taken actions to save yourselves and your families from the worst of it.
Now you're anticipating the future. Gold, for instance, will skyrocket (although they'll likely make it illegal again as in 1933). Bitcoin will go ballistic (it already is as we speak). Those who have escaped their tax farms for better tax farms (often in Latin America and Asia) will be much better off.
If you haven't already, you need to subscribe to TDV (click here for more) to find out how to continue to survive and profit as the upcoming insanity grows. All my books are free as a subscriber, including Shemitah Trends, Getting Your Gold Out Of Dodge (to protect against confiscation), Bulletproof Shares (how to ensure your mining stocks can not be confiscated in a bankruptcy scenario) and many others…
Plus, our 40+ page bimonthly newsletter with alerts is an invaluable addition to your "survival tool kit." And a worldwide community of Dollar Vigilante subscribers (see all here) can help you with your escape plan.
There are some positives here. Big positives. Brexit showed that a majority of people in the UK has had enough with their technocratic, dictatorial government. Trump's popularity shows that a massive amount of people in the US are similarly fed up.
Unfortunately, until people realize that ticking a box in a curtained booth won't fix it and understand the only thing that will is a complete removal of big government and the central banks, then we'll have to go along for the horrible ride with them.
No matter who wins this upcoming selection, most people will lose. You don't have to be one of them.
Anarcho-Capitalist. Libertarian. Freedom fighter against mankind's two biggest enemies, the State and the Central Banks. Jeff Berwick is the founder of The Dollar Vigilante, CEO of TDV Media & Services and host of the popular video podcast, Anarchast. Jeff is a prominent speaker at many of the world's freedom, investment and gold conferences as well as regularly in the media.
© 2016 Copyright Jeff Berwick - All Rights Reserved Disclaimer: The above is a matter of opinion provided for general information purposes only and is not intended as investment advice. Information and analysis above are derived from sources and utilising methods believed to be reliable, but we cannot accept responsibility for any losses you may incur as a result of this analysis. Individuals should consult with their personal financial advisors.
© 2005-2019 http://www.MarketOracle.co.uk - The Market Oracle is a FREE Daily Financial Markets Analysis & Forecasting online publication.

Only logged in users are allowed to post comments.
Register/ Log in