Black Votes Matter - Is the US on the Verge of Mass Race Riots?
ElectionOracle
/
US Presidential Election 2016
Oct 15, 2016 - 12:54 PM GMT
Dear Reader,
Thanks to a philosophy course my daughter is currently taking, I have recently become more intimately acquainted with the British philosopher John Locke (1632-1704).
While Locke is famous for many other truly important ideas, our recent reacquaintance began after I reviewed an essay on Locke's theory on the primary versus secondary qualities of things, a bit of a brain teaser.
Locke's general line of thinking was that the only way to fundamentally understand anything is to first break it down to its most basic qualities.
For example, the primary qualities of a loaf of bread could be said to be all the aspects of it that can be quantified, including its size, weight, shape, and chemical composition.
After that, we are dealing with secondary qualities that one might term "ideas" the loaf of bread produces in the observer. In that regard, color, smell, texture, and value are all subject to personal interpretation. You might think of those secondary qualities as cosmic particles perceived by your sensory organs that cause you to view the object in your own unique way.
To a man who has recently eaten, seeing a loaf of bread might trigger one idea, to a starving man, something entirely different, maybe even life itself.
To use another example, consider a human being. Its principal qualities might include that it is, at the base level, a sack of meat with a certain size, density, and chemical make-up. And that it lives and sometimes even thinks.
But beyond that, pretty much every other quality is subject to our individual perception. You might see a particular person as a nice fellow, hard-working and brimming with integrity. Based on other information and sensory inputs, I might see that same person as a manipulative and mendacious schemer.
If you were small and the other person taller than you, you might think them tall. And vice versa. It's really a matter of perspective.
Identifying primary versus secondary qualities has become something of a mental exercise for me over the past week.
For example, what is government at its most basic level? While each of us might have an opinion of what government is, or should be, to my way of thinking, its primary qualities include: an organizing set of principles devised by human beings to promote a stable society for those who live within its geographical footprint, with a coercive element to guard against serious disruptions to the system.
Of course, given it is humans who define the underlying principles, and who create and operate the coercive systems required to enforce compliance within a certain tolerance range, at its core government is really just a group of people with their hands on the levers of power.
The meat sacks currently in positions of political power, like those who preceded them, have a broad constellation of ideas. Some of them might make sense, but others make no sense at all.
Those ideas are then tortured through an incalculably complex series of machinations based solely on secondary qualities of society as perceived by the ruling meat sacks, before being foisted on those who happen to fall under the jurisdiction of the governing system in question.
When viewed from this perspective, the idea of a written document spelling out the principles under which a government should operate makes a lot of sense. You know, to prevent the government from deviating too far from the basic mandate of providing the good governance necessary for a stable society.
Enter the US Constitution and the Bill of Rights.
While possessing the imperfections inherent in their human origins, the Constitution and Bill of Rights do spell out certain fundamental principles around which we humans can productively organize. Make no mistake, the Founding Fathers individually and collectively reflected on what constituted the best form of government, and how to ensure that such a government could remain functional through the millennia. Ergo, the checks and balances between the Executive, Judicial, and Legislative branches, among other safeguards.
Unfortunately, over the centuries the meat sacks in power have slowly but steadily twisted the idea of government based on certain unalienable principles into a government of few principles at all, other than furthering the political aspirations of the latest crop of politicos and their friends.
As a consequence, many citizens now find themselves dissatisfied with the society they are living in, a society where the notion of a government "of the people, for the people" has become bastardized into an organizing system whose primary principle could be "from the common people, to the ruling class."
Should the Clintons return to power, as now seems likely, the nature of US government will certainly not be changing, at least not for the better.
The Way Out
There is something in this discussion that might have been overlooked by some. As a primary quality, governments only cover a limited geographic area.
Thus, with certain exceptions and limitations based on personal circumstances, we as individuals can decide that we are unhappy with the form of government holding sway over the ground on which our feet are currently planted, and move those feet to a different governmental jurisdiction.
This is what we did a number of years ago, as have many in our robust community of neighbors here in La Estancia de Cafayate. Is the Argentine system for governance perfect, or even good? Not particularly. But it still has something that has been lost long ago in the United States: fairly wide parameters within which individuals can go about their lives without worrying about governmental authorities cracking down on them.
In the US, having a broken taillight will, at best, result in a sizable fine. At worst, you could end up being shot. In Argentina, where as often as not the police truck itself will have a broken taillight, the sight of your broken taillight wouldn't even warrant a yawn.
Returning to Locke, as I mentioned at the outset, his theory about primary versus secondary qualities has provided me with many enjoyable opportunities to stretch my brain by reflecting on the true nature of things.
For example, 30 minutes ago I couldn't help but reflect on the nature of the paved road to the Athletic Club here. A smooth surface leading to popular places? Well, maybe not, because up close the road is not smooth at all. A path to a popular place that is relatively smooth compared to its surroundings and has no unsurmountable obstacles? Better.
If you take nothing more away from these musings, maybe it will be some intellectual diversion.
However, there was a lot more to Locke than pondering the nature of things. Before moving on, and turning the rest of this edition over to Stephen McBride so I can continue the insanity of opening a large wine bar and restaurant, I wanted to share some of Locke's remarkable thinking about the matter of governance.
As you read the following quotes, you will no doubt see that even though he died 70 years before the US Founding Fathers began their deliberations about the best form of government, his presence was very much felt in the rooms where those deliberations occurred.
"All mankind... being all equal and independent, no one ought to harm another in his life, health, liberty or possessions."
"The end of law is not to abolish or restrain, but to preserve and enlarge freedom. For in all the states of created beings capable of law, where there is no law, there is no freedom."
"Every man has a property in his own person. This nobody has a right to, but himself."
"All wealth is the product of labor. "
"Government has no other end but the preservation of property."
Locke was wise in other things as well.
"Education begins the gentleman, but reading, good company and reflection must finish him."
"I have always thought the actions of men the best interpreters of their thoughts."
"The only fence against the world is a thorough knowledge of it."
All in all, Locke was a truly remarkable thinker. If you're interested in learning more about him and his foundational ideas on private property, liberty, and good governance, the Foundation for Economic Education has a couple of solid articles on the man.
Is the US on the Verge of Mass Race Riots?
By Stephen McBride
Ferguson, Baltimore, Ferguson (again), Milwaukee, Charlotte. Much has been made by the media of the recent riots that have taken place across America.
Which begs the question: Are these riots passing occurrences or, like a series of smaller seismic events, a forewarning of much larger mass civil unrest to come? For the answers, we take a quick trip back in time.
Watts the Problem?
Although today's "flash" riots are increasingly common, they pale in comparison to what took place in the Los Angeles suburb of Watts in 1965 where over six days of rioting and looting 34 people died, 3,500 were arrested, and over $40 million in property damage was done ($300 million in 2016 dollars).
The riots were sparked when black motorist Marquette Frye was arrested for drunk driving. Locals watched on as the incident unfolded, with word quickly spreading that police had assaulted Frye and a pregnant woman, triggering the Watts riots. Although Frye's arrest set off the riots, it was merely the straw that broke the camel's back, unleashing decades of pent-up frustration within the black ghetto.
Starting in the 1920s, large populations of black people migrated north to cities such as Detroit, St. Louis, and Los Angeles to pursue jobs in newly established manufacturing industries. In LA, the black population jumped from 4% in 1940, to 14% in 1965. But there was a problem.
LA had long had restrictive covenants preventing blacks from buying and renting property in certain areas. By 1950, around 90% of housing was off limits to black people, effectively concentrating the black immigrants to the city into ghettos such as Watts. By 1965, the city's expanding black population had had enough of the living conditions and general lack of opportunities.
At the time, Watts had a 33% unemployment rate, much higher than the national average of 4.5%. Although there were large manufacturing companies in the area, such as General Motors, only 14% of LA's population owned a car, with most having to use the dreadful public transport system. It took over four hours on public transport to get from Watts to the GM factory, just 22 miles away.
There were also extremely poor living conditions in Watts. Multiple families regularly shared one-bedroom houses. 65% of all tuberculosis cases in LA came from Watts, and infant mortality was 22% higher than the national average. There was also widespread crime, with over half the black male population having a criminal record.
These appalling conditions set the stage for the now legendary Watts riots. But even those riots pale in comparison to the events that took place 27 years later.
The Infamous South Central Riots
Following the acquittal of four policemen on trial for the beating of Rodney King, six days of mass looting, arson, and rioting took place in South Central LA. The California National Guard, the 1st Marine Division, and the 7th Infantry Division had to be called in to quell the unrest, which resulted in 55 deaths, 11,000 arrests, and over $1 billion in property damage. But once again, the Rodney King incident was only the spark that lit the flame in LA.
In the decade preceding the LA riots, large manufacturers such as GM and Goodyear relocated, resulting in huge job losses in the area. To compound the misery, the city was hit hard by the 1991 recession. LA, with a population of 3.4 million, lost over 108,000 jobs between 1991 and 1992.
The combination of exiting manufacturing companies and the recession left 45% of South Central's black population unemployed, with 31% of black families living below the poverty line. In addition, the average wage in the area was 50% lower than in the rest of LA.
Even 27 years after the Watts riots, police brutality was still widespread in the area. Between 1986 and 1990, there were 2,152 claims of police brutality. Only 42 were ever investigated. There was also an ongoing crack epidemic, which along with AIDS actually decreased the rising life expectancy among black Americans by two years between the late '80s and early '90s. The 758 liquor stores situated in the neighborhood didn't help matters either.
Furthermore, in part because of the soaring drug use, Los Angeles found itself the epicenter of vicious street violence. Between 1991 and 1992, there were over 2,100 homicides. For comparison, in 2015 the number of homicides was a still-too-high 600.
But that was then, and this is now.
Given the attention recent riots have garnered in the media, and the creation of groups such as Black Lives Matter (BLM), one would think the social and economic decay for black Americans has continued. But that narrative would be misleading because conditions have improved considerably.
Life expectancy for black Americans at the time of the Watts riots was 65, today it's 76. The three-year gap with white Americans is the lowest ever, with the gap being reduced by four years since 1992.
The poverty rate has declined by 23% since 1965, with the rate actually increasing by 1% for white Americans.
Today, 87% of black Americans graduate high school, compared to just 25% of all Americans in 1965.
College enrollment has increased by 72% for blacks since 1992.
The death-by-homicide rate has declined by 40% since 1992, vs. a 28% drop for whites.
The infant mortality rate has decreased by one-fifth since the 1990s.
Homeownership has increased 14% since 1965, to 42%, though it is still well below the 71% for whites.
So, given the improvements in quality of life for black Americans, why have recent riots occurred?
The (Not So Hidden) Agenda
The recent riots that have taken place across America have largely been in response to real and perceived injustices against black Americans by law enforcement. Black Lives Matter (BLM), founded in 2013 after the George Zimmerman/Trayvon Martin incident, has been a prominent force in the riots.
While we have all heard of BLM by now, in an attempt to find out what they actually stand for, we present the description the group itself provides on its website:
#BlackLivesMatter is a call to action and a response to the virulent anti-Black racism that permeates our society. Black Lives Matter is a unique contribution that goes beyond extrajudicial killings of Black people by police and vigilantes. It goes beyond the narrow nationalism that can be prevalent within Black communities, which merely call on Black people to love Black, live Black and buy Black, keeping straight cis Black men in the front of the movement while our sisters, queer and trans and disabled folk take up roles in the background or not at all.
So, in addition to the meme that BLM is a response to the killing of black people by police, its mandate leaks over into the whole politically correct gender identity morass.
We will ignore the gender identity issue, because the question of whether a transsexual is a better advocate for the black community than a "cis" male (for the unenlightened among you, that simply means a person who identifies with the sex they are born with) is unlikely to spark riots. Instead, we turn to the notion that racist white police officers have declared open season on unarmed black men. So how bad, really, is the problem?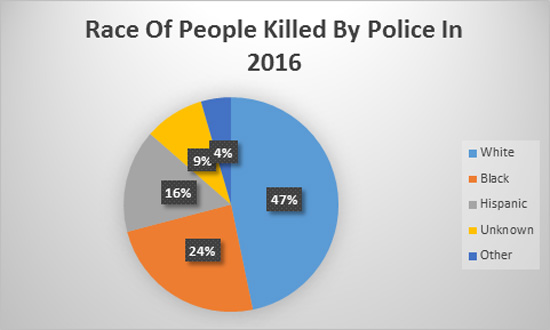 As you can see in the chart, so far in 2016 there have been 238 white people killed by police, compared to 123 black people.
The media correctly cites that "blacks are only 13% of the population" to suggest the above statistics prove active targeting of blacks by police. Sadly, it is also true that blacks commit violent crime at a far higher rate than their percentage of the population. According to FBI statistics, 47% of all murders in the US are committed by blacks, with the vast majority—90%—of their victims also being black.
However, there is no reason to let the facts interfere with the narrative. Even a casual glance at the headlines reveals the media are playing a dangerous game of race-baiting, cherry-picking incidents where blacks are the victims of whites.
Take, for example, the George Zimmerman/Trayvon Martin case. The media repeatedly reported that Zimmerman is white, even though he is Hispanic. NBC went so far as to edit the phone call made to police by Zimmerman so it sounded like he was "racially profiling" Martin. Finally, they used pictures that portrayed Martin as a young boy, whilst showing Zimmerman in an orange jail suit.
The media used the same tactics when reporting on the Michael Brown incident in Ferguson. They consistently ran with the "Hands up, don't shoot" narrative that Officer Darren Wilson had killed Michael Brown execution-style. This was, of course, later found to be false.
Although the media are the ones distorting the facts, they are not the only ones guilty of deliberately stirring the pot of racial tensions.
Pandering Politicians
Identity politics is a game politicians love to play.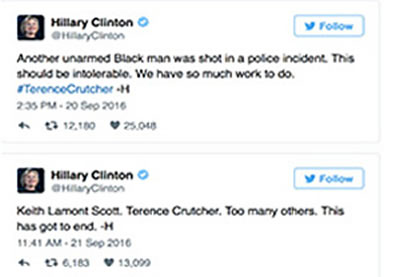 On Hillary Clinton's campaign website, her racial-justice plan is almost twice as long as her economic plan. You will also find racial notes dotted throughout all her various proposals: "African Americans hold only 1.1 percent of energy jobs and receive only 0.01 percent of energy sector profits," in case you were wondering.
After the recent police shootings in Tulsa, OK, and Charlotte, NC, and before all the facts had been released, Clinton took to Twitter to condemn the shootings.
Similar comments have been made by President Obama. Speaking the morning after Trayvon Martin was killed, he said "Trayvon Martin could have been me 35 years ago."
But the liberal elites don't just talk the talk. They put their money where their mouth is.
Follow the Money
Black Lives Matter, which has been involved in riots from Ferguson to Charlotte, has received more than $50 million in funding from liberal foundations. In August of this year, The Ford Foundation and Borealis Philanthropy announced the formation of the Black-Led Movement Fund. This fund aims to raise an additional $100 million for the Black Lives coalition over the next six years.
This funding comes in addition to the $33 million given to BLM by top Democratic donor George Soros, though his Open Society Foundations.
Indeed, so committed are the Democrats and their donors to playing the race card to shore up their voting blocks, they have gone so far as to pay protesters during this election cycle. The recent DNC leaks exposed that the Democrats were paying protesters to disrupt Trump rallies, including devising a plan to spend over $800,000 to interrupt the Republican National Convention in Cleveland.
The recent riots in Charlotte also had outside help. A police spokesperson said of the protesters, "They were coming in on buses from out of state. If you go back and look at some of the arrests that were made last night. I can about say probably 70% of those had out-of-state IDs. They're not coming from Charlotte."
Black Votes Matter
Politicians play the identity politics game for good reason: it gets them elected.
Black Americans vote overwhelmingly Democrat. You have to travel back to the last time a Clinton was running for president, 1996, to find a blacks-voting-Democrat ratio under 90%.
With black Americans making up 13% of the population and a voter turnout of around 60%, that's 25 million votes. If the GOP had secured even 20% of the black vote in 2008, or 15% in 2012, it would have been enough to win the race.
The Democrats must continually receive over 85% of the black vote in order to win. More importantly, they also need a high turnout on election day. Black voters turned out in force for Obama—62% in 2008, an 11% increase on the 2004 turnout.
But there's a problem for Hillary. All the pandering in the world, like telling reporters, "I always carry hot sauce with me" when asked what she brought on trips, won't make her Obama. So can Hillary expect the same levels of black-voter turnout that Obama was able to garner? The polls suggest not.
In a recent group of polls from Florida, Clinton was polling at less than 80% with black residents. Leslie Wimes, the South Florida-based president of the Democratic African-American Women's Caucus said the Clinton camp is in "full panic mode," as Clinton needs a high black turnout to secure the state.
But there's another way to ensure people turn out: keep them angry, resentful, and make them feel they have something to gain from voting. Just like when Donald Trump appeals to the emotions of people who have lost their jobs to globalism, Hillary appeals to people who have been the victims of "historical injustices."
The Democrats, with the help of wealthy liberal donors, have done just that by directly funding groups such as Black Lives Matter, which maliciously stir up racial tensions and make rioting their job.
Which returns us to the question of whether America is on the verge of mass civil unrest.
Good for Another Few Miles
Recent riots have been encouraged by political brinksmanship and the race-baiting media, which have done their best to raise the profile of BLM and effectively make them the new official spokespersons for the minority of blacks in America who are unhappy with their overall lot in life.
Yet, the protests are nowhere near the severity of those seen in LA in 1965 or 1992, exactly because the conditions for most black Americans have greatly improved.
Any thinking person, no matter what race, understands there is a serious economic price for these riots, a price that is paid by hard-working people through business closures and damage to real estate values. In Baltimore, there was only $20 million in direct damage, but over 380 businesses were forced to close as a result, with only 40% expected to open back up. Tourism in the city has dropped around 15% since. That is economic pain that will extend well into the future.
Property owners and businesspeople in Ferguson also took a big hit. Real estate prices have declined 47% since 2014, and local sales have dropped 80%. And the pain is far from over as few new businesses are going to be willing to invest in the town, given the obvious risks.
Maybe, if politicians stopped promoting dangerous and largely untrue memes in order to gain black votes, race relations would improve as much as the conditions for most black Americans have over the past 51 years.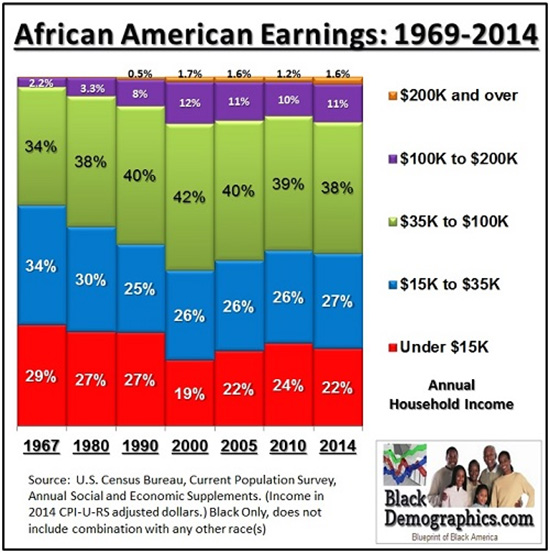 In conclusion, despite what the media and politicians would have you believe, because of the broader economic gains, the US is highly unlikely to experience anything more than localized outbreaks by malcontents looking for trouble and maybe a broken-window discount at the expense of the local businesses.
I remember when I was going to my family doctor as a child. After treating me for whatever ailed me, he would say, "Well, you're good for another few miles."
Likewise, although we have seen a pick-up in unrest, America appears to be "good for another few miles."
Here Come the Clowns
Rather than linking to stories of the latest follies of humankind, I'm going to sign off this week by nominating the 2016 US Presidential Campaign as the paradigm of foolishness on a level that may never again be repeated.
The contest, if you can even call it that, has now devolved into daily revelations about gropings, rapes, cover-ups, shady deals, and more—with regular new entries being lobbed into the political arena by WikiLeaks, among others.
How it is that the contest has come to this will be the subject of many books and scholarly papers in the years and decades ahead, but in the here and now, the damage being done to the reputation of the US is substantial.
And how well do you believe the "winner" of this contest will be received by world leaders, once the scorched-earth election is over?
In the meantime, lost in all the sturm und drang of the political circus are important issues—critical issues—having to do with excessive government spending and regulation, soaring medical costs, and geopolitical stresses of the sort that have in the past led to major wars.
Instead, in addition to the gutter-level carping, we are told that non-issues such as climate change, transgender bathroom use, and Black Lives Matter (as opposed to all lives) are important. Interestingly, a poll just released by Chapman University on the top 10 fears of Americans lists government corruption as the #1 fear, with neither global warming nor any of the other manufactured issues even making the list. (Click here for more on the poll).
Frankly, if it weren't for the fact that the US president is the most powerful person in the world, this election would be a laugh fest. Instead, it's degraded and dangerous.
However, per my comments above, each of us has a choice as to which government holds the whip over us personally. Here in the Argentine outback, the whip is made of slightly overcooked spaghetti.
And with that, I wish you all a pleasant weekend. To make it even more pleasant, you might consider ignoring the news. I can assure you, you will learn nothing useful.
David Galland
Managing Editor, The Passing Parade
Garret/Galland Research provides private investors and financial service professionals with original research on compelling investments uncovered by our team. Sign up for one or both of our free weekly e-letters. The Passing Parade offers fast-paced, entertaining, and always interesting observations on the global economy, markets, and more. Sign up now… it's free!
© 2016 David Galland - All Rights Reserved

Disclaimer: The above is a matter of opinion provided for general information purposes only and is not intended as investment advice. Information and analysis above are derived from sources and utilising methods believed to be reliable, but we cannot accept responsibility for any losses you may incur as a result of this analysis. Individuals should consult with their personal financial advisors.
© 2005-2019 http://www.MarketOracle.co.uk - The Market Oracle is a FREE Daily Financial Markets Analysis & Forecasting online publication.

Only logged in users are allowed to post comments.
Register/ Log in