US Political and Social Gulf - How Much Wider Can the U.S. Continue to Split?
ElectionOracle
/
US Presidential Election 2016
Oct 14, 2016 - 10:33 AM GMT

People don't think I'm being serious when I say that this country could experience a split that makes Brexit look like a tempest in a teacup.
I'm talking about our country splitting in half (perhaps into even smaller segments) and I'm dead serious! While this isn't a certainty, it's clearly a possibility you should plan for.

There's an ever-widening political/social gulf between the right and left. Any middle ground for compromise or agreement shrinks with every passing day. It's like the Nothing in The Never Ending Story… dissent and social unrest this dark, ominous cloud devouring anything and everything in its path as it closes in on itself.
Of course, when I say "split," that doesn't necessarily mean the creation of totally separate nations (although that's not totally out of the question), but the formation of clear red and blue zones, each with different social, regulatory and fiscal policies. And that could be as devastating as the North/South split coming into the Civil War.
Pew Research, the best general non-partisan research organization in my mind, shows the level of polarization in the U.S. today best in this chart…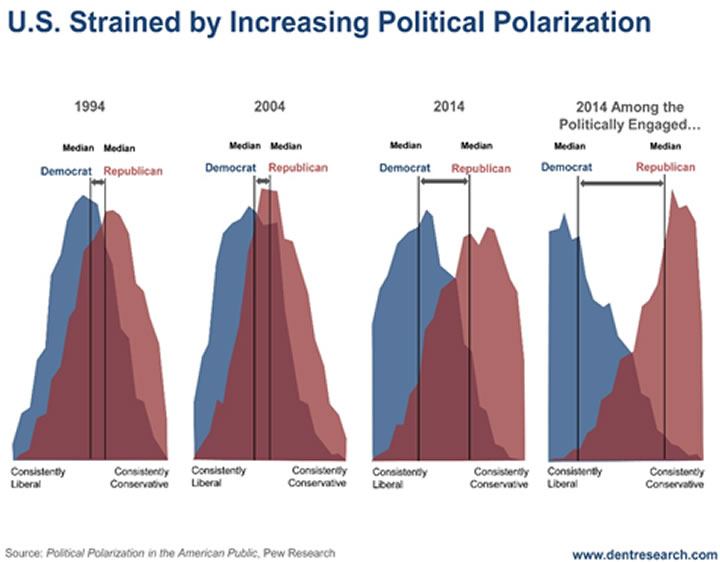 Just look at the widening split between the median Democrat and the median Republican on a liberal-to-conservative scale of one to 10 between 1994 and 2004!

Now the divide has shifted from about 10% to 35%, favoring the Republican side a bit more.

But more important, among the politically engaged, the split is much wider! It's closer to 55% apart, with the majority of both on the far left and far right!
In 1994, 64% of Republicans were more conservative than the median liberal. Today, that number is 92%.

Democrats shifted from 70% being more liberal than the median Republican to 94% between 1994 and 2014.

Thirty-six percent of Republicans see the Democratic Party as a threat to the nation's well-being. Conversely, 26% of Democrats view the Republican party as such a threat.

The most surprising part is that most of this great divide has occurred since 2004, in just the last decade. In fact, political polarization wasn't this extreme in the Roaring '20s or Great Depression… a time when wealth and income inequality were as extreme as they are today.
And that makes today's situation about as dangerous as the time leading up to the Civil War.
It's not so much because of the extreme growth of the top 0.1% to 1% in income and wealth. That exploded in the second half of the 1990s and first peaked in 2000.
No. This is more about the destruction of the middle class… and that's why Donald Trump got a larger following than Bernie Sanders, who was more about the revolt against the rich 1%. The civil unrest dividing the nation now could very well tear us apart.

There has also been a huge decline in the trust of the mass media, especially among Republicans – from a high of 52% in 1998 down to a mere 14% in 2016. Independents' trust in the mass media peaked at 55% in 1999 and has fallen to 30%. Democrats' trust fell from 70% in 2005 to 51%, currently.
This opens the way for a revolution in the media as well, especially on the Republican side.
And it's why I see Donald Trump – love him or hate him – being more powerful if he loses this election and forms a new conservative media channel with his two partners, Roger Ailes (from Fox) and Stephen Bannon (from Breitbart News).

Such a new media push could continue to build this great polarization, especially from the Republican corner, where it's already most extreme (and well-armed). It could well create a growing demand for a red/blue state split where we may have a single trading zone like the European Union, but two or more political institutions for social laws, fiscal policies and regulations.
The extreme economic decline I'm predicting will only feed such a split and greater civil unrest.

At this point, you need to not only make sure your capital is protected, but consider where you can live that will be the safest… areas like the middle of the country, exurban areas of larger cities and the Caribbean are good options.
Harry
Follow me on Twitter @HarryDentjr
Harry studied economics in college in the '70s, but found it vague and inconclusive. He became so disillusioned by the state of the profession that he turned his back on it. Instead, he threw himself into the burgeoning New Science of Finance, which married economic research and market research and encompassed identifying and studying demographic trends, business cycles, consumers' purchasing power and many, many other trends that empowered him to forecast economic and market changes.
Copyright © 2016 Harry Dent- All Rights Reserved Disclaimer: The above is a matter of opinion provided for general information purposes only and is not intended as investment advice. Information and analysis above are derived from sources and utilising methods believed to be reliable, but we cannot accept responsibility for any losses you may incur as a result of this analysis. Individuals should consult with their personal financial advisors.
© 2005-2019 http://www.MarketOracle.co.uk - The Market Oracle is a FREE Daily Financial Markets Analysis & Forecasting online publication.

Only logged in users are allowed to post comments.
Register/ Log in