Could The Internet Be Set To Be Shut Down On The Eve of Jubilee, October 1st?
Politics
/
Internet
Aug 30, 2016 - 03:55 PM GMT


Ever since we caught on to the Shemitah timetable that Jonathan Cahn had discovered, we've discovered clue after important clue about the potential timetable being followed by the globalists towards creating a New World Order.
Christine Lagarde, with her "magic number 7" numerology speech caught our interest. Then, William White of the IMF talking about how a debt jubilee was coming which will wipe out most paper assets also got our attention.
And, we discovered that the Jubilee Year, also called the Super Shemitah, ends on October 2nd of this year.
Because of that we've been watching those dates carefully. Probably the most significant event we've seen yet is that the Chinese Yuan will be put into the IMF's SDR currency basket on October 1st. This, alone, could set off shockwaves in the markets.
But, now, another major event has just been announced to occur on October 1st.
The United Nations could take over control of the Internet on October 1, when the Internet Corporation for Assigned Names and Numbers (ICANN) passes from US administration to the control of a multilateral body, most likely the United Nations International Telecommunications Union (ITU).
While the administration and its defenders have denied that the UN will have authority over ICANN, the Wall Street Journal's L. Gordon Crovitz points out that ICANN will need to be run by a state agency in order to retain its antitrust exemption, which makes it almost certainly that the UN will step in to take control.
Given that we consider the Jubilee Year to be the year when the final pieces are put into place for a global one-world government, having the US give up control of the internet to the UN on October 1st, the day before the end of the Jubilee Year and on the same day that a new global monetary order will be positioned is cause for serious scrutiny.
The globalists have hated the internet since they began to figure out it was causing them big problems in controlling the world and its people. John Kerry in 2013, said, "this little thing called the Internet … makes it much harder to govern."
He's right, of course. The internet has made it so billions of people can actually get access to real information… not the propaganda put out by governments and the mainstream media.
The word government means "govern", or to control, and "ment" which means mind. It is, in fact, a form of mind control. And in order for it to succeed to the point that the entire Earth is governed by a tyrannical, one world government, people need to be kept from the truth.
For this reason, the term "internet kill switch" has been used regularly by the US government. It's often put into bills, including the Proposed Protecting Cyberspace as a National Asset Act of 2010 as a way to "protect" people from cybercrime. Of course, like all things the government does, it is not to protect the people, it is to protect the government.
Even the two frontrunners for Commander in Crime of the US, Trump and Clinton, both want to shutdown parts of the internet, "Donald Trump, Hillary Clinton Plan to Close Parts of the Internet: Censorship in America?"
And, since anarcho-capitalists created bitcoin to fight the central banks, the globalists have stepped up all their efforts to shut down the internet as much as possible.
The internet makes it hard to keep people controlled and confused… and bitcoin makes it hard to control the money system. That 1-2 punch, alone, has them running very, very scared.
And so, when it was just recently announced that on October 1st, the day before the end of the Jubilee Year, that control of the internet will be turned over to the UN… one has to be very, very suspicious.
Would they declare a new monetary system based on the SDR and its inclusion of the Chinese Yuan on October 1st, which is a Saturday, leading to bank closures worldwide AND then turn off the internet to keep most from even knowing what is going on?
You have to consider it a possibility. The globalists/banksters have no problem killing hundreds of millions of people as they did in the 20th century with all the bank manufactured wars, which included both World Wars. They had no problem doing 9/11 to scare the world into accepting their War of Terror and a lockdown on any last remaining freedoms.
Will they do it? Only time will tell.
But we've been suggesting to people all year to get prepared for something as big and catastrophic as the internet being shut down… so hopefully many have made plans to prepare for the worst already.
If you still haven't, we'd suggest getting out of the financial system (especially the banks) as much as possible. Even if they don't pull the switch on October 1st, we are nearing the very end of this current financial system.
And, many of the things we've suggested people move into have done very well. Gold and silver have already gone up dramatically this year, bitcoin is up 200% since last summer and many of our other recommendations, such as Ethereum (up more than 500% since we mentioned it in January) and Monero (which we just mentioned two weeks ago to subscribers has since risen over 400%… in just two weeks!).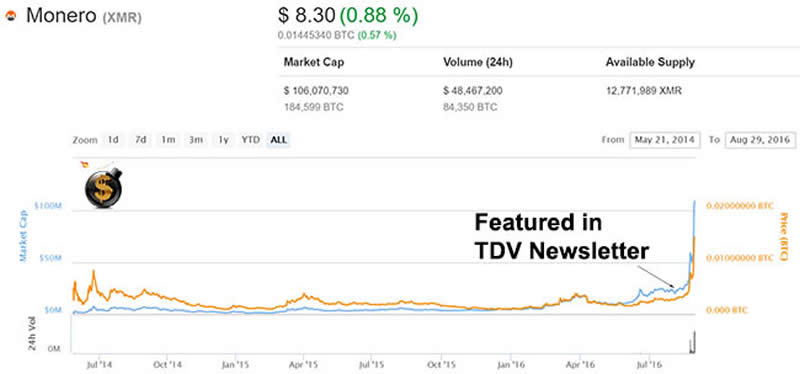 I expect September and October to include significant market volatility and other kinds of potentially disastrous results. But the reverberations of Jubilee 2016 will continue well after its end date.
As we move into the last month of the Jubilee Year, we are bound to see catastrophic events occur – either ones that take place now or ones that promise a future, comprehensive disaster. We'll be following these possibilities and predicting them as we have for the past two years.
Please keep reading this blog so that you are educated about what is going to come. And if you are truly concerned about expanding your portfolio and assuring the safety of family and close friends in these tumultuous times, please consider subscribing to our newsletter here.
Anarcho-Capitalist. Libertarian. Freedom fighter against mankind's two biggest enemies, the State and the Central Banks. Jeff Berwick is the founder of The Dollar Vigilante, CEO of TDV Media & Services and host of the popular video podcast, Anarchast. Jeff is a prominent speaker at many of the world's freedom, investment and gold conferences as well as regularly in the media.
© 2016 Copyright Jeff Berwick - All Rights Reserved Disclaimer: The above is a matter of opinion provided for general information purposes only and is not intended as investment advice. Information and analysis above are derived from sources and utilising methods believed to be reliable, but we cannot accept responsibility for any losses you may incur as a result of this analysis. Individuals should consult with their personal financial advisors.
© 2005-2019 http://www.MarketOracle.co.uk - The Market Oracle is a FREE Daily Financial Markets Analysis & Forecasting online publication.

Only logged in users are allowed to post comments.
Register/ Log in