Britain's Prospects: GBP and BREXIT - MAP Wave Analysis
Currencies
/
British Pound
Apr 26, 2016 - 05:01 AM GMT


This base chart is readily available on the internet and I cannot find a source for it so, can't vouch for its accuracy suffice to say it follows MWA and MAP wave count which is beyond coincidence, and is an excellent demonstration of the fractal nature of waves! This highlights how context to analysis is gained and the importance of data for analysis.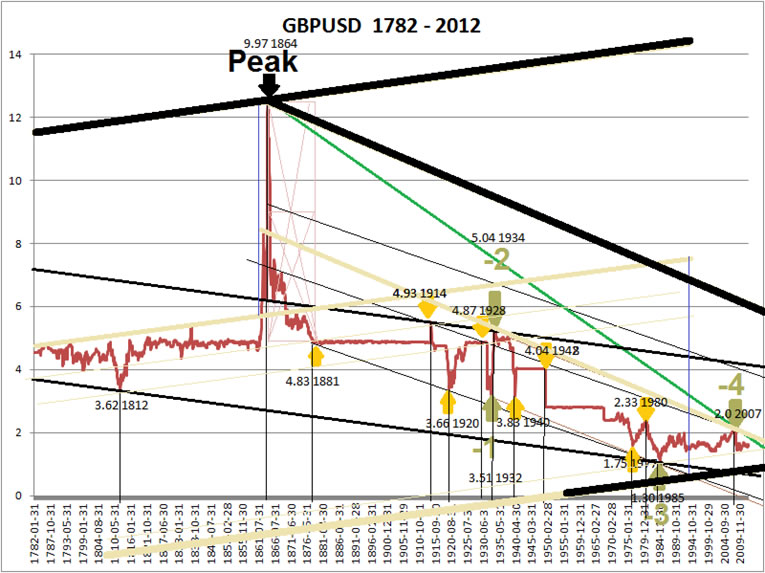 GBP was king until the mid 1800's. The graph is pretty obvious. The actual numbers shown are also readily available on the internet.
The empire had reached its peak in its arrogance, and as historically evidence shows, all empires collapse, and that the majority of the collapse takes a short period of time... in the case of the £ from its high in 1864 it lost over 50% by 1881, a mere 17 years!
This coincides with the hand over to the US following the war of independence which was pretty much complete by the end of WWI with the US spreading its wings largely after WWII with its imperialistic goals of spreading its empire under the illusion of freedom and democracy..... hmm but why do we no longer have rights? and why do we live in police states???? Oh that must be because of ...... urmmm.... damned this must just be my cynicism........
Would strongly suggest you watch this video. Extremely enlightening and I am not a conspiracy theorist.....
Yip all empires die from within and the US will be no different..... we only got another 16 years of their crap and hopefully that ends Marxism for good and provided we don't nuke ourselves we might reach the age of enlightenment!

Back to analysis.... Using the numbers shown on the chart for the pivots the above lines have been transferred onto my charting software for further analysis into what is going on with sterling and does it tell us anything regarding BREXIT. So this shows the lines MWA uses, with MAP Wave counting and they are pretty convincing and indeed fit as was suspected in the above chart.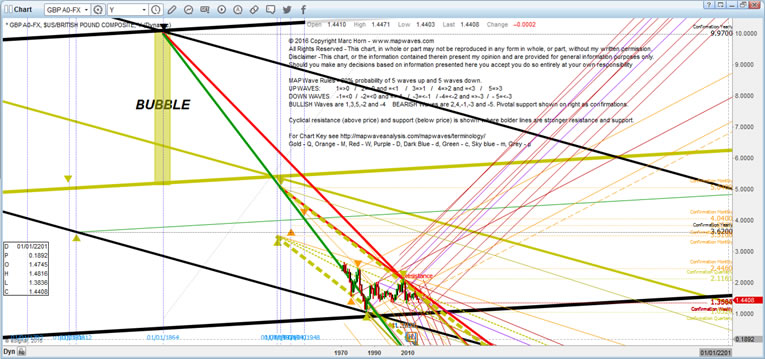 If we now zoom into the last 100 years. Here we can see on the yearly interval that we still have to make a further low below the 1985 low of 1.052 against the dollar and that means the new highs for the dollar!
And finally into the last 40 years.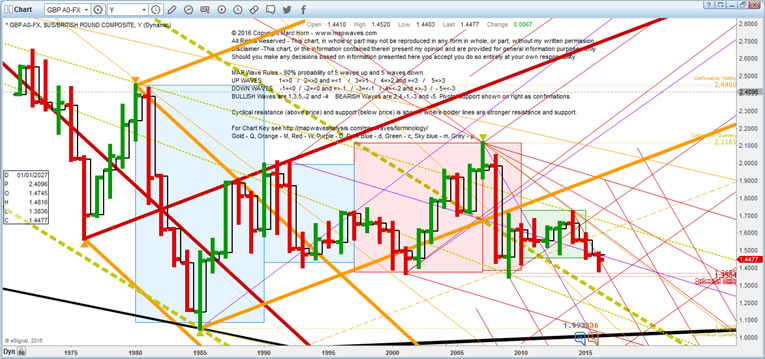 Above I have highlighted the M-2-3-4 cycle fork and we can see that the Thatcher changes have started the trend change as prices did not break the MLL, and this was confirmed by the pound breaking out of the MLU. If we then look at the M345 fork we can see within her term she managed to generate a good recovery as the pound recovered to reach the ML and were at the point of breaking out to change the trend when John Major took over, and his term was somewhat disastrous, but still there was residual confidence so as not to reach the MLL by the time Tony Blair took office where after a brief marginal high things turned down somewhat and broke the MLL which is never a good sign.... but managed to rebuild some confidence, however prices failed to reach the W012ML as can be seen below, and as a result prices dropped to the M345MLL SP once Brown took over office - he never gained the confidence of people and was disastrous. What is interesting here is that the 2009 low just broke the 2001 low, which means either that is noise and we get one more high above 2.116 before turning to new lows, or we have had a wave failure..... the BREXIT vote will confirm this!
It needs no explanation of the coalition governments performance and from the performance of the GBP since the conservatives won a majority election in 2015 the pound has broken further support and is at a critical position now within reach of the critical support at 1.3685, closely followed by the downtrend confirmation to new lows at 1.3504.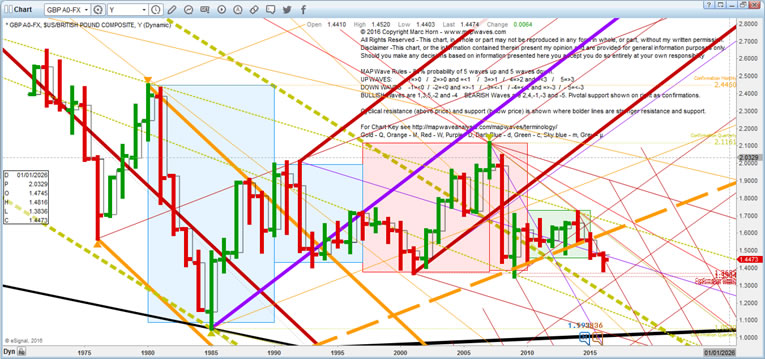 Below we zoom into the monthly interval now we can see how precarious the pound is currently is in summary so far the pound is below the m345MLL, below its SP and has a 80% chance from wave rules of making a new low below 1.0520. Below we can see prices are below the previous W ML (purple up sloping) which indicates strong momentum to the downside on that fractal. However on the latest W cycle fork prices are hugging the MLU which is positive, but not very because they are below the purple down sloping ML, which means if we get a new low then it is going to drop rapidly to the next support level which is to challenge 1.052...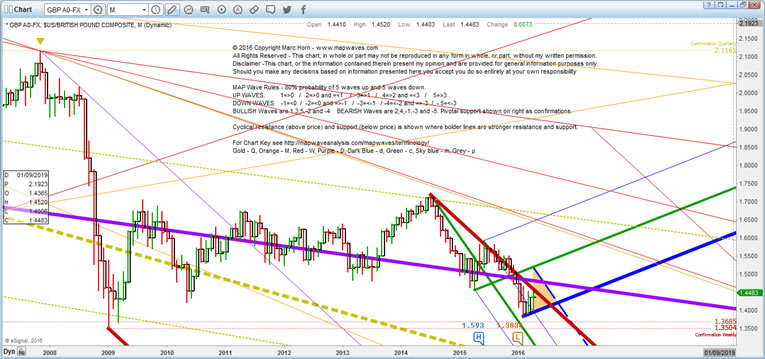 Of interest with BREXIT though is the orange triangle! the W0-1-2MLU is the down sloping red resistance line which prices have not been able to break above since late 2014. That together with the up sloping blue d-1-2-3MLL form the election triangle.... prices will break out of here late June.... The SP of d0-1-2 cycle fork (down sloping blue dashed line) extends that out to the end of August begging the question is the referendum going to be delayed until August?
So can we tell which way the vote is going to be? The analysis tells us in all probability the pound is going to make new lows. What that means is people need to loose confidence in the pound as it will drop as a result of capital outflows. What might cause that to happen? Most certainly a vote to stay in Europe so I am afraid the UK will sink first with Europe. MWA only gives a 20% chance of exiting - the break of 1.3685 in 2009!
The Brits are still too fat and comfortable for real change that is required to generate the motivation for Britain to abandon it socialist nonsense and hopefully lead the world into an era of enlightenment and freedom unknown to mankind, where democracy is by the people for the people, and markets are free instead of privatised profiteering and social losses caused by the corruption of the law for the select few. A society where we need to accept our limitations - physical as well as mental that we are all different instead of this equality nonsense, and it is time we were allowed to develop to our aspiration within our potential where equal opportunity is rewarded as opposed to protectionist minority corruption.
' The big trend is an uprising against corruption globally! Playground bullies are being attacked and unfortunately Britian is still the tail of the wagging American poodle. People are fed up of the corruption. This is a global problem and not something confined to the third world. People who reveal the truth like Assange and Manning are labelled terrorists and now anyone that disagrees with government can be arrested, in fact it is that bad that they can actually arrest you without reason or any rights. Just look at the abuse of these powers
10's of thousands of jobs in Brussels need Britain to stay and as you can see it is already getting nasty - bully tactics, corporations threatening to leave, but worst of all is the governments abuse of funding for BREXIT where Official designation brings with it the right to spend up to £7m ($10m), to send a free mailshot to all households, to make a number of campaign broadcasts and to receive £600,000 of taxpayer funds, and the government spent over £9m just with one leaflet. You saw how easy it was for Brussels to change the will of the Greeks when they were promised a referendum to exit Euro. A bit of money buys a lot of politician!!!!
Goldman knows you just need to negotiate the price, even the lefties have a price - ex labour prime ministers, democrats and Republicans in US, and Draghi like most European politicians comes from guess where -oh Goldman!
This is the same reason Trump is so popular and by the next elections both Germany and UK will have a rising third party - people wonder how UKIP got 12.6% of the vote and only 1 seat in 650 - this clearly highlights that your vote actually does not count as those in power make the rules to increase their chances of staying in power!
In Germany a couple weeks ago ADF won and the establishment publically stated they will do what they can to kick them out! This is just another example of the peoples learning curve - the big trend is the youth are fed up of the corruption and lack of opportunity as are the savers and pensioners where their life saving are not enough to survive on feel the broken promises! The time to pay the piper is coming.
With the UK a lot of German money is buying British companies, and in my last visit in Andorra 2 people I know just sold multi million dollar businesses to them. The reason is they know that Europe's days are numbered, and Euro crunch time is fast approaching. They are pushing for BREXIT and see that as the way to save themselves. If it is a vote to stay in that give a few more years as they will sink with the rest of Europe, and this money will be moved out of UK causing the collapse of the pound before the Euro. If the vote is to leave then Britain moves onto US timeline - Europe collapses first. They both will collapse before US which is where all the money will end up and just like previously lead to the stock bubble in 1929 and Japan.
BREXIT will not succeed with this referendum.
It certainly is in a cyclical position for rebirth! Sooner or later natural justice will prevail. Historically revolution has been violent.
By using MAP Wave Analysis (MWA) you confirm that you are personally responsible for any and every decision you make based on any content found on this site.
You confirm that you have read and agree to abide by the Copyright and Intellectual Property Rights as stated .
You confirm that you have read and agree to follow Your Duty of Care as stated
You confirm that you have read and agree to and take full personal responsibility for your decisions as stated in the Disclaimer.
You confirm that you have read and agree to and will abide by principles of my Terms of Service as stated.
For other articles published click here
© 2016 Copyright Marc Horn- All Rights Reserved Disclaimer: The above is a matter of opinion provided for general information purposes only and is not intended as investment advice. Information and analysis above are derived from sources and utilising methods believed to be reliable, but we cannot accept responsibility for any losses you may incur as a result of this analysis. Individuals should consult with their personal financial advisors.
© 2005-2019 http://www.MarketOracle.co.uk - The Market Oracle is a FREE Daily Financial Markets Analysis & Forecasting online publication.

Only logged in users are allowed to post comments.
Register/ Log in