Report Reveals 10% fall in UK Retirement Incomes in Just One Year
Personal_Finance
/
Pensions & Retirement
Apr 13, 2016 - 12:07 PM GMT


Key findings:
· Average retirement incomes are at record lows one year into the new pension freedoms landscape
· Retirees looking for a secure income face the unenviable position of annuitising at all-time low rates
· Enhanced annuities have seen bigger rate decreases than standard annuities
· The average pension fund has fallen by 2.3% over the last 12 months
A new report set to be released by Moneyfacts has revealed that the task facing individuals looking to secure a comfortable retirement income through their private pension has never been tougher, just one year into the new pension freedoms landscape.
The new research, which will be published next week in the Moneyfacts Personal Pension and Annuity Trends Treasury Report, reveals that the average retirement income for an individual saving into a personal pension and then taking an income through an annuity has fallen by almost 10% since April 2015.
The report assessed the impact of the changing value of personal pension pots and falling annuity rates on retirement incomes. The figures were based on an individual contributing £100 gross per month into an average personal pension fund over a 20-year period and retiring at the age of 65 with a standard level without guarantee annuity.
Table 1 shows that someone who had paid £100 gross per month into an average personal pension fund for the preceding 20 years would have built up a pension fund of £42,470 if they retired now, compared with £45,946 if they had retired a year ago. When the fall in annuity rates over the last year is also factored in, this equates to an average annual retirement income of £1,983 today compared with £2,191 a year ago. The combination of lower annuities and falling pension returns means that this latest retirement income figure is at an all-time low.
Table 1: Average retirement income April 2015 – April 2016
Pension fund figures as at 6 April (based on a gross monthly premium of £100) and based on the average of all available pension funds. Source: Lipper. Annuity figures based on a male annuitant aged 65 buying a standard 'level without guarantee' annuity. Source: Moneyfacts.

The first 12 months of the new pension freedoms have been a difficult period for both pension fund returns and annuity rates. In terms of pension fund performance, the average pension fund has fallen by 2.3% over the last year. Meanwhile, the average annual income payable from a standard annuity has fallen by between 2% and 3.4% (depending upon the annuity purchase price) and by between 5.7% and 6.3% for an enhanced annuity (see Tables 2 and 3).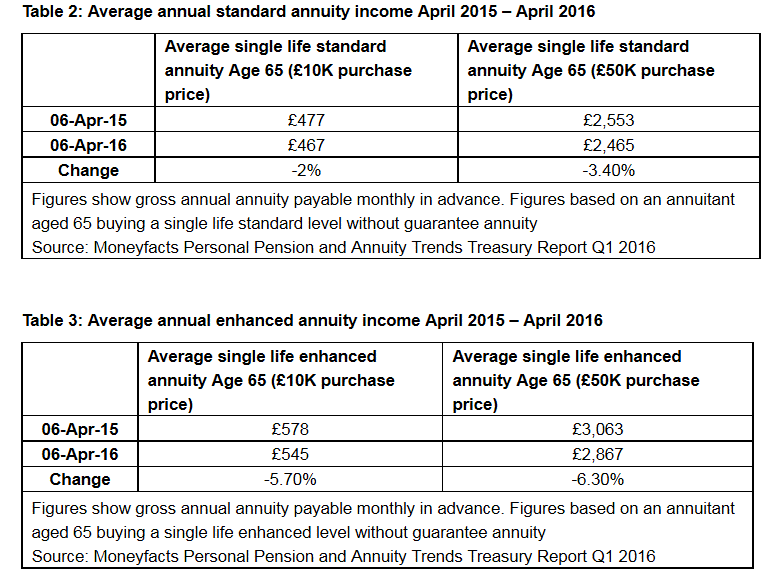 Richard Eagling, Head of Pensions at Moneyfacts, said: "A year into the new pension freedoms and the prospects of securing a comfortable retirement income for those making their own private pension provision look bleaker than ever. The continuing fall in annuity rates is particularly disappointing as annuity sales are starting to revive as more retirees realise the importance of a secure regular income. While pension freedoms have created more ways for individuals to access their pension pots, the real problem facing retirees is how to generate a suitable income. Unfortunately, there are still few products capable of helping retirees secure a reasonable retirement income, which was always one of the fundamental problems. In fact, if anything, the new pension freedoms have proved counter-productive for retirees reluctant to take any risks with their pension pots as annuity providers have struggled to offer competitive pricing given the more limited business volumes at stake. As more individuals shift to private pension provision through defined contribution schemes the risks they face in achieving a decent retirement income are becoming clearer.
The Q1 2016 Moneyfacts Personal Pension and Annuity Trends Treasury Report will be published on 21 April 2016. For further details please contact reagling@moneyfacts.co.uk.
www.moneyfacts.co.uk - The Money Search Engine
Moneyfacts.co.uk is the UK's leading independent provider of personal finance information. For the last 20 years, Moneyfacts' information has been the key driver behind many personal finance decisions, from the Treasury to the high street.
© 2005-2019 http://www.MarketOracle.co.uk - The Market Oracle is a FREE Daily Financial Markets Analysis & Forecasting online publication.

Only logged in users are allowed to post comments.
Register/ Log in