Stock Markets Oversold and Pointing to Relief Rally
Stock-Markets
/
US Stock Markets
Jul 14, 2008 - 04:16 AM GMT

Current Position of the Market
Long-term trend - The Dow Jones Industrials are deviating from their typical decennial pattern in an election year. Important cycles going into the Fall could be the reason for this, but one also has to consider the possibility that the downward pressure from the 120-yr cycle, which is due to make its low in 2012-2014 has begun to take effect and that October 2007 was the top of the bull market. This is not yet confirmed.
SPX: Intermediate trend - The initial phase of the intermediate correction came to an end on 3/17 at 1257. After a tentative uptrend to 1440, the index has now retraced to slightly below its March low with signs of a rally appearing.
Analysis of the short-term trend is done on a daily basis with the help of hourly charts. It is an important adjunct to the analysis of daily and weekly charts which determines the course of longer market trends.
Daily market analysis of the short term trend is reserved for subscribers. If you would like to sign up for a FREE 4-week trial period of daily comments, please let me know at ajg@cybertrails.com .
Overview:
Talks of a market crash directly ahead have been increasing recently. On Friday, they were given more substance as the second largest bank failure in the history of the US -- after Continental Illinois in 1984 -- took place. The Federal Office of Thrift Supervision announced that they had placed Indymac Bank of Los Angeles, CA under the control of the FDIC, and this has led some to expect a Black Monday next week.
Will it happen? We'll have to wait to see if it does, but the bank's failure was widely anticipated, and Friday's action could almost qualify as a low point. The action in Fannie Mae and Freddie Mac was climactic and drove the markets down early in the day. Then, as they recovered, it caused the SPX to surge 32 points from its low before settling down into the middle of its daily range by the close. What was lacking for a true market climax was huge volume and closing near the highs of the day. Also, the hourly A/D indicator did not make a typical reversal pattern.
Whether or not we have climactic market action at this time is not as important as recognizing the signs which precede a reversal and, as we will see in the following sections, they abound.
A surge in oil in the last two trading days also added to downside market pressure. Crude recovered from its sharp sell-off of mid-week and went on to make a new high on Friday. However, the chart pattern and momentum indicators suggest that this could be a final blowoff. Since the SPX and oil are trading in opposite directions, a reversal would probably coincide with a low in the SPX.
We should have a couple of interesting market days early next week!
What's ahead?
Chart pattern and momentum:
Let's start with an analysis of the daily SPX chart. Look at the price pattern. From 1440, it has been declining in steeper and steeper channels. This is a sign of greater and greater weakness, and if it this continues, it could result in a climactic ending.
On the other hand, the momentum indicator (top) and breadth oscillator (bottom) are showing patterns which indicate divergence-causing loss of downward pressure. The reversal signal will come when the closest price trend line is penetrated and the indicators rise above their former highs (red line). There is every indication that a low is very near, but we don't know what form it will take. What is probable is that this will only be an interim and not a final low to the intermediate correction which started at 1576. This is substantiated by the weekly indicators which are not nearly as ready to reverse as are the daily ones.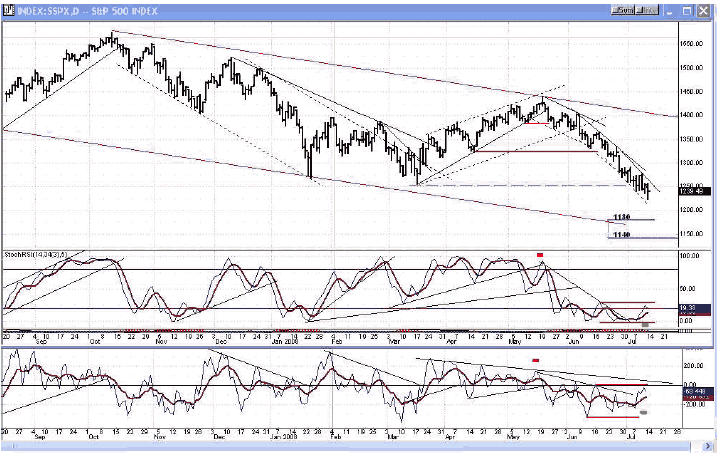 The projection zone which is marked on the chart is the probable target for the final low, and not this interim low -- unless we have a selling climax.
The fractal pattern which was discussed earlier was interesting, but the similarity has ceased to exist (as it always does, sooner or later).
Cycles
The short-term cycles which had been forecast to cluster about the end of last month did so, but brought about a very short term reversal from the projection level which had been given. It was surmised that this could also be the low of the 2-yr cycle, but this was not the case. We could be coming to it right now.
Besides the 2-year cycle, another large cycle still lies ahead. The 6-year cycle is scheduled to make its low in October, but could do so earlier. I suspect that there may also be a 7-year cycle involved in creating the present market weakness. Its previous bottoms would have been in 1987, 1994, 2001, and now 2008. If this cyclic configuration is correct, and if we experience only moderate weakness into the final low, one could easily see why the strongest indices could still make new highs in 2009 or 2010 before rolling over for a bear market low in 2012-14 driven by much larger cycles. This is the reason why I am still reluctant to call October 2007 the top of the bull market.
Thursday was a minor cycle low. The next one is due the 18th or 21st, but in this market, small cycles have had little effect on prices.
Projections:
The 1263 projection was met when the short-term cycles bottomed at the end of last month. This was a secondary projection which could also have turned out to be a more important low if the 2-yr cycle had made its low at that time. It did not, and when the SPX subsequently broke below its March 1257 low, another primary projection down to 1140-1180 was triggered. This is a potential target for the end of the intermediate-term correction.
The correction appears to be progressing in an A-B-C pattern. Wave A was completed when the index dipped into its primary projection zone ranging from 1240 to 1280. The B wave gave us a rally to 1440. The "C" wave has a potential projection to 1140-1180.
The next secondary projection past 1263 was 1220-1225. On Friday, the SPX traded at a low of 1225.35 before it bounced. This is another reason why Friday could have been an interim low or, if there is another dip on Monday, it could stop again in that zone before starting a rally.
Breadth
Market breadth deteriorated badly during the decline from 1440 and, as you can see, it is reflected in the McClellan summation index below (courtesy of StockCharts). Since this represents the intermediate picture of the NYSE A/D, by making a new low with price it has lost its positive divergence and will have to improve its pattern before we can have a final market low. It will also have to confirm it by breaking out of the downtrend channel which is very similar to that of the SPX channel. But because it is currently extremely oversold, it supports the view that we are ready for a rally, as does the short-term McClellan oscillator.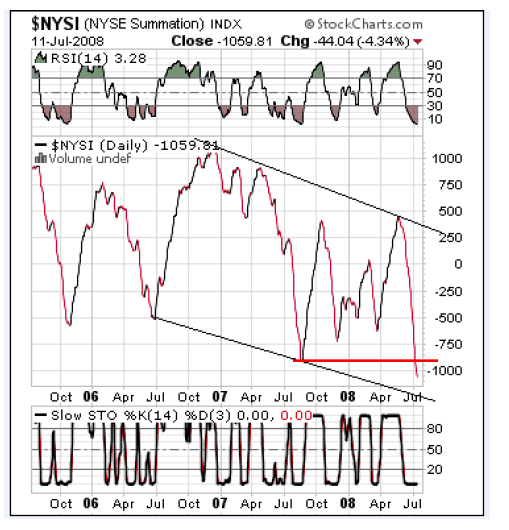 The hourly index of NYSE breadth improved considerably from its low of the day, but not enough to give a buy signal. It will, the next time it turns strongly positive.
Since we are always looking for some leadership from the NDX, we should note that the hourly NQ breadth closed in the negative, but only slightly, and very near its high of the day, much more strongly than the NYSE.
Market Leaders and Sentiment
After giving up almost 61.8% of its bull market gain from 10/02, GE may have found an interim low ahead of the market. It has had a 2-week rally while the SPX continued to decline.
The NDX continues to outperform the SPX, as you can see on the chart below (courtesy of StockCharts). This is also bullish.
The Investors Intelligence survey is at a level which is far more pessimistic than it was in May, which is bullish. The AAII Bull Ratio is also bullish. Put/call ratios are mildly bullish.
The Insider Trading Ratio was not bullish in June, but it was during the first week of July.
Summary
There are mounting signs that the oversold market is at or near an interim low which could provide a good relief rally, but the cyclic configuration makes it unlikely that a final low will be seen before the Fall.
The following are examples of unsolicited subscriber comments:
What is most impressive about your service is that you provide constant communication with your subscribers. I would highly recommend your service to traders. D.A.
Andre, you did it again! Like reading the book before watching the movie. B.F.
I would like to thank you so much for all your updates/newsletters. As I am mostly a short-term trader, your work has been so helpful to me as I know exactly when to get in and out of positions. I am so glad I decided to subscribe to Turning Points… Please rest assured that I shall continue to be with Turning Points for a long time to come. Thanks once again! D.P.
But don't take their word for it! Find out for yourself with a FREE 4-week trial. Send an email to ajg@cybertrails.com .
By Andre Gratian
MarketTurningPoints.com
A market advisory service should be evaluated on the basis of its forecasting accuracy and cost. At $25.00 per month, this service is probably the best all-around value. Two areas of analysis that are unmatched anywhere else -- cycles (from 2.5-wk to 18-years and longer) and accurate, coordinated Point & Figure and Fibonacci projections -- are combined with other methodologies to bring you weekly reports and frequent daily updates.
"By the Law of Periodical Repetition, everything which has happened once must happen again, and again, and again -- and not capriciously, but at regular periods, and each thing in its own period, not another's, and each obeying its own law … The same Nature which delights in periodical repetition in the sky is the Nature which orders the affairs of the earth. Let us not underrate the value of that hint." -- Mark Twain
You may also want to visit the Market Turning Points website to familiarize yourself with my philosophy and strategy.www.marketurningpoints.com
Disclaimer - The above comments about the financial markets are based purely on what I consider to be sound technical analysis principles uncompromised by fundamental considerations. They represent my own opinion and are not meant to be construed as trading or investment advice, but are offered as an analytical point of view which might be of interest to those who follow stock market cycles and technical analysis.
© 2005-2019 http://www.MarketOracle.co.uk - The Market Oracle is a FREE Daily Financial Markets Analysis & Forecasting online publication.

Only logged in users are allowed to post comments.
Register/ Log in