Here is How You Fix the Oil Market
Commodities
/
Crude Oil
Jan 12, 2016 - 07:17 AM GMT


The Mining Industry Approach
I hate always being the smartest person in the room, because I end up doing my job and everyone else`s as well. But here is a giant freebie for all those stupid, clueless oil executives out there in North America. What you are currently doing - or not doing by being effectively a deer stuck in headlights - isn`t working. You cannot take a clue from the miserable strategy employed be the mining industry where they are waiting for each other to go out of business, meanwhile the entire industry as a group is sinking like the Titanic.
And unfortunately the consulting industry doesn`t know jack shit about energy strategy, other than compliance, auditing, taxing, and ancillary ways to cut costs. I admit this strategy is counterintuitive, requires thinking about the oil problem from a slightly different perspective, and requires actual action on oil executives' behalf, and could even be labeled out of the box. However, it will definitely work, meets the simplistic criterion, i.e., often too complex solutions are doomed to fail, and gets the job done with immediate results that reinforce the fact that this is fixing the oil market.
Here is what is flawed with the current strategy. The current strategy has everyone lowering costs, renegotiating contracts, raising more cash through stock dilution offerings, and extending credit on behalf of the banking industry. And additionally has shorts pounding the oil futures market devaluing your core asset by the day! All the while the big guys wait for the smaller firms to go out of business, with the idea of why take the risk of buying the smaller firms in a risky price environment, especially since their credit ratings could take a hit, they would take on more debt, they can probably get assets cheaper in the future, and this could put their dividend at risk, which is the hallowed holy cow for these Oil executives.
However, why this strategy is flawed just like with the mining industry is that you have a core asset in your reserves, you are losing the asset in the form of lower reserves, and you are cutting long term Cap Ex investment in future reserves at the same time, you thus are lowering the long term value of the company. What these big oil companies are missing is that by letting the price drop so low by not taking action, sure they are harming the smaller companies; but look not only at your stock depreciation, but at your revenues, and factor this into the cost/benefit analysis of your current 'No Action' strategy. Compare this "No Action" strategy with what I am going to propose to fix this problem.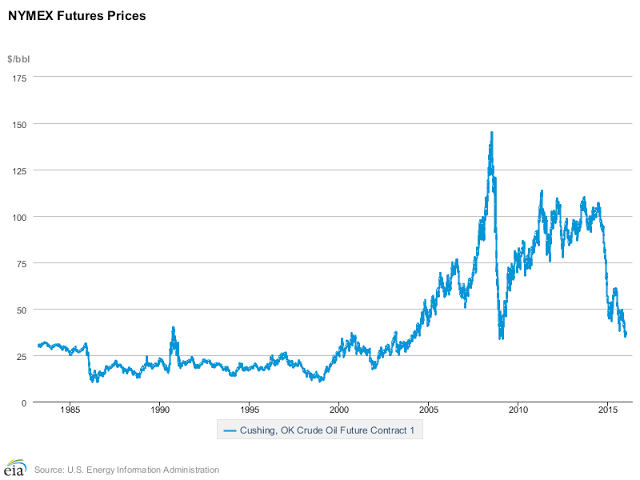 Consolidation, Consolidation, Consolidation & Then More Consolidation
The solution is to buy up the smaller players, and I mean start right now. Take production offline since they are not going to voluntarily do it because they want to continue pumping for as long as possible to stay in business regardless of price. Thus by de facto hurting the entire industry with irrational, poor decision making which is counterproductive to the market as a whole.
Sure it will cost the big players more money up front than buying these same assets in bankruptcy court, but bankruptcy court proceedings can drag on, and pumping operations often continue even during bankruptcy court – all of which have costs associated with this strategy that should be factored into the analysis of the bankruptcy option of acquiring assets. Not to mention lower revenues for the next 9 months waiting for this bankruptcy scenario to play out in the market.
Therefore, buy the smaller players now, take the assets offline until the US Domestic production goes down to 5 to 6 million barrels per day, and you get the short money out of the market (probably $15 worth of shorts in the market), return the market price to a more sustainable level, boost revenues at the large oil companies relative to $32 oil, and bolster the health of the overall oil market.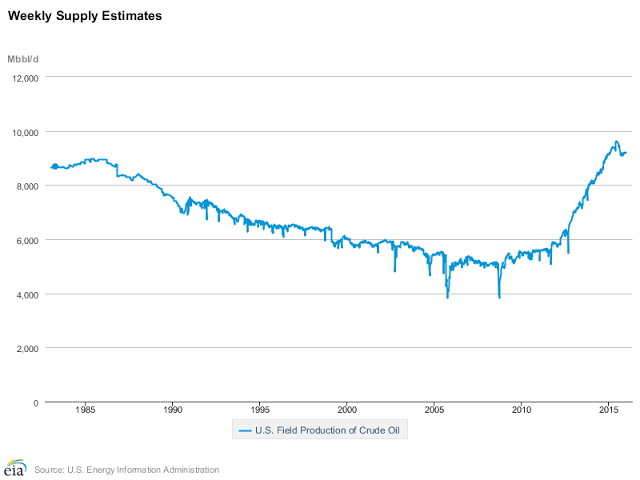 Immediate Positive Market Reaction
This is the strategy, it is actually relatively easy to do, it will have immediate effects and there are definitely just too many oil companies currently in the market. Once the oil inventories come down (which they are only about 100 million barrels of storage over the average necessary for $80 plus oil), and reducing U.S. output to 5 or 6 million barrels per day will definitely bring down the inventories rather quickly. But more immediate is the fact that markets anticipate, thus immediately boosting the core commodity input oil which is responsible for revenue streams.
Take Advantage to Consolidate While it is easy to justify to Regulators
There is no antitrust reason why these mergers will not be approved as look at how many oil companies, new oil venture startups that have come on line over the last 10 years, and the broad diversity of oil companies in the industry right now. Compare this to 3 cable companies in the entire cable industry, 5 cell phone firms in that industry, the massive consolidation in the drug industry, and the monopolies in the internet advertising and search business. There is plenty of room for consolidation on a massive scale in the oil sector, and this is what needs to happen, and happen right now to turn the oil market around.
Investment Banking Advising Fee Generation
The beauty of this strategy is once the first major deal is announced in the industry, then all the rest of the big players rush to get their dance partners, and the consolidation herd mentality takes full effect, and the price of oil responds in direct proportion to the announced consolidations in the industry long before the fundamentals. Markets are forward looking, and the oil price will move long before the fundamentals. There is even a huge carrot for Wall Street Investment Banks as this strategy garners huge underwriting and advising fees for these consolidation deals. I am giving you the [Investment Banks] the blue print for printing money over the next two years in an overall challenging investment banking environment – get to work advising.
Think of this as the market solution version of an OPEC. You buy up irrational competitors hurting everyone`s opportunities by producing in a suicidal fashion. You then take this supply offline. And only bring these wells back online when oil inventories are reduced, prices have recovered, demand is sufficient to handle new supply. Consequently, you bring the offline production back to market gradually as the market can handle it, sort of what OPEC is supposed to be doing as a responsible and effective resource manager.
OPEC Would No Longer be the "Only One" Cutting Supply
Furthermore, once this consolidation occurs in US Production it wouldn`t be far from crazy to think that OPEC would then reduce production at least back to the 30 million barrels per day level. And thus they wouldn`t be the only ones cutting production as they have stated numerous times is their main argument for not acting like a responsible cartel and reducing production in an over supplied oil market. You don`t give away your valuable resource by devaluing its market value, ever – this is just bad philosophical theory beyond the economics and fundamentals of the business case.
Rational Market Behavior: De Beers
We don't have to look far for rational behavior in this area in De Beers. In the Diamond Industry where when there was a bunch of new production coming online out of Africa, bad political and social optics which were devaluing their core commodity resource, and lots of market fragmentation that was hurting the diamond market on the whole. What did they do? They bought up a bunch of this production, and took it offline. The short sighted shale producers who had no clue what they were doing from an economic theory perspective are the irrational players in the oil market. They failed to realize basic financial and economic principles. That the market would not support bringing an additional 4 to 5 million barrels per day of new supply in a global oil market that was not modeled or built around the US Producing that much oil, and not have a dramatic drop in prices.
In any cash flow analysis, what were the shale producers thinking was going to happen to oil prices over the next five years if they were successful? When shale production went online existing oil inventories were already well above their previous five year averages and were trending higher. It seemed shale analysis only factored in the current oil price and not the underlying fundamentals of the existing supply and demand equation in the oil market. They extrapolated their revenue models forward only taking into account the immediate pricing environment in the oil markets.
Responsible Production for Longer Term Price Stability
The Shale producers are the bad guys here, they are the rogue diamond mining operations in Africa bringing on additional supply that disrupts the entire market which threatens not only their own existence, but the more established players in the industry. The solution is simple, buy them up, stop their production, shelve it until oil inventories come down, and boost oil prices to more long term sustainable healthy levels. This makes for responsible long term investing in the oil market which is in everyone`s long term interest for a stable oil price. Bring back new supply from shale operations as the market can bear it based upon actual oil demand in the market grounded upon global growth. As global demand picks up, you bring more shale gradually to meet this new demand.
Shale Oil is Peak Energy Demand Solution
There is a place for shale oil as we have seen OPEC is pumping near max capacity and it looks like it is around 33 million barrels per day. Think of Shale oil as the peak oil supply when demand or inventories are low to bring online to deal and handle peak demand conditions and then go offline as the market dictates like natural gas used to be in the electricity market. Let OPEC and traditional oil supply be the baseline provider of the market, and shale to provide peak demand or as the market dictates.
For example, if global demand picks up and can handle the US pumping 10 million barrels per day, then fine shale can pump away and be part of the baseline supply. However, that is not the case currently, and it makes rational sense to adjust to market dynamics and take shale offline until U.S. Inventories come down, oil prices rise, demand picks up and the overall oil industry is on more stable long term footing. It hurts the big guys just as much as the little guys if you think of the entire cost/benefit analysis of tanking the entire oil market – just look at the mining industry for similar results.
Cut US Production to 6 Million Barrels per day
The only solution is to cut oil production, the US Producers need to buy up the smaller ones, take production offline, so that rational decisions can be made for the market as a whole, because currently it is rational for the hangers on in the shale industry to do the irrational for the overall market. You buy them up, and now it is in your rational best interest to take this production offline, bringing US Production down to 6 million barrels per day. Quit worrying about what OPEC does, get the $15 worth of shorts off your main revenue producing commodity's back, all the while bolstering up your cratering by the moment revenue numbers.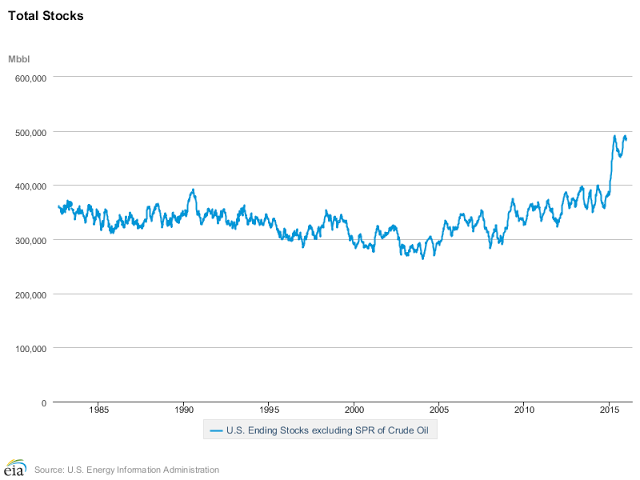 Now the correlation in cutting supply is in your best interest as you the Exxon Mobil`s of the world have added to your shale reserves, boosted quarterly revenue by boosting oil prices, and are rationalizing the market by reducing existing oil inventories- the interests are aligned.
Consolidation, and major consolidation happening right now is the only viable solution for solving the problems of the oil market, now get to work and start negotiations. I expect to hear some acquisitions over this first quarter now that I have given you the blueprint for solving your problems. You can send me a Christmas card as a thank you note, given that you are too unwise to get this on your own, or you would have already started acquiring assets and reducing supply 6 months ago.
I am not a big fan of waiting for things to happen, I like to be proactive and make things happen. In my book this is the preferred strategy course, and the Major Oil Executives need to start making things happen in a proactive fashion right now. As a result, cutting production needs to happen tomorrow, not waiting for the marginal shale producers to fall by the wayside, think how much quarterly revenue you have already lost by employing this sit on your collective asses' strategy for all of 2015!
By EconMatters

The theory of quantum mechanics and Einstein's theory of relativity (E=mc2) have taught us that matter (yin) and energy (yang) are inter-related and interdependent. This interconnectness of all things is the essense of the concept "yin-yang", and Einstein's fundamental equation: matter equals energy. The same theories may be applied to equities and commodity markets.

All things within the markets and macro-economy undergo constant change and transformation, and everything is interconnected. That's why here at Economic Forecasts & Opinions, we focus on identifying the fundamental theories of cause and effect in the markets to help you achieve a great continuum of portfolio yin-yang equilibrium.

That's why, with a team of analysts, we at EconMatters focus on identifying the fundamental theories of cause and effect in the financial markets that matters to your portfolio.
© 2016 Copyright EconMatters - All Rights Reserved Disclaimer: The above is a matter of opinion provided for general information purposes only and is not intended as investment advice. Information and analysis above are derived from sources and utilising methods believed to be reliable, but we cannot accept responsibility for any losses you may incur as a result of this analysis. Individuals should consult with their personal financial advisors.
© 2005-2019 http://www.MarketOracle.co.uk - The Market Oracle is a FREE Daily Financial Markets Analysis & Forecasting online publication.

Only logged in users are allowed to post comments.
Register/ Log in