One of the Greatest Deceptions of Our Time?
Stock-Markets
/
Stock Markets 2015
Nov 10, 2015 - 04:53 PM GMT

This has been weighing heavily on my mind lately.

Recently I've discussed how politicians don't understand the economy. They don't understand innovation – the fact that it comes out of challenge, and that without occasional crisis, the economy can't rebalance and run as it should.

So it's no coincidence that the two great innovations of modern economics both emerged out of a different kind of crisis or challenge – a revolution, a challenging of the status quo.


First: the Industrial Revolution gave birth to the whole system of free market capitalism.
Then shortly after: the American Revolution and the French one that followed it led to the birth of democracy.
There's a phrase I use to describe this period when these two came together. I call it: "When Harry met Sally." It was a perfect union, much like the characters in the film. And importantly, I always comment that these are opposite principles, like male and female. One can't exist without the other. Or rather – they shouldn't.
Just consider the progress in the stock market since the late 1700s, when these two innovations came together.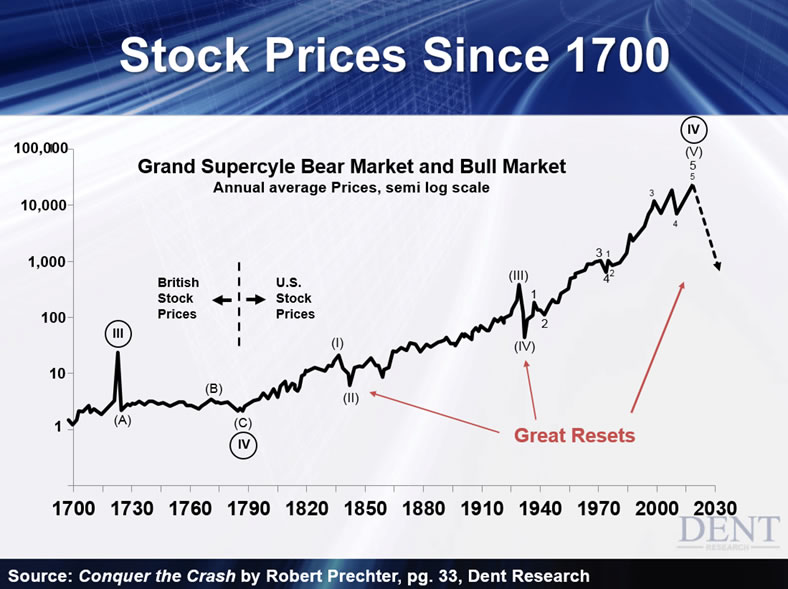 It's nothing short of remarkable. The developed world has never seen a boom like this in history. And with slowing demographic trends and aging – it likely never will again.

But we have been adding to our natural demographic malaise... by progressively killing the golden goose that emerged from these dynamic principles.

Before I continue, let me just say, it's true – I'm a proponent of free market capitalism. I believe government needs to let the economy sort itself out and get the hell out of the way.

But I also recognize that the free market system needs a buffer.

That's because it revolves around the survival of the fittest. It rewards those that take the greatest risks and produce the most. It leverages the very selfish nature of individuals.

And we all know the problem here – greed can go overboard. That's especially the case in bubble periods like today, where the successful can increasingly rig the system in their favor – which the aristocracy and crony capitalists have always done sooner or later.

That's why free market capitalism needs a balance: democracy.

With democracy, if those in power abuse that power, they can be overthrown by the majority – even if the majority only has a fraction of the wealth! Try comparing that to the days when the aristocracy, the land-entitled wealthy, and royalty ruled with an iron fist. You can't!

I can't emphasize the importance of this enough. The whole system doesn't work if only a few benefit.

Capital is a multiplier. If it's invested in productive new technologies, infrastructure, and capacity, then everyone benefits. If the wealthy hoard it, the people suffer. They stop spending. Growth and innovation cease to exist.

That's why I'm so concerned. Today, there is no free market capitalism. Central banks have taken it over. They think they can run the economy like a machine. 3% growth, 2% inflation. A recession? Who wants that! Nevermind the fact that economies actually need them to rebalance and to foster efficiency and innovation.

Where does that leave the dynamic play of opposites? The booms and busts? Inflation and deflation? Innovation and creative desctruction? Success and failure?

You heard me – failure, damn it!

Who learns without failing? To those who never feel pain?

Do you know what happens to those rare people who don't experience pain?

I'll tell you – they die!

They don't smell gas before it kills them. They don't feel heat before it burns them. Unless they're in a totally protective environment, they'll kill themselves in short order.

It is pain that stops us from killing ourselves.

So let's be clear: our economy is not a machine. It is a rich, dynamic play of opposites. It has a biology of its own – it is self-organizing. It can feel pain, and has to. And treating it like a machine – it's the greatest misperception and misunderstanding of our economy I've ever seen.

But it's not just the central banks at fault. Sure, they've hijacked the free market system. But it's special interests that have taken over democracy.

They've created an environment where 50% of the wealth goes to the top 1%... 25% to the top 0.1%... and 13% to the richest of the rich – the 0.01%.

There is no middle class. No middle ground.

Tell me: how can the generals advance without the troops?

158 families have contributed 50% of the campaign finances for this election. They have such control that if they don't like a candidate, he's out! They can veto him, or her. It's been rumored the Koch Brothers did that with Mitt Romney this time around. The point is – it happens! They can splatter the airwaves with negative ads. Hell if I know why such things work, but they do. And beyond that, there's the special corporate interests who lobby Congress – lavishly and constantly, fighting any change that hurts them.

Nothing can get done when the people have less and less say in politics. Nothing can get done in a political environment that is so highly polarized between liberal and conservative, rich and poor.

There is no political solution to this growing crime.

The system is now so perverted from special interests that there's no way to right it. We have taken our system to such polarized extremes that only a massive crisis will force rich and poor, liberal and conservative alike into reality.

And yes, I am talking about a depression.

It is only when we realize our system is so broke it cannot be fixed – that we are actually totally bankrupt, or the government hopelessly insolvent, to borrow a phrase Rodney used recently – that we can finally come back to reality... and from there, rebuild it from the bottom up.

No politician will endorse this. How could they ever? The only thing that will bring the change we need is the invisible hand... which always prevails in the end.

For now, we're perpetuating the most unprecedented bubble in history, and a global one at that. We refuse to allow debt bubbles to burst... financial assets to deleverage... and bring special interests back to reality.

This is one of the greatest deceptions of our time.

And at this point, pain and reality are the only solution.

Be ready when it comes.

Harry
Follow me on Twitter @HarryDentjr
Harry studied economics in college in the '70s, but found it vague and inconclusive. He became so disillusioned by the state of the profession that he turned his back on it. Instead, he threw himself into the burgeoning New Science of Finance, which married economic research and market research and encompassed identifying and studying demographic trends, business cycles, consumers' purchasing power and many, many other trends that empowered him to forecast economic and market changes.
Copyright © 2015 Harry Dent- All Rights Reserved Disclaimer: The above is a matter of opinion provided for general information purposes only and is not intended as investment advice. Information and analysis above are derived from sources and utilising methods believed to be reliable, but we cannot accept responsibility for any losses you may incur as a result of this analysis. Individuals should consult with their personal financial advisors.
© 2005-2019 http://www.MarketOracle.co.uk - The Market Oracle is a FREE Daily Financial Markets Analysis & Forecasting online publication.

Only logged in users are allowed to post comments.
Register/ Log in