Gold, Stocks and the Elect a President Cycle Silly Season
Commodities
/
Gold and Silver 2015
Nov 10, 2015 - 01:45 PM GMT


The Silly Season – the Elect a President Cycle – is upon us. We pretend the candidates matter and care about the American public and their values, we pretend the election is important, and we forget that the outcome is heavily influenced and/or controlled by Wall Street and the Military.
Hillary Clinton: "What difference does it make?"
Or as Matt Tabi from the Rolling Stone stated:
"Politics used to be a simple, predictable con. Every four years, the money men in D.C. teamed up with party hacks to throw their weight behind whatever half-bright fraud of a candidate proved most adept at snowing the population into buying a warmed-over version of the same crappy policies they've always bought."
WHAT DIFFERENCE DOES IT MAKE IN MARKETS?
The Process:
Take daily price data and average them over four years – the four years during which a president is supposedly important. Example: Four years of S&P 500 closes from January 1, 2001 to December 31, 2004 represents the President elected in November of 2000.
Plot one data point for each 4 year period and graph on a log scale.
Remember this is heavily smoothed data averaged over a 4 year period so we see only the long term trends.
Data for silver and gold comes from the COMEX so it shows prices for paper silver and paper gold, which increasingly are less real than prices for actual physical metal.
The S&P 500 Index since 1970: Plot four year presidential points on a log scale and note the clear exponential increase roughly indicated by the green arrow.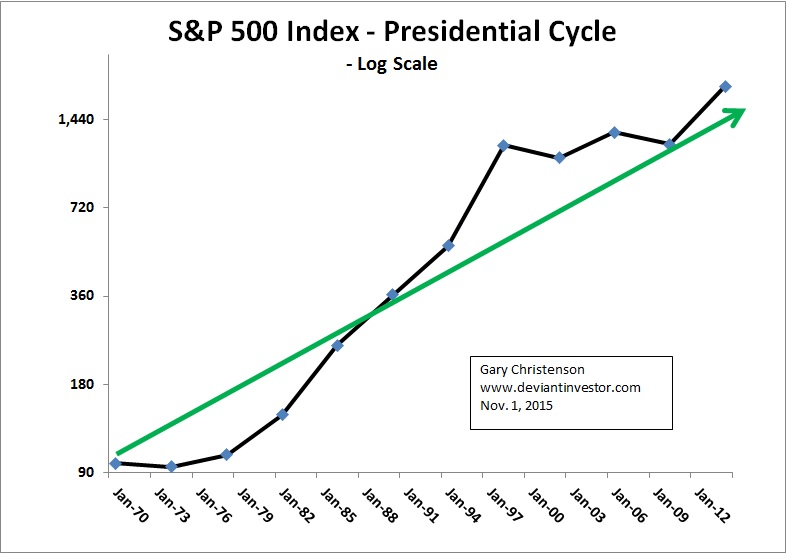 Gold and Silver since 1970: Plot four year presidential points on a log scale and note the exponential increases, the green long-term trend, the "let's party" silver and gold bubble prices in the late 1970s, and the "hangover" low prices in the late 1980s and 1990s.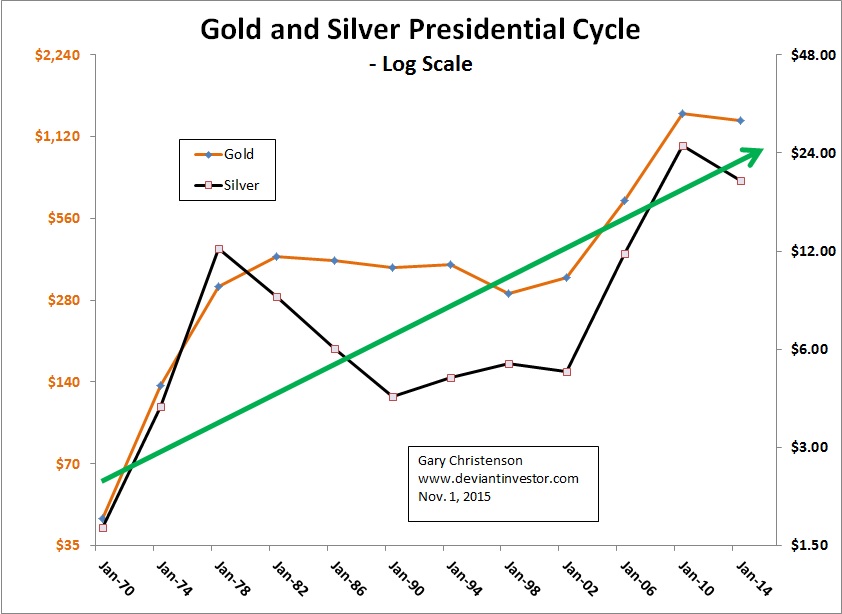 Why have the S&P, Gold, Silver and most commodity prices increased exponentially?
Each dollar buys less!

The two thousand year old scam of running deficits and devaluing the currency has been "alive and well" since 1913.

What happened to the cup of coffee that cost a dime? Answer: Devaluation of the currency!
Why does an F-35 flight helmet (just the helmet, not the entire jet) cost $400,000? Answer: The dollar buys less.
The S&P 500 Index, gold and silver prices, most commodities, college tuition, automobiles, postage, health care, and so much more have increased in price exponentially simply due to the devaluation of currencies (dollars, euros, yen, pounds etc.) caused by deficits and debts.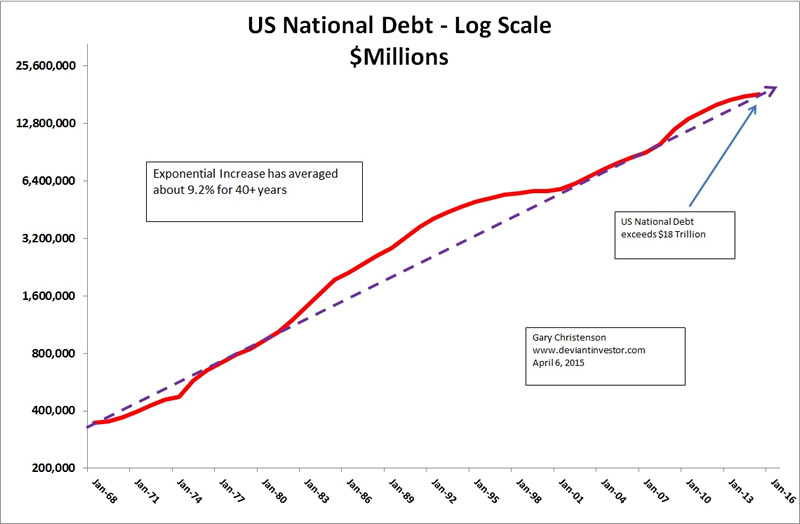 Official national debt has increased exponentially since 1913. A graph since 1968 has the same exponential form. Exponentially increasing debt – thanks to deficit spending – devalues the purchasing power of currencies. Even worse are bond monetization and Quantitative Easing which create dollars from nothing and purchase Treasury Debt, because the government needs cash and must maintain low interest rates. The plan is simple: Print, Print and Print more. In three words … Inflate or die!
The End Game:
Presidential candidates easily make and break promises, but the fact is that government spends, the Fed creates, currencies purchase less, and most of the nation becomes poorer in real purchasing power.
Bonds, stocks, and entire economies have crashed in the past. They will again.
A government cannot perpetually spend more than its revenues without dangerous consequences. We have seen only a few consequences so expect more to come.
Don't expect discussions, plans, or real solutions during the "silly season."
Don't expect fiscal or monetary sanity to return without major trauma.
A drug addict and a debt addict are probably similar. They either die from an overdose or suffer through the "withdrawal."
CONCLUSION:
The answer to "What difference does it make?" is that western economies plus Japan are currently in debt overdose mode which requires exponentially more debt for survival … so the agony of withdrawal occurs now … or later, when it will be even worse.
The purchasing power of our debt based fiat currency will be exponentially eroded until the catastrophic "debt withdrawal" occurs. You can:
Protect your purchasing power with silver and gold, or
Trust that purchasing power will not decrease, in spite of 100 years of history.
Paper dies, gold thrives!
Paper dies, silver thrives!
Gary Christenson
GE Christenson aka Deviant Investor If you would like to be updated on new blog posts, please subscribe to my RSS Feed or e-mail
© 2015 Copyright Deviant Investor - All Rights Reserved Disclaimer: The above is a matter of opinion provided for general information purposes only and is not intended as investment advice. Information and analysis above are derived from sources and utilising methods believed to be reliable, but we cannot accept responsibility for any losses you may incur as a result of this analysis. Individuals should consult with their personal financial advisors.
© 2005-2019 http://www.MarketOracle.co.uk - The Market Oracle is a FREE Daily Financial Markets Analysis & Forecasting online publication.

Only logged in users are allowed to post comments.
Register/ Log in