Sea Change in the Fed Swamps Gold
Commodities
/
Gold and Silver 2015
Oct 28, 2015 - 06:10 PM GMT

WOW! I know no other way of saying it than to say that the Fed took everyone by surprise. I certainly did not expect this Fed, this timid FOMC, to sound such a hawkish note.
As dovish as Draghi and the ECB sounded last week, the Fed sounded hawkish this week. Talk about a sea change in attitude!
Needless to say, the market reaction, especially in gold and in the currencies, is that a December rate hike is coming. Now, before we all get absolutely giddy, we still need to see the November and the December payroll numbers.
That being said, with the entirety of the market leaning to the NO RATE HIKE THIS YEAR side, all it took was a NOT DOVISH note to upset the entire apple cart.
In gold, every single trader who bought into this rally expecting a dovish Fed, is now running for their lives. Just as the bears were terrified prior to the Fed meeting and were exiting this AM, this afternoon it is now the bulls who are terror-stricken.
I want to see how the market closes later on today to get a sense of what is coming next. Suffice it to say, IF and this is an enormous "IF", the Fed is actually going to hike rates this year, then it is hard to see gold going anywhere but down as this is going to lend tremendous support to the US Dollar.
I am not sure what has been happening behind the scenes with the Fed as it was a given that they have been concerned about overseas development and particularly the strong Dollar which has been exerting downward pressure on the commodity complex.
I have written in the recent past that the Fed does not want sinking commodity prices – at least commodity prices falling so low that they impact jobs in those industries which produce or deal in them – since that is a deflationary signal and works at cross purposes to their desire to achieve a 2% rate of inflation annually.
How we get there from here, with a surging US Dollar, escapes me.
Maybe the Fed sees something on the payrolls front that we do not as of yet see.
What is really strange about this is that if the Fed indeed did not want the US Dollar to surge higher, one would have thought that the ultra dovish Draghi/ECB comments, alongside the Chinese devaluation of the Yuan, would have been enough to keep the tone in the statement dovish.
Apparently not.
Now what? Well, the market has to ONCE AGAIN ( SIGH!) adjust to the Fed comments so that it now reflects a hawkish stance instead of the previous dovish stance that existed until as recently as 1:00PM CDT!
It certainly makes me wonder if the Euro is going to take out 1.090 and head down for a test of 1.085.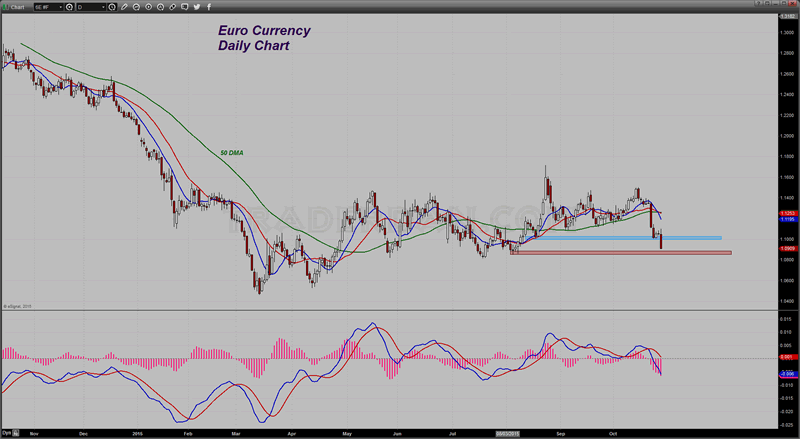 I can tell you from a TA perspective, if the Euro fails to hold above 1.080, odds favor it moving down to 1.060 and possibly even the ECB/QE induced low near 1.045.
As a currency guy, what incentive does one now have to buy the Euro with the tone of both Central Banks being what it now is??

Dan Norcini
Dan Norcini is a professional off-the-floor commodities trader bringing more than 25 years experience in the markets to provide a trader's insight and commentary on the day's price action. His editorial contributions and supporting technical analysis charts cover a broad range of tradable entities including the precious metals and foreign exchange markets as well as the broader commodity world including the grain and livestock markets. He is a frequent contributor to both Reuters and Dow Jones as a market analyst for the livestock sector and can be on occasion be found as a source in the Wall Street Journal's commodities section. Trader Dan has also been a regular contributor in the past at Jim Sinclair's JS Mineset and King News World as well as may other Precious Metals oriented websites.
Copyright © 2015 Dan Norcini - All Rights Reserved
All ideas, opinions, and/or forecasts, expressed or implied herein, are for informational purposes only and should not be construed as a recommendation to invest, trade, and/or speculate in the markets. Any investments, trades, and/or speculations made in light of the ideas, opinions, and/or forecasts, expressed or implied herein, are committed at your own risk, financial or otherwise. The information on this site has been prepared without regard to any particular investor's investment objectives, financial situation, and needs. Accordingly, investors should not act on any information on this site without obtaining specific advice from their financial advisor. Past performance is no guarantee of future results.
© 2005-2019 http://www.MarketOracle.co.uk - The Market Oracle is a FREE Daily Financial Markets Analysis & Forecasting online publication.

Only logged in users are allowed to post comments.
Register/ Log in