China - The People's Republic of Debt
Economics
/
China
Jun 15, 2015 - 05:36 PM GMT


It wasn't that many centuries ago that China was the absolute economic center of the world. That center gravitated to Europe and then towards North America and has now begun moving back to China. My colleague Jawad Mian provided this chart showing the evolution of Earth's economic center of gravity from 2000 years ago to a few years and into the future: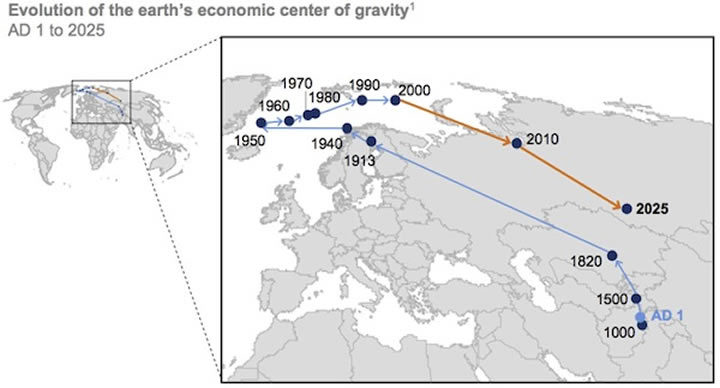 Most investors are well aware of the enormous impact China has had on the modern world. Thirty-five years ago China's was primarily an agrarian society, with much of the nation trapped in medieval technologies and living standards. Today 500 million people have moved from the country to the cities; and China's urban infrastructure is, if not the best in the world, close to that standard.
The economic miracle that is China is unprecedented in human history. There has simply been nothing like it. Deng Xiaoping took control of the nation in the late '70s and propelled it into the 21st century. But now the story is changing. Those who think that all progression is linear are in for a rude awakening if they are betting on China to unfold in the future as it has in the past.
Among the most important questions for all investors and businessmen is, how will China manage its future and the problems it faces? There are many problems, some of them monumental – and at the same time there is an amazing amount of opportunity and potential. Understanding the challenges and deciphering the likely outcomes is itself an immense challenge.
A Brand-New Book Available Online
My colleague Worth Wray and I have been investigating and writing about China for some time now. Today I'm announcing a book that we have written and edited in collaboration with 17 well-known experts on China. The book is called A Great Leap Forward? Making Sense of China's Cooling Credit Boom, Technological Transformation, High Stakes Rebalancing, Geopolitical Rise, & Reserve Currency Dream, and we think it will help you to a solid understanding of both China's problems and its opportunities. I know, the subtitle is a tad long, but the book does really cover all those aspects of today's China.
Notice that there is a "?" after the title "A Great Leap Forward." The first Great Leap Forward, initiated by Mao Tse-tung in the early '60s, was an utter disaster. It devastated the nation, bankrupted the economy, and caused the deaths of tens of millions of people. Let's review a little history from the introduction to the book:
When Chairman Mao decided in 1958 to transform China's largely agrarian economy into a socialist paradise through rapid industrialization, collectivization, and a complete subjugation of the market to Chinese Communist Party (CCP) central planners, the widespread misallocation of resources led to the worst famine in recorded history and the outright collapse of China's economy.
With very little capital at China's disposal after its long civil war and even longer subjugation to foreign colonialists in the nineteenth and early twentieth centuries, Mao decided the best way to fund the country's rapid industrialization was for his government to monopolize agricultural production, use the nation's bounty to support industrializing urban populations, and finance fixed-asset investments with crop exports.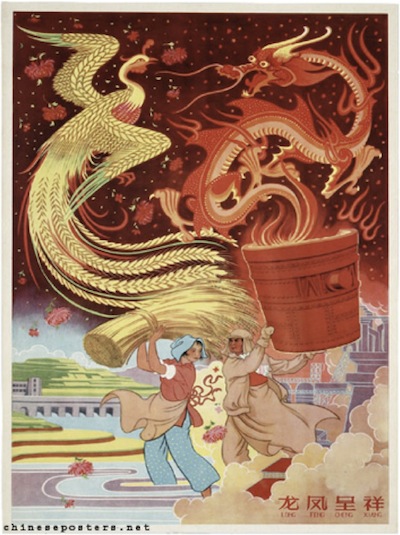 1959 –– "Prosperity brought by the dragon & the phoenix"
Seeing grain and steel production as the essential elements of China's rapid development, Mao boasted in 1958 that China would produce more steel than the United Kingdom within fifteen years.
1959 –– "Smelt a lot of good steel and accelerate socialist construction."
Mao had very limited knowledge of agriculture or industrial production, yet he ruled China with an iron fist and silenced even well-intentioned opposition. China's rural peasants were forced into collectives; households were torn apart; and private property rights were completely abolished. Mao ordered agricultural collectives to produce more grain while forcing farmers to employ less productive methods; he mobilized farmers to kill off "pests" like mosquitos, rats, flies, and sparrows (a campaign that upset the ecological balance in China's farmlands); and insisted on a doubling of steel production to be achieved by diverting farmers with no industrial skill into operating poorly supplied backyard furnaces (which could not burn hot enough to produce high-quality steel).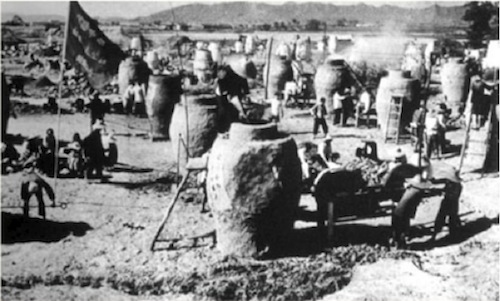 1959 – Unskilled workers smelt steel in China's backyard furnaces.
Steel production surged, and the economy appeared to boom… but at least half of that new production was unusable. A proliferation of crop-eating locusts (after the sparrows had been killed off) and the diversion of farm workers to industrial and public works projects led to a collapse in crop yields. Still, local officials all over China falsified their production figures in an effort to win favor with Beijing (and to spare themselves Mao's wrath), which led to larger and larger grain shipments to China's cities… and smaller and smaller rations for those living in its agricultural collectives.
Instead of taking a Great Leap Forward to a harmonious industrial society…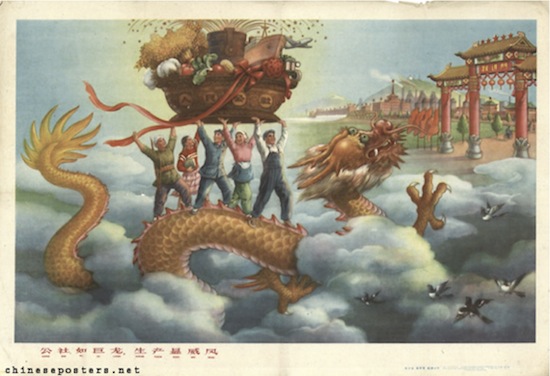 1959 –– "The commune is like a gigantic dragon, production is noticeably awe-inspiring."
Mao's command-and-control system dismantled the Chinese economy, ruined millions of lives, and left an enormous share of China's population disillusioned.
Industrialization failed. From 1958 to 1961, millions died of starvation and exhaustion across China's countryside (independent estimates range from 30 million to 70 million, while the CCP still insists the death toll was only 17 million), and the People's Republic remained a net exporter of grain. As Harvard economist Dwight Perkins remembers it, "Enormous amounts of investment produced only modest increases in production or none at all.... In short, the Great Leap was a very expensive disaster.
As production and productivity collapsed along with the CCP's social contract, Mao struggled to retain power as a number of influential officials sought to implement more market-oriented policies in response to the Great Famine. Fearing that growing opposition could lead the Party to reject its Marxist spirit (as the Soviet Union had done under Nikita Khrushchev a decade earlier), in 1966 Mao and his Red Guards launched the Cultural Revolution – a decade-long series of purges intended to root out enemies of Communist thought lurking within the Party, cleanse Chinese society of many of its traditional values, eliminate elitist urban social structures, and renew the spirit of China's Communist revolution.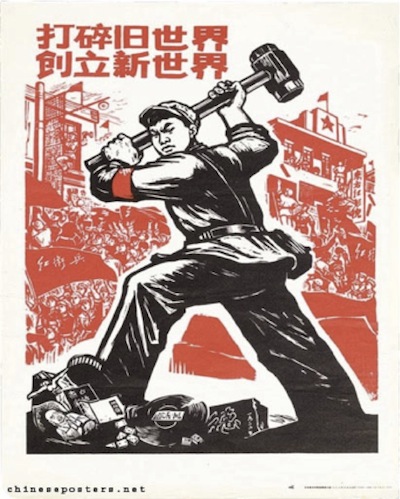 1967 – "Scatter the old world, build a new world."
Under Mao's leadership, the Party destroyed cultural artifacts, banned the vast majority of books, dismantled the educational system, and silenced millions for thought crimes against the Party. In a devastating blow to China's human capital, Mao ordered children of privileged urban families – including current President Xi Jinping, when his father, Xi Zhongxun, was purged – to relocate far away from their families to be re-educated through manual labor in China's countryside. What may have been the most promising youth of that "Lost Generation" were deprived of their educations and forced into hardship.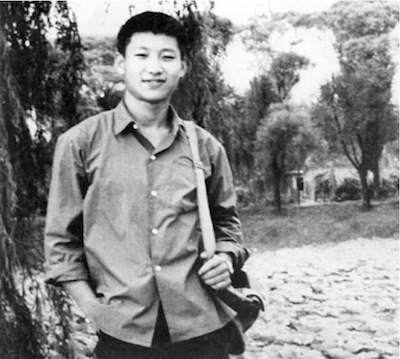 1972 –– President Xi Jinping during the Cultural Revolution
Considering the legacy of the Great Leap Forward, the Great Chinese Famine, and the Cultural Revolution, it is an understatement to say that Mao's hardline policies devastated the economy and left deep scars at all levels of Chinese society. After Mao's death in 1976, it didn't take long for the pragmatic Deng Xiaoping to win control of the Party and take China in a new economic direction –– though with essentially the same repressive political system.
And now young XI Jinping has come from experiencing the Cultural Revolution, getting ready to embark upon what we believe is something as equally as revolutionary as the first Great Leap Forward. The question mark is whether it will be another disaster or a decisive leap into a new future, perhaps even a new world order.
My friend Woody Brock reminds us in his latest PROFILE that the theory of growth in emerging markets dates from 1960, with the publication of Walt Whitman Rostow's book The Stages of Economic Growth. Rostow gave us a description of five different stages that "mark the transformation of traditional, agricultural societies and modern, mass-consumption societies."
To continue reading this article from Thoughts from the Frontline – a free weekly publication by John Mauldin, renowned financial expert, best-selling author, and Chairman of Mauldin Economics – please click here.
© 2005-2019 http://www.MarketOracle.co.uk - The Market Oracle is a FREE Daily Financial Markets Analysis & Forecasting online publication.

Only logged in users are allowed to post comments.
Register/ Log in