Gold Continues to Consolidation
Commodities
/
Gold & Silver
Jun 05, 2008 - 09:46 AM GMT

Gold closed at $ 880.50 in New York yesterday and was down $1.80 and silver closed at $16.84 and was up 5 cents . Gold initially rose in Asia prior to selling off and has continued to sell off in European trading.

Gold continues to consolidate between $850 and $950 but the 200 day moving average at $875 and $850 look like providing strong support given the prevailing macroeconomic climate and the ever important supply demand fundamentals (see below).


With the dollar largely flat and oil slightly stronger, gold may take its cue from the wider equity markets today and how they react to interest rate decisions by the Bank of England and the ECB.

Today's Data and Influences
Markets await the rate decision from the BOE and ECB out in the next hour . The markets are anticipating no change from either Central Bank due to fears regarding stagflation.

Looking ahead today we have US unemployment claims data at 13.30 and the reading is expected to deviate very little from last week. The US non-farm payroll data is due out this Friday and will be closely watched for signals of continuing strains in the labour market.

G old Production Continues to Fall - Peak Gold?
The supply of gold continues to deteriorate with gold production down again in the first quarter of '08 in South Africa and Australia. And this despite the soaring prices that analysts predicted would result in an increase in production. It increasingly looks like 'peak gold' may soon enter the lexicon alongside 'peak oil'.

In the first quarter of 2008, South Africa's gold production fell by 15.6% to 52 228 kilograms when compared to the fourth quarter of 2007. On a year-on-year basis the rate of decline in gold production was 16.8% in the first quarter of 2008. Production has been falling steadily for many months in South Africa but long term structural power issues exacerbated the production problems recently.

South African production of gold was over 1,000 tonnes per annum in 1970 and has been steadily declining to nearly 250 tonnes per annum today.
Similarly, in Australia gold production has slumped to its lowest level in almost 20 years . M ining consultant Surbiton Associates says gold output for the March quarter was down 10 tonnes to 53 tonnes. Gold production in March 2008 fell to seven tons, 12 per cent less than the comparative period for 2007, while the total output for the quarter was 53 tons, a drop of 16 per cent on the previous quarter.

Australian gold production reached a peak of 314 tonnes in 1997. In 2006, Australia's gold production fell 5 percent to 249 metric tons from 263 tons in 2005. This was the worst production performance in 13 years. Since 1997 production has declined largely due to a lack of new discoveries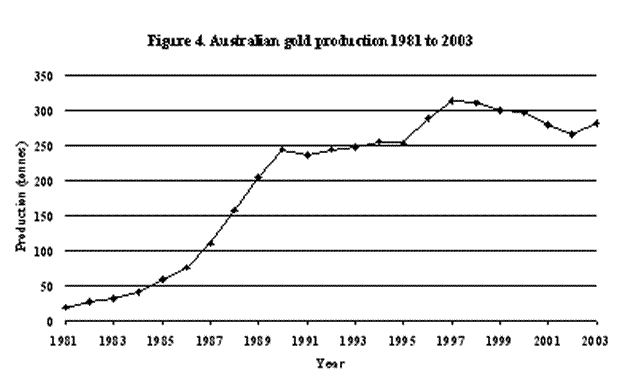 Mali, sub-Saharan Africa's third largest gold producer, expects its gold output to fall 12 percent this year to 50.11 tonnes after a sharp decline last year. Gold output in the West African country fell 9 percent to 56.75 tonnes in 2007 as its established mines neared the end of their productive lives.

Indeed China is the only major gold producer in the world to have increased production last year. It should be noted that China is a net importer of gold and thus it's increase in supply is being gobbled up by the surge in indigenous Chinese demand for gold, particularly for investment purposes.

Gold mines internationally are nearing the end of their productive lives and there have been no major gold discoveries in many years. While the concept of 'peak oil' is now recognised as a reality by most, the concept of peak gold is less well known.

Gold production is stagnating and gold output in the leading gold producing countries continues to fall year on year despite higher gold prices leading geologists to wonder whether we have reached the point of peak gold production.


How will Gold Perform in the Coming Months?
Recent dollar strength has led some to the erroneous conclusion that gold may struggle in the coming months.

While true that short term dollar strength will affect gold in the short term, what is more important is the medium to long term supply and demand (as looked at above).

So what is the Summer like for Gold Investments?
Traditionally, summer months are a good buying opportunity with period of sideways movement or slight sell off prior to strength in August, September and October.
I n the last 35 years, over two-thirds of the average annual gains have been registered between August and December so it important that investors have taken positions in the summer in order to take advantage of seasonal strength in late summer and autumn.

Could this possibly be a summer of difference. With the credit crisis gathering momentum still - a lot of traditional cycles might just go out the window?
This could well be the case. But given all the extra risk - credit, systemic and stagflation - gold is likely to surprise to the upside rather than the downside.

However further consolidation may be necessary near 200 day moving average which has steadily risen and is now at $875. Gold is looking very well supported above $850 and we would very surprised to see it materially below $850.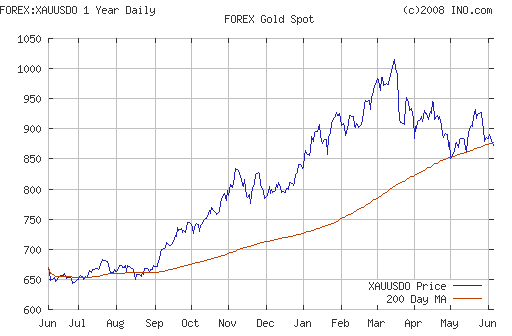 http://quotes.ino.com/chart/?s =FOREX_XAUUSDO&v=d12&w=1&t=l&a =200

In bull markets the 200 day moving average is normally where support is found in periods of correction. For 8 years, gold's 200 DMA has acted as very strong support with only extremely brief periods below it. It is thus a great average price for buyers to get in at. This was seen in June, July and August of last year when gold traded around its 200 DMA at around $650 to $680 prior to taking off in September as per the chart.

Given the prevailing ma c roeconomic and systemic climate, we believe gold will likely start moving up sooner than September. We could well see a gradual move back towards $1,000 in the summer months ( June, July, August ) prior to accelerating higher in the Autumn months - targeting our year end high prediction of $1,200 per ounce.

Bernanke's Attempt to Jawbone or Verbally Manipulate the Markets
While the dollar rose and gold fell during and after Bernanke's attempt to talk up the dollar and bolster confidence in the increasingly fragile U.S. economy, no amount of jawboning by Bernanke or anyone else will help rectify the huge fundamental headwinds facing the U.S. economy in the face of a housing crash, huge deficits, huge credit and systemic risks and the increasing reality of stagflation.

Bernanke's comments follow the now familiar refrain of sanguine complacency and a fear of calling a spade a spade and dealing in financial and economic reality. His comments that the dollar "remains strong and stable" will be seen as odd by some and laughable by more astute market observers.

Gold has a habit of falling when Federal Reserve Chairman speak and this often occurred under Greenspan's watch in the early stages of the gold bull market. This led some to come to erroneous notions based on very short term market moves. (Short term speculators tend to salivate like Pavlov's dogs at positive spin by Federal Reserve, Treasury and government spokespeople and other insubstantial twaddle rather than focussing on economic reality). Conspiracy theorists will say that today's action looked likely to have been the 'invisible hand' of the market in the form of the President's Working Group in Financial Markets - intervening and manipulating the dollar and gold markets in order to attempt to contain inflation and inflation expectations, maintain faith in the dollar and in the U.S. economy. Bernanke's comments are unlikely to have much of an affect, if any, and if they were to have an affect, we will only know by the close of trade today and in the coming days and weeks.

Again despite all the talk of the dollar surging on Bernanke's comments, the truth is that the dollar only surged versus the EUR of all the major currencies. While the dollar was up by some 0.65% against the EUR, it is notable that the dollar was actually flat vis a vis GBP and weaker by this amount and more against the CAD, JPY and CHF.

Unfortunately for us all, the U.S. economy will not find redemption in any amount of spin from the new Federal Reserve Chairman or any of the other economic cheerleaders who refuse to deal in economic reality. Indeed, moral hazard and false hope and false sense of security is all that is achieved and the inevitable day of reckoning while postponed will be made all the more painful when it inevitably comes. none.
Silver
Silver is trading at $1 6. 65 /1 6. 70 per ounce ( 1130 GMT ) .

PGMs
Platinum is trading at $ 1971 / 1981 per ounce (1 130 GMT).
Palladium is trading at $4 2 5/4 35 per ounce (1 130 GMT).
By Mark O'Byrne, Executive Director
Gold and Silver Investments Ltd. have been awarded the MoneyMate and Investor Magazine Financial Analyst of 2006.
Mission Statement
Gold and Silver Investments Limited hope to inform our clientele of important financial and economic developments and thus help our clientele and prospective clientele understand our rapidly changing global economy and the implications for their livelihoods and wealth.
We focus on the medium and long term global macroeconomic trends and how they pertain to the precious metal markets and our clienteles savings, investments and livelihoods. We emphasise prudence, safety and security as they are of paramount importance in the preservation of wealth.
Financial Regulation: Gold & Silver Investments Limited trading as Gold Investments is regulated by the Financial Regulator as a multi-agency intermediary. Our Financial Regulator Reference Number is 39656. Gold Investments is registered in the Companies Registration Office under Company number 377252 . Registered for VAT under number 6397252A . Codes of Conduct are imposed by the Financial Regulator and can be accessed at www.financialregulator.ie or from the Financial Regulator at PO Box 9138, College Green, Dublin 2, Ireland. Property, Commodities and Precious Metals are not regulated by the Financial Regulator
Disclaimer: The information in this document has been obtained from sources, which we believe to be reliable. We cannot guarantee its accuracy or completeness. It does not constitute a solicitation for the purchase or sale of any investment. Any person acting on the information contained in this document does so at their own risk. Recommendations in this document may not be suitable for all investors. Individual circumstances should be considered before a decision to invest is taken. Investors should note the following: The value of investments may fall or rise against investors' interests. Income levels from investments may fluctuate. Changes in exchange rates may have an adverse effect on the value of, or income from, investments denominated in foreign currencies. Past experience is not necessarily a guide to future performance.

All the opinions expressed herein are solely those of Gold & Silver Investments Limited and not those of the Perth Mint. They do not reflect the views of the Perth Mint and the Perth Mint accepts no legal liability or responsibility for any claims made or opinions expressed herein.
© 2005-2019 http://www.MarketOracle.co.uk - The Market Oracle is a FREE Daily Financial Markets Analysis & Forecasting online publication.

Only logged in users are allowed to post comments.
Register/ Log in