Show Me The Money (Flow)! Tracking Money-Flow Through Value Shifts In Stock Markets
Stock-Markets
/
Stock Markets 2014
Dec 19, 2014 - 12:43 PM GMT

We've all heard of the old magicians trick of distracting with one hand while the other is where the real set-up is taking place.
It seems we're up against the same process at work in the markets we're experiencing today.
There's a fundamental and major shift taking place. Everyone feels the 'vibe' of it, but, where's the proof (instead of the speculation) to bear out the truth of it?
It's not to be found from conventional sources, that much is clear.
Like trying to detect the secrets of the magician, we need to focus on what the 'other hand' is up to.
When it comes to markets, a one-dimensional approach isn't enough to reveal the whole multidimensional story.
Charts for stocks or commodities tend to be one-dimensional in that they're generally denominated in that market's national currency and this very fact can disguise the effects of that market relative to the international flow of money.

In other words, the question that needs answering is: 'Is the international, 'smart' money flowing towards the market in question or away from it back into the world reserve currency (the US DOLLAR)?'
Take the Bombay Stock Exchange index (BSE) for example in the chart below . . .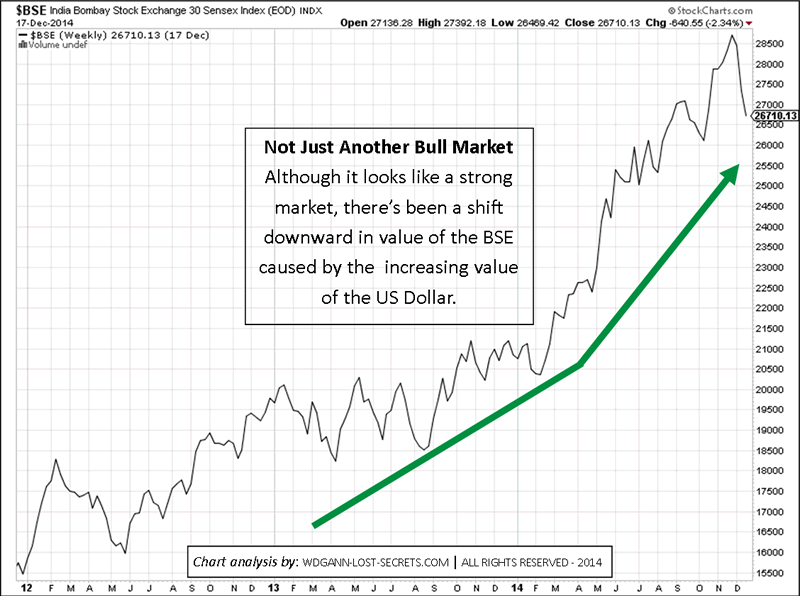 A quick one-dimensional look shows a strong bull market rise with, what looks like a normal downside reaction taking place within the trend.
However, to gauge a foreign market's international VALUE, it needs to be compared with the world reserve currency, which, at this time, is the US DOLLAR.
A shift in a market's value relative to the US Dollar, will reveal where the international flow of money from that market is headed. This will, in turn, reveal underlying strengths or weaknesses that may not be immediately obvious in the local currency denominated chart for that market.
When we compare the BSE to the US Dollar and chart that, we see something more revealing: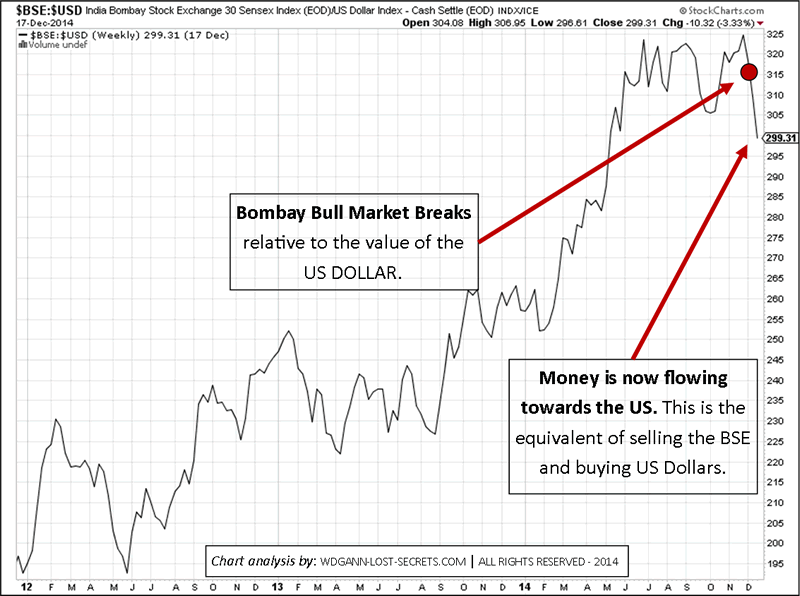 What shows as 'weakness' on this chart (the recent pull-back in prices) is now revealed to be something more serious as the money flow is shifting towards the US Dollar internationally and away from the BSE.
This is a powerful perspective shift that can alert traders and investors to fundamental shifts in markets which can only be seen relative to the reserve currency of the US Dollar.
By the way, this shift towards the US Dollar during the recent economic jitters is understandable and, it does affect the markets.
The US Dollar has soared in value to an exponential rate that will be unsustainable by it's very nature.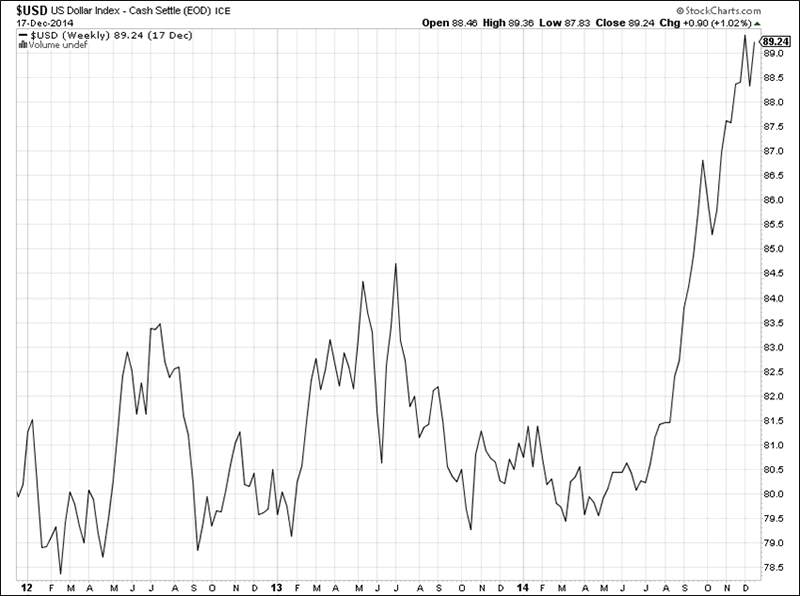 This flow of purchasing dollars is being driven by worldwide factors that have created instability or at least the perception of instability.
The smart money moves, and is moving, to the most secure or perceived secure locations.
By way of example, note how the German Stock Market (DAX) is reflecting the same world-wide trend: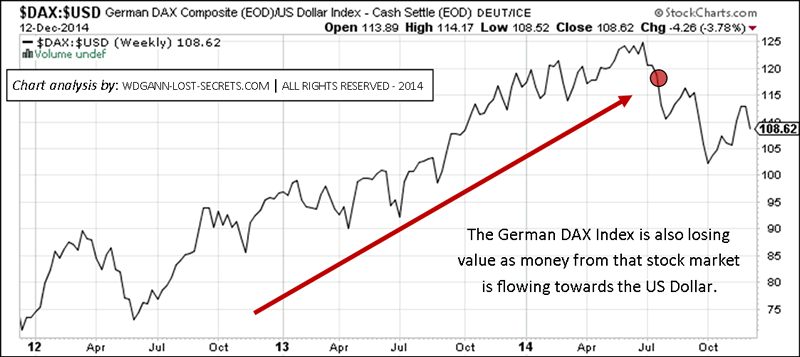 The shift for this market started back in July and never looked back.
On the other side of the World, as represented by Australia, we see the same loss of value and shift towards the US Dollar from the All Ordinaries Index: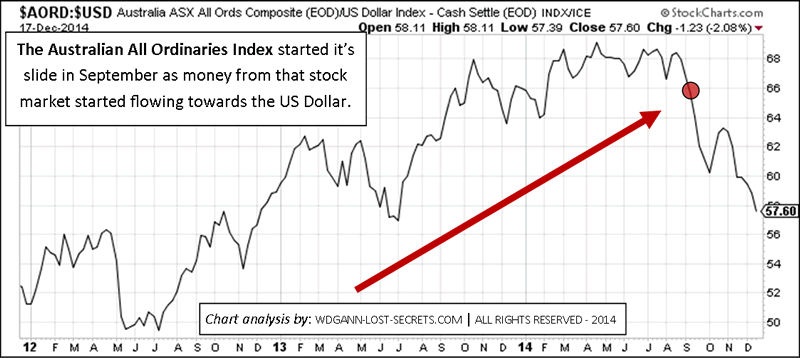 Clearly, significant sums are migrating from different nation's stock markets and buying US Dollars for investment in dollar-denominated products.
This significant trend will have a monetary-system wide effect that will be hard to explain using the usual one-dimensional chart analysis.
The US DOLLAR is a powerful factor at work behind the scenes and one which we'll examine further in the days ahead. – George
© 2014 Copyright George R Harrison - All Rights Reserved

george@money-tigers.com

Disclaimer: All articles and posts are a matter of opinion (drawn from over 44-years of market research & experience) and are provided for general information purposes only and are not intended as investment advice. Information and analysis above are derived from sources and utilize privately discovered methods believed to be reliable, but we cannot accept responsibility for any losses you may incur as a result of this analysis. Individuals should consult with their personal financial advisers.

From the website: http://www.WDGann-Lost-Secrets.com

----------------------------------------------------------------------------------------
Bio: George R. Harrison's background includes time as a Hedge Fund assistant manager; an intensely focused 44-year long period as a researcher of the Markets, a Master Market Analyst & Chartist; a world-recognized and uniquely qualified WD Gann expert, (having rediscovered and restored-to-print many 'lost' Gann techniques through his decades of research work) and creator of several revolutionary market analytical techniques and tools.
Mr. Harrison continues his market research & private client consultation and instructional work while living on the island of St. Croix in the US Virgin Islands.
Current market comments and archived articles may also be found on his website at www.wdgann-lost-secrets.com.
George may be contacted by e-mail at: george@money-tigers.com
© 2005-2019 http://www.MarketOracle.co.uk - The Market Oracle is a FREE Daily Financial Markets Analysis & Forecasting online publication.

Only logged in users are allowed to post comments.
Register/ Log in