Russia's Sergey Lavrov on the Clash of Civilizations
Politics
/
Russia
Dec 02, 2014 - 05:20 PM GMT

"NATO is going beyond all borders. We are really disturbed over this barbaric action. We are outraged...and we call and demand an immediate investigation." - Sergey Lavrov
Since the Western Press has directed their wrath at Vladimir Putin as their latest villain, while his approval rate soars to 88% in Russia, most Americans are not familiar with Foreign Minister of Russia Sergey Lavrov, much less know his public statements. Lavrov is a thoughtful contrast to the rigid and contemptuous foreign policy spokesmen's from the Soviet era. It is well worth the time to investigate the actual sentiments that Lavrov has expressed throughout his diplomatic career. An insight of the mindset that underpins his thinking is revealed over two years ago, in the Voltaire Network, which published Sergey Lavrov's account, On the Right Side of History and provided the following assessment.
"Western propaganda continues to distort Russia's position in respect of the Syrian crisis. It accuses Moscow of supporting Damascus for profit motives, or even criminal solidarity. In this piece, Sergey Lavrov does not expound on his country's strategic choices, but rather on the principles that underpin his diplomacy. He responds imperturbably to the inanities spouted by Western media, underscoring Moscow's commitment to international law and its pledge to support people. Lavrov counterpoints the massive popular support enjoyed by President al-Assad and the illegitimacy of the sectarian armed opposition, sponsored from abroad."
Quoting from the Lavrov test:
"Back in the 1990s in his book The Clash of Civilisations, Samuel Huntington outlined the trend of the increasing importance of identity based on civilisation and religion in the age of globalization; he also convincingly demonstrated the relative reduction in the abilities of the historic West to spread its influence. It would definitely be an overstatement if we tried to build a model of the modern international relations solely on the basis of such assumptions. However, today it is impossible to ignore such a trend. It is caused by an array of different factors, including more transparent national borders, the information revolution which has highlighted blatant socio-economic inequality, and the growing desire of people to preserve their identity in such circumstances and to avoid falling into the endangered species list of history."
From the official site of THE MINISTRY OF FOREIGN AFFAIRS OF THE RUSSIAN FEDERATION, read the entire remarks by Foreign Minister Sergey Lavrov at the latest Council on Foreign and Defense Policy meeting. The information contained in these annotations requires a serious evaluation.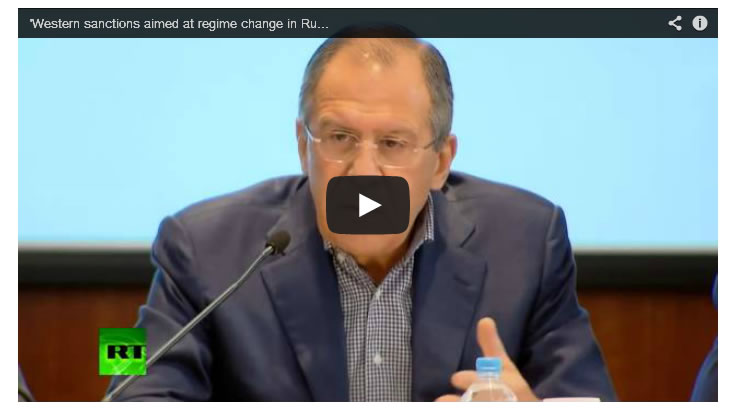 Watch the video, 'Western sanctions aimed at regime change in Russia' - Lavrov that supplements the text account. Interrupting the significance of this presentation, the blog - The Vineyard of the Saker writes an account of the Remarks by Foreign Minister Sergey Lavrov at the XXII Assembly of the Council on Foreign and Defense Policy, Moscow, 22 November 2014.
I have bolded out what I consider to be the most important statements made by Lavrov that day. I would just like to add the following:

1) Lavrov is considered very much a "moderate" and his language has always been strictly diplomatic. So when you read Lavrov, just imagine what folks in other Russian ministries are thinking.

2) Lavrov makes no secret of his view of the USA and of his plans for the future of our planet. When you read his words, try to imagine what a US Neocon feels and thinks and you will immediately see why the US elites both hate and fear Russia.

3) Finally, Lavrov openly admits that Russia and China have forged a long-term strategic alliance (proving all the nay-sayers who predicted that China would backtstab Russian wrong). This is, I would argue, the single most important strategic development in the past decade.

4) Finally, notice the clear contempt which Lavrov has for a pseudo-Christian "West" which dares not speak in defense of persecuted Christians, denies its own roots, and does not even respect its own traditions.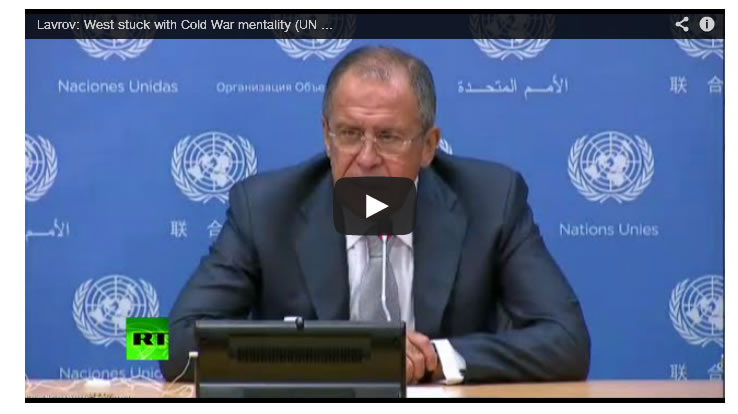 Complimenting this viewpoint is the YouTube, Lavrov: West stuck with Cold War mentality (UN Gen Assembly Full Q&A). If Lavrov is correct that the NeoCon American foreign policy after the collapse of the Soviet empire has positioned itself to become the single dominating armed force on the planet, what other results but an unending warfare environment can one expect? Longing for an enemy to keep the military machine in high gear certainly is perceived by the rest of the world as threatening.
Blogger Nick Freiling presents an assessment in, What the others are saying, of the following Lavrov quotation.
"In attempting to establish their pre-eminence at a time when new economic, financial and political power centres are emerging, the Americans provoke counteraction in keeping with Newton's third law and contribute to the emergence of structures, mechanisms, and movements that seek alternatives to the American recipes for solving the pressing problems. I am not referring to anti-Americanism, still less about forming coalitions spearheaded against the United States, but only about the natural wish of a growing number of countries to secure their vital interests and do it the way they think right, and not what they are told "from across the pond."
Mr. Freiling writes his own comments.
"It's worth noting that perspectives like these aren't totally absent from mainstream punditry in the U.S. Libertarians, for one, have long warned about the dangers of stretching American resources too thin in pursuit of foreign policy initiatives that don't have immediate national security implications. Politicians like Rand Paul have even brought hints of such sentiments into the mainstream.
But this is still a far cry from what most Americans consider an "orthodox" perspective on U.S. foreign policy, even if most people agree we're overextended in many world arenas."
The fourth point that the Vineyard of the Saker makes, is expanded upon in the Radical Reactionary essay, Western Secularism vs. Russian Christian Revival where the background and recent direction in Russia is traced.
If you expand your analysis beyond mere political and economic context, the Lavrov foreign policy initiative has a component of emphasizing a traditional and historic cultural motivation. While a religious factor may not have anything to do with forging a new Russia and China alliance, dismissing a spiritual and inward revival in Russia would be a profound error.
Radio Free Europe in the article, Orthodox Churches Fight Back As Eastern Europe Pushes To Modernize, Secularize, makes the case and linkage in Tradition of Religious Nationalism parallels Lavrov's cultural autonomy.
"Geraldine Fagan, a Moscow-based correspondent for the religion-focused news agency Forum 18 and author of the new book "Believing in Russia: Religious Policy After Communism," says that religious nationalism, although condemned as heresy in the 19th century, is a profound tradition in Orthodox cultures.

"In many cases, Orthodox churches were ministering to a single ethnic group, and this gave rise to nation-states," Fagan told RFE/RL in an e-mail. "And there is a lingering sense in places across the Orthodox world that national security depends in a profound -- even mystical - way on the nation remaining Orthodox."
The difference of a nation state from an empire is crucial for comprehending the nature of a legitimate government. The fall of the Soviet empire was inevitable. The notion that an American empire will avoid the same fate is absurd.
This "Clash of Civilizations" is understandable not because either empire rode the high moral road, but because both abandoned the fundamental principles that create a viable society and nation.
Civilization is fragile and requires a deep commitment to institutions that practice and administer legal justice, traditional social values and high moral standards. Maintaining governments that earn the rightful consent of its citizens is difficult and usually breaks down over time.
International affairs are even more delicate than internal equilibrium. Countries do not have permanent allies, they only have interests. Russia has a litany of problems and is no more a friend than any other regime that is exerting its own national self-interest.
The intrepid Brother Nathanael Kapner points the finger at THE ZIONIST HATE CAMPAIGN AGAINST RUSSIA, for an explanation why the pressitute media wants to suppress Russian nationalism. The orthodox cleric is echoing Sergey Lavrov when he cites "For it is NATO that Moscow is opposing owing to its creeping encroachment upon Russia's borders."
Americans need to oppose foreign policy adventures and certainly one that risks a global holocaust. Ready for World War III with China?, essay is just as valid when Russia is substituted. What effect would a Russian and Chinese strategic alliance have as the NWO juggernaut continues on it current path to destruction?
Transnational Opposition to Russian Sanctions illustrates why Western countries are playing a dangerous game. Lavrov's latest address provides a road map for what Russia is embarking on and what the international community should do to lower the tensions and restore constructive economic and political stability.
It is not too far fetch to imagine a current day, Western version for pounding of shoes, with the message "We Will Bury You" reverberating from the halls of the UN. If this seems ridiculous, ask why pushing a Clash of Civilizations is any different?
"We often hear from some countries that Russia is becoming strong and unpredictable. But this is not the case. In the 1990s, when the Commonwealth of Independent states was disintegrating and there were fears of Russia breaking up too, some people in the West said they wanted a strong and united Russia. Now we are here. They should be grateful." - Sergey Lavrov
Source: http://batr.org/autonomy/120214.html
Discuss or comment about this essay on the BATR Forum
"Many seek to become a Syndicated Columnist, while the few strive to be a Vindicated Publisher"

© 2014 Copyright BATR - All Rights Reserved

Disclaimer: The above is a matter of opinion provided for general information purposes only and is not intended as investment advice. Information and analysis above are derived from sources and utilising methods believed to be reliable, but we cannot accept responsibility for any losses you may incur as a result of this analysis. Individuals should consult with their personal financial advisors
© 2005-2019 http://www.MarketOracle.co.uk - The Market Oracle is a FREE Daily Financial Markets Analysis & Forecasting online publication.

Only logged in users are allowed to post comments.
Register/ Log in