Gold Rallies Towards Resistance at $950
Commodities
/
Gold & Silver
May 25, 2008 - 09:44 AM GMT

Despite a good week for gold, it seems to be laboring in its attempt to move higher. Silver, however, seems to be doing okay.
HOLIDAY SCHEDULE - The commentaries will be highly simplified over the next few weeks. Visiting relatives and stuff like that.
GOLD : LONG TERM
The long term chart has a few interesting points, good and bad. Gold fell below my long term moving average line but bounced back above it. All the while, the line itself maintained its positive slope. Momentum remains positive, as it has for years now except for that little blib in mid-2004. However, momentum has indicated a negative divergence at its recent high so one should be on guard. On the other hand one can draw the three accelerating FAN trend lines with the third FAN trend line as a blow-off stage. This third FAN trend line has been breached and one would expect a significant move to lower levels from this one indicator.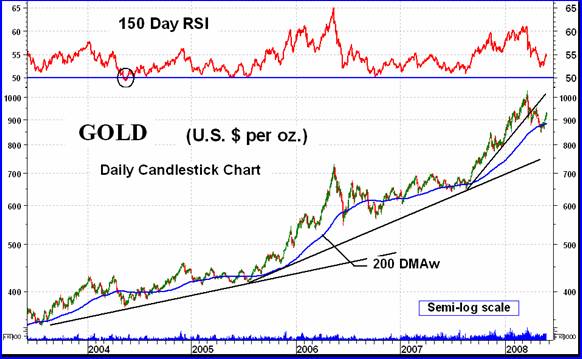 As we remember, the long term P&F chart has already given us a bear signal. On the other hand, the normal indicators are not yet ready to throw in the towel. All of the indicators that I normally follow to determine a rating are positive so, the rating remains BULLISH .
INTERMEDIATE TERM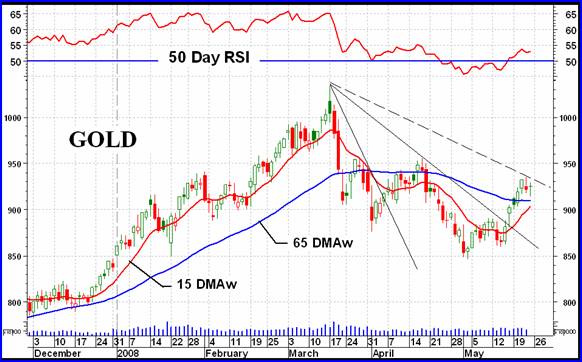 The first thing that jumps out at you in the daily chart are those potential decelerating FAN trend lines. Here, the breaking of the second FAN trend line is a sign of a reversal while the breaking of the third FAN trend line is a confirmation. The third FAN trend line is not yet confirmed so it is drawn as a dash line. To confirm that this is the third FAN trend line we need a little more on the down side before penetration.
As for the normal indicators, gold is above its intermediate term moving average line however the line slope is still slightly to the down side. The momentum indicator has moved into its positive zone and is above its positive sloping trigger line (not shown). As for the volume indicator it is above its positive sloping trigger line. From this I have upgraded the intermediate term rating back to the BULLISH camp.
SHORT TERM
Since breaking through that second FAN trend line gold has been in a short term bullish move BUT it does seem like the move is weak and it just might have trouble getting through that $950-$960 resistance zone from previous activity. For now gold remains above its short term positively sloping moving average line. The momentum indicator remains in its positive zone and above its positive trigger line. The volume indicator also remains above its positive trigger line. So, despite some weakness the only rating I can give the short term is a BULLISH rating.
As for the more immediate direction gold remains above its very short term positive sloping moving average line. As for the aggressive Stochastic Oscillator, it is in its overbought zone and is heading lower. It has already moved below its now negative sloping trigger line and could drop below its overbought line momentarily. This is an advance warning to be on guard for a short term reversal but as yet that has not been confirmed. I would still rate the immediate term direction of least resistance as upward BUT that $950 resistance level may be a very potent resistance to further upside moves.
SILVER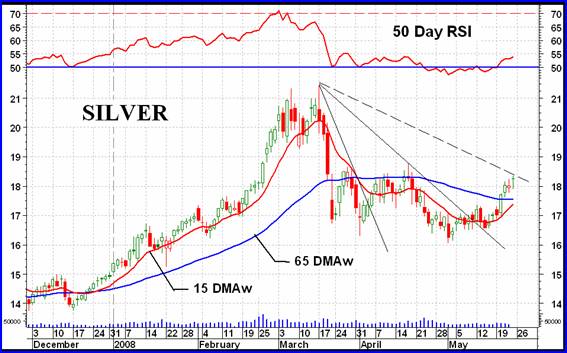 Although the silver action may not have been quite as negative as the recent gold action the two charts are very similar none the less. We see the same FAN trend lines with a serious resistance at the $18.80 level that may hinder further advancement. The other difference of note is the lower recent volume action in silver versus gold, not in absolute numbers but in relative action versus earlier trading. Other than that the ratings for silver are the same as those for gold.
PRECIOUS METAL STOCKS
For the next few weeks I would recommend the use of the Merv's Precious Metals Indices Table for a review on the position of the precious metals stocks. There you can see what's moving and what's not. Of high significance is the relationship between the various sectors of the gold stocks, these being the quality stocks (Merv's Qual-Gold Index), the second tier or speculative stocks (Merv's Spec-Gold Index) and the gambling variety of stocks (Merv's Gamb-Gold Index). As an example, the average quality stock went nowhere this past week while the average gambling stock moved up 5.3%.
NON-EDIBLES FUTURES INDICES TABLE
I publish a weekly review of the major Futures Indices that are not food related (precious metals, world currencies, Indices, energy and financial). For those who may be interested to see how these futures Indices are performing you can access the weekly table at http://preciousmetalscentral.com and go to the Free Weekly Commentary link on the right side of the web page.
Precious Metals Indices Table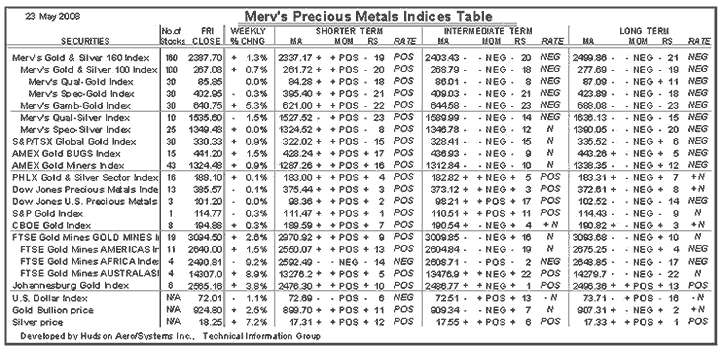 By Merv Burak, CMT
Hudson Aero/Systems Inc.
Technical Information Group
for Merv's Precious Metals Central
For DAILY Uranium stock commentary and WEEKLY Uranium market update check out my new Technically Uranium with Merv blog at http://techuranium.blogspot.com .
During the day Merv practices his engineering profession as a Consulting Aerospace Engineer. Once the sun goes down and night descends upon the earth Merv dons his other hat as a Chartered Market Technician ( CMT ) and tries to decipher what's going on in the securities markets. As an underground surveyor in the gold mines of Canada 's Northwest Territories in his youth, Merv has a soft spot for the gold industry and has developed several Gold Indices reflecting different aspects of the industry. As a basically lazy individual Merv's driving focus is to KEEP IT SIMPLE .
To find out more about Merv's various Gold Indices and component stocks, please visit http://preciousmetalscentral.com . There you will find samples of the Indices and their component stocks plus other publications of interest to gold investors.
Before you invest, Always check your market timing with a Qualified Professional Market Technician
© 2005-2019 http://www.MarketOracle.co.uk - The Market Oracle is a FREE Daily Financial Markets Analysis & Forecasting online publication.

Only logged in users are allowed to post comments.
Register/ Log in