Stocks Bull Market Set to Continue After Consolidation
Stock-Markets
/
Stocks Bull Market
Nov 17, 2014 - 12:02 PM GMT
SPX WEEKLY Current status - wave 5 - neutral - likely consolidation before breakout as has completed normal cycle.
Before we get into the technical stuff I need to have my rant first!
It is quiet incredible how short some of our memories are and how at times we can be so scientific in our decision making processes, yet with others we just do not look at the facts right before our eyes, let alone in over the past few weeks, and not a chance in hell over the last few months, and last few years - oh what is that??? Why is this I keep asking myself and the only consistent answer I keep getting to is our pride!
Yes everything seems to boil back to pride! We just seem to lack the courage of saying I was wrong, let me go over it again and let me learn from what happened so that I do not repeat the same mistake! The point being that we can all make mistakes and honestly if you have not made one yet then you have not tried hard enough at something! But to do the same things over and over again time after time - how on earth is it we expect different results??
Society has conditioned us to mock people who get it wrong, that it is shameful to fail. What we should be doing is congratulating failure and offering support because it shows we have had the courage to try. This is what our social system should be based on because if we support failure we are encouraging innovation and that is what generates real growth.
When I read about the youth unemployment in Europe it will take generations to recover once the old generation has totally trashed what is left with their corrupt old boys network of protectionism and self interest. Europe is not even run by elected officials. European elected officials cannot make laws, that is reserved for the corrupt old boys network of unelected European Commission! And by god they have a lot of pride and will rather trash and burn Europe before admitting they and their policies are wrong and will look after their self interest first and hope it does not crumble before they get their retirement package!
And this behaviour seems to perpetuate to each and everyone of us. Our self interest comes before that of our family which comes before that of our society, which comes before that of the world, even when something that is global is going to destroy our society, most likely our families and even ourselves.
Self Interest is what Adam Smith meant by his invisible hand. We need to design a society where those in charge do not operate out of self interest.
So back to our short memories! This behaviour is what drives markets. Yes our behaviour is what determines the trends as it is only a reflection of our confidence.
What amazes me is how recently with the continuous new all time highs the market analysts keep chopping and changing their tune with every turn and on the odd occasion when they are correct actually allude themselves that they are performing a public service by often charging money for absolutely random "analysis" which most often is just regurgitated quotes from the public brainwashing machine - the press in all forms.
So if you want to stop losing your money and eventually your shirt start to evaluate critically what you hear and read, and stop following other peoples advice or recommendations and have the courage it takes to take the responsibility of your own decisions and actions instead of all ways blaming someone else!
I mean off course the gold bugs are correct that it is manipulated and their analysis is correct and prices are wrong??? I mean how stupid can you get, but what is worse is when time after time they claim the same non sense and present the same stupid arguments. Also with the continuous new highs EW counts are being rehashed with dramatic changes to some counts, and new trend lines magically appear in retrospect once eventually they randomly find something.
How on earth are the investing public meant to not loose money with this quality of advice, largely from government regulated and approved professionals? Where is their duty of care and even worse where is that of our government regulators, both in training and authorising the industry as well as the quality of information produced. Oh I forgot it is just another old boys protectionist network! Adam Smiths invisible hand at work again!
So to some purely technical analysis without quotes from others, nor gossip and other old wives tales - What is the status of the bull market first comfirmed by MAP Wave Analysis nearly 2 years ago?
A good starting point is to speak the same language, so start with the Terminology which you can refer back to whilst going through the Theory. For a quick summary see my first publication The Euro as an Example of my Techniques
This article only covers the weekly wave scale, of which the recent bottom was pivot 4. Pivot 5 will complete M3 and then we will have a far more substantial consolidation which is going to be a waterfall of the scale of 2009, before going on to a breakout much like we have so far seen off the W4 October bottom.
Weekly Channels;
This is the channel if we get a breakout and prices will work their way to the MLU, however prices must break the resistance at the ML. This is the most likely channel when adding M and D details.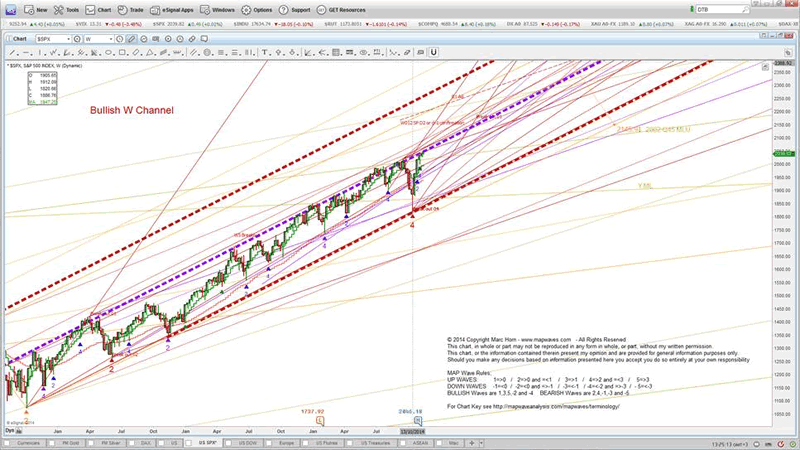 This is the bearish channel where a failure to breakout into the bullish channel will be confirmed by a break of the ML.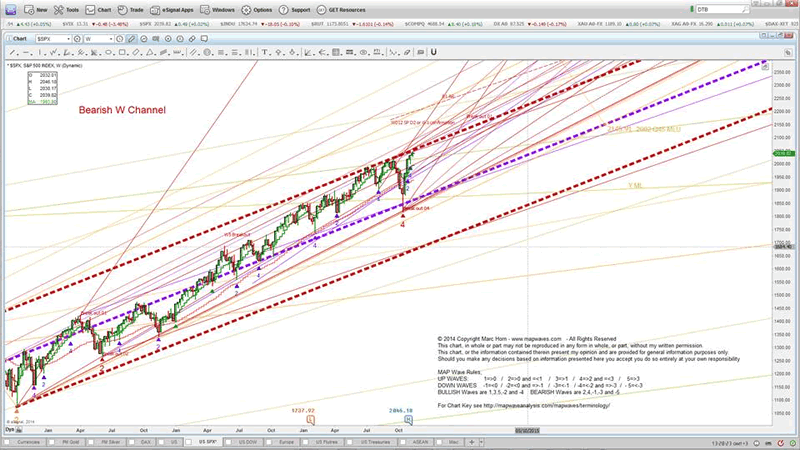 Current MAP forks;
W012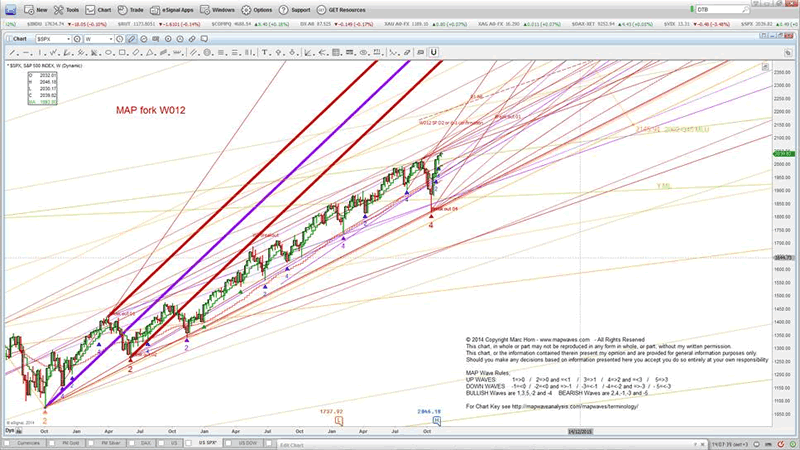 And its associated WL +-1 through 6 which show the orderly behaviour of markets.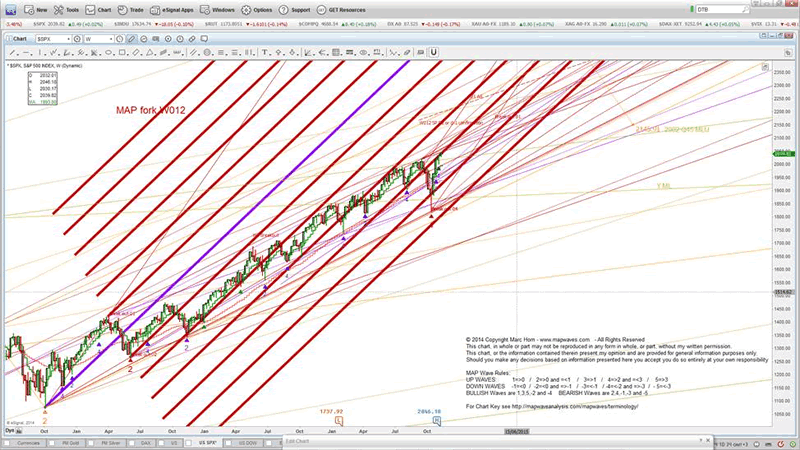 The M3 Target range based on WL's, where a break of WL-4 is warning and WL-5 is confirmation of M3. If prices break above WL-3 then the warning and confirmation move up 1 WL.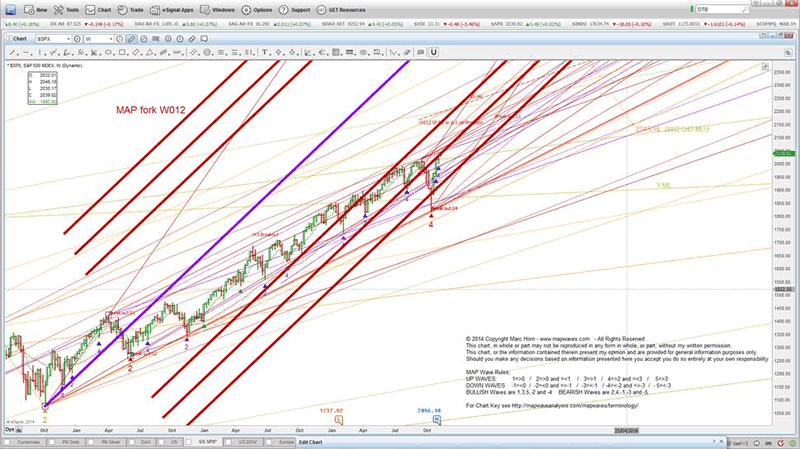 W123
Prices have hit at the MLU. There is still upside potential for D1, however only marginal and this will be discussed under the Daily fractal wave scale, but on the weekly this is possible as W4 overshot the ML and so we can expect an equal and opposite overreaction - just we don't know when. This is however most likely to occur at the end of this wave than in D1.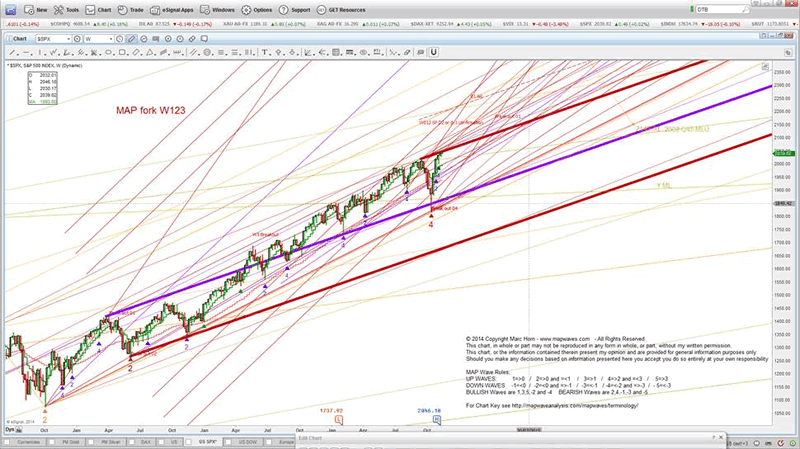 The SP of this fork gives us a further indication of the limits of M3 as shown below.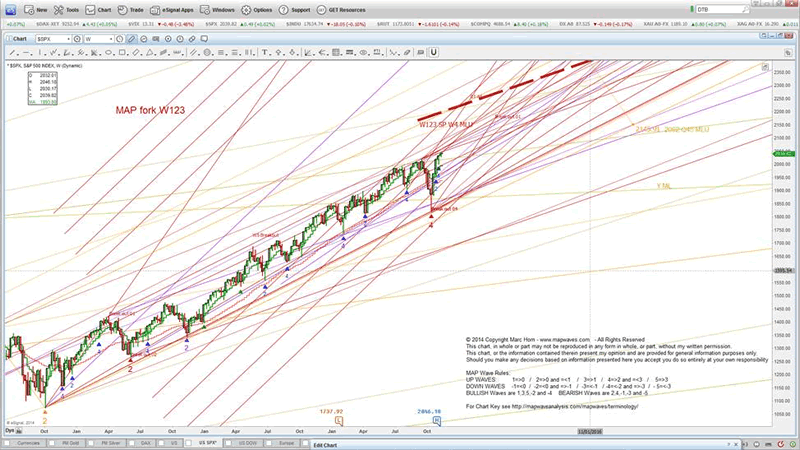 W234
Prices have yet to make the MLU, and this is possible if the d count is wrong, but the upside is hence limited should that be the case giving a 2070ish D1. This is the reason for the neutral outlook, low 30 point upside potential and 90 point downside.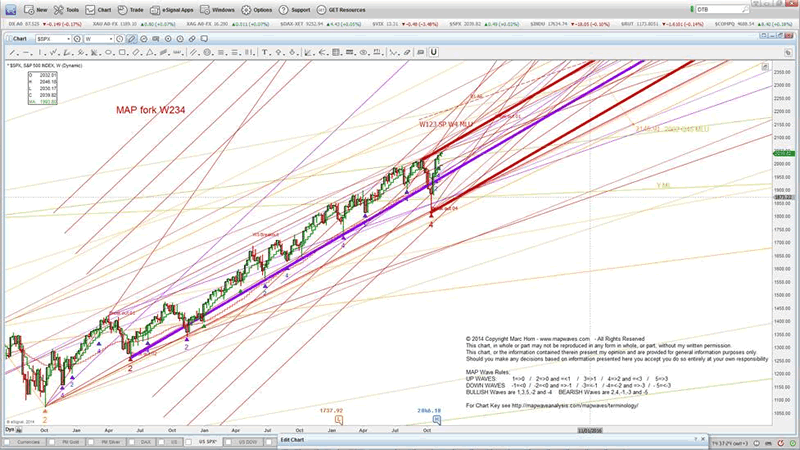 I just want to show you what a gap is - simply an area where prices move rapidly between support and resistance.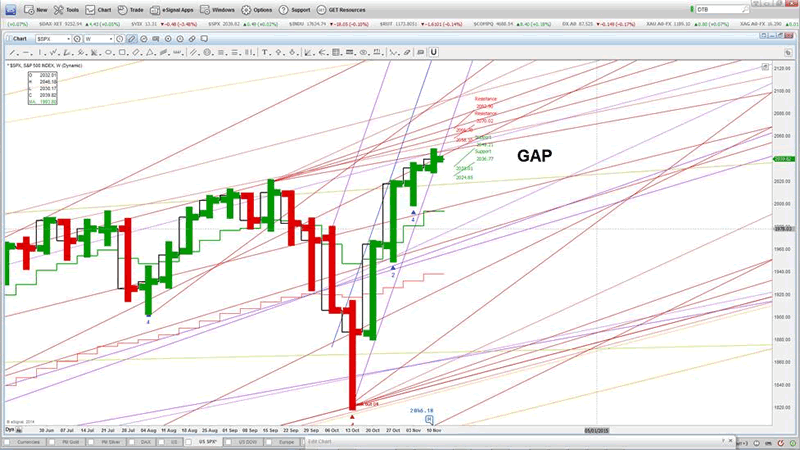 Resistance and support
Firstly support is any line below prices and resistance one above. In addition to the SR (support resistance) given in the weekly information above. The green and red SR lines are derived purely from weekly wave shape. If the first level hold then there is a possibility of another high at either resistance level. If the lower support is broken then D1 is in based only on weekly data.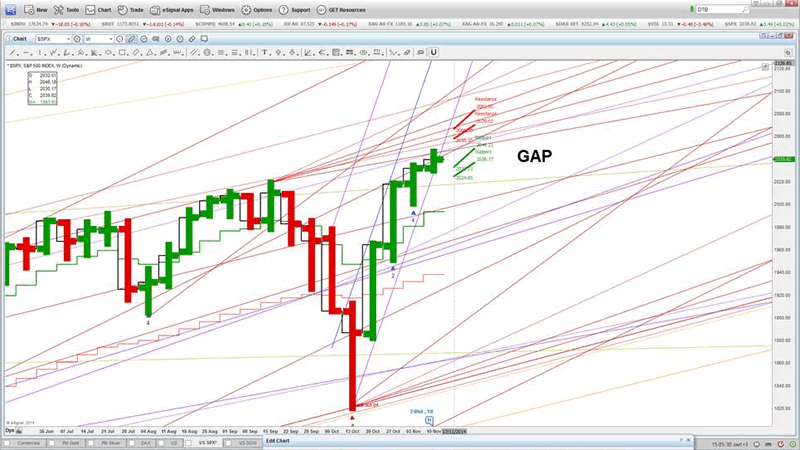 D1 Trend Channel
To allow for the possibility of a further high to D1 prices must stay above the D1 channel MLL which means a gap up to 2050.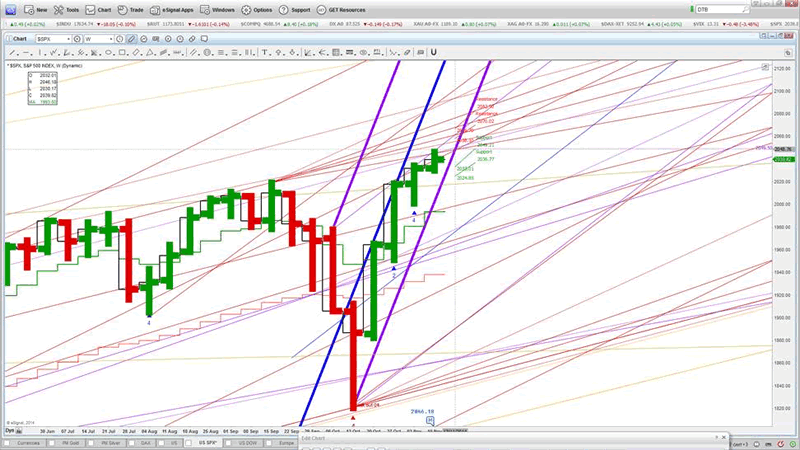 D trend channel
This is the current daily trend channel for daily pivots. It shows an intersection with the D1 channel of just under 2060. With a low at the first level of support this would make the high on the first level of resistance and then no later than next week D1 will be confirmed on the weekly interval.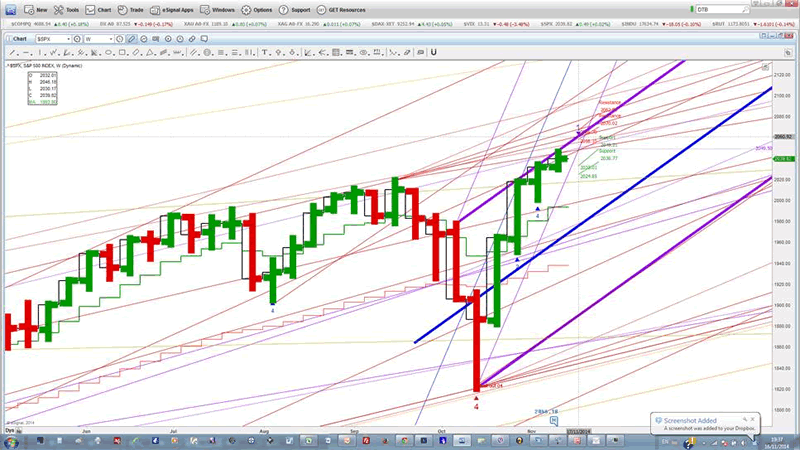 Next D pivot target.
Low will be in before Christmas in the mid 1950 as shown for both if current high holds - D2 lower and earlier) and if one more high next week around 2060 - D2 following week and slightly higher!
MAP Wave Analysis is based on the combination of my modifications of Elliott Waves, Babston's Action and Reaction, and, Andrews Pitchforks, all of which unfortunately are so misapplied. It would appear that they all took their secrets with them to their graves.

Their principles are so simplistic, and being a believer in the KISS principle (Keep It Simple Stupid) I quickly took to them.
To me it was clear though that it was not the result of Newtonian physics, but human behavior!
MAP Wave Analysis gives unemotional high probability projections, BUT ONLY IF YOU USE THE CORRECT PIVOTS!
A good starting point is to speak the same language, so start with the Terminology which you can refer back to whilst going through the Theory. For a quick summary see my first publication The Euro as an Example of my Techniques

By using this MAP Wave Analysis (MWA) you confirm that you are personally responsible for any and every decision you make based on any content found on this site.
You confirm that you have read and agree to abide by the Copyright and Intellectual Property Rights as stated .
You confirm that you have read and agree to follow Your Duty of Care as stated
You confirm that you have read and agree to and take full personal responsibility for your decisions as stated in the Disclaimer.
You confirm that you have read and agree to and will abide by principles of my Terms of Service as stated.
For other articles published click here
© 2014 Copyright Marc Horn- All Rights Reserved Disclaimer: The above is a matter of opinion provided for general information purposes only and is not intended as investment advice. Information and analysis above are derived from sources and utilising methods believed to be reliable, but we cannot accept responsibility for any losses you may incur as a result of this analysis. Individuals should consult with their personal financial advisors.
© 2005-2019 http://www.MarketOracle.co.uk - The Market Oracle is a FREE Daily Financial Markets Analysis & Forecasting online publication.
Comments
maphorn
20 Apr 15, 22:26
MWA projected SPX breakout imminent


After a rather lengthy consolidation SPX is getting ready for a breakout. Deserves an update!

Marc




Only logged in users are allowed to post comments.
Register/ Log in