Mena War Fever And The Iraq Crude Oil Price Spike
Politics
/
Iraq War
Jun 15, 2014 - 03:40 PM GMT


Libyan Precedent
Whatever Libya's oil production is, this week, it is a lot less than the approximate 1.6 million barrels a day it regularly extracted and shipped during the Muammar Gaddafi era. Libya has no effective government and its last prime minister Ali Zedan fled to Europe in March, replaced by a shifting coalition of rival forces with changing strongmen. His supposed replacement, former Defence minister Abdullah el-Thinni has since late April kept a low profile, sometimes saying he has "stepped down", and sometimes not. As recently as June 4, he told Reuters that he was stepping down but was also staying on as "interim PM"!
Libya has been moved to page 8 in the mainstream press, well after the football and celeb' news. For oil, the probably durable longer-term decrease in average daily Libyan oil production and exports and the almost zero impact on oil prices showed one thing – no undersupply. The real world context of today is that Libya no longer exists as a united state and only has a virtual prime minister. This has no effect on oil prices.
Iraq's el-Maliki could do the same thing as el-Thinni, using Barack Obama as his spokesperson instead of the newswires. Whether el-Maliki goes or stays Iraq's oil production and net exports are likely to gyrate, Libyan-style, with ever-decreasing impacts on world oil prices because the mirage of under-supply, cooked up in the desert heat, does not resist reality.
Or will we find that Iraq's decomposition signals a longer-term and larger oil price hike? One that to use a key word will be sustainable?
Kurdistan and Iran – not OPEC
Sunni militants have a reality-barrier to recreating a Sunni-dominated Iraq inside pre-2003 borders. Demographics. The Sunni population is well below 25%, perhaps only 20% of the approximate total 31 million population, on a basis of 2003 borders but using 2012 population data and estimates. Baghdad and nearby major cities, such as Fallujah account for 25% of Iraq's population.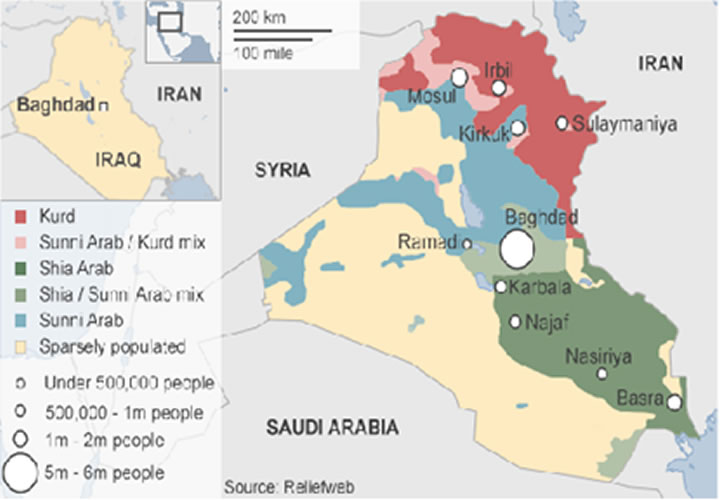 Iraqi Shia communities probably count for 55%-60% of total, and Kurds for about 20%. In other words, non-Sunni populations in Iraq are at least 75% and probably 80% of the total. They also have more than 90% of all oil reserves and production capacity. Sunni terrorists active in Sunni-majority regions therefore only have a potential spoiler role in the absence of airborne and long-distance surface attack on oil production infrastructures, for example by making pipeline and refinery attacks.
In Iraq, as in Libya military hardware and logistics are unlikely to be the game-changers, due to so much light infantry materiel existing on the ground – in different and easily changed hands. The hefty Shia-dominated southern and eastern demographic base of Iraq – with its largest oil reserves, output capacity and transport infrastructures – will be a hard nut to crack for ISIS or other Sunni militias, factions or terror groups. Iran is very close by!
As is well known by oil analysts, Iraq's oil production and exports "are outside the quota system" of OPEC, which itself is breached on a daily basis – overproduction – by its 12 non-Iraq member states relative to their supposed "voluntary production limit" to a total of 30 million barrels per day. The tortured quota system is in fact a lot more complicated than this, resulting in permanent uncertainty on real output and supply – nearly always under-estimated.
Independent Kurdistan is certain to come out of the present crisis with heightened credibility and world recognition as what it is – an independent state. Totally unlike ISIS terrorists, or el-Maliki's "chocolate soldiers" Kurd armed forces including Peshmerga battalions have decades-long experience fighting Turkey's modern armed forces, as well as the former Iraq army of Saddam Hussein, and Iranian and Syrian armed forces. The potential for Turkish-Kurdish alliance, possibly only de facto to fight ISIS, is high.
El-Maliki's Former iraq
In the case where Iraq's oil supply (meaning Kurd and Iraqi supply totals) do not seriously decline, this does not mean el-Maliki has saved his own skin. Western journalists have nearly all misunderstood the real nature and sequels of his power-juggling to stay in power. One example was a 9 Nov 2013 report by BBC journalists saying el-Maliki is making "....an increasingly successful effort to splinter Sunni Arab opposition. Mr Maliki is selectively reactivating the Sahwa (Awakening) movement of armed tribal auxiliaries and continues to promise de-Baathification and anti-terror reforms to Sunni factions".
In Syria, its Baath party headed by Bashr el-Assad is the real core of resistance to ISIS and the real equivalent of "the Syrian nation", which itself is as artificial as the Iraqi nation. The de-Baathification of Iraq's armed forces and local administrations, pursued by the US with Christian zeal and US taxpayers' money hastened the end of the fiction called Iraq.
The Baath party had been confused with so-called radical Islam, a fatal error. Putting Iraq's Humpty Dumpty back together - of a modern, non-sectarian, non-confessional western-type democracy – is now probably impossible. De-Baathification certainly helped this endgame. El-Maliki's divide and rule strategy, probably whispered or shouted in his ear by US advisers, was to spread weapons almost anywhere and to everybody,
Inevitably el-Maliki's weapons-manna showered down on Sunni militants willing and able – when the time is right – to move up the Islamic hysteria scale to ISIS level. El-Maliki sowed the seeds of political anarchy (whether it is is Islamic flavored or not is finally unimportant) making it certain that the fiction of an indepenent and united Iraq had an ever-shorter shelf life.
El-Maliki, today, has no option but to take help from Iran and accept the reality of Kurdistan. Both of these players are not in the business of cutting their oil production and exports. The potential that they ensure the minimum-possible decrease in Iraqi production and net export supply is high.
Coming weeks will see if this forecast is the right one. It means that oil prices can spike a little- but not a lot.
By Andrew McKillop
Contact: xtran9@gmail.com
Former chief policy analyst, Division A Policy, DG XVII Energy, European Commission. Andrew McKillop Biographic Highlights
Co-author 'The Doomsday Machine', Palgrave Macmillan USA, 2012
Andrew McKillop has more than 30 years experience in the energy, economic and finance domains. Trained at London UK's University College, he has had specially long experience of energy policy, project administration and the development and financing of alternate energy. This included his role of in-house Expert on Policy and Programming at the DG XVII-Energy of the European Commission, Director of Information of the OAPEC technology transfer subsidiary, AREC and researcher for UN agencies including the ILO.
© 2014 Copyright Andrew McKillop - All Rights Reserved Disclaimer: The above is a matter of opinion provided for general information purposes only and is not intended as investment advice. Information and analysis above are derived from sources and utilising methods believed to be reliable, but we cannot accept responsibility for any losses you may incur as a result of this analysis. Individuals should consult with their personal financial advisor.
© 2005-2019 http://www.MarketOracle.co.uk - The Market Oracle is a FREE Daily Financial Markets Analysis & Forecasting online publication.

Only logged in users are allowed to post comments.
Register/ Log in