Ukraine and the Paet-Ashton leak. Only Olga Bogomolets knows - if you can find her
Politics
/
Eastern Europe
Mar 06, 2014 - 10:45 AM GMT


I woke to find an email from a gentleman in UK who alerted me to an important breaking story/video from Russia that had been uploaded to YouTube. It showed how propaganda is a two-way street.
F R O M R U S S I A
The story/video appeared Wednesday, March 5 reporting the release of a taped conversation between Estonian Foreign Minister Urmas Paet and EU foreign affairs chief Catherine Ashton.
The story and video metastasized across web sites and scored 619,467 views on YouTube with 2,927 comments in less than 12 hours. By 11:00pm EST, a mere six hours from when I first viewed it, Google's YouTube changed the video's access status by locking it with a "Content Warning" and explanation: "This video may be inappropriate for some users = Sign in to confirm you age." (PS: According to many security conscious users, signing into YouTube defeats anonymity.)
The YouTube blurb reads:
"Breaking: Estonian Foreign Minister Urmas Paet and Catherine Ashton"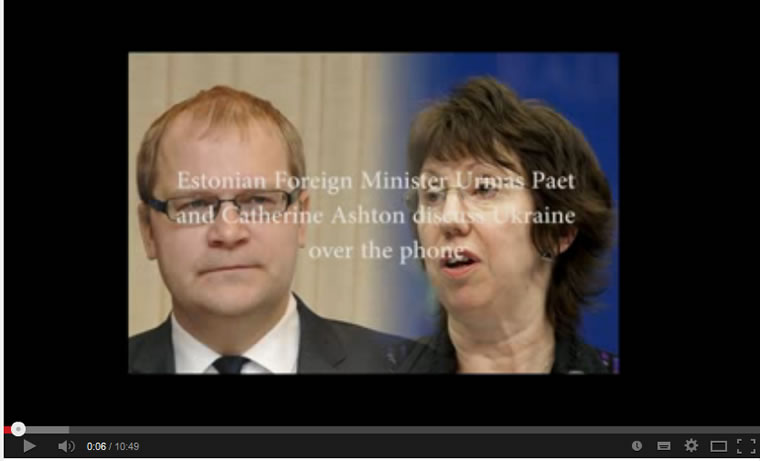 "Officers of Security Service of Ukraine (SBU) loyal to the ousted President Viktor Yanukovich have hacked phones of Estonian Minister of Foreign Affairs Urmas Paet and High Representative of the European Union for Foreign Affairs and Security Policy Catherine Ashton and leaked their conversation to the web. The officials discuss their impressions of what's happening in the country after the revolution. The gist of it is that Ukrainian people have no trust in any of the leaders of Maidan.

"However the most striking thing of all is the fact which concerns the use of force during the revolution, particularly the snipers who killed both protesters and officers of the riot police. Mr. Paet reveals astonishing information which confirms the rumours that the snipers were employed by the leaders of Maidan."
Russia Today (RT.com) at 12.41 GMT featured this story with video unlocked.
"Kiev snipers hired by Maidan leaders - leaked EU's Ashton phone tape" (12:41 GMT)
http://rt.com/news/ashton-maidan-snipers-estonia-946
"The snipers who shot at protesters and police in Kiev were allegedly hired by Maidan leaders, according to a leaked phone conversation between the EU foreign affairs chief Catherine Ashton and Estonian foreign affairs minister, which has emerged online."
Web sites repeating the story ranged from small independent blogs and alternative news sites to financial ones like zerohedge.com where, under the byline of Tyler Durden, this summation appeared that reflected reactions felt by many:
"Behind The Kiev Snipers It Was Somebody From The New Coalition" - A Stunning New Leak Released
http://www.zerohedge.com/news/2014-03-05/behind-kiev-snipers-it-was-somebody-new-coaltion-stunning-new-leak-reveals-truth
"So first US orchestrates the Kiev overthrow, and now the new "leaders" of Ukraine are allegedly found to have fired against their own people - the same provocation they subsequently used to run Yanukovich out of the country and install a pro-Western puppet government. Of course, said pro-Western coalition has not been discreditated (sic) because Ms. Ashton has sternly refused to investigate, knowing quite well how horribly this would reflect on the new Ukraine "leadership" - a government which shot its own people to fabricate the pretext under which it rose to power.
Is it any wonder then that Russia has responded the way it has?"
Hours after the RT story broke, the news site reported Urmas Paet had confirmed its authenticity.
Estonian Foreign Ministry confirms authenticity of leaked call on Kiev snipers (15:02 GMT)
The Estonian Foreign Ministry has confirmed the recording of his conversation with EU foreign policy chief is authentic. Urmas Paet said that snipers who shot at protesters and police in Kiev were hired by Maidan leaders.
Upon reading the headline, one is led to conclude that Urmas Paet confirmed as authentic CLAIMS made in the conversation. But in reading the first paragraph of this story, the Foreign Minister clearly only "confirms [the] authenticity of leaked call" because:
Paet told RIA-Novosti news agency that he talked to Catherine Ashton last week right after retiring from Kiev, but refrained from further comments, saying that he has to 'listen to the tape first'.
From the tape:
Urmas Paet: "There is now stronger and stronger understanding that behind the snipers, it was not Yanukovich, but it was somebody from the new coalition."
Catherine Ashton: "I think we do want to investigate. I mean, I didn't pick that up, that's interesting. Gosh."
Next Paet recalled his conversation with a doctor, Olga Bogomolets, who treated those shot by snipers in Kiev. She said that both protesters and police were shot at by the same people.
Urmas Paet "And second, what was quite disturbing, this same Olga [Bogomolets] told as well that all the evidence shows that the people who were killed by snipers from both sides, among policemen and then people from the streets, that they were the same snipers killing people from both sides."
Catherine Ashton; "Well, yeah…that's, that's terrible."
Urmas Paet: So that she then also showed me some photos she said that as a medical doctor she can say that it is the same handwriting, the same type of bullets, and it's really disturbing that now the new coalition, that they don't want to investigate what exactly happened,"
Keep in mind that in the conversation Urmas Paet quoted what Dr. Olga Bogomolets said to him, yet RT's story line omits Olga and cites Paet as the source, "Urmas Paet said that snipers who shot at protesters and police in Kiev were hired by Maidan leaders."
Olga's story to him is reported as is own.
Urmas Paet is reaching beyond his natural reserve to express grave concerns while possibly feeling at risk in doing it. Ms. Ashton sounded at a loss one moment, surprised at another, and unaffected in the end. She revealed how little she noticed, " I didn't pick that up, that's interesting. Gosh." (It's only "interesting", Cathy?)
At 7:39 GMT Reuters reported:
"Estonia denies leaked call implicates Ukraine protesters in killings"
http://www.reuters.com/article/2014/03/05/us-estonia-eu-ukraine-idUSBREA2423O20140305
In a statement, the Estonian government denied Paet viewed the opposition as being involved in the sniping.
Foreign Minister Paet was giving an overview of what he had heard the previous day in Kiev and expressed concern over the situation on the ground," it said.
"We reject the claim that Paet was giving an assessment of the opposition's involvement in the violence.
A spokeswoman for Ashton declined to comment on the leaked conversation.
The Russian Foreign Ministry has not reacted officially, but Itar-Tass news agency quoted a source at the ministry on Wednesday as saying that Moscow was "surprised" that the EU was not commenting on the intercepted phone chat.
* * * *
Remember:
Propaganda is a two-way street.
We are engaged in an intense propaganda war.
Everyone has a piece of the truth but not the whole truth.
Headlines are created to sell newspapers, public policies, conflicts and war.
Dr. Olga Bogomolet is the primary source behind this story, not Urmas Paet (if she can be found).
An investigation needs to be conducted (should the country stabilize and avoid civil war).
* * * *
A M E R I C A N P R O P A G A N D A O N G O I N G
The U.S. media has created "war fever" in this country and done so in a manner that befits William Randolph Hearst in 1898 when he propagandized war with Cuba. When no one else could answer the question "Who sunk the Maine?" he boldly declared, "It was the damn Spanish!" Today, it is the damn Russians!
It appears every ear of every news editor heard the combined voices of NATO planners, military generals, Wall Street profiteers and Brzezinski neocons in unison command: "You furnish the headlines, stories and pictures, we'll furnish the war."
The Maine hadn't sunk; the whole of media sunk to "yellow journalism" levels.
According to my reasoning, the violent overthrow of a democratically elected government is called a coup d'état. An installed "interim" government that consists of radical nationalists, right-wing extremists, anti-Semites and active neo-Nazis who led the Putsch is called fascistic. Personnel in CIA, State Dept. and U.S. NGO's who foment violent regime change in sovereign nations are called "infiltrators" and "instigators". The goal to encircle Russia and China by the West, control oil, natural gas and global distribution channels in central Asia is called "The Great Game" on the "Grand Chessboard".
With little importance given by U.S. media to explaining these facts, American conservatives and liberals have been induced with war fever. Let's hope the fever doesn't proceed into dizziness, confusion and hallucinations.
* * * *
As my mother once said to me:
"Think before you act. And always be careful what you wish for."
* * * *
By Michael T Bucci
Contact: mbucci@michaelbucci.com
(c) 2013 Michael T Bucci. All Rights reserved.
(Note: responses to emails might be delayed or not met.)
Michael T Bucci is a retired public relations executive from New Jersey presently residing in New England. His essays have appeared at The Market Oracle (UK). He is the author of nine books on practical spirituality including White Book: Cerithous.
© 2014 Copyright Michael T Bucci - All Rights Reserved Disclaimer: The above is a matter of opinion provided for general information purposes only and is not intended as investment advice. Information and analysis above are derived from sources and utilising methods believed to be reliable, but we cannot accept responsibility for any losses you may incur as a result of this analysis. Individuals should consult with their personal financial advisors.
© 2005-2019 http://www.MarketOracle.co.uk - The Market Oracle is a FREE Daily Financial Markets Analysis & Forecasting online publication.

Only logged in users are allowed to post comments.
Register/ Log in