Stock Market Crash - Dow Crashes 450 in 2 Days
Stock-Markets
/
Financial Crash
Jan 26, 2014 - 12:39 PM GMT

Anyone reading that headline would think it's some sort of surprise to most traders that the markets crashed 450 points in 2 days, but for us a wavepatterntraders.com we have been looking for a reversal in the markets for a few weeks and it was only a matter of time before things reversed. So it's no surprise to us, it was expected and I expect much more if a top is in place.

Is this the start of the large move lower that I am expecting? Well to answer that question honestly, it's too early to say, but regardless of the answer, what we can say for sure is that if it is the start of something sinister, we will be riding it lower.
In my last few articles I left readers with the idea of a potential JPY carry trade reversal. The analysis holds true today as it did the end of last year. I am a big believer that if the JPY carry trade unwinds, we will see much more downside in the markets, it will make last week look like a picnic, if the markets have indeed topped out as we expect they have, then its only just getting started. I urge all bullish traders and investors to pay attention to the JPY carry pairs, particularly USDJPY, those that understand the drivers of the market should be fully aware that the past 12 months it's the JPY carry trade that has helped stocks push to current levels.
Just as the markets move higher due to the borrowing of JPY, they can easily reverse lower as margin calls get called in as the selling forces more and more sellers to cover those margin calls. It's a self-fulfilling spiral that once it gets going is very difficult to stop until the sellers have been washed out.
SPX long Term

Preferred Idea



I have posted this chart before, but as a recap I will post it again. If the trend from the March 2009 lows is only a 3 wave move, then the likelihood is that it's a B wave of a possible expanded flat pattern.

For those traders that argue that the March 2009 lows will never be seen again, I merely suggest you check the history of the markets, 2 examples are the 1966-1974 bear market, the market made a new high in 1973 and then made new lows, the other example which many investors are probably aware was the decline from 2000-2003, which made a new all time high in 2007, then subsequently crashed under the 2002/3 lows.

I think it's very naive to outright say there is no chance that the US markets can't revisit the March 2009 lows.

Look at it like this, when Gold was at $1900, I bet many thought it was a sure bet 100% that Gold was going to $2000, so at the time if you said Gold seeing $1180 was a possibility most Gold investors would have laughed in your face, 2 years on and Gold investors are not exactly pleased.

Put yourself in the position of those Gold investors, do you think that US stocks will be going up indefinitely? And there is no chance of a move lower?

Bullish Alternative Idea



Even if I am wrong and this will end up being a 5 wave impulse from the March 2009 lows, that still implies we will see a 4th wave pullback, so a large move back towards Dow 14500, SPX 1550 should be seen. Do you really want to be caught holding the bag and suffer a pullback to 1550SPX?

Short Term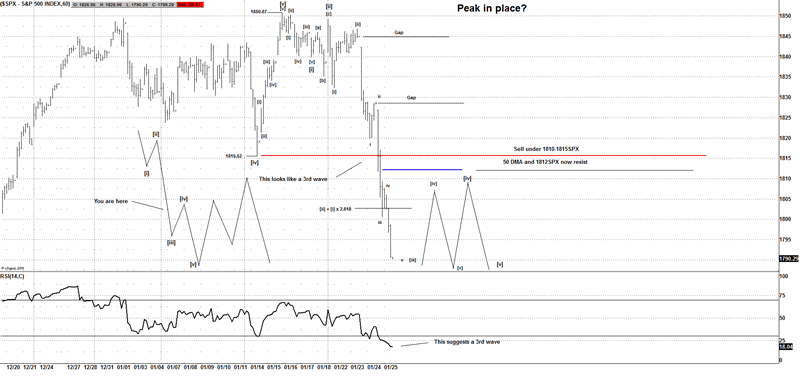 The 1st bearish clue would be a 5 wave decline from the highs; Friday's mini crash suggests it's still inside a small 3rd wave, so we want to see a 4th and a 5th wave to complete a 5 wave impulse wave, if that is seen it will be a strong clue of a trend change, the minimum target would be 1550SPX.

Whilst we don't have any crystal balls we do have a mine in the sand, if the market continues lower as we expect then we will look to see the bounce for a 4th wave and look lower for a 5th wave, then we should see a corrective 3 wave bounce as shown.

All is not as it seems

If you look around the globe and "under the hood" you can see all is not as is seems, whilst some US markets have made new all time highs, that can't be said for many other markets.

XLF



If you look at the XLF we can clearly see that it's lagged the SPX and by any criteria you want to choose in my book that's a bear market rally. We can clearly see it's a 3 wave bounce, so by definition it's a corrective bounce in Elliott wave terms, furthermore it's virtually met its measured move target where [C] = [A].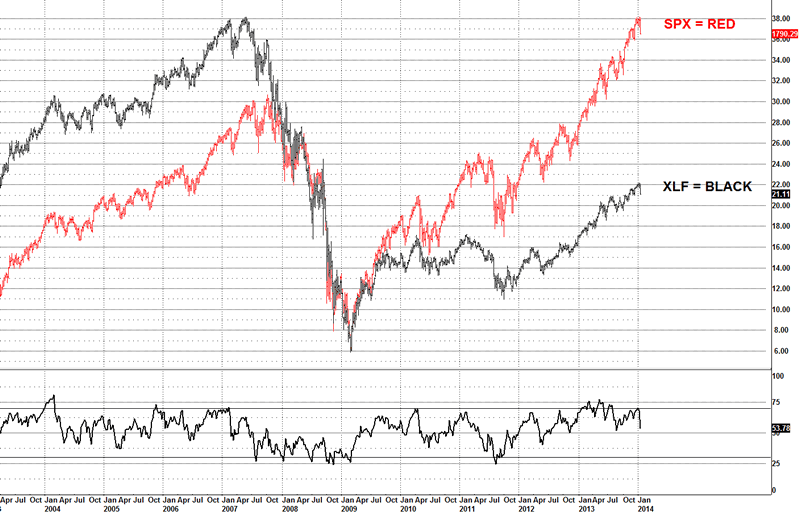 Not exactly screaming a bull market is it?

We think the XLF could be a great set up to sell, if it's just put in a peak, and topped, then I am expecting a strong move lower. That's one sector I suggest readers watch for weakness.

NYSE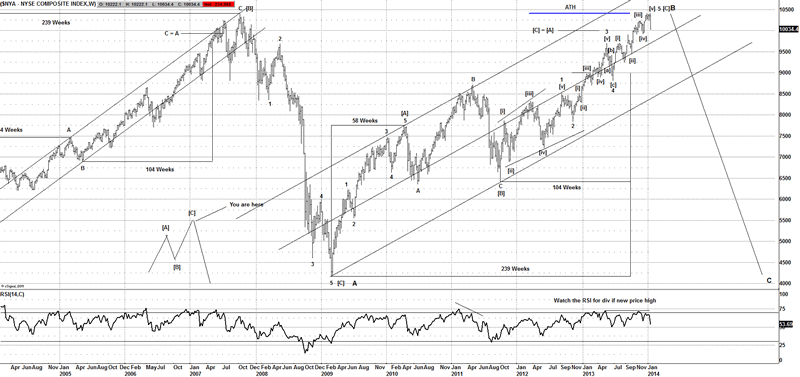 The NYSE is a very important US market and is often over looked, but as we can clearly see its only "just" tested its Oct 2007 highs, if that's a simple double top, then we could be on the verge of a strong move lower, again another market I think investors and traders should be watching.

Do you notice the look? It appears to be in 3 waves and only just above the measured move target where [C] = [A], so whilst the SPX and DOW have got all the headlines if you look around thins are not what they seem.

Around the world

What about other markets that "used" to closely follow the US markets?

CAC40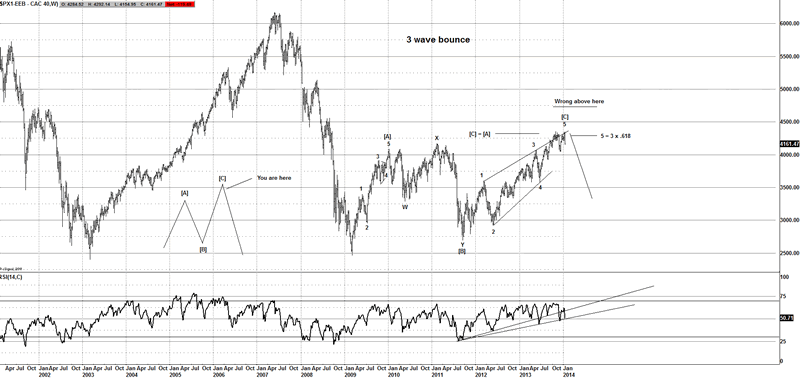 That sure looks like a 3 wave bounce to me, if you are an Elliottician and reading this, I will gladly debate the merits of a potential 5 wave move from the March 2009 lows, because I can't find a way to label that even remotely as a potential 5 wave impulse wave, it's a clear 3 wave move, so in Elliott wave terms a corrective bear market rally.

Incidentally we think this a great market to look to sell and if we can count a small 5 wave decline from the highs then we have a strong clue of a trend reversal, I am targeting 2500, so plenty of downside.

There are many other markets and stocks that suggest the move from the March 2009 is a 3 wave bounce, a 3 wave move is important to Eliotticians as it suggests it's a counter trend bounce.

So you are probably thinking, well you have just picked the markets to curve fit your bias. Why don't you pick a market that has made new all time highs?

Let's do that, what about the DAX, is that ok with you?

DAX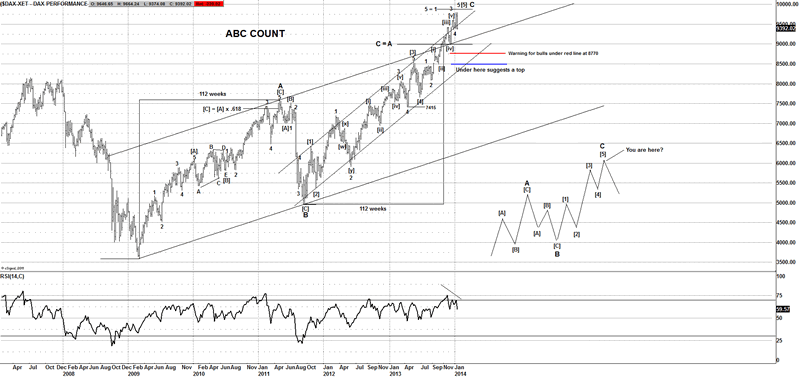 Do you notice the look; it sure looks like a 3 wave move to me. Do you see a 5 wave move there? Furthermore it is only just above the measured move target where C = A.
So whilst it's made a new all time high, it can be considered a B wave of an expanded flat pattern and if the pattern is correct we should see a strong move lower.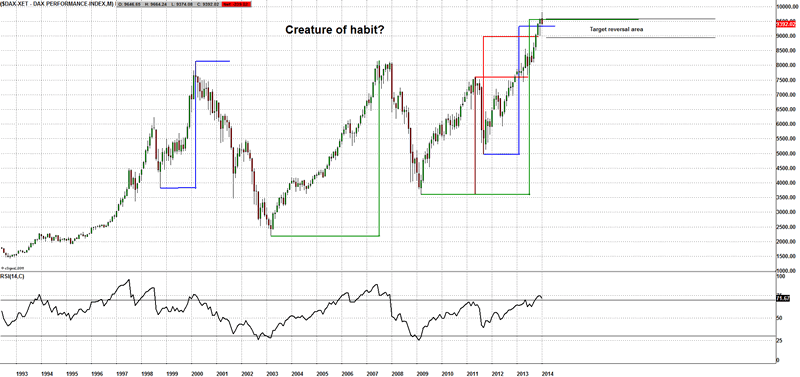 I have been targeting this box area for a few months, but if the DAX fails to continue higher and we see a closing print under the top of the box, I would consider that as a bearish sign, especially if we see a bearish candlestick such as a shooting star or a bearish engulfment, on a monthly scale that's a strong signal.

Now let's look at what is happening in Europe.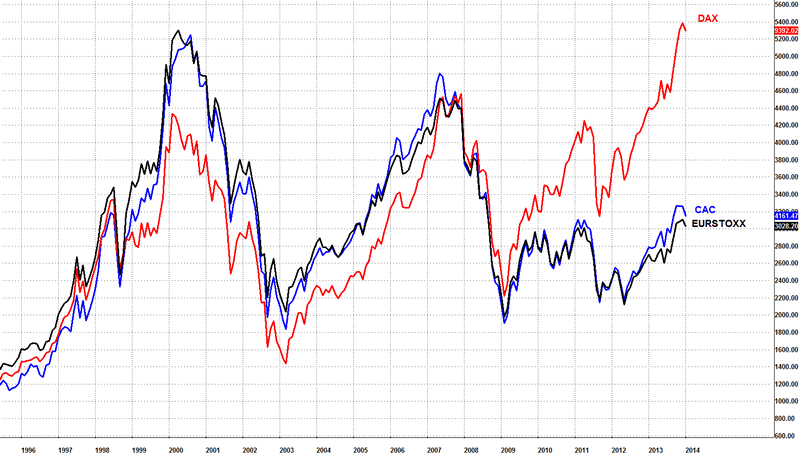 The CAC and EURSTOXX50 sure don't look like a bull market to me, what do you think?

So having followed each other for years, we finally see a divergence between the DAX and the rest of Europe; I would say that's a pretty convincing statement to say something is wrong with the move in the DAX.
Whilst we will trade the markets both long and short, when you look at the bigger picture around the rest of the globe, both in stocks and other closely linked markets, it sure don't look like a bull market in many other sectors and world markets.

If you are interested in trading with a bunch of traders that don't drink the "cool aid" and looking to actually find trades to make $$, try us out, we offer a trial now for $9.99 for 1 week, if you don't like the site, you have no future commitments.

We are traders that trade for a living, not newsletter writers that have no "skin in the game" when we make mistakes we loss $$ just like you. You can rest assure no matter if its stock futures, forex or commodities we will always find something to trade with clear risk/reward trade.

Conclusion

The markets potentially have a peak in place, the evidence last week was encouraging for the ideas we have been using, however we need to see a 5 wave decline 1st from the all time highs, until we have that we don't yet have a strong clue of a trend change, if we do see more downside, it's likely to be much larger move that many think, with so many traders now addicted to buying the dip, Its sure to surprise a few traders, as it did last week.

Until next time
Have a profitable week ahead
Click here to become a member

You can also follow us on twitter

What do we offer?

Short and long term analysis on US and European markets, various major FX pairs, commodities from Gold and silver to markets like natural gas.

Daily analysis on where I think the market is going with key support and resistance areas, we move and adjust as the market adjusts.

A chat room where members can discuss ideas with me or other members.

Members get to know who is moving the markets in the S&P pits*

*I have permission to post comments from the audio I hear from the S&P pits.

If you looking for quality analysis from someone that actually looks at multiple charts and works hard at providing members information to stay on the right side of the trends and making $$$, why not give the site a trial.

If any of the readers want to see this article in a PDF format.

Please send an e-mail to Enquires@wavepatterntraders.com

Please put in the header PDF, or make it known that you want to be added to the mailing list for any future articles.

Or if you have any questions about becoming a member, please use the email address above.

If you like what you see, or want to see more of my work, then please sign up for the 4 week trial.

This article is just a small portion of the markets I follow.

I cover many markets, from FX to US equities, right the way through to commodities.

If I have the data I am more than willing to offer requests to members.

Currently new members can sign up for a 4 week free trial to test drive the site, and see if my work can help in your trading and if it meets your requirements.

If you don't like what you see, then drop me an email within the 1st 4 weeks from when you join, and ask for a no questions refund.

You simply have nothing to lose.

By Jason Soni AKA Nouf
© 2014 Copyright Jason Soni AKA Nouf - All Rights Reserved

Disclaimer: The above is a matter of opinion provided for general information purposes only and is not intended as investment advice. Information and analysis above are derived from sources and utilising methods believed to be reliable, but we cannot accept responsibility for any losses you may incur as a result of this analysis. Individuals should consult with their personal financial advisors.
© 2005-2019 http://www.MarketOracle.co.uk - The Market Oracle is a FREE Daily Financial Markets Analysis & Forecasting online publication.

Only logged in users are allowed to post comments.
Register/ Log in