Dow Jones Index gave 150 point false Index reading on Tuesdays crash - Who profited?
Stock-Markets
/
Strategic News
Mar 02, 2007 - 12:47 AM GMT

Late Tuesday afternoon, Dow Jones Indexes made a seemingly minor confession about a technical glitch that took place earlier that day. Specifically, in the middle of Tuesday's market decline – beginning at 1:50 pm precisely – Dow Jones Indexes began incorrectly reporting the Dow Jones Industrial Average (Dow). In other words, instead of displaying say 12,200 - the actual trading level of the 30-Dow components - the Dow was showing 12,350. Ever vigilant, they eventually identified the problem and "switched over to a back-up system" at 3:00PM.

Now there is no question that computers sometimes do err: instances of market miscalculation and/or miscommunication have dotted the financial ledger in the past - like between the futures and cash markets during the crash of 1987. However, and although a potentially innocent event, the interesting thing about Tuesday's computer malfunction is that it persisted without being recognized for 70-minutes! The question to ask, naturally enough, is what on earth was going on during this 70-minute interval?


70-Minutes In The Dark

What is most puzzling about this incident is not that a tech-guy at Dow Jones Indexes may have went out to catch a movie in the middle of a trading-day, but that the media and regulatory bodies have failed to try and aggressively investigate whether anyone profited excessively during the 70-minute period. Market information is valuable, and if you knew that a 100+ point disparity existed between the listed Dow price and the actual Dow price you could have made a killing.

For its part, Dow Jones - which is supposedly still reviewing the situation - has chosen to focus on the contestable conclusions that the financial markets were not impacted by the 'unprecedented' price adjustment at 3:00 PM, and that no investors were hurt. As for the possibility of malfeasance, nothing has been said.

Focusing on what they have said, the lawyers at Dow Jones are ready to insist that nothing untoward or unpleasant could possibly have happened:

"It is important to understand that Dow Jones has no role in trading stocks or pricing individual securities, including securities underlying our Indexes. We are conducting a detailed review of yesterday's events and do not believe the calculation delay or the subsequent catch up in the Dow Jones Industrial Average (DJIA) exacerbated the market decline, as the market was down sharply during the 70-minute period and rebounded strongly soon after the DJIA was brought current. We regret yesterday's unprecedented events and are taking remedial actions to prevent their recurrence, but we have no reason to believe any investors were harmed." Dow Jones, Feb 28, 07

The Dow is the most influential index in the world, so the suggestion that not one single investor made an investment based upon the erroneous data and then lost money after the Dow's startling 1-minute plunge is, of course, surprising to say the least. But first, there is an even more pressing matter at hand.

How About Those Back-Ups!

"…the market's extraordinarily heavy trading volume caused a delay in Dow Jones' data systems. As a result, the calculation of the Dow Jones Industrial Average temporarily lagged behind the market's decline. Dow Jones Indexes identified the problem and switched over to a back-up system."

That the NYSE logged more than 4 billion in volume on February 27 would seem to support their contention that 'extraordinary' trading volume was the culprit behind the data delay. Having said that, exactly how the system managed to cope with the 3.9 billion shares traded on February 28, apparently without problem, remains a mystery.

Suffice to say, the investment media (which is controlled largely by Dow Jones ) has yet to discuss one of the most puzzling elements of the above release:

Why and how were the back-up systems able to negotiate the 'extraordinary' amount of volume? In other words, if volume really caused the delay why were the back-ups also not delayed???

Ever the public servant, Dow Jones has put one person, the Global Head of Public Relations Sybille Reitz, on the job of discussing this ultra-important matter with the media. Ms. Reitz* answered – eventually - the question above with the following:

"That is what we are actually investigating."

Conclusions & Conspiracy Fodder

Given that corruption has been known to reside on Wall Street, isn't it remarkable that every time a computer starts choking on data everyone is quick to swallow the party line?

In essence, we are being told to accept at face value that Dow Jones Index front-line computers take 70-minute breaks because they are lazy, but that the trusty back-ups can effortlessly tabulate every second worth of trades.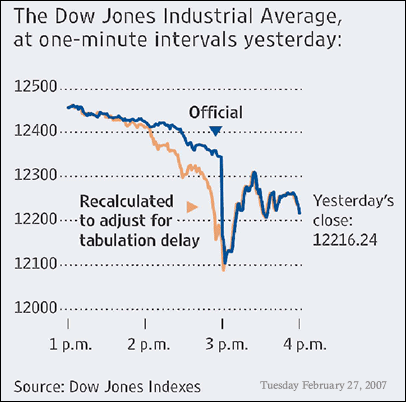 Instead of forming a team to help investigate the event and punish those (if any) responsible, Fed Chairman Bernanke accepted the party line and tried to sooth investor apprehensions yesterday by claiming that the markets "seem to be working well".

"In the minutes after Bernanke spoke, the Standard & Poor's 500 Index rose as much as 1.2 percent before"

As the above quote aptly demonstrates, the financial press does in fact like to talk about the markets in seconds and minutes. But, curiously, no one is calling for someone's head over the most watched index in the world pumping out incorrect data for more than hour.

In short, computers sometimes do err. But what is surprising, and what gives conspiracy theorists a leg to stand on, is that technical trading delays never seem to happen when prices are rising. Computers do not know the difference between rising and falling stocks prices, do they?


* We are not accusing Ms. Sybille Reitz of being unresponsive to our questions. Rather, she has a mammoth job to respond to media inquiries. In our opinion she could probably use a back-up.

By Brady Willett & Todd Alway
FallStreet.com
FallStreet.com was launched in January of 2000 with the mandate of providing an alternative opinion on the U.S. equity markets. In the context of an uncritical herd euphoria that characterizes the mainstream media, Fallstreet strives to provide investors with the information they need to make informed investment decisions. To that end, we provide a clearinghouse for bearish and value-oriented investment information, independent research, and an investment newsletter containing specific company selections.
© 2005-2019 http://www.MarketOracle.co.uk - The Market Oracle is a FREE Daily Financial Markets Analysis & Forecasting online publication.

Only logged in users are allowed to post comments.
Register/ Log in