The Impossible Solution To China-Japan War Gaming
Politics
/
Nuclear Power
Dec 15, 2013 - 02:53 PM GMT


RATIONALIST ILLUSIONS - THE JAMES FEARON ANALYSIS
Events in the East China Sea since 2009, and especially since midyear 2013 have thrust the following frightening question forward: are China and Japan imminently going to war? Conventional answers to the affirmative point to deep historical mistrust, economic rivalry and jealousy as China moves far ahead of Japan in world ranking by GDP, and a large level of "unfinished business" in their own bilateral relations, and in East Asian regional politics, stemming from Showa Japan's imperial rampage across Asia. To be sure, rationalists draw a long list of reasons why China and Japan are not going to war. There would be astronomical economic costs from a war that pitted the world's second and third largest economies against each other, with the first and biggest economy, the USA almost surely, or at least possibly dragged in by third-largest Japan, in a war that started over a few tiny islands, underseas rocks, and possible or potential hydrocarbon reserves.
US political scientist James D. Fearon's path-breaking articles on the rationalist (and rationalized) reasons for war are a handy starting point to looking at Japanese and Chinese war gaming in the East China Sea. Fearon's arguments are relevant because he challenges over-simplistic rationalists' dogma on war. They basically say that if war is so costly, there must be some sort of diplomatic bargaining solution that will be preferable to all parties – Fearon adds that this is fine until we look at the "information asymmetries and communication deficits" surrounding the countdown to any war.
As we know, incredibly costly wars like the 1914-18 world war and 1980-88 Iran-Iraq war were essentially fought "for nothing". Fighting sparked, or excused, by dispute over the tiny Senkaku/Diaoyu islands would not be historically extreme or unusual. But Fearon also says it is not possible to simply say the two sides hated each other for emotional reasons and so they had a world scale, or massive regional war, which dragged in many other nations and left enormous economic damage behind. It's more subtle than that.
One of the biggest problems, today and now, concerning Chinese-Japanese war gaming is that it is almost certainly grounded in what Fearon calls "the bargaining model". This model, in its military dimension, only concerns classic and conventional military strategy. It takes no account of Chinese and Japanese non-military nuclear infrastructures and facilities.
RISK AND REWARD -THE BARGAINING MODEL
China and Japan both know that there is a calculable probability distribution of the likely outcomes of a conventional or classic military war. They do not know what the actual distribution is, but they can estimate it and model it. They will have outline data on the costs and outcomes of going to war. We would find that Japan will predict it would only suffer minor naval losses in aggressive action decided by Japan in collusion and with active support from the US, and Japan could strengthen its hold on and control of the islands, but we would also find that China can very easily come to the same conclusion – assuming the US will play neutral when it sees that China and Japan intend to fight. Fearon's bargaining model states that each party to a war is not risk seeking, but also is not risk-averse. He calls it risk neutral because the perceived risk of war is high, a de facto recognition that war is costlier than maintaining peace or negotiating a pre-emptive diplomatic solution. The risk factor is therefore downgraded or "neutralized", making the likelihood of war higher.
The next point Fearon makes is another challenge to the rationalists who say "common sense will triumph". This is what he calls "issue indivisibility". Taking the case of the disputed islands and undersea rocks, and possible gas or oil reserves, war means total gain for one party and total loss for the other – a "zero sum" game. Both parties want total control of the islands. Neither party wants to share or divide the islands. Issue indivisibility has a long track record in maintaining war-generating contexts, for example the Holy city of Jerusalem, claimed by both Palestinians and Israelis, or Muslims and Jews. No sharing of the war winner's booty will occur, the issue for Jerusalem was indivisible.
As a political scientist Fearon goes on to look at several other factors and pressures leading to war, despite the irrationality of war. There is for example propaganda and distortion of national military forces and power, exaggerated for the aggressor nation, and underestimated for the attacked nation. There is also purposeful – and accidental – misrepresentation of the intentions, and the actions of the designated enemy. Between China and Japan this presently concerns the so-called Air Defense Identification Zones of each power.
THE NUCLEAR AGE OF SURE AND CERTAIN LOSS
Japan now calls the March 2011 force 9 earthquake, the 14-metre tectonic shift of Japan towards Asia and the massive tsunami, causing the world's worst nuclear disaster at Fukushima, "the 3 / 11 disaster". Japanese public opinion – if not elite political opinion - is fully aware what the simultaneous meltdown of several reactors and fuel assemblies can do, and does do. China could or might be unaware of what the uncontrolled meltdown, or as in the Chernobyl case, the explosion of a large civil nuclear reactor does in the way of economic damage. The damage is war-equivalent.
Both countries have large civil nuclear power plants, fuel manufacturing and reprocessing centers, nuclear waste dumps, and in China's case large-scale uranium mining and upgrading facilities. In both countries, this offers superb military targets for first-strike attack, causing such massive economic and human damage the country is destroyed in a few days – without needing nuclear weapons!
To be sure, war planners in both China and Japan may be steeped and imbibed with "conventional military logic", and their war gaming sets aside the conventional damage risk factor as noted above, but there joint status of large civil nuclear powers makes it sure and certain that "whoever wins – loses". Massive retaliation, directed against any group of major civil nuclear installations and facilities will deal either side a stunning and longlasting defeat. China-Japan war gaming could or might lead to an attempt at conventional and limited military war, but there is not even the remote possibility that one or other party can obtain total victory.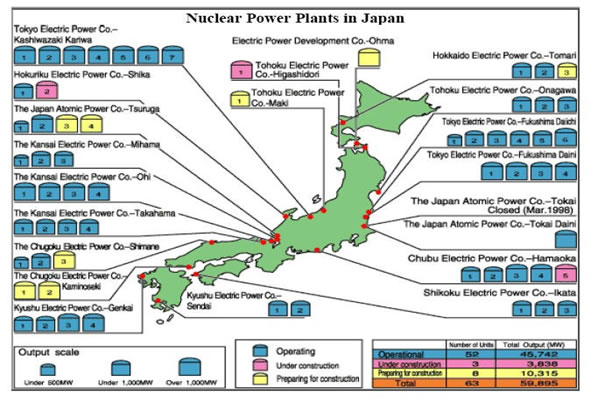 Source Japan/ Japan Nuclear Cycle Development Institute. China/ Guangdong Nuclear Power Co.
To be sure, China's civil nuclear power capacity is only slightly above 10 000 MW (placing it next to Sweden by world nuclear capacity) but China has 15 large civil plants under construction, and some Chinese claims are that its national nuclear capacity could be expanded, within 30 – 40 years to as much as 193 000 MW. Major corporation China Guangdong Nuclear Power has developed 18-month reactor cycle operation using so-called "high burn-up fuel", that is with high levels of long-life irradiated fuel components, in its coastal-located Daya Bay plants, making these one of the most effective targets for Japanese pre-emptive attack. Long life cycle reactor operation increases total radiation inventory inside reactors, resulting in more damage when these reactors are hit with any suited military ordnance – aerial bombing and drones; missile attack; ground attack.
China has also confirmed decision to "recycle" plutonium as civil reactor fuel as MOX-type fuels. Any major reprocessing centre will have an associated plutonium and high-level waste storage area, making these excellent targets for devastating attack. China regularly publishes data on its nuclear waste and nuclear fuel reprocessing activities, and fuel fabrication plants containing high radiological inventories, making them prime targets for military attack.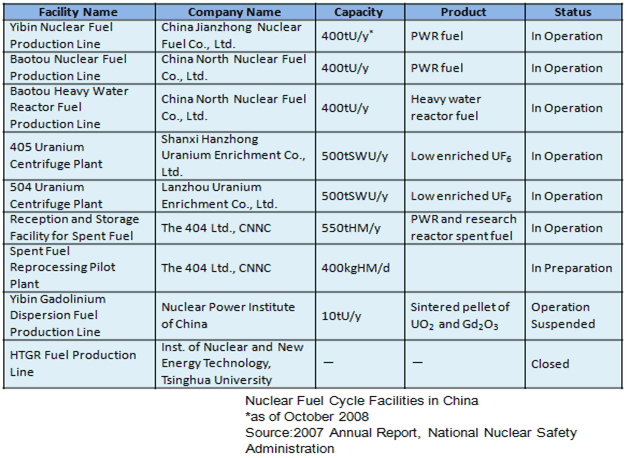 By Andrew McKillop
Contact: xtran9@gmail.com
Former chief policy analyst, Division A Policy, DG XVII Energy, European Commission. Andrew McKillop Biographic Highlights
Co-author 'The Doomsday Machine', Palgrave Macmillan USA, 2012
Andrew McKillop has more than 30 years experience in the energy, economic and finance domains. Trained at London UK's University College, he has had specially long experience of energy policy, project administration and the development and financing of alternate energy. This included his role of in-house Expert on Policy and Programming at the DG XVII-Energy of the European Commission, Director of Information of the OAPEC technology transfer subsidiary, AREC and researcher for UN agencies including the ILO.
© 2013 Copyright Andrew McKillop - All Rights Reserved Disclaimer: The above is a matter of opinion provided for general information purposes only and is not intended as investment advice. Information and analysis above are derived from sources and utilising methods believed to be reliable, but we cannot accept responsibility for any losses you may incur as a result of this analysis. Individuals should consult with their personal financial advisor.
© 2005-2019 http://www.MarketOracle.co.uk - The Market Oracle is a FREE Daily Financial Markets Analysis & Forecasting online publication.

Only logged in users are allowed to post comments.
Register/ Log in