Police State Egypt
Politics
/
Egypt
Aug 17, 2013 - 10:21 AM GMT


Bloody Wednesday revealed state-sponsored police state harshness. Egypt exhibits classic characteristics.
Wikipedia calls a police state one "in which the government exercises rigid and repressive controls over the social, economic, and political life of the population."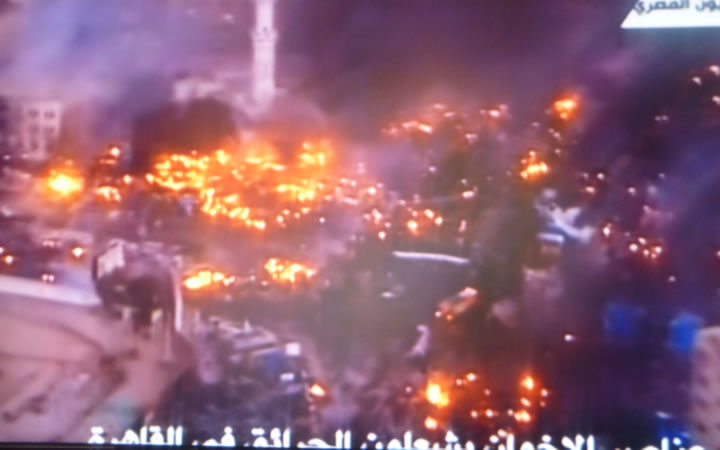 "A police state typically exhibits elements of totalitarianism and social control, and there is usually little or no distinction between the law and the exercise of political power by the executive."
Merrian-Webster's definition is "a political unit characterized by repressive governmental control of political, economic, and social life usually by an arbitrary exercise of power by police and especially secret police in place of regular operation of administrative and judicial organs of the government according to publicly known legal procedures."
The Oxford dictionary calls it "a totalitarian state controlled by a political police force that secretly supervises the citizens' activities."
Junta power rules Egypt. Interim civilian officials front for Supreme Council of the Armed Forces (SCAF) control. Generals have final say.
On Tuesday, SCAF General Abdul-Fattah el-Sisi appointed 25 provincial governors. Nineteen are generals: 17 from the military, two from police.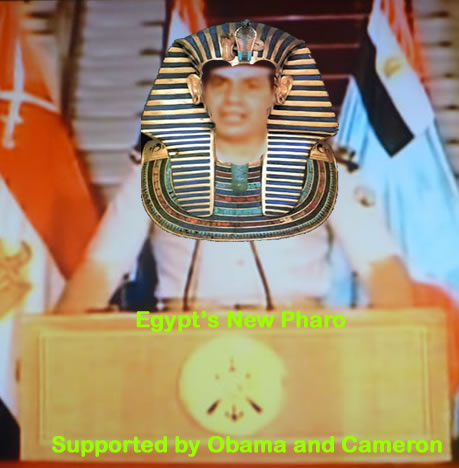 Two civilian governors were Mubarak loyalists. Cairo's Governor Galal Mostafa Saed was a senior Mubarak official.
According to one observer, Sisi's employing classic Mubarak tactics. He's using governorships "to cultivate loyalty of top officers while extending the grip of his police state."
Egypt's interim government remains defiant. Prime Minister Hazem Beblawi called crackdowns essential. "Egypt cannot move forward, especially economically, in the absence of security," he said.
Interior Minister Mohamed Ibrahim lied saying protesters "threatened national security, incited violence, and torture and killed people."
Egypt's Revolutionary Socialists called bloody Wednesday "part of a plan to liquidate the Egyptian revolution and restore the military-police state of the Mubarak regime."
Western criticism lacked credibility. It fell woefully short of what's needed. On the one hand, Obama rebuked Egypt's leaders. He cancelled upcoming joint Bright Star military exercises. Doing so changes nothing.
State Department spokeswoman Jennifer Psaki said:
"I don't think anyone in the government thinks that simply the cancellation of Bright Star is going to change actions on the ground."
Business as usual continues. Obama spoke publicly. He ignored questions from reporters. His audio statement wasn't initially televised. Video was later released.
"America cannot determine the future of Egypt," he said. "That's a task for the Egyptian people. We don't take sides with any particular party of political figure."
Obama supports repressive junta rule. He said nothing about canceling or suspending military aid. It continues despite US laws requiring suspension to governments ruled coup d'etat authority.
According to Psaki:
"Given the depths of a partnership with Egypt, our national security interests in this part of the world, our belief, also, that engagement can support a transition back to a democratically elected civilian government, we have sustained that commitment."
She called post-Morsi violence "a rocky road back to democracy." Former Secretary of State Codoleezza Rice once called democracy "messy." America's version is none at all.
It's verboten. Washington tolerates none abroad or at home. Rule of law principles don't matter. Human and civil rights are nonstarters.
Might is right reflects policy. Advancing America's imperium matters most. Unchallenged global dominance is top priority. Tyranny's a small price to pay.
Thursday clashes followed Egypt's bloody Wednesday. Morsi supporters attacked government buildings. Giza's governor's office was torched. Police stations were targeted in half a dozen or more cities.
Health Ministry officials confirmed over 600 deaths. According to Muslim Brotherhood (MB) spokesman Gehad El-Haddad, it's at least eightfold higher. Things are "beyond control," he said.
"The real danger comes when groups of people, angry by the loss of loved ones, start mobilizing on the ground."
Many thousands were injured. Scores of arrests were made. MB officials are top targets. Those still free went underground.
According to AP, "Egyptian authorities on Thursday authorized police to use deadly force to protect themselves and key state institutions from attacks, after presumed supporters of the deposed Islamist president torched two local government buildings near the capital in the latest of a series of apparent reprisals to follow a bloody crackdown on their protest camps."
Egypt's Interior Ministry issued a statement saying:
It instructed "all forces to use live ammunition to confront any assaults on institutions or the forces."
SCAF pledged to confront "terrorist actions and sabotage." Appointed cabinet members said "(t)hese actions are carried out as part of a criminal plan that clearly aims at toppling down the state."
MB's Ikhwanweb said "militias" attacked thousands marching peacefully in Giza.
Morsi's Freedom and Justice Party executive board member Amr Darrag headlined his article "Egypt's Blood, America's Complicity."
"How do you reconcile with people who are prepared to kill you, and how do you stop them from killing again," he asked?
One Egyptian poll shows "69 percent of the country opposed the coup," he said.
"Worse, shocking and irresponsible rhetoric from the State Department in Washington and from other Western diplomats - calling on the Brotherhood and demonstrators to 'renounce' or 'avoid' violence (even when also condemning the state's violence) - has given the junta cover to perpetrate heinous crimes in the name of 'confronting' violence."
"The protest sites have been teeming with foreign correspondents for the last several weeks, and there has not been a shred of evidence suggesting the presence of weapons, or of violence initiated by protesters."
Hooliganism's state-sponsored. Governments commonly use provocateurs. Peaceful protests are infiltrated.
Vandalism, sabotage and violence follow. Demonstrators are wrongfully blamed. Propaganda points fingers the wrong way. Security forces take full advantage.
Darrag said "hard facts" must be acknowledged. What's ongoing pits "those those who envision a democratic, pluralistic Egypt (against others) support(ing) a militarized state in which government is imposed on the people by force."
SCAF's coup "sent Egypt back into the dark ages of dictatorship." It's reflected in total media control, attacks on peaceful protesters and journalists, and imprisoning opposition officials unjustifiably.
Sisi pledged to uphold constitutional rule, said Darrag. He betrayed the oath he took. He actively seeks foreign help. He wants coup authority legitimized.
America agreed to junta transition. No one knowing Egypt believed ousting Morsi would happen without Washington's OK. The die was cast.
Coup steps were underway. Obama officials approved them. Morsi aides said he was the last to know his days were numbered.
In mid-June, they saw imminent trouble. Sisi warned of a growing "split in society." Divisions between Morsi and opponents compels the military "to intervene," he said.
Morsi didn't expect a coup. Steps to remove him were underway. Cooler heads called doing so "a longterm disaster."
Egyptians and others throughout the Arab world would "lose faith in democracy." An uncontrollable "explosion in the streets" would follow. Events followed predictions.
Egypt's at a crossroads. "There is only one way forward," said Darrag. Legitimate governance "must be restored." It's essential for national reconciliation.
The alternative is continued "bloodshed and chaos." Junta leaders sell "torture, repression and stagnation. We are not buying." Nor should anyone.
A Final Comment
On Thursday, Security Council members met in emergency session. They did so behind closed doors. No formal statement was issued.
Members acted woefully short of what's needed. Fingers weren't pointed the right way. Punitive measures weren't imposed.
Council president Maria Perceval said:
"The members, first of all, expressed their sympathy to the victims and regretted the loss of lives."
"The view of Council members is that it is important to end violence in Egypt, that the parties exercise maximum restraint, and there was a common desire on the need to stop violence and to advance national reconciliation."
Secretary-General Ban Ki-moon acted as expected. He's a longtime imperial tool. He stopped short of condemning coup d'etat authority.
He failed to denounce state-sponsored violence. He called on all sides to show restraint. He urged Egyptians to "work together for peaceful restoration of constitutional order."
Human rights chief Navi Pillay was no better. Her comments replicated Ban's.
She "appeal(ed) to all sides to engage in urgent dialogue to avoid further violence and hate speech, with the aim of restoring constitutional order through free and democratic elections."
She stopped short of demanding reinstatement of Egypt's legitimate government. She ignored Morsi's ouster. So did Ban.
She called bloody Wednesday tragic. She failed to hold junta leaders fully responsible.
Expect lots more violence ahead. Lethal force is authorized. Police states operate that way.
By Stephen Lendman
http://sjlendman.blogspot.com
His new book is titled "How Wall Street Fleeces America: Privatized Banking, Government Collusion and Class War"
http://www.claritypress.com/Lendman.html
Stephen Lendman is a Research Associate of the Centre for Research on Globalization. He lives in Chicago and can be reached in Chicago at lendmanstephen@sbcglobal.net.

Also visit his blog site at sjlendman.blogspot.com and listen to The Global Research News Hour on RepublicBroadcasting.org Monday through Friday at 10AM US Central time for cutting-edge discussions with distinguished guests on world and national topics. All programs are archived for easy listening. © 2012 Copyright Stephen Lendman - All Rights Reserved Disclaimer: The above is a matter of opinion provided for general information purposes only and is not intended as investment advice. Information and analysis above are derived from sources and utilising methods believed to be reliable, but we cannot accept responsibility for any losses you may incur as a result of this analysis. Individuals should consult with their personal financial advisors.
© 2005-2019 http://www.MarketOracle.co.uk - The Market Oracle is a FREE Daily Financial Markets Analysis & Forecasting online publication.

Only logged in users are allowed to post comments.
Register/ Log in