Successful, But Looking For An Escape Hatch from America
Politics
/
Social Issues
Jan 08, 2013 - 05:51 AM GMT


[Editor's Note: The following post is by TDV legal correspondent, Jim Karger]
Jerry Loftus is laid back, inquisitive, and easy to talk to. He is also a successful US businessman, co-owner of a masonry and concrete repair and restoration company in Chicago, Illinois, and an avid TDV reader. He and his charming wife, Gina, spent 10 days with us in our San Miguel de Allende compound. Jerry is 53 years old, never been in trouble with the law, but like so many of our TDV visitors, is considering leaving the United States. I interviewed him on our rooftop in San Miguel de Allende, Mexico, sharing margaritas on a typical cloudless 70 degree afternoon.
Q: So, Jerry, what's your story?
A: I was raised on small farm. Life as a kid was good, not perfect. Living on a farm, I had to work at an early age. I was never hungry, always properly clothed and mostly happy. I thank my parents.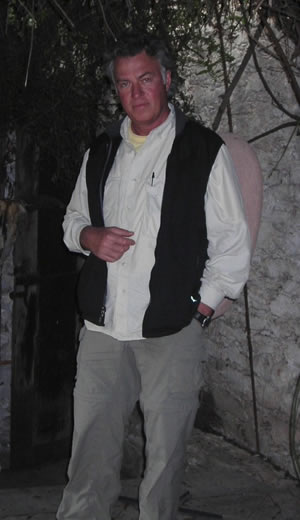 I went into the military, spent time in Panama as a paratrooper and earned an AS degree in between jumping out of planes and chasing skirts. I completed my enlistment. After the military I earned a BA. To pay for college, I sold cable TV door to door and over the phone – independent contractor.
After college, I moved to California, spent 2 years there, but I did not make the fit. Went back to Chicago and saw an ad for construction sales position. My father told me, "If you like it, you may own it one day." And that is what happened. I spent five years estimating, selling, and learning the commercial building exterior repair and restoration business.
After learning the business, I contacted a previous business associate. Both of us came from sales background. We both knew how to pick up a phone and get into a market. I told him of the opportunity in this niche construction business. We wrote a business plan. The plan was a sixty page document: startup costs, cash flow projections, market and competition analysis et al.
Of critical importance was the sales process; we knew how many calls it would take to get a lead. Every sale begins with the lead. Without the lead you have nothing. We made our first sale in our first day. I can still see it rolling off the fax machine.
Of equal importance important are the people that work the business. Attracting talented motivated people is key. Working with smart people makes running a business magnitudes easier. But the talent only stays if they have the best deal and work environment in town. No people no company. It is nice to be surrounded by professionals.
The rest is history. The business is now 17 years old. We have been fortunate.
Q: So, why would someone who is "fortunate" (read: successful) think about leaving? I have a lot of people who want to come down here who have never made a go of it north of the border and somehow believe they can make it here with no money and few skills, but only a few success stories like you have shown up seriously looking for a way out.
A: The fact is I don't want to leave but I am aware of the possibility that in the future it may be in my best interest to leave.
Q: Why?
A: I read a lot. My take is that things are not well.
I stumbled upon Lew Rockwell a couple of years ago. Lew featured Jeff Berwick at The Dollar Vigilante. That is how I found you, Jim. I read one of your articles there about living in San Miguel de Allende, Mexico. Over the last few years, I started questioning what was happening to my country and how it is becoming a whole lot less free, more broke and should I dare say, more statist.
Q: What do you mean when you say "statist?"
A: When I was 16 years old, I got caught driving without a license. The cop drove me home. My mother opened the door. I was embarrassed. That is all it took. Lesson learned. A friend of mine and his buddies (underage at the time) were caught drinking, same thing happened. He had to face his mother and father. That is all it took, embarrassment. Mind you this was small town USA. Today, with any of this wind up in hand cuffs and hours in jail, even in small town USA. The guys behind the badge have morphed from peace offices to law enforcers. This is a big change. It is all about state enforcement. The peace officers judgment and discretion are no longer an option. Just arrest them and call in the state prosecutor.
Q: Any other statist experiences that marked you?
A: As I have said before, I have never been arrested. But I have been detained several times. The detention experience is always upsetting. As far as law enforcement and bureaucrats are concerned, everyone is guilty of something. It has all become a bit much for me. I told you about my last incident with CBP, I do not want to bore your readers with the details. Badges, outfitted in black and jack boots, need I say more?
Q: Not really, but is that when you began to understand what you are up against?
A: Not just that. My own experiences have been put into a larger context through my reading.
Q: Any other personal experiences with Big Brother?
A: Several, the return from Jamaica was just one in a long list of incursions by the State, from customs to postal service to the IRS. Hell, my tax return is 4 inches thick. There is no way to fully comply. Even professionals, CPAs, occasionally miss things. It is way too complicated and not getting any better. If ignorance of the law is not a defense, I'll be an easy prosecution. I am sure that I missed something, but I am just not sure what it was! And they know that. So, every now and then they send a letter demanding more money. The demand is usually not a bank account buster, just a nick. I comply and send the additional tribute. To engage them is usually a mistake. Dare I say death by a thousand cuts?
Q: What would push you over the edge, Jerry, that is, make you leave?
A: When they knock on the door one day and demand something I can't fulfill. I don't what that thing will be. Bottom line is I want to be left alone. I am convinced there is no Garden of Eden, no perfect place. But that is why I am looking, to find a place where there is less state and more privacy. Also of importance, it has to be an interesting place to live. This is what I seek. Moving away is a big step. I am still looking for the right place.
If the time comes to make the move, it will be important to have researched a place or two. I will call this insurance. Just like insurance, I hope I never need have to make a claim.
Q: Do you have any reservations about one day living outside of the US?
A: None. In fact, I have always thought about living in a foreign country. I lived in Panama when I was 19 years old, albeit in the military, and found the foreign experience fascinating.
Q: Other than San Miguel de Allende, Mexico, what other places have you looked at for purposes of future living alternatives?
A: Panama, Chile, the Bahamas, Turks and Caicos, and Jamaica, all in the past 14 months.
Q: Wow! You have done your research. Can you give us a brief rundown on the likes and dislikes in each place?
A: Sure. Panama City has nice restaurants, music and other cultural diversions and terrible traffic. It is big, crowded and has its share of poverty. There is work for me in Panama because they have high rise buildings that are in dire need of maintenance. I had the opportunity to visit the highlands of Chiriquí Provence specifically Vulcan and Cerro Punta. These places are topographically beautiful. Great agriculture. Eco tours through the mountains. Great place if you are into horses. Some of the best horses in the world are raised there. Lots of fresh rushing steams. I was only there for a few days I found nice hotels and restaurants. It is the country, not the cosmopolitan life.
Q: How about Chile?
A: That was a whirlwind trip. I flew into Puerto Montt via Santiago and started a road trip back to Santiago - too many miles and not enough days. It is a big country. My suggestion is to pick a couple spots and hang out for a while. Some parts of Chile are beautiful. Some of the agricultural fields are pastoral with beautiful trees, not stripped. My wife calls it a place of "cows, fields and trees". I sense it would be a nice place to live, but a bit too far for me since all of my family is in the States and I will always want to return for visits.
Q: You mentioned Puerto Vallarta, Mexico. I just got back from a week there. How did you like it?
A: To set the record straight, I visited, actually flew myself to Puerto Vallarta about three years ago. We stayed in the colonial section of the City. It is big city but mostly walkable. There is nice beach. It is a great tropical place to hang out in the winter. It would be a good place to have a second home if you could afford two homes, but summers there are way too hot for me. It would never be my only home.
Q: And the Bahamas?
A lot of desert islands. A buddy and I flew down in a Bonanza. Some islands only have 200 - 300 people. If all you want to do is bone fishing, OK. I want a little more from life than that. I wouldn't live in Nassau on a bet. It is crime-ridden with a high murder rate. Great for a week or ten day visit, but not for my permanent abode.
Q: Turks and Caicos. That's a new one.
A: If you have a lot of money, it is a nice place. Island living is expensive and these islands are for the rich, not for me except for a vacation. Did I tell you about the $500.00 bowl of soup? Next time…
Q: And Jamaica?
A: It is a lot cheaper than the Turks and Caicos, but has three million people. You may recall Jamaica almost went Communist in the mid-60s. That vibe still lingers, all that socialism scheme stuff. I stayed many of times in a town called Negril. There used to be lots of Mom-and-Pop motels. Then the mega all-inclusive resorts moved in and are squeezing all the Mom-and-Pops. If you are going to live there, best have a very secure house. And, unless all you want to do is listen to Reggae concerts every night and get drunk on rum, there is not much else to do. I did start a couple of small operations there, unsuccessful. I underestimated capital requirements. Better yet, do not mix vacation and business. Jamaica has a crime problem in the major cities. I have never had a problem in Negril, although I would not recommend to going stumbling drunk down any streets in Jamaica after sun down.
Q: Which brings us to San Miguel de Allende where we are sitting on the rooftop, 70 degrees, clear, and drinking a margarita. What are your first impressions to this point?
A: I can see why so many Gringos are living here. It is a beautiful, well-maintained historic city. The weather is unmatched, dead solid perfect. The people are reserved and respectful.
I find the wandering, random and hilly streets charming, filled with buildings - new and old, from the petty to the magnificent - as well as unpredictability: trees growing in the middle of streets and a goose for a roof. Bring good walking shoes, the street are paved with rough cobblestone. Watch your step, you will find the occasional dog bomb and road apple.
Dining out is an easy affair here, lots of places and price points. Breakfast can be had for three bucks. Dinner, you name your price and you set your limit. You can find a beer at a local bodega for 75 cents or a margarita at one of the fanciest hotels for 10 dollars. Here you get to pick your poison and your price.
The entertainment scene offers reasonable supply of live music, from street musicians, happy hour bands and dinner concerts. There is a sports bar with featuring the NFL on Sundays. Or, just take in El Centro on a park bench or one of the restaurants that surround it. San Miguel is a great place to watch people.
If you like to shop, you will find plenty of places that will be happy to separate you from your cash in either small or large quantities. Take a trip to La Gruta and enjoy a hot springs swim. Buy a copy of Attencion – the local bi-lingual newspaper – it will supply the run down every week.
I cannot let your readers forget about the art scene. The place teams with art. Great stuff. I could not help acquiring a few pieces myself.
Q: What are the negatives?
A: As soon as I find one, I will let you know.
Q: Any advice for TDVers who want to begin their escape plan?
A:I would encourage everyone to give themselves and their assets a few more options. In the asset department, I like precious metals. I own gold and silver, locally. I have worked with precious metals dealers that I feel comfortable in referring.
I have also taken the following steps to diversify my assets and myself globally:
- I own and store gold offshore. (TDV "Get Your Gold Out of Town" (sic) was very helpful!)
- I have foreign bank accounts.
- I have been listed on the Irish Registry of Foreign Births with passport applied for. If you qualify for a passport because of lineage take advantage of it.
As for finding the right place, I suggest not doing the whirlwind tours. Rather, slow down, choose a country, then pick a couple of cities or towns and stay for a ten days or so at each place. It is hard to get a true sense of a place if you arrive in the afternoon and leave before noon the next day.
Thanks, Jerry, very informative.
Q: Isn't about time for another margarita?
A: Indeed it is. One lime or two?
Anarcho-Capitalist. Libertarian. Freedom fighter against mankind's two biggest enemies, the State and the Central Banks. Jeff Berwick is the founder of The Dollar Vigilante, CEO of TDV Media & Services and host of the popular video podcast, Anarchast. Jeff is a prominent speaker at many of the world's freedom, investment and gold conferences as well as regularly in the media.
© 2012 Copyright Jeff Berwick - All Rights Reserved Disclaimer: The above is a matter of opinion provided for general information purposes only and is not intended as investment advice. Information and analysis above are derived from sources and utilising methods believed to be reliable, but we cannot accept responsibility for any losses you may incur as a result of this analysis. Individuals should consult with their personal financial advisors.
© 2005-2019 http://www.MarketOracle.co.uk - The Market Oracle is a FREE Daily Financial Markets Analysis & Forecasting online publication.

Only logged in users are allowed to post comments.
Register/ Log in