China Busy Redrawing Territorial Waters Map Sowing Seeds of Conflict With Neighbours
Politics
/
China
Nov 24, 2012 - 12:47 PM GMT

As China's military and economic influence has grown throughout the world, Beijing appears to have become more bold, brash and brazen in its claim to territories believed to be rich with oil and natural gas across the Asia-Pacific. The latest attempt to achieve just that is the watermark on China's new e-passports depicting its map, which has ended up insulting and offending most of its sovereign neighbours.
The map shows disputed islands in the South China Sea as Chinese territory. Three separate pages in the new e-passports include China's so-called "nine-dash" map of the sea that extends hundreds of miles south from China's Hainan Island to the equatorial waters off the coast of Borneo. The map includes the Spratly island chain, which is the subject of overlapping claims by five other countries including:
1. Taiwan;
2. Vietnam;
3. Brunei;
4. Malaysia; and
5. The Philippines.
As if that was not enough, China's newly launched e-passport map also shows India's Arunachal Pradesh and Aksai Chin -- within the Ladakh region -- in Jammu & Kashmir as parts of China. Japan, at the same time, is embroiled in its own dispute with China over islands in the East China Sea. All these simultaneous territorial spats have raised concerns about a potential conflict, prompting the United States to wade into the controversy.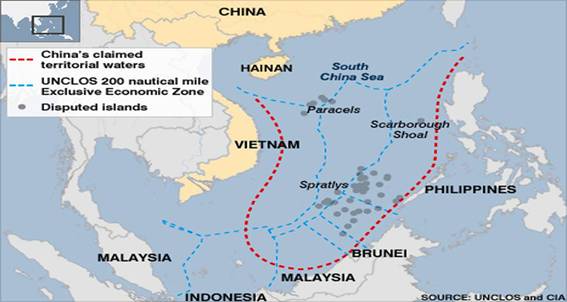 Extent of China's Claimed Territorial Waters in South China Sea
Chaos in South China Sea: No Protocol or Code of Conduct
Stand-offs between Chinese vessels and the Philippine and Vietnamese navies in the South China Sea have become much more common as China increases patrols in these waters believed to hold vast reserves of oil and natural gas. There are concerns that those maritime disputes could escalate into violence. China and the Philippines had a tense maritime standoff at a shoal west of the main Philippine island of Luzon earlier this year. The United States, which has said it takes no sides in the territorial spats, considers ensuring safe maritime traffic in the waters to be in its national interest. The US has backed a call for a "code of conduct" to prevent clashes in the disputed territories. When one rewinds back to the days of the Cold War, there was a clear "code of conduct" between Eastern-Bloc and Western-Bloc ships. When they encountered each other, there was a protocol. There isn't a code of conduct at the moment for the South China Sea, and that is problematic because it could spark an unintended conflict.
Historic Claims
China says the explorer and fleet admiral Zheng He (1371–1433) -- whose sea adventures predate those of Christopher Columbus (1451-1506) -- crossed the South China Sea during the Ming Dynasty and cites historical maps that long predate the founding of the People's Republic in 1949. Further, the Chinese Foreign Ministry website now states the earliest discovery of the Spratlys can be traced back 2000 years to their own Han dynasty. China maintains it has ancient claims to all of the South China Sea, despite much of it being within the exclusive economic zones of Southeast Asian neighbours. What can anyone say or do to counter ancient arguments laying claims to territories?
Vietnam and the Philippines
1. Vietnam and the Philippines have both rejected the new e-passport's China map as a basis for sharing oil, gas and fish in those waters.
2. Vietnam and the Philippines have officially let their displeasure be known to Beijing.
3. Vietnam's Foreign Ministry states:
a. "These actions by China have violated Vietnam's sovereignty to the Paracel and Spratly islands as well as our rights and jurisdiction to related maritime areas in the South China Sea, or East Sea;"
b. China should "reverse their incorrect prints" on the new e-passports; and
c. "Vietnam reserves the right to carry out necessary measures suitable to Vietnamese law, international law and practices toward such passports."
4. The Philippines Foreign Ministry states:
a. "The Philippines strongly protests the inclusion of the nine-dash lines in the e-passport as such image covers an area that is clearly part of the Philippines' territory and maritime domain;" and
b. "The Philippines does not accept the validity of the nine-dash lines that amount to an excessive declaration of maritime space in violation of international law."
5. Philippine diplomats accused China at this week's ASEAN -- Association of South-East Asian Nations -- summit in Phnom Penh of using its influence over host Cambodia to push a formal statement saying that ASEAN did not want to "internationalise" the dispute.
6. The Philippines, which sees its alliance with the United States as a crucial check on China's claims -- especially at a time when the United States is shifting its military focus back to Asia -- protested to Cambodia and has succeeded in having that clause removed from the final statement.
7. For India too, this is now an irritant, since it has signed agreements with the government of Vietnam to explore under-sea oil and gas deposits. China is clearly blocking this by staking territorial claim over that entire sea area.
Taiwan
In Taiwan, a self-governed island that split from China after a civil war in 1949, ruling party and opposition lawmakers alike condemned the e-passport's map. They said it could harm the warming ties the historic rivals have enjoyed since Ma Ying-jeou became President nearly five years ago. Taiwan's Mainland Affairs Council, the cabinet-level body responsible for ties with Beijing, stated:
a. "This is total ignorance of reality and only provokes disputes;" and
b. Taipei cannot accept the map.
India
1. India has responded by not just registering a strong protest with China but by also imprinting its own corrected map on visas that are issued to Chinese nationals.
2. China had earlier refused to give visas to visitors from Arunachal Pradesh in India and Sikkim, claiming that they were Chinese areas.
3. China has also started giving separate visas to visitors from the state of Jammu and Kashmir, claiming that this state is not part of India.
Japan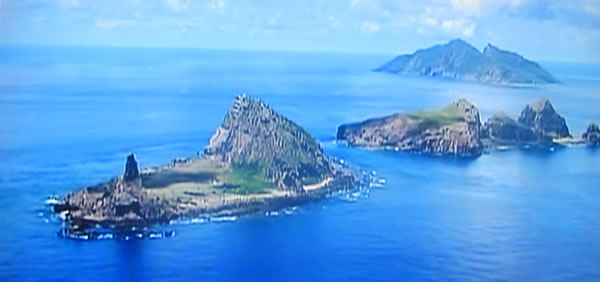 Curiously, the maps in China's new e-passports do not include islands in the East China Sea that are claimed by both China and Japan.
China's Defence
China's foreign ministry stated:
1. The new passport was issued based on international standards;
2. "The passports' maps with their outlines of China are not targeting a specific country;"
3. "China is willing to actively communicate with the relevant countries and promote the healthy development of Sino-foreign personnel exchanges;" and
4. "We hope the relevant countries can calmly treat it with rationality and restraint so that the normal visits by the Chinese and foreigners will not be unnecessarily interfered with."
Conclusions
I. Is China being too clever by half? It is basically forcing every neighbouring nation who is a claimant of South China Sea elements to acknowledge China's rights over that territory by stamping their new e-passport. However, it is likely that the passports will not change the reality on the ground, and will serve more as a political stunt than anything else. A stunt other countries, as India has shown, are just as capable of performing.
II. We have just seen a major power transition in China. China's "Long Game" is now being played by a new generation of leaders who believe they are in-charge of steering that country for the coming decade. These new leaders can act deliberately yet slowly, and slowly seek to get their way. Their assumption is that there is really not very much anyone or any country is seriously prepared to do to counter their grand designs. This is evidenced by the recent ASEAN -- Association of South-East Asian Nations -- summit discussions in Cambodia earlier where those territorial disputes were discussed but the summit failed to achieve a united stand on how the 10 member countries should respond to China.
III. The map in China's new e-passports may partly be in response to Vietnam's passage earlier this year of a Law of the Sea. The law asserts Vietnam's sovereignty over the Spratly and Paracel islands, which are claimed by both Hanoi and Beijing.
IV. The looming series of conflicts across the Asia-Pacific may have less to do with the Chinese need to exert its right in regard to disputed territories and more to do with its need for abundant cheap energy, particularly, oil and gas.
V. The Philippines, Brunei, Malaysia and Vietnam are scheduled to meet on December 12th to discuss claims in the South China Sea and the role of China. It remains unclear if and when China will sit down with rival claimants to draft a legally binding non-aggression pact.
What are your thoughts, observations and views? We are hosting an Expert roundtable on this issue at ATCA 24/7 on Yammer.
By DK Matai
Asymmetric Threats Contingency Alliance (ATCA) & The Philanthropia
We welcome your participation in this Socratic dialogue. Please access by clicking here.
ATCA: The Asymmetric Threats Contingency Alliance is a philanthropic expert initiative founded in 2001 to resolve complex global challenges through collective Socratic dialogue and joint executive action to build a wisdom based global economy. Adhering to the doctrine of non-violence, ATCA addresses asymmetric threats and social opportunities arising from climate chaos and the environment; radical poverty and microfinance; geo-politics and energy; organised crime & extremism; advanced technologies -- bio, info, nano, robo & AI; demographic skews and resource shortages; pandemics; financial systems and systemic risk; as well as transhumanism and ethics. Present membership of ATCA is by invitation only and has over 5,000 distinguished members from over 120 countries: including 1,000 Parliamentarians; 1,500 Chairmen and CEOs of corporations; 1,000 Heads of NGOs; 750 Directors at Academic Centres of Excellence; 500 Inventors and Original thinkers; as well as 250 Editors-in-Chief of major media.
The Philanthropia, founded in 2005, brings together over 1,000 leading individual and private philanthropists, family offices, foundations, private banks, non-governmental organisations and specialist advisors to address complex global challenges such as countering climate chaos, reducing radical poverty and developing global leadership for the younger generation through the appliance of science and technology, leveraging acumen and finance, as well as encouraging collaboration with a strong commitment to ethics. Philanthropia emphasises multi-faith spiritual values: introspection, healthy living and ecology. Philanthropia Targets: Countering climate chaos and carbon neutrality; Eliminating radical poverty -- through micro-credit schemes, empowerment of women and more responsible capitalism; Leadership for the Younger Generation; and Corporate and social responsibility.
© 2012 Copyright DK Matai - All Rights Reserved Disclaimer: The above is a matter of opinion provided for general information purposes only and is not intended as investment advice. Information and analysis above are derived from sources and utilising methods believed to be reliable, but we cannot accept responsibility for any losses you may incur as a result of this analysis. Individuals should consult with their personal financial advisors.
© 2005-2019 http://www.MarketOracle.co.uk - The Market Oracle is a FREE Daily Financial Markets Analysis & Forecasting online publication.

Only logged in users are allowed to post comments.
Register/ Log in