If India Sneezes, will the Gold Industry Catch a Cold?
Commodities
/
Gold and Silver 2012
Jul 20, 2012 - 03:55 AM GMT


"If India sneezes, the gold industry will catch a cold" Ajay Mitra
India and gold are two words closely linked in the precious metals world. Gold investing is so deeply ingrained in Indian culture that Indian's have over 20 different words for the yellow metal.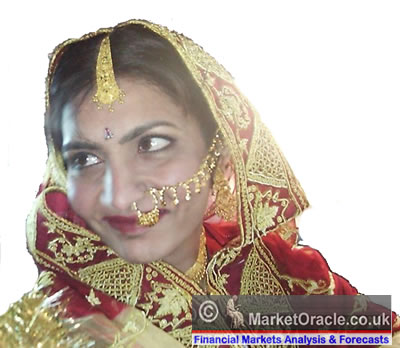 However, as the face of the global economy becomes unrecognisable, and the security of the world's financial system called into question – opinions on gold investment in India are becoming divided. The division is between the government and the rest of the country.
As we have written about on these pages in the past, India is an excellent example of how to operate within a paper money system yet still preserve your wealth.
India, between 2001 and 2011 imported almost as much gold as Europe – an entire continent made up of 50 countries. Private investment in the country currently stands at 20,000 tonnes. Ronald Stoerferle of Erste Group wrote in his In Gold We Trust Report, that this increasing demand can be attributed to 'years of financial repression, an unstable monetary system, and the resulting loss in purchasing power.'
People continue to be astounded by India's impressive gold holdings, a seemingly poor country which continues to receive international aid. Yet according to Ronald Stoerferle this is entirely in line with economic history and the rise and fall of economic powers, 'Gold has always abandoned regions of stagnating wealth, heading instead for prospering economies and rising savings volumes.'
Between 2007 and 2011, emerging nations accounted for 69% of global aggregate gold demand. India represented 27% of the total demand, ahead of both China and other emerging nations.
India has long been known for its love for gold and this will only continue as the savings ratio has also increased, by nearly 8%, which corresponds which the dramatic upsurge in gold investment.
The gold rush coming to an end?
Despite the obvious popularity in gold demand, something which has been passed from generation to generation, the Indian government are struggling with the levels of gold imports and have been sending some mixed messages to those who invest in gold.
The levels of gold imports place a huge amount of pressure on the country's current account deficit. Prior to 2008, the rupee was looking particularly strong thanks to an influx of US Dollars. Because of this banks were encouraged to trade in commodities (something which had previously been illegal) and sell gold by importing it in order to fight the unprecedented inflows of the US dollar.
It seems the Reserve Bank of India (RBI) is now arguing that it is time for the measure to be reversed, there was apparently little intention of the move becoming permanent. Yet this may be difficult as banks encourage gold coin sales thanks to the margin of Rs 100 – 150 for each gramme of gold sold.
The country has, in the past, tried to make gold imports illegal and the government continues to discourage them. In recent months gold commentators were asking if we were about to see Roosevelt-esque moves taken by the Indian government.
Last month Anand Shina, Deputy Governor of the RBI, expressed efforts to implement financial instruments which are designed to mimic returns on gold. The idea is to put the gold, which is currently 'idle', to good use.
Julian Philips describes Indian citizens as a group who like to keep their financial affairs close to their chests and so the likelihood of them embracing new government proposals of moving gold into the hands of government security is unlikely.
Internal economic situation drives gold investment
In a country which is so obviously gold-focussed, why would the government work to dissuade individuals from holding gold?
The current account deficit is a cause for much concern amongst the government's policy makers. Between January 2011 and March 2012, the CAD grew to its widest point of 4.5% of GDP at $21.7bn.
What's sad is the government remains fixated on the fact that weakness in the in the rupee has little to do with the actual performance in the economy, but is in fact do to with all the gold the Indians have been buying to protect themselves from inflation and rupee debasement.
The Deputy Governor of RBI told media reporters recently 'Gold imports have been a very substantial part of the current account deficit. Therefore it is being looked at what best can be done. Import is one aspect, the other aspect is that the gold that is already existing in the country can be brought out to satisfy the demand by devising financial instruments which can mimic the returns on gold.'
However, for many individuals who buy gold, the fact that it remains idle and away from government hands is exactly the reasons for investing in gold in the first place.
Gold imports fell between 2011 and 2012, something which analysts blame on the step up in gold import measures from the government.
Import duties were doubled at the beginning of the year, just how this affected gold dealers became clear when 90% of jewellers went on strike in April upon announcement of a further strike. People power prevailed and the increase was never implemented.
Lessons in Turkish gold investment
India's recent look at mobilising the 20,000 tonnes of privately held gold, echoes events in Turkey's gold market, where the government have been encouraging gold deposit schemes. As Julian Phillips wrote earlier this week, the world is closely watching Turkey as the government navigate the path to 'find ways of harnessing the gold in their citizen's hands so as to complement their existing paper monetary system.'
Turkey's measures have of course come under fire, with some calling the new policies 'legal gold theft'. Perhaps India can learn from Turkey about how to approach the psyche of the nation on such a delicate issue?
Unfortunately, it seems the Indian government continue to see gold as a competitor to their monetary system, rather than something which cannot be competed with. They may well need to adjust this perspective as the country's desire to buy physical gold is not driven solely by the gold price. For instance, at the beginning of June, despite soaring gold prices, gold counters saw an increase of 20-25% in sales. This was attributed to the slowing economy and falling stock markets.
Until those in power begin to look back to their routes and acknowledge the importance of owning gold and the need to encourage gold ownership, the less chance they will have to focus on other measures to survive the financial storm and rebalance their own economy.
In the meantime, the gold markets wait with baited breath to see just how the gold investment market will change in India.
For more information on how to invest in gold bullion why not visit our Education Centre?
Jan Skoyles contributes to the The Real Asset Co research desk. Jan has recently graduated with a First in International Business and Economics. In her final year she developed a keen interest in Austrian economics, Libertarianism and particularly precious metals.

The Real Asset Co. is a secure and efficient way to invest precious metals. Clients typically use our platform to build a long position and are using gold and silver bullion as a savings mechanism in the face on currency debasement and devaluations. The Real Asset Co. holds a distinctly Austrian world view and was launched to help savers and investors secure and protect their wealth and purchasing power.
© 2012 Copyright Jan Skoyles - All Rights Reserved

Disclaimer: The above is a matter of opinion provided for general information purposes only and is not intended as investment advice. Information and analysis above are derived from sources and utilising methods believed to be reliable, but we cannot accept responsibility for any losses you may incur as a result of this analysis. Individuals should consult with their personal financial advisors.
© 2005-2019 http://www.MarketOracle.co.uk - The Market Oracle is a FREE Daily Financial Markets Analysis & Forecasting online publication.

Only logged in users are allowed to post comments.
Register/ Log in