Greece Could Implode the Second Bailout and the EU by Mid-June
Politics
/
Eurozone Debt Crisis
May 27, 2012 - 08:39 AM GMT


While most of my analysis so far has concerned France's elections, it was in fact Greece's May election which proved more significant for the future of the EU.
I do not want to delve too much into Greek history and political parties. So I'll simply show the results along with the names and brief descriptions of each party:
| | | |
| --- | --- | --- |
| Party | Beliefs | Number of Seats |
| New Democracy (ND) | Old school center right, one of two major parties | 108 |
| Coalition of Radical Left- Unitary Social Movement (SYRIZA) | Progressive, socially liberal, popular with youth | 52 |
| Panhellenic Socialist Movement (PASOK | The other one of the two major parties, socialists. | 41 |
| Independent Greeks (ANEL) | Right wing, anti-austerity | 33 |
| Communist Party of Greece (KKE) | Communist left | 26 |
| Golden Dawn (XA) | Neo-Nazis, expel immigrants and set land mines on Turkey border | 21 |
| Democratic Left (DIMAR) | Leftist, pro-democracy | 19 |
Here's the current Greek parliament in graph form: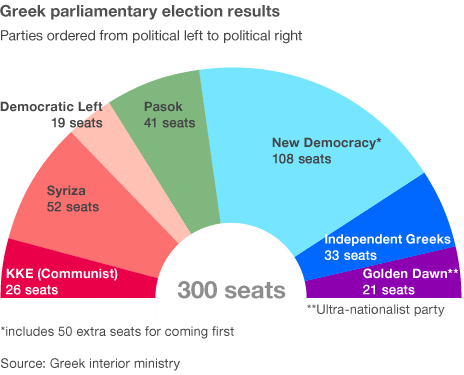 The take home point here is that there is NO majority in the parliament. And by the look of things, there won't be until run-off elections in June.
Syriza, the second largest group, refuses to take part in any coalition that will demand more austerity measures (it also wants to reject the terms of the second bailout entirely). The Democratic Left, which could form a majority if it teamed up with New Democracy, says it won't join any coalition that excludes Syriza (knowing that Syriza is popular with Greek youth who are the ones that tend to riot and burn buildings down).
I realize this is getting complicated. The take-away item that is most important is the rapid rise in popularity of the Syriza, group, which is completely anti-austerity and anti-bailout (the party tripled its vote in the last election).
Indeed, Syriza's leader, Alexis Tsipras, (the former mayor of Athens) didn't even attend Monday's coalition talks and says he will take no part in any discussions of bailouts. Young and completely fed up with calls for more austerity, Tsipras is seen by many Greeks to represent real change from the more established (and corrupt) Greek bureaucrats who continue to fall for the "austerity in exchange for more debt" trap pushed on them by the EU.
Tsipras holds the key to any potential majority in his hands. And he has every reason not to allow one to form right now: if a coalition cannot be formed, then Greece will hold run-off elections in mid-June (possibly the 17th). Current polls show Syriza could take as much as 27% of votes in a run-off. To put this in context, New Democracy, which took the most votes during the first round of the elections, only accumulated 17% of votes.
Greek parliament rules hold that the winning party receives an additional 50 seats. So if Syriza takes 27% of the vote it'll get up to 128 seats in parliament. Throw in an alliance with the New Democratic Left and Syriza is essentially the majority party.
In plain terms, by mid-June, Greece could very well be controlled by an anti-austerity, anti-bailout party that wants to completely do away with the second Greek bailout (which means a potential disorderly default).
This actually is the best possible outcome for Greece as the alternative is outright anarchy. Remember, Greece has gone through two Governments since its Crisis began: one was the long-standing President, the other was an EU-appointed bureaucrat.
Put another way, Greece first rejected its own Government, then it rejected its EU replacement. And now it cannot even form a majority in its parliament. This is extremely bad news as Greece is only a few steps away from total anarchy and chaos.
After all, if Greece cannot form a government… who will be negotiating on its debt/ bailout agreements/ etc. with the rest of the EU?
On that note, we likely have a few weeks and at most a few months before the EU collapses. So if you are not preparing for this, YOU NEED TO DO SO NOW.
Those investors looking for actionable investment ideas could also consider our Private Wealth Advisory newsletter: a bi-weekly detailed investment advisory service that distills the most important geopolitical, economic, and financial developments in the markets into concise investment strategies for individual investors.
To learn more about
Private Wealth Advisory

…
and how it can help you navigate the markets successfully…
Graham Summers
Chief Market Strategist
Good Investing!

PS. If you're getting worried about the future of the stock market and have yet to take steps to prepare for the Second Round of the Financial Crisis… I highly suggest you download my FREE Special Report specifying exactly how to prepare for what's to come.
I call it The Financial Crisis "Round Two" Survival Kit. And its 17 pages contain a wealth of information about portfolio protection, which investments to own and how to take out Catastrophe Insurance on the stock market (this "insurance" paid out triple digit gains in the Autumn of 2008).
Again, this is all 100% FREE. To pick up your copy today, got to http://www.gainspainscapital.com and click on FREE REPORTS.
Graham also writes Private Wealth Advisory, a monthly investment advisory focusing on the most lucrative investment opportunities the financial markets have to offer. Graham understands the big picture from both a macro-economic and capital in/outflow perspective. He translates his understanding into finding trends and undervalued investment opportunities months before the markets catch on: the Private Wealth Advisory portfolio has outperformed the S&P 500 three of the last five years, including a 7% return in 2008 vs. a 37% loss for the S&P 500.
Previously, Graham worked as a Senior Financial Analyst covering global markets for several investment firms in the Mid-Atlantic region. He's lived and performed research in Europe, Asia, the Middle East, and the United States.
© 2012 Copyright Graham Summers - All Rights Reserved
Disclaimer: The above is a matter of opinion provided for general information purposes only and is not intended as investment advice. Information and analysis above are derived from sources and utilising methods believed to be reliable, but we cannot accept responsibility for any losses you may incur as a result of this analysis. Individuals should consult with their personal financial advisors.
© 2005-2019 http://www.MarketOracle.co.uk - The Market Oracle is a FREE Daily Financial Markets Analysis & Forecasting online publication.

Only logged in users are allowed to post comments.
Register/ Log in