How US Citizens are Sacrificing for the Iraq War - Cost
Politics
/
Iraq War
Feb 08, 2007 - 01:23 AM GMT

"The average American has not been asked to sacrifice for the Iraq war…"
At least once a week for the past few years I've heard some version of the above quote and it implies that the average person has not been inconvenienced in any way by the war. Both the left and the right go to great lengths to perpetuate this illusion of no sacrifice while using the statement to fulfill whatever partisan goal they are currently chasing. Such vacuous statements leave me breathless mainly because they are so explosively ignorant that they suck all of the oxygen out of the air.
Every single person in America that uses money has sacrificed for this war. Anybody with savings, income, investments or who has bought anything over the past three years has sacrificed a significant portion of that money because of inflation brought on by excessive government spending on the Iraq War.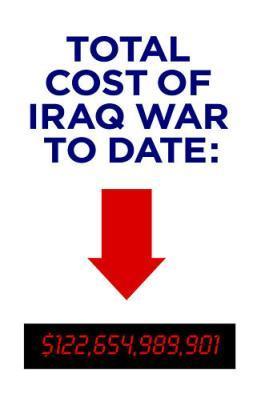 Literally every war in our history has been associated with a severe bout of inflation brought on by excessive government spending and this one is no different. Vietnam? Massive inflation – almost destroyed the dollar in the process. Korea? Big inflation. WWII? Ditto. WWI? Yep. Civil War? Huuuge inflation. The war of 1812? Yes, that one too. Revolutionary war? Crippling inflation. It is an easily verifiable fact that every single war in US history has been accompanied by serious inflation spawned by excessive government spending. For those keeping score at home that's 7 out of 7 times.
In case there are any corporate stenographers, er, I meant journalists , reading this I offer a handy mnemonic device to help you remember this fiendishly complicated relationship: War = Inflation.
And since inflation is merely the underhanded confiscation of our income and savings by the government (no different in outcome than a direct tax) it could be said that we have sacrificed our savings and earnings for this war. So here's your second mnemonic device: Inflation = Sacrifice.
So putting the transitive rule into play ("If a=b and b=c, then a=c") we can state that War = Sacrifice.
The real miracle would be if this war were somehow different. But, alas, it is not. Every time our nation went to war each administration had to decide if they were going to tax people directly (very unpopular) or if they were instead going borrow or print the money to pay for the war (easy and underhanded). I'd like to say that over the past 3 years the US government merely took the latter option but, in fact, this time they tried something quite unique in the annals of American history. The government both borrowed heavily to fund a pair of wars and it cut taxes.
The result is a national debt that has ballooned from $6,200 billion before the war to a current $8,700 billion – an increase of $2,500 billion (or $2.5 trillion) or more than 33% in less than four years.
The other result has been rampant inflation. Ignoring the laughably, obviously cooked government inflation numbers (latest estimate of inflation by the Bureau of Economic Analysis was 1.5% per year. Ha ha ha!). Here's some data to consider, since 2003:
That's not direct enough for you? You'd prefer an example of how the military is experiencing higher costs due to the excessive spending by the military? Then you'll enjoy this bit of irony:
As the conflict continued, the cost of basic equipment -- helmets, rifles and body armor -- more than tripled, from $7,000 in 1999 to $25,000 last year, the Wall Street Journal reported in December. The cost of a humvee, once unarmored, has grown seven-fold, to about $225,000 from $32,000 in 2001. As a result of rising costs, the purchases of basic equipment lagged.
So how does Washington DC they get away with this? Easy. Your leaders in DC are pretty confident that a compliant US press will somehow manage to (once again) fail to communicate one of the simplest and most repeatable and well-understood economic processes that exists (war = excess spending = excess monetary creation = Inflation). Luckily you don't have to take my word for it. The architects of this were confident enough about their ability to pull the wool over everyone's eyes that they wrote it down in books trusting that somehow the US press would never quite catch on. Here, I'll let the father of modern economics explain:
By a continuing process of inflation, governments can confiscate, secretly and unobserved, an important part of the wealth of the citizens.
By this method they not only confiscate, but they confiscate arbitrarily, and while the process impoverishes many, it actually enriches some.
The process engages all of the hidden forces of economics on the side of destruction, and does it in a manner that not one man in a million can diagnose .
~ John Maynard Keynes in "Economic Consequences of the Peace" (pg. 57)
There you have it, straight from the horse's mouth. I think the process can be characterized thusly: (1) set up monetary system where money can be created without limit, from thin air (2) observe repeated episodes of massive inflation (3) write pithy, dryly humorous, but snide comments in books about how people probably won't ever catch on.
Lately our war spending has accelerated and is set to get worse going forward:
Feb. 2 (Bloomberg) -- President George W. Bush's record request for defense funding for 2008 may set up a fight with the Democratic Congress, keen to examine the budget for questionable spending.
Bush will request $716 billion for defense and the global war on terror when he submits his fiscal 2008 budget next week, according to a Pentagon document. The military funding request is greater than the annual gross domestic product of all but 14 countries.
This is such a truly moronic proposal that I am tempted to wonder if the person submitting it has a long, unbroken record of running businesses into the dirt. If it comes to pass, the US military will consume the equivalent of the entire productive output of Australia, the 15 th largest economy, beer included. Said another way, the US military now requires an entire continent be dedicated to its purposes. It will also mean that US military budget will be 70% larger than all other non-defense discretionary spending combined . If you are having trouble picturing this, just imagine a seesaw with a male figure skater on one side and the Omaha All-You-Can-Eat Buffet Champion on the other.
This makes me ill and I promise not write such descriptive imagery again. While there may be some squabbling in congress I seriously doubt that the two parties will do more than trim perhaps a few billion off of the proposal. At no time will there be an actual substantive discussion that speaks to national priorities such as "Hey! We're heading into the next century without any clue how we're going to reduce our dependence on foreign oil or pay for the baby boomers!"
Just for comparison, the latest DoD spending proposal is $140 billion higher than what we spent at the height of the Vietnam War (in inflation adjusted dollars). For those of you old enough to recall, it was after the Vietnam War ended that inflation really took off and very nearly ruined the dollar in the process. Will history rhyme?
Congressman Ron Paul (R-Texas) is one of the very few who understand this process and he's a good writer. Here he explains all in a recent article:
As the war in Iraq surges forward, and the administration ponders military action against Iran, it's important to ask ourselves an overlooked question: Can we really afford it? If every American taxpayer had to submit an extra five or ten thousand dollars to the IRS this April to pay for the war, I'm quite certain it would end very quickly.
The problem is that government finances war by borrowing and printing money, rather than presenting a bill directly in the form of higher taxes. When the costs are obscured, the question of whether any war is worth it becomes distorted.
Congress and the Federal Reserve Bank have a cozy, unspoken arrangement that makes war easier to finance. Congress has an insatiable appetite for new spending, but raising taxes is politically unpopular. The Federal Reserve, however, is happy to accommodate deficit spending by creating new money through the Treasury Department. In exchange, Congress leaves the Fed alone to operate free of pesky oversight and free of political scrutiny. Monetary policy is utterly ignored in Washington, even though the Federal Reserve System is a creation of Congress.
The result of this arrangement is inflation. And inflation finances war.
So it boils down to this. If the federal government had directly taxed our paycheck and savings accounts to the tune of 25% we'd be justifiably outraged and this war would probably already be over. Yet, using the more accurate inflation projections of John Williams , we find that all of your money is now worth ~25% less than it was in 2003 when the war started. What's the difference between these two outcomes?
There's none and this means we can state, unequivocally, that all US citizens have sacrificed for this war. Unfortunately, none moreso than those at the bottom economic rungs since inflation is an un equal opportunity destroyer.
I say, since not one man in a million can correctly diagnose the cause of inflation, let's get 300 of us who understand this and hold a one-man-in-a-million march on DC. Perhaps we can get some Australians to bring the beer.
Hopefully this article has not left you gasping for air.
All the best,
Chris
By Dr. Chris Martenson
http://theendofmoney.com
Dr Martenson is the creator of The End of Money economic seminar series, has extensive experience analyzing and communicating financial information. Dr. Martenson combines a scientist's attention to fact and analysis (PhD, Duke University, Pathology and Toxicology) with a solid understanding of finance and economics (MBA, Cornell, Finance) with strategic thinking (4 years as a management consultant) to produce an insightful and powerful lecture. He is currently devoted to researching, writing and presenting economic and financial analyses delivering his message via his website, lecture series and is currently working on a related book & movie.
© 2005-2019 http://www.MarketOracle.co.uk - The Market Oracle is a FREE Daily Financial Markets Analysis & Forecasting online publication.
Comments
mark deuteronomovic
12 Sep 09, 17:23
Iraq war???


Iraq war???

1. Nucleariraqwar+1.400.000 people die!

2. The next War? Iran!!! Weappons and Bussines!!!

3. U.S.A. need a Wars!

4. Criminal Country: Christian U.S.A.

5. Poor people in U.S.A., no Schools, no Education, no job!

6. Poor people in nuclear Iraq! People no Job, no Future!

7. Adolf Hitler+Prescott&George Bush+George W. Bush+Obama!

8. Adolf Hitler and german Evangelical Soldiers in War!

9. George W. Bush and Evangelical Soldiers in Iraqwar!

Atheist 100%




Only logged in users are allowed to post comments.
Register/ Log in