Stocks Are Topping, Gold Has Topped and Gold & Silver Are Moving Lower
Stock-Markets
/
Financial Markets 2011
Dec 29, 2011 - 10:25 AM GMT

The last week of the year volume tends to be light due to the fact that big money traders are busy enjoying the holidays and waiting for their yearend bonuses.
I was not planning on doing much this week because of the low volume but after reviewing some charts and risk levels on my top 5 trading vehicles I could not help but share my findings with everyone last Friday.
You can see what I talked about on Friday here: http://www.thegoldandoilguy.com/articles/holiday-short-squeeze-oil-trade-idea/
This Wednesday turned out to be an exciting session with all 5 of my trade ideas moving in our favour right on queue.
Charts of the 5 investments moving in the directions we anticipated …
- Dollar bounced off support

- Stocks are topping and selling off today

- Oil looks to have topped and is selling off

- Gold and Silver are moving lower

- VIX (Volatility Index) just bounced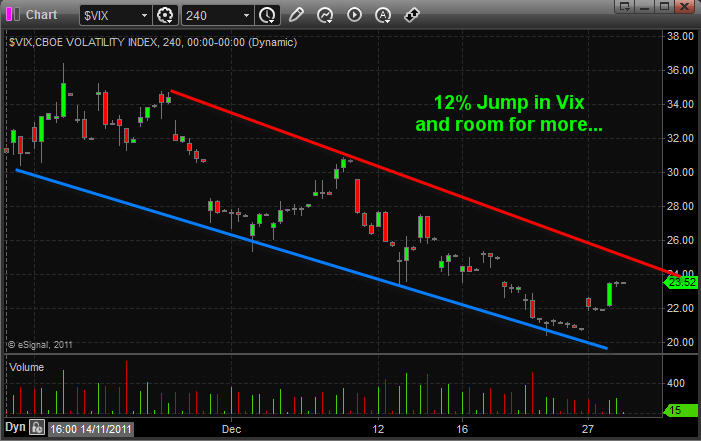 Many of my readers took full advantage of my recent analysis and trade ideas which is great to hear. All the different ways individuals used to make money from Friday's analysis is mind blowing…
The most common trade is the oil one with most traders adding more to Tuesday when the price reached its key resistance level on the chart. Also many traders took partial profits Wednesday locking in 3% or more in two days using the SCO ETF.
It's amazing how many people like to trade the vix using ETFs. The best trade from followers thus far was an 8% gain in TVIX which was bought 4 days ago anticipating the pop in volatility which I had been talking about last week. Keep in mind ETFs for trading the vix are not very good in general. I stay away from them, but TVIX is the best I found so far.
Currently stocks are oversold falling sharply from the pre-market highs. Meaning stocks have fallen too far too fast and a bounce is likely to take place Thursday.
Also we saw some panic selling hit the market today with 14 sellers to 1 buyer. That level tells me that the market needs some time to recover and build up strength for another selloff later this week or next. We will see this pause unfold when the SP500 drifts higher for a session or two with light buying volume. This will confirm sellers are in control and give us another short setup.
In my Wednesday morning video I explained how/where to set stops when using leveraged ETFs because I know 90% of traders using them do not have a clue as to how to do this and they get shaken out of their trades just before a top or bottom. So if you want to learn more about it watch this morning's video please: http://www.youtube.com/watch?v=lDagN5Vpvys
I hope this helps you understand things more… Over time you will pickup on a lot of new trading tips, tools and techniques with this free newsletter so just give it time and keep trades small until you are comfortable with my analysis.
Get My FREE Weekly Newsletter Here: http://www.GoldAndOilGuy.com/
By Chris Vermeulen
Chris@TheGoldAndOilGuy.com
Please visit my website for more information. http://www.TheGoldAndOilGuy.com
Chris Vermeulen is Founder of the popular trading site TheGoldAndOilGuy.com. There he shares his highly successful, low-risk trading method. For 6 years Chris has been a leader in teaching others to skillfully trade in gold, oil, and silver in both bull and bear markets. Subscribers to his service depend on Chris' uniquely consistent investment opportunities that carry exceptionally low risk and high return.
This article is intended solely for information purposes. The opinions are those of the author only. Please conduct further research and consult your financial advisor before making any investment/trading decision. No responsibility can be accepted for losses that may result as a consequence of trading on the basis of this analysis.
© 2005-2019 http://www.MarketOracle.co.uk - The Market Oracle is a FREE Daily Financial Markets Analysis & Forecasting online publication.
Comments
R Moreau
30 Dec 11, 02:15
Gold and reasons not to own


When less than 1% of the population owning physical gold what are going to do with it once paper monies of All countries "bit the bullet"?. It will not take much effort to place all PM dealers under government control in the buying and selling of precious metals. With no free floating Gold market to set realistic prices, we will once again be robbed. They don't need to 'take' your Gold, just take its value through price controls. And with finger pointing that metal hoarders are one of the reason for the financial failure of the system the balance or 99% of the population will go along with this.



Dr Ray
30 Dec 11, 07:37
Gold repression


I fear R Moreau is correct. This is already happening in Vietnam and China and they are only holding off in more financially repressed societies such as the UK because at present there is simply not enough gold in private hands to make it worth stealing.

The portability of gold is also a fallacy. With scanners at all ports it would be impossible to take your gold to a free country to sell.



strongseed44@yahoo.com
30 Dec 11, 15:35
Debt's the "Repressor"


- not the fear of folks owning gold on the part of the authorities.

At least it is in the developed world. You'll find you are the ones obsessed with gold - every one else is too busy trying to make a living.




Only logged in users are allowed to post comments.
Register/ Log in