Manipulated Markets, Dinosaurs, Dodo Birds and Wooly Mammoths
Commodities
/
Market Manipulation
Jul 22, 2011 - 12:37 PM GMT


Back on June 23, 2011 – the Washington Post and Bloomberg reported that the U.S. and allies were going to release 60 million barrels of crude oil from strategic reserves to REDUCE OIL PRICES - reasoning this was to replace alleged shortages caused by the removal of 1.5 million barrels per day of light sweet Lybian crude which had been removed from the market:
U.S., allies to release 60 million barrels from oil reserves
The United States and other industrial nations said Thursday that they will release 60 million barrels of crude oil from strategic stockpiles in aneffort to reduce the price of fuel and to jolt the stalling economic recovery.
The United States will sell 30 million barrels from its Strategic Petroleum Reserve over the next 30 days, the largest release ever from the nation's emergency energy stockpile. The International Energy Agency said its other members will draw down an equal amount……
………If successful, though, the release could lower oil prices over the summer and signal that governments stand ready to intervene and limit petroleum price increases. The announcement drove down the cost of the benchmark West Texas Intermediate-grade crude oil by nearly 5 percent, to $91.02 a barrel, a four-month low. The share prices of oil companies also tumbled.
Amazing, isn't it? The Washington Post and Bloomberg report that governments conspired to CONTROL / RIG oil prices. Funny thing [or perhaps not?], they generally "scoff at the idea" that the government would attempt to CONTROL / RIG precious metals prices – serially ignoring and usually labelling anyone would suggest as much as a CONSPIRACY THEORIST.
Then again, revelations that oozed into the mainstream press in the past week regarding Rupert Murdoch's News Corporation go a long way to explain the true nature of the conflicted relationships the slimebag mainstream press generally find themselves in – doesn't it?
For admitting and documenting that governments conspire to rig markets - we welcome both the Washington Post and Bloomberg to the "tin foil hat" club.
As an aside, for all you Jane and Joe Sixpacks that happened to own oil company stocks in your IRA's or mutual funds – too bad – your government arbitrarily decided that you made a poor investment.
Aren't free markets fun???
Some Additional Background
The mainstream U.S. press / energy establishment has long claimed that the un-natural price disparity [extreme price inversion] between West Texas Intermediate [WTI] crude and Brent North Sea [Brent] crude was due to a persistent glut centered on storage facilities at Cushing, Oklahoma. So, how does releasing 30 million barrels from the U.S. Strategic Reserve solve anything if private storage facilities are ALL FULL???
Lybian crude oil is almost exclusively purchased / consumed by non – Amerian interests. In fact Almost 80% of Libya's Oil exports go to Europe.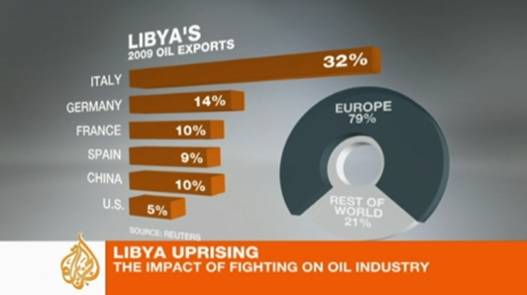 compliments: tkcollier in Economy & Business
So, what has really transpired here is this – Crude oil from America's Strategic Petroleum Reserve has been REMOVED – ALMOST EXCLUSIVELY - for the benefit of Italy, Germany, France, Spain and China – and NO DOUBT to support false American claims that their own reckless currency debasement is not spurring price inflation.
The fact that American crude was released for the benefit of foreigners should not surprise ANYONE.
Americans Raped By Their Own Government
It was reported by AP and others that the principal recipients of TARP funds were foreign banks. Remember, these details were only divulged after news agencies sued and won – forcing the Private Federal Reserve to release details on where the money went:
U.S. bailout money greatly aided foreign banks, report says
Associated Press
In Print: Friday, August 13, 2010
……….An example: Major French and German banks were among the biggest beneficiaries of the U.S. rescue of American International Group, yet the American government shouldered the entire $70 billion risk of pumping capital into the crippled insurance titan. The report compares that with the $35 billion that France spent on its overall financial rescue program and the $133 billion that Germany spent.
Much of the $182 billion in federal aid to AIG — the biggest of the government's rescues — went to meet the company's obligations to its Wall Street trading partners on credit default swaps, a form of insurance against default of securities. The partners included French banks Societe Generale and BNP Paribas, who received $11.9 billion and $4.9 billion in AIG money, and Germany's Deutsche Bank, which received $11.8 billion…….
Sadly, the public disclosure of what the Fed has done with 700 billion in TARP funds pales in comparison and doesn't even begin to explain the true excess of profligacy at the behest of the Fed and Crony Capitalist pals at the U.S. Treasury. The "real enchilada" was more along the lines of 16 TRILLION:
The Fed Audit
July 21, 2011
The first top-to-bottom audit of the Federal Reserve uncovered eye-popping new details about how the U.S. provided a whopping $16 trillion in secret loans to bail out American and foreign banks and businesses during the worst economic crisis since the Great Depression. An amendment by Sen. Bernie Sanders to the Wall Street reform law passed one year ago this week directed the Government Accountability Office to conduct the study. "As a result of this audit, we now know that the Federal Reserve provided more than $16 trillion in total financial assistance to some of the largest financial institutions and corporations in the United States and throughout the world," said Sanders. "This is a clear case of socialism for the rich and rugged, you're-on-your-own individualism for everyone else.",,,,,,,,,,,,,
………….For example, the CEO of JP Morgan Chase served on the New York Fed's board of directors at the same time that his bank received more than $390 billion in financial assistance from the Fed. Moreover, JP Morgan Chase served as one of the clearing banks for the Fed's emergency lending programs………
………The Fed outsourced virtually all of the operations of their emergency lending programs to private contractors like JP Morgan Chase, Morgan Stanley, and Wells Fargo. The same firms also received trillions of dollars in Fed loans at near-zero interest rates……
This only underscores and validates EVERYTNING we've been writing about the Fed / U.S. Treasury and their henchmen for YEARS.
More Bones Buried in Rover's Clover
What is depicted in the video at the link below is "real time" trading of options on the silver ETF – SLV. The video clip shows "exactly" how U.S. Treasury mandated algorithms are employed to create artificial "paper" supply to cap the physical price of silver. This capping of precious metals prices is done with the expressed purpose of preventing the "alarm bells" of rapidly rising precious metals prices alerting the general / investing public to the true extent of the OBSCENE MONETARY DEBASEMENT being inflicted by the money printers at the Federal Reserve / U.S. Treasury.
Blatant SLV options manipulation caught on video:
Link: http://silvergoldsilver.blogspot.com/2011/07/blatant-slv-options-manipulation-caught.html
It is shameful that the BLATANT and OBVIOUS FRAUD depicted in the video has to be documented and presented to the public by private individuals / investors who would rather be spending their time and energy on more productive pursuits.
This type of activity can only be instigated / maintained by people / institutions in CONTROL OF THE PROCESS.
The FRAUD illustrated in the linked video would be "clear-as-day" to Ray Charles on the dark side of the moon. Furthermore, the FRAUD outlined above is EXACTLY what the CFTC [Commodities Futures Trading Commission] is sworn to PREVENT. This is how we KNOW that these activities are being carried out at the behest of the U.S. Treasury's Exchange Stabilization Fund [ESF]. No doubt when this whole charade that our Global Capital Markets have become COMPLETELY BLOWS UP – the clowns in the U.S. monetary apparatus will attempt to claim "immunity" and that they were acting in the interests of "national security". Well, that DOG DOESN'T HUNT!!!
The whole complicit U.S. monetary / regulatory apparatus might want to read up on the travails of Hermann Goering, Rudolph Hess and Karl Doenitz and begin thinking about their own "Nuremburg Trials" for high financial crimes against humanity.
This fraud is NOT SUSTAINABLE over the long term because it leads to SHORTAGE of physical metal and will ultimately bring us to the point where NO ONE will sell physical metal for fiat money.
This is why it is important to own physical metal now.
What is also important for everyone to realize is that the Interest Rate Swap complex similarly creates artificial physical demand for U.S. Government securities – keeping interest rates at suppressed levels. The entrails of this activity in the interest rate complex was recently evidenced when Morgan Stanley reported that they have "added" 9+ TRILLION in [mostly] interest rate derivatives in 3 months [Q1/2011]. The suppression of interest rates allows the U.S. Treasury to "steal" from anyone who saves.
This is NOT SUSTAINABLE and undermines confidence in the currency.
Crude oil futures and Natural Gas futures are systematically offered in sufficient amounts on North American Exchanges artificially "discounting" the prices paid to producers.
This is not sustainable and leads to trade wars or TOTAL WAR.
Hope you're not trying to trade in these markets as if they're fair or free. Free markets have been extinct for some time now.
Got physical precious metal yet?
A new report on the implications of The Death of Free Markets is being prepared for subscribers only. Subscribe here.
Got physical yet?
By Rob Kirby

http://www.kirbyanalytics.com/
Rob Kirby is proprietor of Kirbyanalytics.com and sales agent for Bullion Custodial Services. Subscribers to the Kirbyanalytics newsletter can look forward to a weekend publication analyzing many recent global geo-political events and more. Subscribe to Kirbyanalytics news letter here. Buy physical gold, silver or platinum bullion here.
Copyright © 2011 Rob Kirby - All rights reserved.
Disclaimer: The above is a matter of opinion provided for general information purposes only and is not intended as investment advice. Information and analysis above are derived from sources and utilising methods believed to be reliable, but we cannot accept responsibility for any trading losses you may incur as a result of this analysis. Individuals should consult with their personal financial advisors before engaging in any trading activities.
© 2005-2019 http://www.MarketOracle.co.uk - The Market Oracle is a FREE Daily Financial Markets Analysis & Forecasting online publication.

Only logged in users are allowed to post comments.
Register/ Log in