Warren Buffett on U.S. Housing Market, Employment, Economy and Debt
Economics
/
US Economy
Jul 08, 2011 - 10:46 AM GMT


Warren Buffett spoke with Bloomberg Television's Betty Liu for an hour this morning from the annual Allen & Co. Sun Valley Conference in Idaho. Buffett commented on today's job numbers, saying to "bet very heavily" against a double-dip recession and that employment will gain "big time" on a housing recovery.
Buffett on today's job numbers and why he's confident we'll get the 2.5 million jobs lost in the current recession back:
"Because the American economy works that way. We have gone through, I don't know how many recessions, perhaps 15 in the history of this country."
"But, our system over-shoots periodically. And in this particular case we had a huge bubble. So the fact that there's a correction after that should not be unexpected. But our system always comes back and it will this time. And it already is."
On whether the country will recover most of the 2.5 million lost jobs by the 2012 elections:
"I think there's a good chance of that. We will come back big-time on employment when residential construction comes back. And we way over-produced in houses. I mean we were forming a million or 1.2 million households and we were building close to two million residential units."
"Big surprise, we ended up with too many houses. We're not going to blow them up. We're not going to have kids start getting married at 12 or something. There's a natural correction. The only way a correction takes place is to have households formation exceed new construction by a significant amount for a significant period of time."
"We've had it for quite a while. And when you see these figures of five or 600,000, that means we're sopping up housing inventory and I don't know exactly when that hits equilibrium, but it isn't five years from now I know that. And I think it actually could be reasonably soon."
On the unemployment rate:
"I think that certainly within a few years we'll see it back at six [percent]…It just depends when housing turns."
On President Obama's Jobs Council and whether it is misguided to look at the White House to help create jobs:
"People get their expectations too high…The system cures itself….I would say that that's the biggest single factor. Government can do things to make it worse and they did in The Great Depression. And government can help some."
"The president is not [making the situation worse]. We know the things to do that can help, but they are not, in my view, the prime determinate. I mean there are things to work through. If you have too many houses, what can government do? Like I said, they can say well the 12-year-olds should get married and then we'd need a lot of houses."
"I would say by far the biggest factor in corrections of the business cycle over time is what I would call the natural regenerative powers of capitalism. Capitalism works."
On whether President Obama has "led us to the right place" as Buffett was quoted as claiming at a 2007 fundraiser:
"I think he's leading us to the right place, yeah. I don't think it's easy to do. It takes some cooperation from Congress. But he has ideas about what America can and should be that are in synch with mine. It's some of the social issues and some of its distribution of wealth and that sort of thing."
"I think for example we've had a period in the last 15 years where the 400 top taxpayers in the United States -– if you go back 15 years they had an average income of about $45 million. Now they have an average income of $350 million in the most recent figures. Whereas their tax rates went from 27 percent down to 16 percent."
"That's not my idea of America. I mean I want everybody to get rich, but I think that the rich have a responsibility to pay higher tax rates."
On whether the wealthy should be targeted and if Buffett's friends that fall into this category agree with him:
"Yeah…I look around at my friends here paying lower tax rates than the people who are serving us the food."
"I think some do [agree with this idea]. Yeah some do. And many don't."
On the debt ceiling and what would happen if a deal isn't reached by the August 2nd deadline:
"Nobody knows and that's why it's a crazy. If you don't get a deal, you are putting a gun to your head. And you're saying this cylinder has six chambers and we're going to stick a bullet in one and spin it and pull the trigger and see what happens."
"Nothing may happen. Nobody knows. We don't have a parallel for it in the past. But it's crazy. I mean which would you rather have borrowing in the markets five years from now, a U.S. government that's interrupted payments because of a squabble within its Congress."
"The United States -- we're a very special place, there's no question about it. And we will pay our debts."
On Bernanke and whether he has Buffett's support:
"His foot has been on the gas pedal as far as it will go."
"I think that he and other administration officials have done a heroic job since the fall of 2008."
On the possibility of QE3:
"If one of trillion dollars in excess reserves are not doing anything, I do not think it will make any sense."
On whether Greece is too big to fail:
"Greece is certainly too big to fail from the standpoint of the Europeans in that it will cause a lot of other people to fail. They are worried about the next domino and it could it tilt over other dominoes. We decided that Fannie and Freddie were too big to fail. There might be institutions where the feeling is not that they're too big to fail, but they're too big to fail without toppling others and getting a series of dominoes going."
"If Lehman Brothers could have failed in a vacuum, it would have been one thing, but we learned they could not fail in a vacuum."
On Jamie Dimon:
"He is a fabulous banker, and probably writes the best annual report in America…I grabbed his report when it comes in and my friends do, too."
On whether he's considered buying into JPMorgan:
"We own stock in Wells Fargo and MNC, and banking will not be as profitable as it has been in the past. It is still quite possible, but you make money in banks and assets, and now you have less essence in relation to capital."
On Elizabeth Warren:
"We need a lot of correction. You see what happened in the mortgage issuance market of five years ago. It is up to the industry and the government to correct it. It is great if the industry does it by itself, but it is clear you need a policeman, and she is a pretty good policeman. You want people to take out mortgages where it is appropriate, where they know what they are doing, and where they can handle the problems. You always said people that lose jobs, where there are deaths or something, so you will have foreclosures, but you should not have mass amounts of people entering into transactions they do not understand. It is a huge transaction. There is a real job to be done in making sure that people both understand the contract and can handle a contract under most circumstances."
On reports that Treasury Secretary Geithner may step down:
"Timothy Geithner, we are very fortunate to have him there during this period."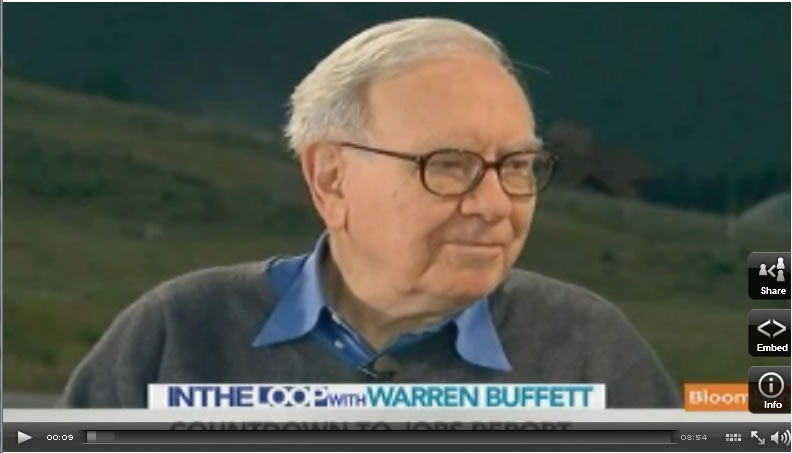 Copyright © 2011 Bloomberg - All Rights Reserved Disclaimer: The above is a matter of opinion provided for general information purposes only and is not intended as investment advice. Information and analysis above are derived from sources and utilising methods believed to be reliable, but we cannot accept responsibility for any losses you may incur as a result of this analysis. Individuals should consult with their personal financial advisors.
© 2005-2019 http://www.MarketOracle.co.uk - The Market Oracle is a FREE Daily Financial Markets Analysis & Forecasting online publication.
Comments
truthhurtsss
11 Jul 11, 04:35
Buffet talk the walk, self-servingly..


Buffet has to talk the walk. How else is he to say it? If the U.S. goes under, so does a large part of his Berkshire.

He has has shown his true colors and have been talking self-servingly since the Great Financial Crisis. Is there still any credibility left in what he says??



peter
12 Jul 11, 18:49
buffett


i've noticed the same thing myself and cring everytime i hear buffet talk along these lines...clealy he's lost his credibility and has become another mouthpiece for the FED.




Only logged in users are allowed to post comments.
Register/ Log in