Agri-Foods Gearing Up for the Next Advance
Commodities
/
Agricultural Commodities
May 19, 2011 - 11:36 AM GMT


When last we talked our discussion was of the fairly obvious correction developing in commodities. Oil prices peaked several weeks ago. Station on my corner dropped gasoline prices by more than ten cents a gallon over night. In precious metals, the Great Silver Crash of 2011 is readily apparent to the casual observer. Cocoa prices have plunged as expected.
Even one of the more big bulls on Gold sold out recently. The other big bull is hanging in there, but may have forgotten that breakfast has different meaning for the hog and the chicken. Is it 2008 all over again, and what might that mean for some commodities? Agri-Food commodities clearly have one of the strongest long-term structural stories, but must too live in the short-term.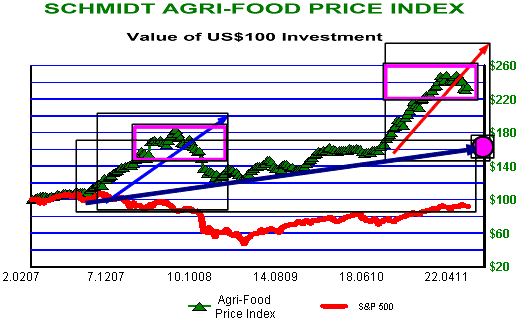 Plotted in the above chart is our Agri-Food Price Index. As we did the last time this graph was the presented, the similarities between current times and 2008 are highlighted. In both cases, the major up trend was broken. In both instances the index moved into a trading range that was subsequently violated on the down side.
If 2011 were to be like 2008, what might we expect? Note that conditions are sufficiently different that the 2008 experience is probably a worst case. For example, China is now a net importer of corn, and that is not likely to change.
Large dot in that graph would represent a repeat of 2008. Note two things about that possibility. First, relative to the historical experience Agri-Food commodity prices would remain at a high level. Second, the Agri-Food Index would be at about the longer term uptrend line indicated by the arrow. All of this would provide a decidedly wonderful starting point for the next advance.
Ramifications of a correction in Agri-Food prices would be most felt in the larger capitalization multinational Agri-Service equities, particularly those that trade in the U.S. where home country bias distorts values. They trade in part as Agri-Proxies. Many funds cannot buy commodities, so they bought tractor and fertilizer stocks. While Agri-Service businesses will do well this year, the equities may be more responsive on the downside. Such was the case in 2008. As that happened, investors turned to Asian Agri-Equities because of the more reliable growth in their basic markets.
As with all markets, sectors might, and do, perform differently. Perhaps the most stubborn group of Agri-Producers has been those that raise chickens. While the rest of meat producing sectors have been rationalizing production, chicken producers have simply continued to feed money to the birds. Needless to say poultry profits have been particular poor, or not existent.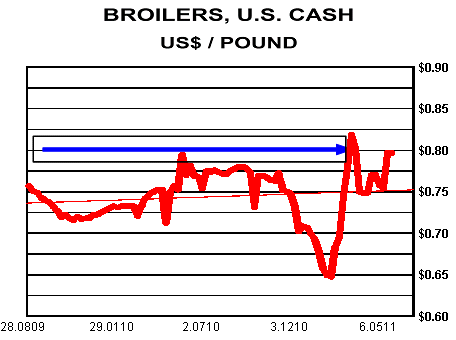 That refusal to rationalize production may be fading, along with their ability to sustain losses. Further, the weather has not been good in parts of Southern United States where poultry production is an important activity. Infrastructure damage has been significant from tornadoes, rain, and flooding. Hard to raise chickens when the chicken house has been blown or washed away.
As shown in the above graph, broiler(table chicken) prices briefly danced above $0.80 level. That level is again being challenged with a much stronger fundamental background. Broiler prices could advance substantially from current levels, and a 50% move in the next year would not be without precedent. Poultry producers and marketers could do quite well in the year ahead as broiler price advance and feed grain prices weaken. That means, of course, that sometime in 2012 the cycle would again reverse. But, why worry about that now?
By Ned W Schmidt CFA, CEBS
AGRI-FOOD THOUGHTS is from Ned W. Schmidt,CFA,CEBS, publisher of The Agri-Food Value View, a monthly exploration of the Agri-Food grand cycle being created by China, India, and Eco-energy. To contract Ned or to learn more, use this link: www.agrifoodvalueview.com.
Copyright © 2010 Ned W. Schmidt - All Rights Reserved
© 2005-2019 http://www.MarketOracle.co.uk - The Market Oracle is a FREE Daily Financial Markets Analysis & Forecasting online publication.

Only logged in users are allowed to post comments.
Register/ Log in